« Kumala's Ludicrously Staged Space Exploration Video Was Even Faker Than It First Appeared
|
Main
|
Parent: A "Boy In a Skirt" Sexually Assaulted My Daughter In the Bathroom -- and Then the Loudoun County School Board Covered It Up »
October 12, 2021
Nancy Pelosi Signals Surrender on $3.5 Trillion Spending Plan; Will Reduce It to Appease Sinema and Manchin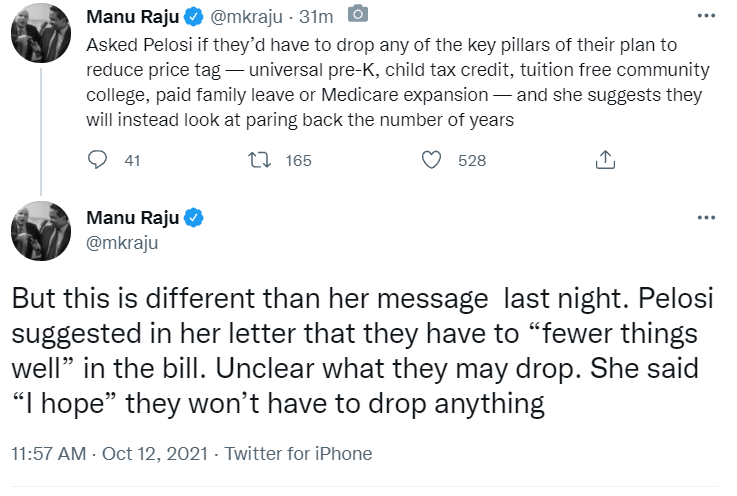 The idea of reducing the number of years the budget covers has been proposed by the progressives before. This is a fake reduction of the spending amount -- instead of spending, say, $350 billion for ten years, they'll say they're spending $350 billion for seven years.
Net "savings"? Over a billion dollars.
That's obviously just an accounting trick.
But she now signals she might have to actually reduce some of the proposed trillions of welfare spending.
Why the shift? Probably one or more of three things:
1, Biden is losing support and needs something the media can call a "win." His handlers might have also realized that he's losing a lot of support with independents, and cannot afford continuing to side completely with The Squad on every issue.
2, Manchin and Sinema have signaled they are not backing down. Sinema, for example, seems no longer willing to even talk with Biden and Pelosi. She says she sometimes doesn't even bother returning the White House calls. So their Terror Campaign against her failed, and they now have to negotiate.
3, Charles Schumer attacked Republicans so nastily over their willingess to bail the Democrats out of their debt ceiling problem by punting the issue until December that Mitch McConnell declared that Republicans will offer no further help to Democrats, and that they'll have to raise the debt limit entirely by Democrat votes. This means the Democrats will need Manchin's and Sinema's vote for raising the debt limit -- and that further empowers them to demand concessions.
This is no great victory, though. The progressives set the idea of $3.5 trillion in new welfare (after trillions in covid related welfare spending). So now they'll back down to, say, $2.5 trillion.
That is still $2.5 trillion in new welfare spending, on top of the previous trillions.

posted by Ace at
01:18 PM
|
Access Comments