« If It's Friday It Must Be GAINZZZday
|
Main
|
Ana Navaro's Colossal Comorbidities Cafe »
September 24, 2021
Quick Hits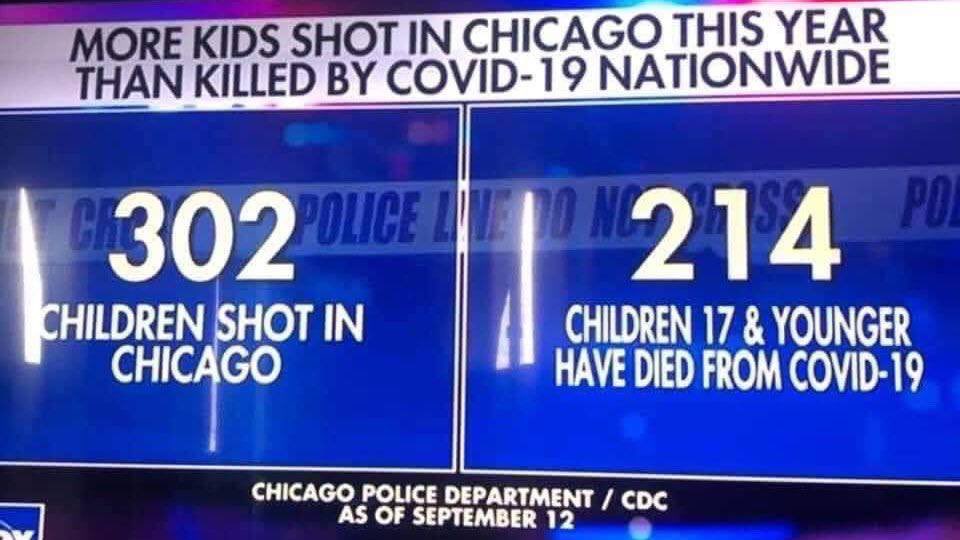 * * *
Biden's now instructing the PM of India not to call on any reporters in his own f***ing country, because "they won't ask any questions on-point."
In other words: They won't ask pre-screened, pre-approved questions.
Parents in Fairfax, Virginia have discovered that their school board offers book to children containing detailed diagrams of men having sex with boys, and elegant sentences such as "I want your c*** in my mouth."
The school board dared to silence her by claiming "There are children here."
Really?
Really.
A similar confrontation just occurred at the Lake Travis (Texas) school board.
* * *
Mike Billand
@billand_mike

@DanCrenshawTX just voted in favor of Red Flag laws.

He doesn't deserve to call himself a Texan.
* * *

Via Instapundit: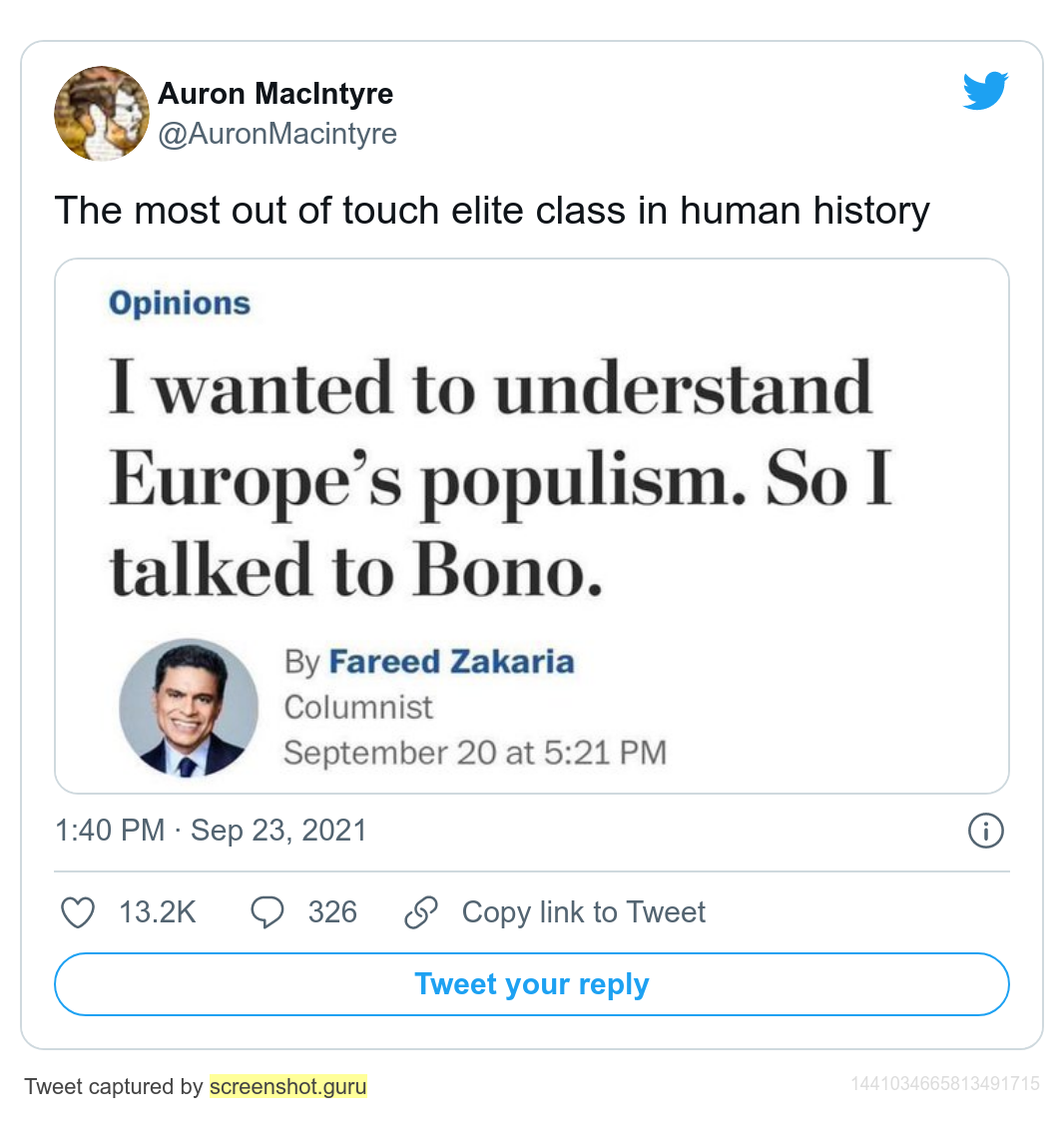 * * *

Two white kids were kicked out of a "multicultural space" at ASU Tempe for wearing Police Lives Matter buttons.
So I guess the space is not, in fact, "multicultural." They just mean anti-white.
"You think that whiteness is a culture?!" the black Karen racist shrieks.
* * *

The ACLU, which is no longer a civil rights organization but simply yet another fundraising front for Democrat shitlibs, rewrites a Ruth Bader Ginsburg quote to replace the word "woman's" with "person's" and "she" with "they."
The Trans Lobby will convert all feminists into men-pretending-to-be-women's rights activists -- at least in death.
* * *

Representative Ted Deutsch accuses Rashida Tliab of antisemitism on House floor.
* * *

Catching up with mimbo Justin Trudeau, the recently re-elected PM of Canada.
First, enjoy his adventures in trying to say an acronym he says literally a thousand times a week:
Also enjoy his newest blackface photos: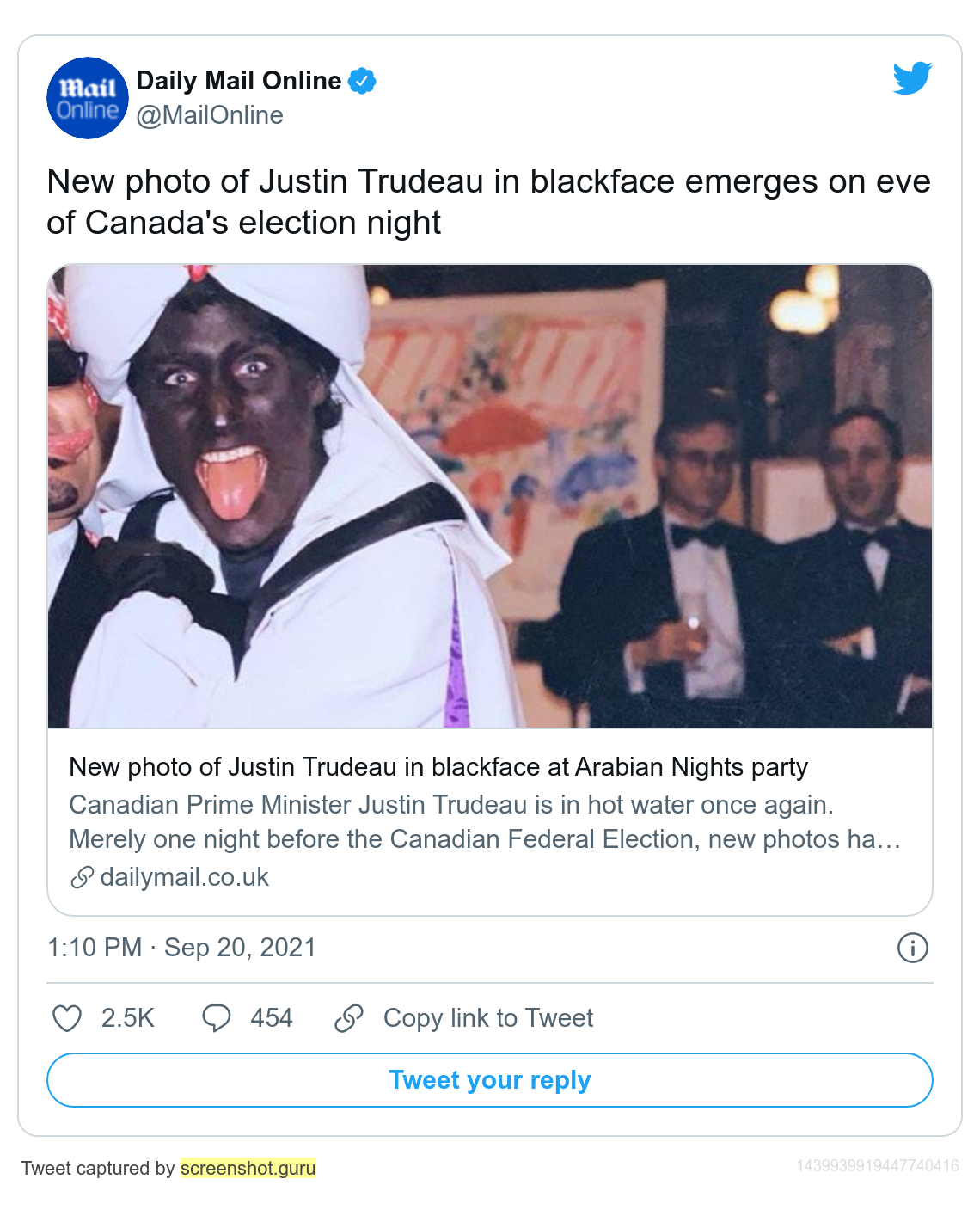 Elizabeth Holmes, the huckster behind the empire of fraud Theranos, tried to swindle investors by faking medical tests and falsely claiming that her medical tests were being run on her "lab in a box" Magic Machines, when in fact they were being run on standard (real) industry equipment she had back at the laboratory.
But that's just swindling stupid billionaires (like Rupert Murdoch) out of millions of dollars.
Her real crime was that she really used her machines, which she knew did not work, at all, to test the blood of real patients -- not just test subjects, but actual patients, out in the wild -- for infectious and deadly diseases.
And for cancer.
She knew these machines' results would be essentially random with barely the slightest statistical relationship to reality.
And yet she allowed her machines to falsely diagnose healthy people with deadly diseases, or worse, falsely clear sick people by telling them they were healthy, all as part of her "Fake It Till You Make It" fraud effort to keep money flowing into her boondoggle.
The New York Times just ran an op-ed claiming she's being prosecuted for fraud and embezzlement only due to... The Patriarchy.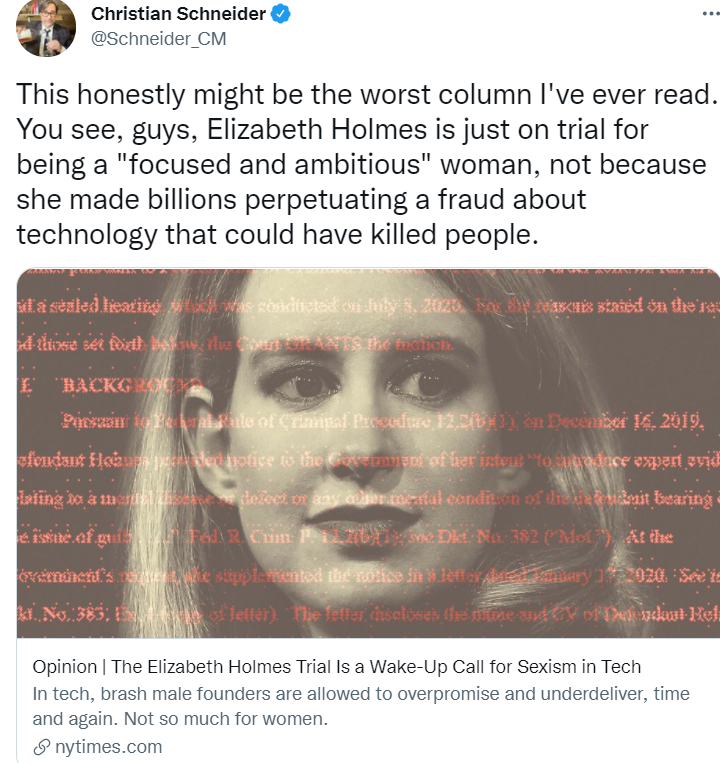 The authoress of this piece is one Ellen Pao. If that name sounds familiar, it's because she was a rabid feminist SJW hired by Reddit, and soon fired because she was incompetent and on an activist rampage to destroy any threads she didn't like.
She claimed her firing was due to... you guessed it, gender discrimination.
In fact, she now runs an alleged advocacy organization called "Project Include" whose stated goal is to... support women in technology. No word on whether all the women that the organization supports must be incompetent and/or criminal, or if that's just a bonus.
I strongly suspect that Pao was paid by Holmes to write and print this essay.
I strongly suspect the organization is yet another grifting mechanism to fill the pockets of a small group of people, among a sea of such grifting mechanisms.
* * *
More of those OK Cupid political propaganda posters that are allowed on NYC subways.
But you're not allowed to put up an ad about losing weight!
* * *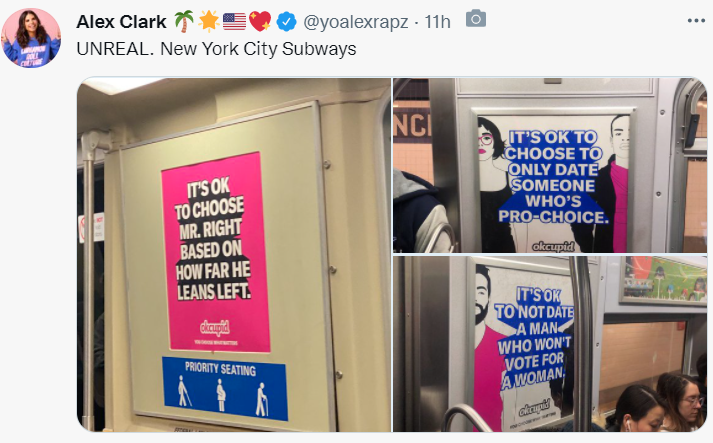 posted by Ace at
07:11 PM
|
Access Comments