ę Angelo Codevilla, RIP
|
Main
|
Haitian Illegal Immigrants Hijack Bus Taking Them To Processing Center, and Then Flee Ľ
September 21, 2021
Marcia Lucas: The Disney Sequels Are Awful and Neither Kathleen Kennedy or JJ Abrams Understand Star Wars
Via Jedi Scum, from a book by a producer of Return of the Jedi and also a former president of LucasFilm: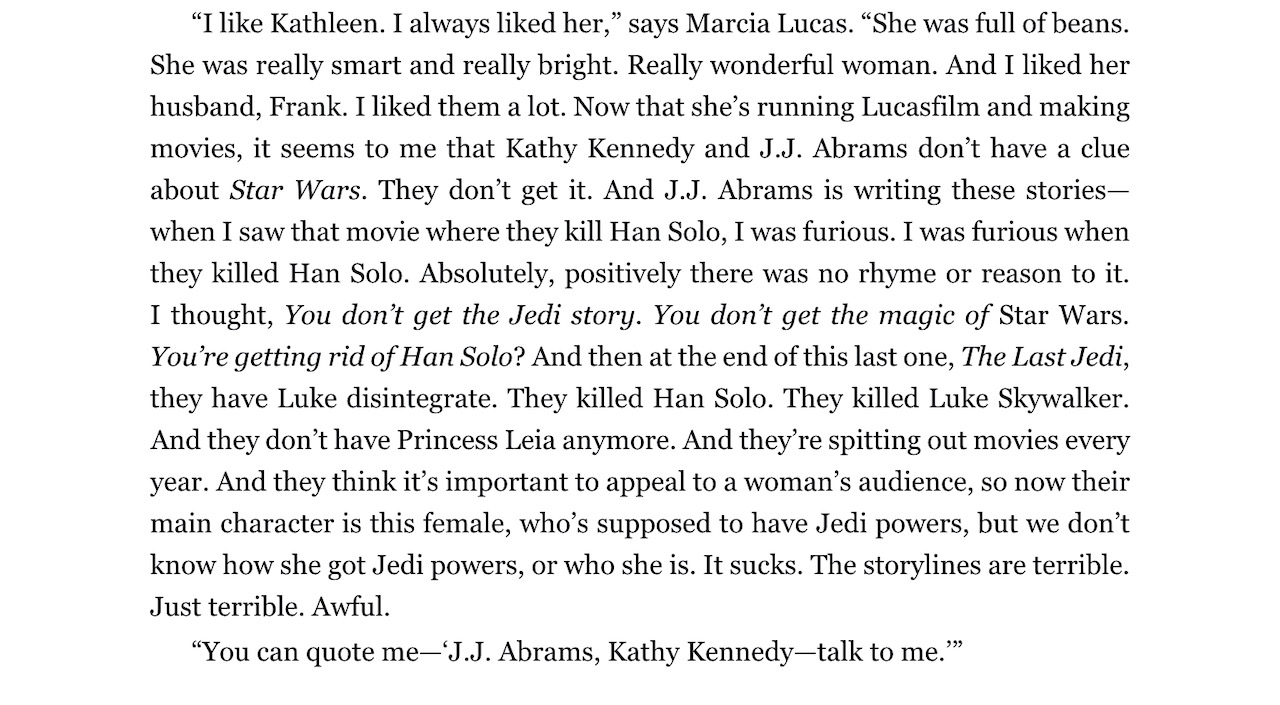 Marcia Lucas is widely credited for having saved Star Wars in the edit. George Lucas' cut was disastrous. But Marcia Lucas edited it to be faster and pacier.
That's a fun, short documentary. Watch it if you like Star Wars or movies in general. Or if you like sudden come-from-behind victory stories.
A lot of people don't know this, but in the original script and film, the Death Star was not closing in on Yavin 4 even as the x-wings were sent out to destroy it. They were just attacking it in space. There was no ticking clock. There was no imminent threat to the Rebellion.
They were just attacking the Death Star. In a leisurely way.
Marcia Lucas made up the whole Death-Star-coming-within-range ticking clock . She was able to change the way the ending worked with just a couple of added lines of dialogue and a quickly-put-together graphic of the Death Star coming into range of the planet.
And she thinks the Kathleen Kennedy films are awful.
As HeelvsBabyface points out, this must mean she is a sexist and racist and almost certainly a member of the Alt-Right. She is White Supremacist Adjacent.
Meanwhile, Shang-Chi costar Simu Liu (reviewers say that he shares top billing with two women) is in trouble for "resurfaced" comments, attributed to him, about pedophilia.
The right is angry with him for offering sympathy and understanding to pedophiles, and the left is angry with him for saying that being a pedophile is like being gay.
In the WorldNews subreddit Liu would respond to a BBC article shared in the subreddit with a user submitted headline that reads, "Germany encourages pedophiles to sign up for confidential treatment, even if they have abused a child, and doctors are hailing it as a success."

Liu submitted a lengthy response stating, "I recently did a show in which I played a pedophile, and did a significant amount of research (clinical studies mind you, not the 'method' stuff) on the disorder and how itís perceived in the media. In the end the role completely changed the way I look at pedophilia and has made me much more sympathetic to anyone who is born with those urges."

He then noted, "From a biological standpoint it's no different than being gay -- a small mutation in the genome that defines our sexual preferences. Depending on what area of the world you were born and what time, it also may have been a perfectly acceptable thing to act on those urges."

"Now, we all know that taking advantage of minors is wrong. Disgusting and vile, even. But with the exception of Germany we are going about it completely COMPLETELY the wrong way. It's like we having learned anything by studying homosexuality -- we're talking about exploring the same "cures" to pedophilia as we were about homosexuality 20 years ago, a la conversion therapy and whatnot," Liu wrote.
This is a Disney star.
But at least they got rid of that "abhorrent" Gina Carano, huh?

posted by Ace at
01:24 PM
|
Access Comments