« An Investigation In Search Of A Crime As FEC Targets The Democrats' Political Enemies
|
Main
|
Report: Military Set To Admit That No Terrorists and No ISIS Fighters Were Killed in Biden's Cynical and Murderous Narrative-Changing Drone Strike, Just Innocent Civilians »
September 17, 2021
Help! My Wife's New Boyfriend Voted for Trump, and I Don't Know How to Feel About That!
Note this isn't his ex-wife. No, this is his current wife, who he lives with.
Or lived with, at least. Until she started banging this Trump supporter.
He's in a polyamorous relationship. He lets his wife sleep with other men.
And he's mad about two things:
1, His wife's new boyfriend voted for Trump, and
2, He's sick of all of his wife's boyfriends' drinking buddies calling him a cvck!
Okay, I made up that last one, but you know that must bother him.
[33M] my wife [29M] started seeing another man [39M]... and he voted for Trump.

Rant/Vent

It's driving me insane. My wife and I have been married for a few years, and throughout our marriage we've always been monogamous. About 6 months ago she mentioned the idea of bringing in another man into the relationship to spice things up. I hesitantly agreed. We found a guy on Craigslist. It was actually pretty fun at first. Liberating, even. The three of us often had dinner together, watched movies, played games, etc. The sexual stuff stayed separate (although admittingly I feel like I started getting less... that's outside the scope of this post though).

Fast forward to Mid-November. I make a joke at the dinner table about how finally the fucking cheeto is going to be out of office. The new boyfriend, who's always been nice to me, told me to "shut the fuck up you fucking liberal pussy". I was taking aback by his sudden anger. He's much larger than me so I admittedly just looked at my wife as a plea for help. She just continued eating trying to act like nothing was going on. I did not know he was a Trump supporter. He even made a joke about him in the past, but he proceeded to tell me that he voted for him.

Long story short, after he had left for the night, I told the wife that we can't associate with him (for obvious reasons). This is where it got bad. She defended HIM and told ME that I was being DISRESPECTFUL for not understanding that some people have different political views!!! I kept insisting that he's a white supremacist and a racist and she said he wasn't. My wife has always been very liberal and anti-trump just like me but now she's defending the fucker. I told her we were done if she doesn't stop seeing him... after a few days of fighting, and her continuously saying things would be fine, I packed up and left, thinking she'd finally comply.

Now, I've driven by the house a few times and his pickup truck is always parked there. In fact, I THINK HE FUCKING MOVED IN.

what the FUCK do I do now?

Signed,

Pastor Lieutenant David F.
Okay, it's not actually signed that. As with NeverTrump and Russiagate, I made it up.
But there is a truthiness to it. A Deeper Truth.
Read the complaint, and the advice offered to him by his fellow cvcks, at r/polyamory.
Now, I didn't see anyone claiming this was a fake post. And I know Reddit deletes posts they think are political hoaxes.
So, unbelievable as it seems, this might be 100% genuine.
But speaking of fake complaints: A guy just admitted that he's responsible for a lot of the most absurd "Dear Prudence" letters at Slate.
Like this one: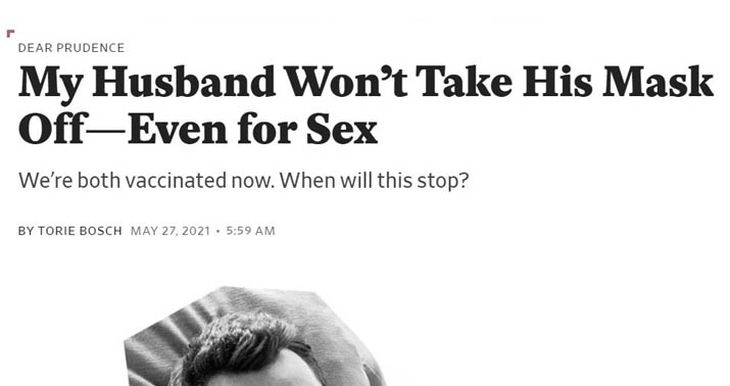 That was a good one. I posted about it.
And while it turns out it was a hoax letter... well, the editors at Slate seem to have believed that this absurd letter merited a response, and that that response would be interesting to, and edifying for, Slate readers.
Sexton notes:
The author concludes by noting he's certain there are others out there writing similar fake letters. Reading over a few of the ones that Slate has published recently, it's not hard to believe that most of them are fakes. For instance, "Help! My Family Is Mad I'd Rather Build My Life Around My Cats Than Them." Or maybe, "Help! My Family Wants to Do Thanksgiving in Texas, but I Don't Want to Support the State." Wait, actually, I can believe that one is real. But a lot of these are hard to tell.
Well, that's the problem, isn't it? The left has become so insane that hoaxes spoofing their insanity read as sincere. Or at least, plausibly sincere.
And in fact the hoaxer says is the balancing act he performed:
After a few false starts, I learned that a good letter is defined by two opposing values: it must be plausible, but it must also be ridiculous. This is a delicate equilibrium to manage, and one that I botched frequently. Help! My Friend Thinks I Am Stealing Vaccines From African-American Grandmothers To Attend Sex Resorts ran, but was a disappointment; it needed another flourish of insanity to justify its existence...
And the thing is: these hoax letters are in fact borderline plausible. Leftists really do act and think this way. A political movement so neurotic and crazy that it requires a welter of articles every Thanksgiving and Christmas telling liberals how to "survive" the holidays with their family and win arguments about all the Racist Uncles of Urban Folk-Tales is not one with a surfeit of mental stability.

I got this from the Boyscast, by the way.
Flashback: A couple tries an "open relationship" to make them "closer."

posted by Ace at
02:29 PM
|
Access Comments