« Durham Indicts Perkins-Coie Lawyer for Lying About His Employment By the Clinton Campaign When Peddling a Lie to the FBI
|
Main
|
Norm's Restoration Cafe »
September 16, 2021
Quick Hits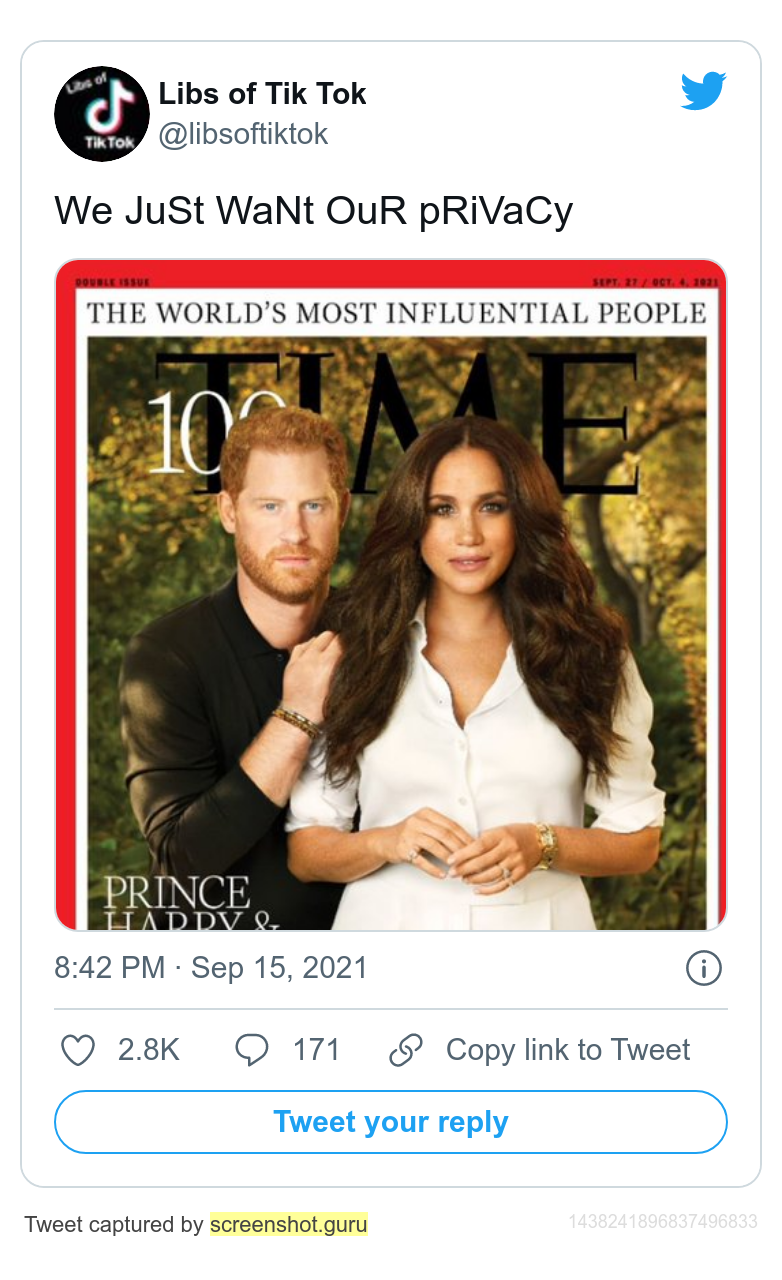 * * *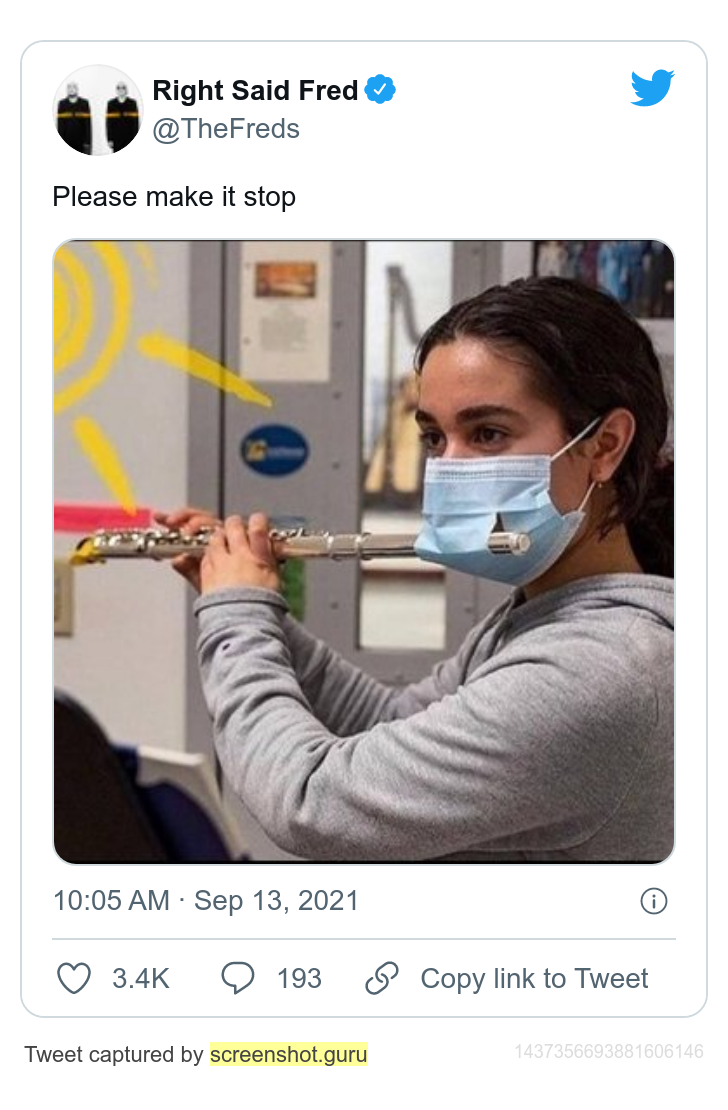 If you're wondering, "Hey, wait... is that the 'I'm Too Sexy' Right Said Fred...?"
Yes. Yes it is.
They should do a "I'm Too Sexy (for this Mask)" remake.
* * *

House Republicans demand an Article 15-6 investigation into Mark Milley's misbehavior in front of the enemy.
A group of House Republicans sent a letter Thursday to Secretary of Defense Lloyd Austin demanding a formal AR 15-6 investigation into Joint Chiefs of Staff Gen. Mark Milley. A report alleges that Milley promised to warn his Chinese counterpart ahead of time in case the Trump administration prepared a military strike against China.

The Daily Caller first obtained the letter, which was spearheaded by Pennsylvania Rep. Scott Perry and signed by 26 other Republicans. In the letter, the lawmakers mention reporting from an upcoming book by Washington Post reporters Bob Woodward and Robert Costa, specifically two secret phone calls that allegedly took place Oct. 30, 2020, four days before the presidential election, and Jan. 8, two days after the Capitol riot. During the phone calls, Milley assured Gen. Li Zuocheng of the People's Liberation Army that the U.S. would not strike and he would warn the Chinese in case of an attack, excerpts of the book "Peril," reviewed by The Washington Post, allege.

An AR-15-6 investigation is the Army's primary tool for gathering information in a variety of situations. A 15-6 investigation can be established to look into any situation a commander deems necessary and in the best interest of the military.
* * *

CNN had on their Deep State Source, the ultrapartisan operative Andrew McCabe, just as they were about to cut to McKayla Maroney's testimony about the FBI cover-up of her serial sexual molestation at the hands of Larry Nassar.
Andrew McCabe was Deputy Director the FBI at the time of this cover up.
Partisan propaganda outfit CNN chose not to ask McCabe about his cover-up for a serial r@pist at all.
Former Acting FBI Director Andrew McCabe is a paid contributor to CNN, and appeared on the network in that capacity Thursday morning to discuss Saturday's planned demonstration in support of January 6th rioters. Curiously, however, McCabe was never asked about the FBI's mishandling of the gymnast abuse scandal that literally took over CNN's air with stunning congressional testimony on Wednesday.
Why pay this guy six figures if you're not going to ask him questions about important controversies he has direct personal information about?
Oh right, because this isn't about news and informing the public, it's about paying off sources and fellow partisan operatives.
Hey, CNN, why don't you start your own book imprint so you have another way to pay off your Democrat operatives for their service?
* * *
Flashback: When the Tonight Show cancelled Norm Macdonald not for anything he did, but for the crime of saying that Louis CK and his friend and first boss Roseanne Barr shouldn't be cancelled.
Following Norm Macdonald's death Tuesday, we looked back to when "The Tonight Show starring Jimmy Fallon" canceled the superstar's appearance over his #MeToo comments and more.

The legendary comedian defended comedians Louis C.K. and Roseanne Barr during a 2018 interview with the Hollywood Reporter and said he felt for them amid a backlash against the stars, the outlet reported at the time.

"Out of sensitivity to our audience and in light of Norm Macdonald's comments in the press today, 'The Tonight Show' has decided to cancel his appearance on Tuesday's telecast," a 'Tonight Show' spokesperson shared in a statement at the time, despite the comedian's apology later in the day.
Whenever a "male feminist" tries too hard to show he's on the #MeToo side, everyone always wonders: Gee, what do they have on him?
Well, in Fallon's case, it turns out that he is alleged to have facilitated his pal Horatio Sanz's efforts to first groom and then molest an underage girl who was running a Jimmy Fallon fan site.
Comedian Horatio Sanz allegedly groomed and sexually assaulted an underage superfan at a "Saturday Night Live" party -- as cast members looked the other way, the woman claims in a lawsuit filed Thursday.

The unnamed Pennsylvania teen, who was 17 at the time, was running an "SNL" fan site in May 2002 when Sanz allegedly took her on a limo ride then "digitally penetrated her genitals" at a post-show bash, according to the lawsuit, filed in Manhattan Supreme Court.

The girl first met Sanz at age 15 -- when he was 31 years old -- in 2000 after he invited her to a taping of the sketch comedy show, according to the lawsuit, which names the actor and SNL Studios as defendants.

The next year, he summoned her to several after-show parties where he allowed her to drink, touched her inappropriately and told her "to sit on his lap," according to the lawsuit.

...

In September 2001, Sanz allegedly invited her to an "SNL" party where she drank beer with hard-partying former "SNL" actor Jimmy Fallon, Sanz and other NBC bigs, according to the lawsuit, which doesn't name Fallon as a defendant.

"Plaintiff sat with Jimmy Fallon and others in a VIP area, ordered and consumed a Budweiser beer in the presence of NBC/SNL employees," the suit states.
* * *
President Porridgehead forgot the name of the PM of Australia:
@RitaPanahi · 21h

Dementia Joe forgets the Australian prime minister's name at announcement of a new trilateral security partnership. He had 2 names to remember & he couldn't even manage that. Back to the autocue.
* * *
Glenn Greenwald on the Masking of the Servant Class:
COVID rules are now so convoluted that liberals are able to defend their leaders' actions while not even pretending to make sense from a scientific or rational perspective. Many defended Newsom and Obama's maskless partying on the ground that it was all "outdoors," even though both were actually inside tents and people had been shamed for months for taking their kids to deserted beaches rather than keeping them locked away at home. Liberals argue that it is fine for elites at Obama's party and the Met Gala to remain maskless since they are vaccinated, even as they defend the CDC's new mask directives for vaccinated people based on the view that vaccinated people still dangerously transmit the Delta variant to both vaccinated and unvaccinated people alike. They will claim that it is fine for rich Democratic donors at Pelosi's party to sit on top of one other maskless because they are eating even though the video shows they have no food in front of them (they are waiting for the masked servants of color to bring their food) and even though shoveling food into one's open mouth does not actually create a wall of immunity against transmission of the virus from one's open-mouthed table neighbors. The Met Gala's red carpet is said to be "outdoors" even though it is surrounded by tent walls and other structures, and still leaving the question of why workers need to be masked in the same area.

But all of this stopped being about The Science(TM) long ago -- ever since months of relentless messaging that it is our moral duty to Stay At Home unless we want to sociopathically kill Grandma was replaced overnight by dictates that we had a moral duty to leave our homes to attend densely packed street protests since the racism being protested was a more severe threat to the public health than the global COVID pandemic. One can locate in all of this jumbled and always-shifting rationale various forms of control, shaming, stigma and hierarchy, while The Science(TM) is nowhere to be found.


Even with all of this deceit and manipulation, there is something uniquely disturbing -- creepy even -- about becoming accustomed to seeing political and cultural elites wallowing in luxury without masks, while those paid small wages to serve them in various ways are forced to keep cloth over their faces. It is a powerful symbol of the growing rot at the core of America's cultural and social balkanization: a maskless elite attended to by a permanently faceless servant class. The country's workers have long been faceless in a figurative sense, and now, thanks to extremely selective application of decisively unscientific COVID restrictions, that condition has become literal.
Speaking of: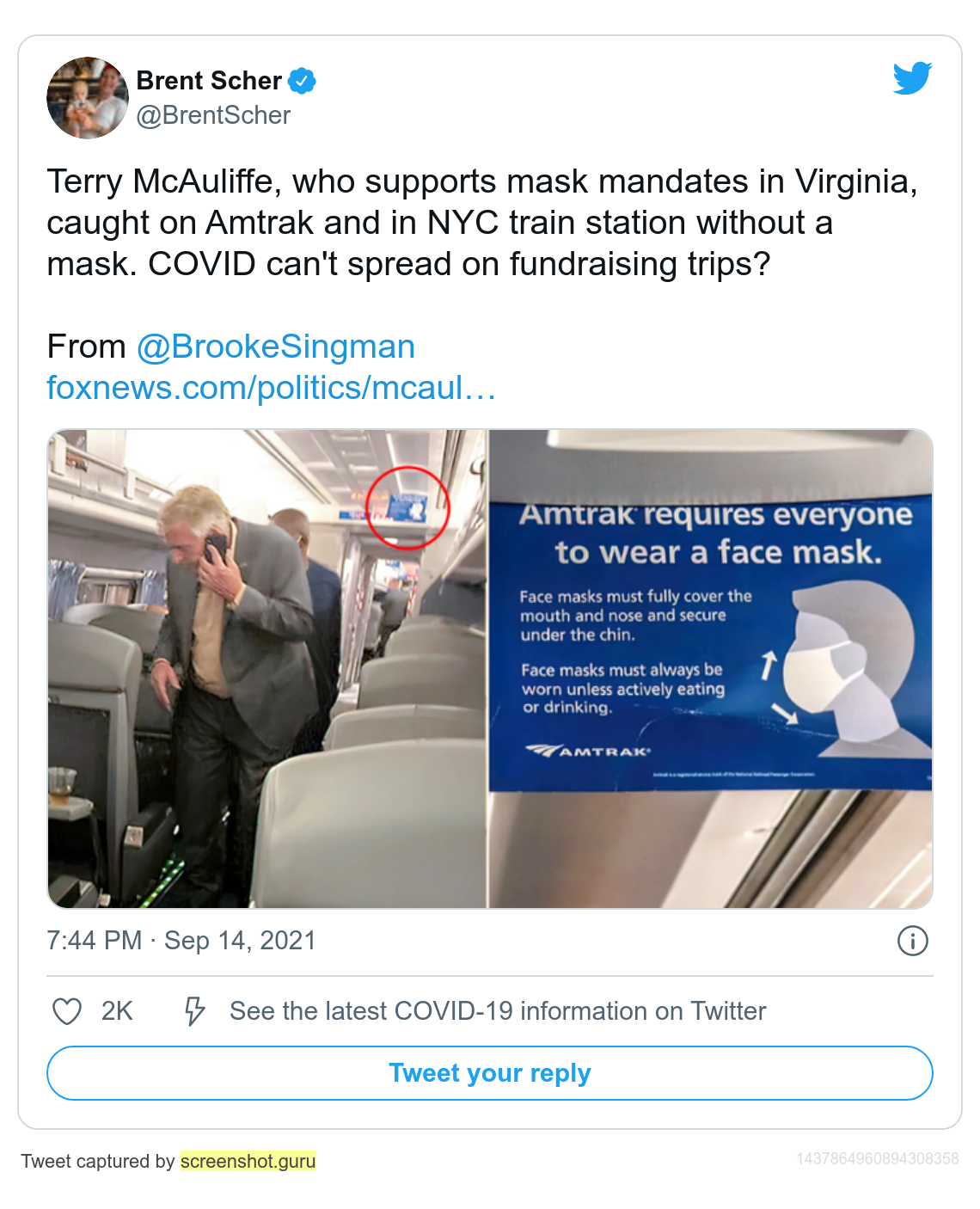 MacCauliffe is running a campaign against Republican Glenn Youngkin accusing Youngkin of being some kind of covid-denier.
And yet here's this old bent twink, whose mouth has definitely known the reassuring pulse of a man's penis, going without a mask.
* * *
* * *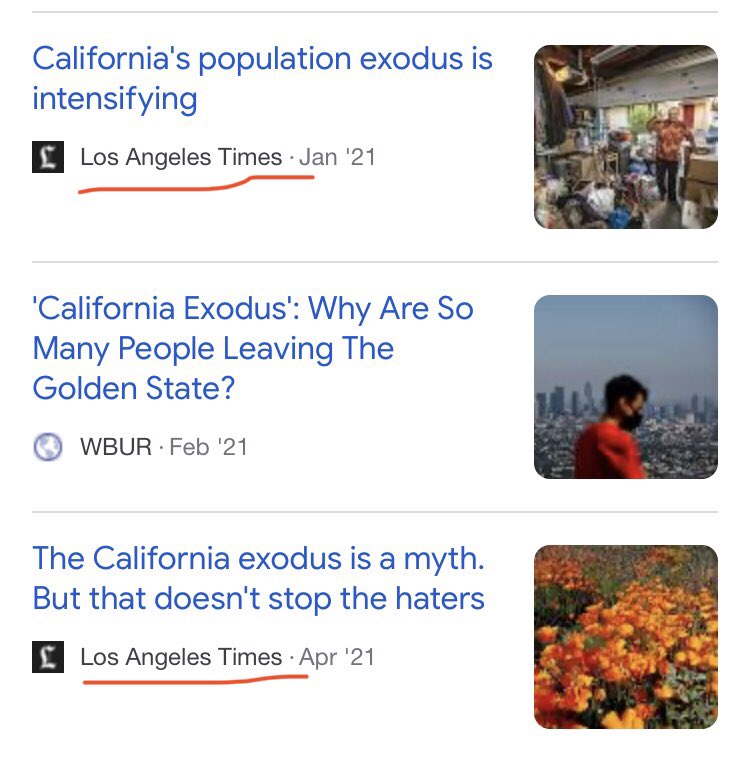 * * *
Go out there and be superheroes!

posted by Ace at
06:47 PM
|
Access Comments