« How much did the average US taxpayer pay for the military equipment abandoned in Afghanistan?
[TNDeplorable]
|
Main
|
Norm's Legacy Cafe: The World's Greatest Stuntdog Edition »
September 14, 2021
AOC Attends $30,000-per-Ticket Celebration of Plutocratic Excess Wearing a "Tax the Rich" Dress
God grant me communism, but don't grant it to me yet!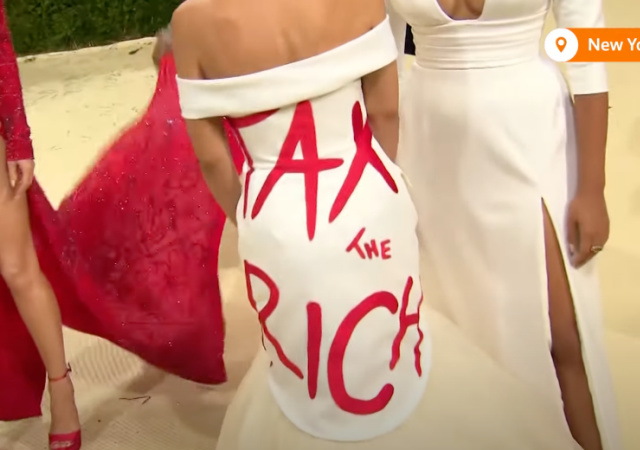 Alexandria Ocasio-Cortez drives a Tesla. She makes six figures. She lives above a Whole Foods.

AOC is rich. The Democratic Socialist (aka SOCIALIST) wore a "Tax the Rich" dress to the Met Gala of all places!

The interview is mind-numbing. AOC and the designer decided to go with "what it means to be working-class women of color at the Met."

The Met Gala! The party that hosts the richest and most entitled people. These people are worth millions.

A ticket is $35,000. A table is at least $300,000. The dress cost at least $25,000.
The police arrested leftwing protesters demanding "justice" for supposedly corrupt cops.
That doesn't bother me -- and apparently it didn't bother AOC, either, who wasn't going to let the violent arrest of her fellow communists spoil her big night with the well-heeled swells.
That wasn't the only hypocrisy on wretched excess display, of course.
Once again, the Sophisticated, Vaccinated crowd didn't bother wearing their masks, despite the fact that we're in what is claimed to be a surge of Delta variant in which the virus can be passed by the vaccinated.
Remember?
The swells at the Met Gala seem to have forgotten: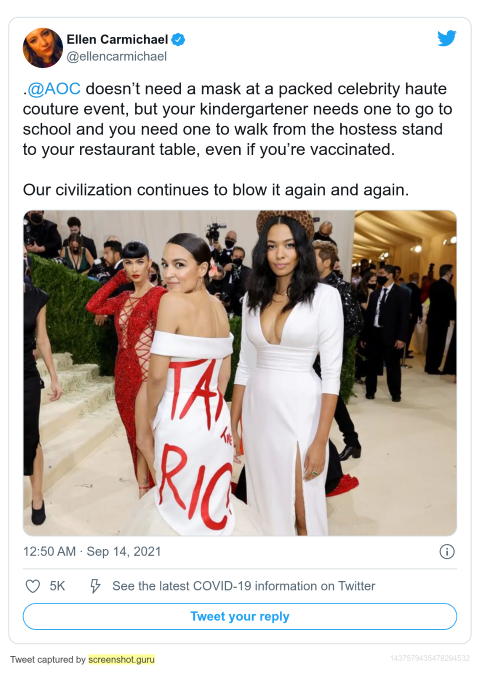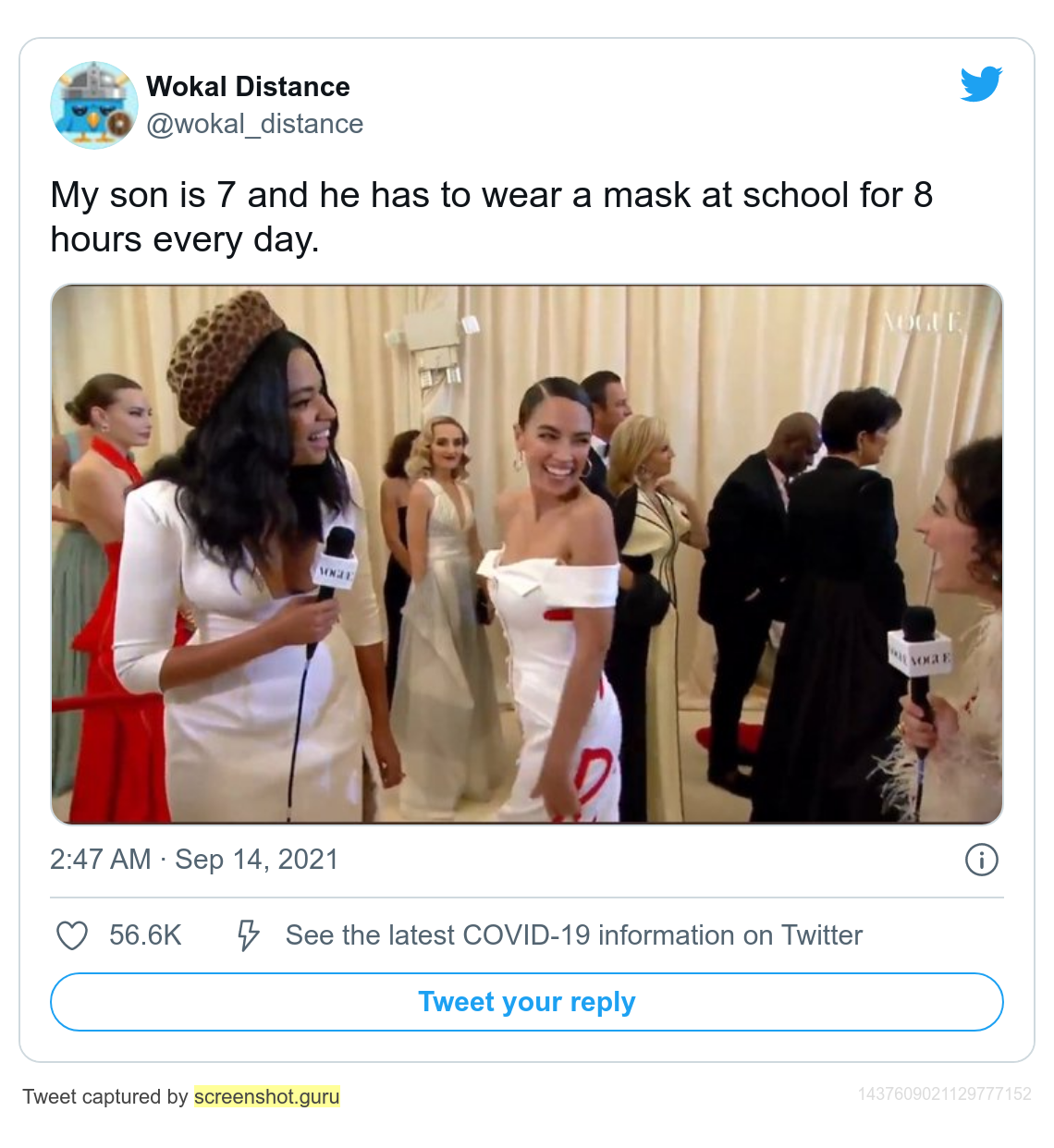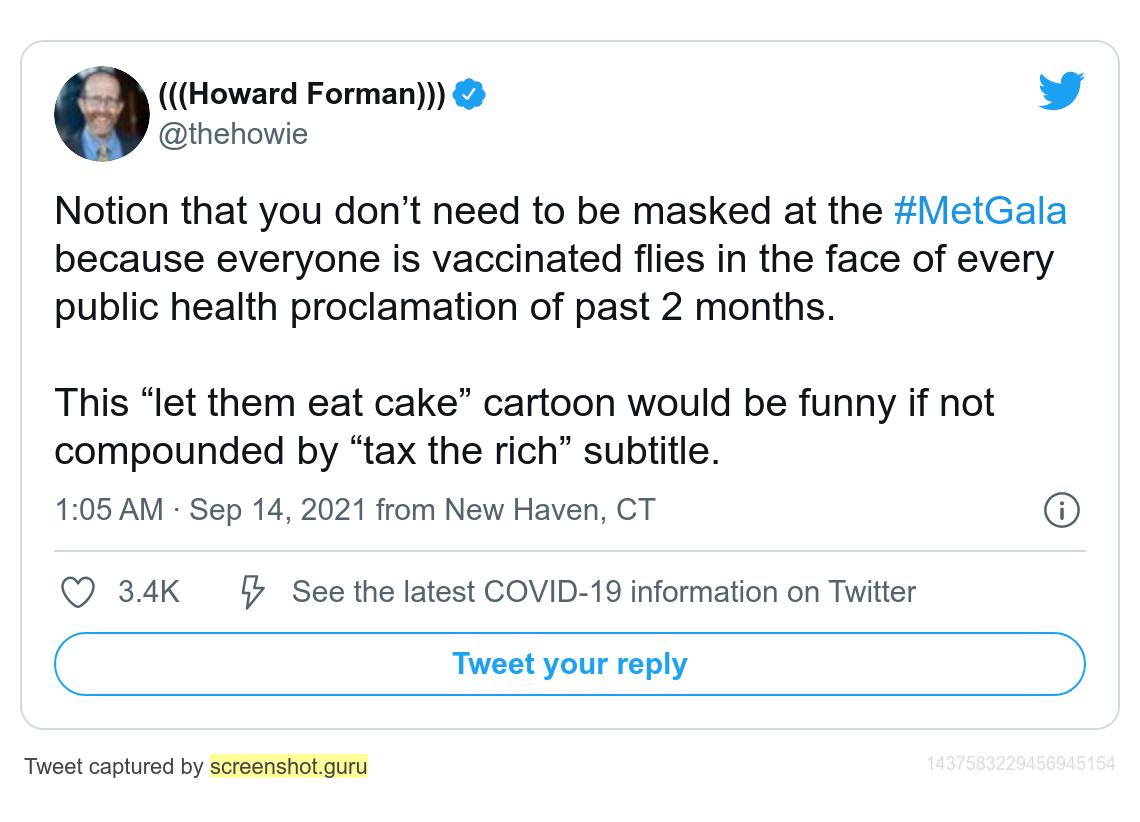 Don't worry, though: While the celebrities and plutocrats went maskless, the dirty, filthy servants were forced to wear masks. (Despite almost certainly also being vaccinated.)

This is Congresswoman Carolyn Mahoney -- a Democrat, of course! -- in front, with the dirty, diseased slaves behind her.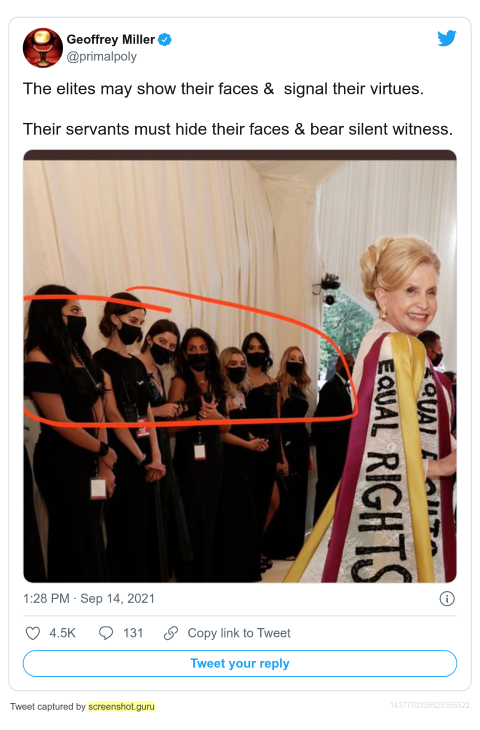 Strange -- if AOC wanted to present the theme of "what it means to be middle- or working-class," why didn't she keep her mask on, in solidarity with the masked peons she's supposedly the champion of?

AOC had a justification for why she was attending a $30,000-a-ticket celebration of the plutocratic elite despite her official position of wanting to immiserate everyone equally through corrupt, vicious socialism: She was there as part of her job to "uphold cultural institutions" or something.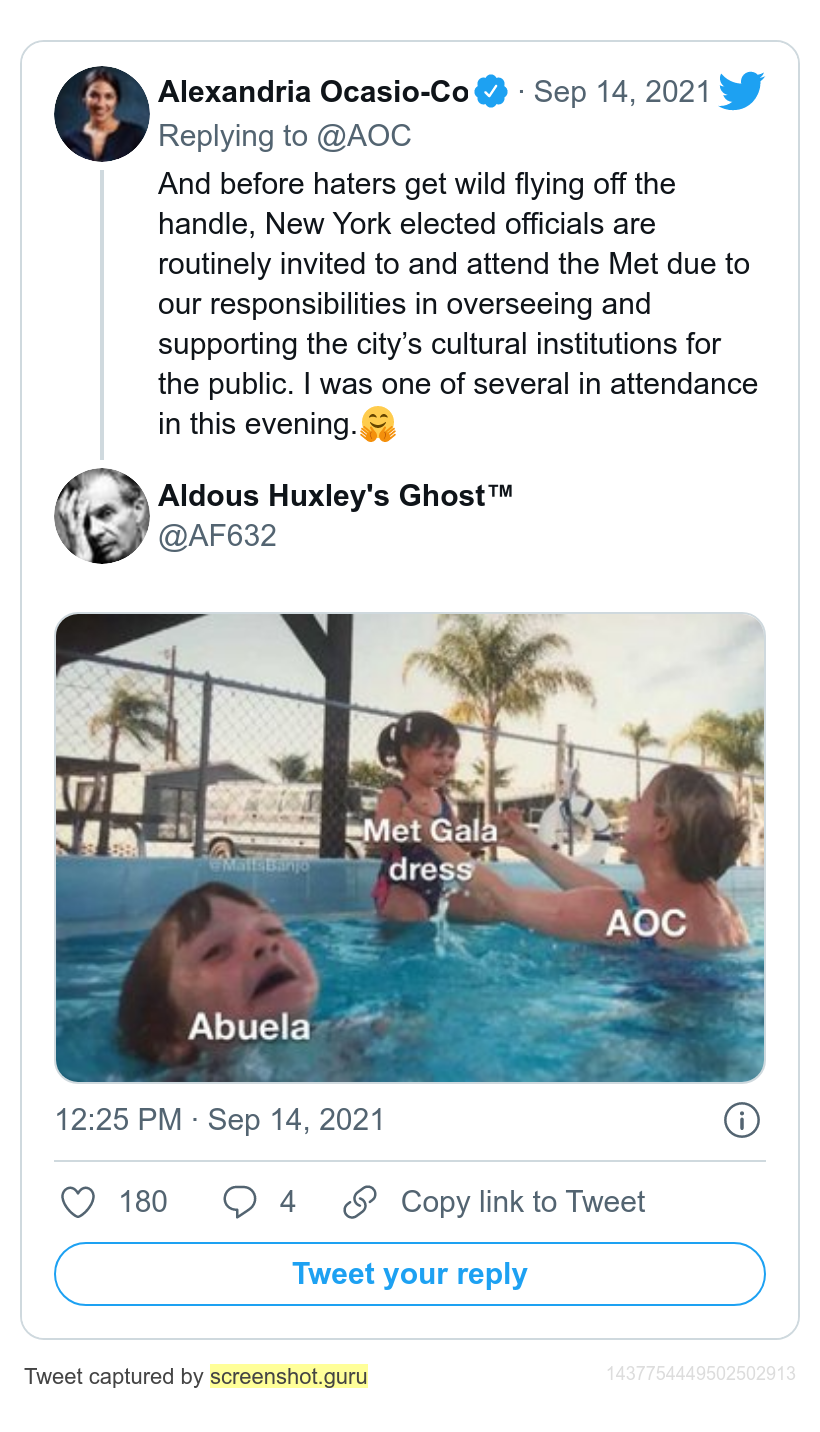 Two points about this picture:
1. AOC claims that her designer is "an immigrant." But she immigrated from... Canada.
2. AOC is of course not wearing a mask, while the dirty peasant servicing her needs is required to do so, so as not to breath her foulness upon this little princess.
Update: This poor striving immigrant black woman is partners with... the heir to the Bronfman/Seagram's mega-fortune.
AOC was photographed leaving the event with Aurora James, the designer of her dress, and James' partner Benjamin Bronfman, the heir to Seagram's Company Ltd. and son of former Warner Bros CEO Edgar Bronfman Jr. AOC's reps won't say who invited her, nor will representatives for Mayor Bill de Blasio - who attended the event with his wife and his son.

She boasted to the magazine: 'The Met Gala is seen as elite and inaccessible...As a working class woman, [I] wanted to enjoy the event but also break the fourth wall and challenge the industry,' she proudly told Vogue at the event.
Yeah you sure challenged it, Socialist Socialite.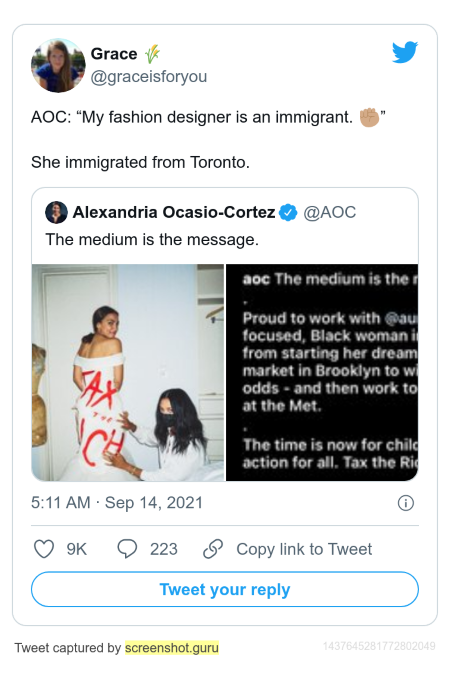 After using her body to post a political message, some criticized her message.
AOC immediately went into I'm Always The Cutie-Pie Victim mode, claiming that anyone noting the blatant hypocrisy on display here was "policing her body" and essentially guilty of sexual assault.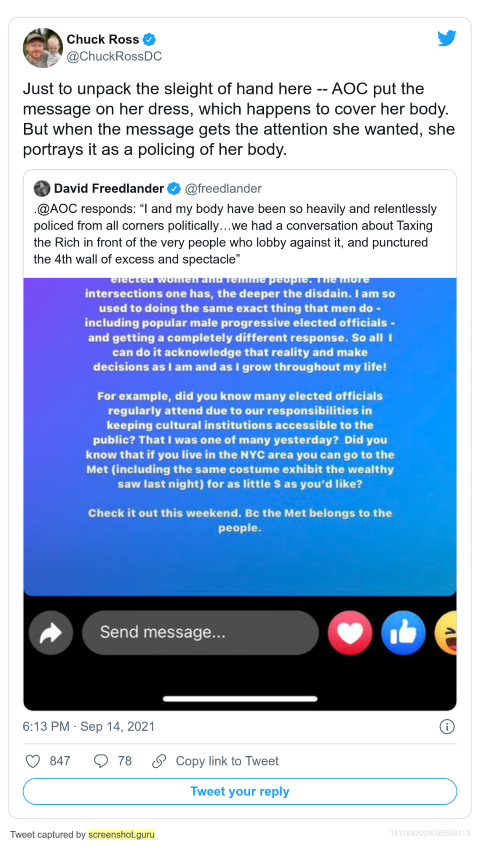 I'll say one thing: The Met Gala makes me strongly consider the lynching of the very wealthy as a cleansing step.
You take a look at that thread and tell me you're not itching to stretch the necks of a few plutocrats.
Several noted that this looked like Panem's opening gala for the Hunger Games.
Cara Develigne -- the heiress of the Conde Nast media empire -- actually wore a t-shirt reading "Peg the Patriarchy."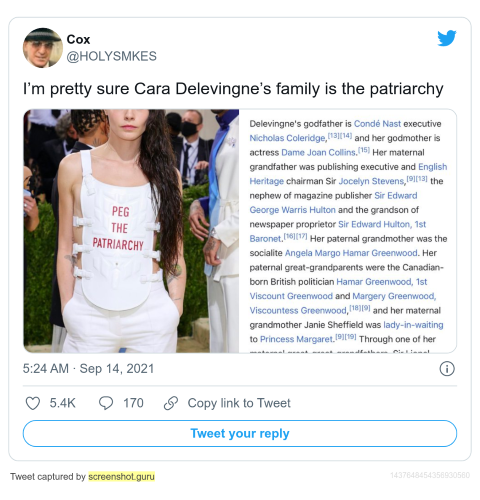 Two points:
As that guy said, she is the patriarchy. Unless she wants to sign away her family fortune and promise to never use personal connections to get another job.
Which I don't think she's going to do. She's not very attractive for a model. She must have the same agent as Kumala Harris' step-daughter.
Second: By "peg" the patriarchy, she of course means "jam a foreign object into the anuses of the patriarchy against their will, using force."
What would this rancid little rich bitch say about someone making a similar call to use non-consensual sex as a weapon of political coercion against her?
Update:
The politcos all wore their masks at the 9/11 Memorial when they were facing the cameras.
Then they tore them off to network with each other.
They don't seem very concerned about "asymptomatic spread" to me.
They seem to think covid is a joke and has been defeated.

posted by Ace at
06:03 PM
|
Access Comments