« EMT 9/12/21
|
Main
|
"Three Generations Of Idiots Is Enough" Only, I Am Referring To Our "Elites" »
September 12, 2021
Sunday Morning Book Thread 09-12-2021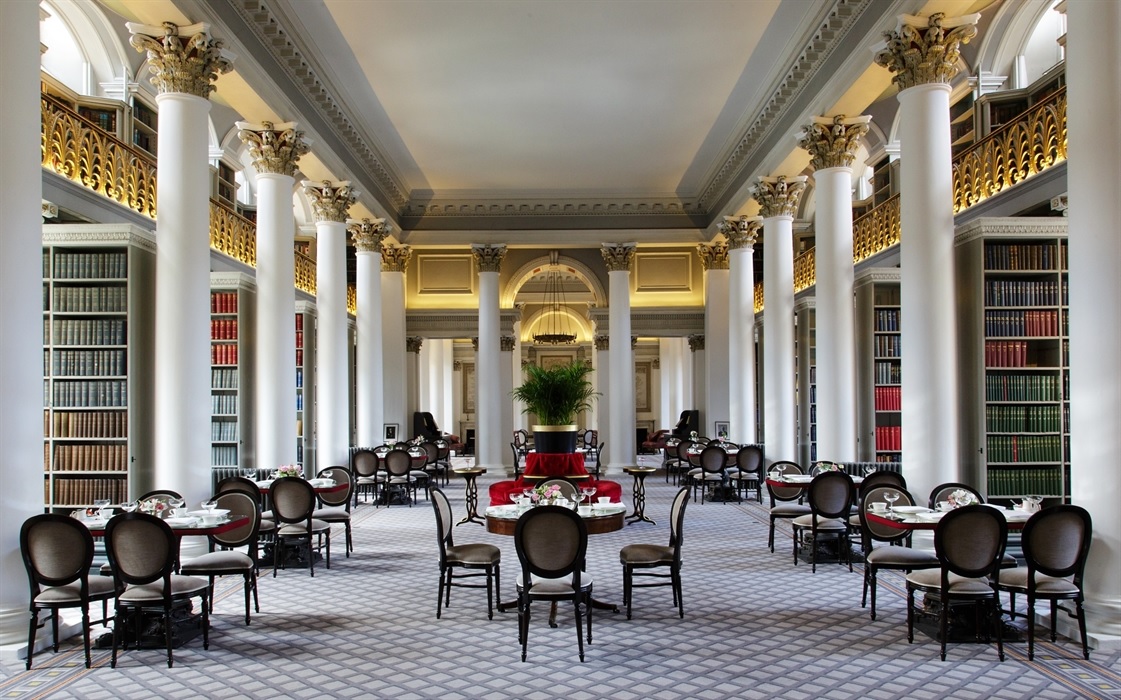 Signet Library, Edinburgh, Scotland, UK
Good morning to all you 'rons, 'ettes, lurkers, and lurkettes, wine moms, frat bros, crétins sans pantalon (who are technically breaking the rules). Welcome once again to the stately, prestigious, internationally acclaimed and high-class Sunday Morning Book Thread, a weekly compendium of reviews, observations, snark, witty repartee, hilarious bon mots, and a continuing conversation on books, reading, spending way too much money on books, writing books, and publishing books by escaped oafs and oafettes who follow words with their fingers and whose lips move as they read. Unlike other AoSHQ comment threads, the Sunday Morning Book Thread is so hoity-toity, pants are required. Even if it's these hideous eyesores, and these guys aren't exactly soyboys, but they're the ancestor of soyboys, so I guess you could call them ur-soyboys. They'd still be invited to my barbecue. But I'd wear sunglasses.


Pic Note:
The Signet Library is home to the Society of Writers to Her Majesty's Signet - WS Society for short:
The Society goes back to the 15th century as the officers authorised to produce royal manuscripts with the King of Scotland's seal, 'the Signet'.

The 'Writers' were part of the College of Justice established by James V in 1532 which recognised judges and lawyers as separate from the state and is the bedrock of Scotland's legal system. 'Writers to the Signet' have played a prominent part in the development of Edinburgh and Scotland, not just in law but in other areas. For example, Sir Walter Scott was apprenticed as a WS. The Society today remains a highly respected and prestigious body of lawyers.

The building is a classical masterpiece and is a category A listed building. The classical architecture inspired the concept of Gran Caffè and Italian influence.
Looking might hoity-toity there. But it's still a functioning law library.

It Pays To Increase Your Word Power®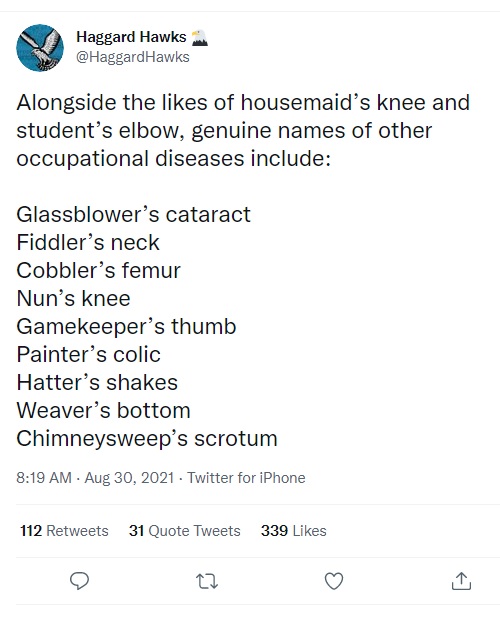 OK, I guess I'm going to have to explain that last one: Back in the day, the chimney sweeps' boys had to climb the chimneys naked and the tar in the soot caused cancer of the scrotum. A law was passed to make the masters give the boys a bath at least once a week to prevent this. You can find out more than you probably ever wanted to know here.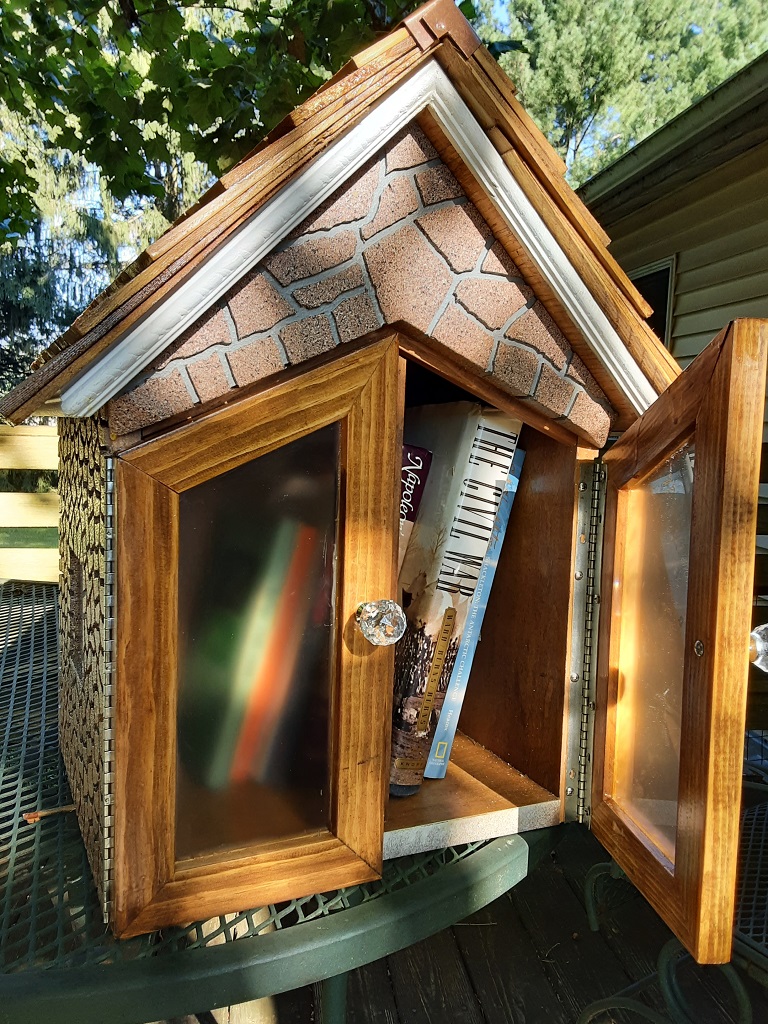 The Little Free Library That Moron Skip Built
So Skip says to me, he says:
This picture shows it is very tall, also was worried I would have trouble finding it a home but showed it to my sister and she said it was too nice to pass up.
I think it looks great. I just hope some ne'er-do-well doesn't come along and steal it.
Reverse view here.


Sliding Into Barbarism
The thesis of the book Losing Our Dignity: How Secularized Medicine is Undermining Fundamental Human Equality by Charles C. Camosy is pretty much contained in the title. On his Twitter feed, he explained further:
Here's my thesis: as medicine (which operates at the threshold of life and death) secularized we lost the basis for saying human beings are equal: namely, our sharing a nature which reflects the image and likeness of God. We still kind of operate as if we still believe it, but many populations have lost their equality: prenatal children, those who are deemed 'vegetative' or 'brain dead.' Toddlers with neurodegenerative disease. and I argue the next population to go will be those with dementia It's likely that euthanasia is coming for people with dementia if we stay on our current trajectory. after all, they don't have the required level of rationality, self-awareness, autonomy, or productivity.
This book is particularly timely because we have the entire progressive wing slobbering and champing at the bit to declare vast swaths of the American population unpersons: the the unenlightened, the unwoke, and, lately, the unvaccinated:
A former US senator from Missouri, Claire McCaskill, also wants the unvaccinated to have their insurance rates raised. Piers Morgan, the British TV personality, demands to his nearly 8 million Twitter followers that the NHS must refuse them hospital beds. An emergency medical physician in Arizona responds to a video clip of people unmasked in a grocery store with a message, "Let 'em die". A liver surgeon at Massachusetts General suggests that declining a Covid vaccine should be treated by doctors as a functional Do Not Intubate/Do Not Resuscitate order.These are neither private thoughts nor quiet conversations with overworked colleagues: these are calls to action, shared on social media, intended for public consumption.
These will all be lumped in with the unborn, the unremorseful and the unproductive. And it's kind of weird when you think about it since they really aren't any more dangerous than they were last year before any of the vaccines were rushed to market.
We've started down a very dark and very ugly path.


Who Dis: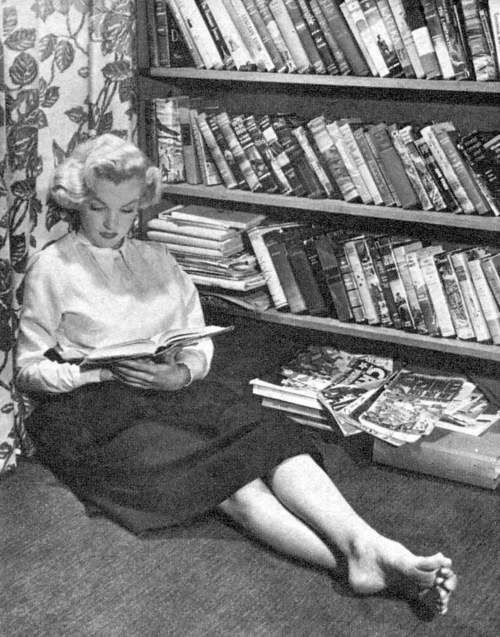 Last week's who dis
was actress Joan Fontaine, in a publicity still from the movie
Suspicion
.
Last week, a moron mentioned that Suspicion is based on
...a superb and creepy novel called Before the Fact by "Francis Iles" (Anthony Berkeley). Aside from the wildly unbelievable ending, the film follows the novel quite closely. The book is one of the best jobs of characterization, both of the charming male sociopath and of the woman who loves and enables him, that I've ever read.

Posted by: Wolfus Aurelius at September 05, 2021 08:24 AM (quCFJ)
The Amazon blurb for Before the Fact says this:
When wealthy but plain Lina McLaidlaw marries feckless Johnny Aysgarth, she is certain she can change him for the better. Despite her hopes, she is soon forced to acknowledge the truth - that he is not only a compulsive liar and a crook but also a murderer. She continues to love him, while fearing she will inevitably become one of his victims.

Written in the age of Agatha Christie's mysteries, this suspenseful novel turns the storytelling on its head, introducing you to the murderer early on before going on to explore the psychology of the relationship between murderer and victim in enthralling detail.
Originally published in 1932, it was one of the first psychological suspense novels. The good news is that it's still in print in a paperback edition and it's also available on Kindle for $3.99.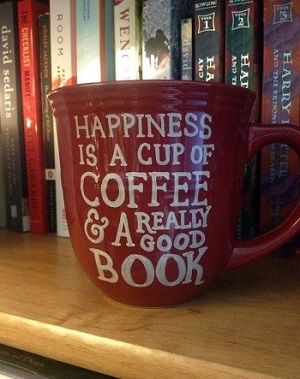 Moron Recommendations
143 My wife (the lovely and accomplished Annalucia) and I have been reading aloud the memoirs of Lady Diana Cooper. She lived between 1892 and 1986, was a noted beauty in her day, and was the wife of Alfred Duff Cooper and mother of John Julius Norwich. The memoirs are in three volumes, all long out of print, though we're reading an edition that has all three bound into a single book. Cooper writes beautifully, and describes her life as a child of a now-vanished Victorian aristocratic world with clear-eyed wonder. Highly recommended.

Posted by: Nemo at September 05, 2021 08:48 AM (S6ArX)
I could not locate the single-volume edition that Nemo and Annalucia are reading, but Lady Diana Cooper did publish her autobiography in 3 volumes, available separately, still in print, and also on Kindle.
Vol 1: The Rainbow Comes and Goes
Vol 1: Kindle edition
Vol 2: The Light of Common Day
Vol 2: Kindle edition
Vol 3: Trumpets from the Steep
Vol 3: Kindle edition
___________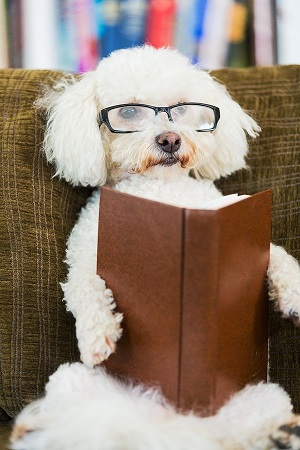 385 I need to get up earlier.

Currently reading "Mind Games", Book 4 of Dan Willis' "Arcane Casebook" series. It's a noir detective series set in 1930's New York City, but in an alternate universe where magic exists as a kind of technology. The magic is ubiquitous, but it has rules and limitations, and is mostly used for practical applications like heating coffee, staying dry in the rain, or finding lost dogs. The characters are interesting and well-drawn, and not anachronistic. Stories work well as noir even without the magic element, and crimes are mostly solved by old-fashioned legwork.

I might have got up early enough to write a more detailed review, but I was up very late last night reading the book I just mentioned. I didn't want to put it down.

Posted by: Toad-O at March 28, 2021 12:13 PM (cct0t)
The fact that the book enthralled him enough to keep him up way past his bedtime is a good sign.
But let's start at the beginning of the 7-volume 'Arcane Casebook' series, In Plain Sight:
When a magical plague is released in a Depression-era New York soup kitchen, private detective Alex Lockerby finds himself in a desperate hunt to catch a madman before he can strike again.

His investigations lead Alex to a famous thief, a daring heist, and the search for a mythic book of ancient magic, but none of that brings him any closer to finding the man responsible for the massacre. With the police and New York's Council of Sorcerers desperate to find the culprit, Alex becomes a suspect himself, thanks to his ties to the priest who ran the soup kitchen.

Now Alex has his book of spells, a pack of matches and four days to find out where the plague came from, or that authorities will hang the crime squarely on him.
The Kindle edition is only $2.99.
Detective noir + magic is an interesting combo.
By the time we get to the fourth installment, Mind Games, Lockerby is trying to juggle two clients, one a missing-person case and a murder case where he's hired to find evidence to exonerate the main suspect. But:
As Alex investigates he becomes convinced that both of his clients are being manipulated by someone with a bigger agenda. He knows he's on the right track when a would-be assassin takes a shot at him. Now Alex has to figure out who's running a deadly con game in Manhattan, hopefully before he and his clients become the sacrifice pawns.
The Kindle price is $4.99.
___________
Appropriate for this 9/11 weekend, lurkette author Kia Heavey (Domino) recommends Day of Days: September 11, 2001, A Novel of the Fire Service by Frank Napolitano. The Amazon blurb is way too big to reprint here, except for perhaps this bit:
For these men, the fire service is their heart, their blood, and their brotherhood. On the morning of September 11, 2001, bound by that brotherhood, they responded to the alarm at the World Trade Center. They fought that day to save civilians, each other, and themselves, against an adversary they thought they knew, and with every step they took, came to realize they might not see another sunrise...

This visceral and unsettling novel tells the story of the firefighter's life, culminating with the emergency response to the terrorist attacks on the World Trade Center on a spectacular September Tuesday in 2001. It portrays the courage, pain, and devotion of the men and women who respond when the alarm is sounded, who follow an unwritten code borne of necessity and preservation, and who sometimes pay the ultimate price so others may live.
Ms. Heavey informs me that novel's author is a personal friend of hers:
About the author, Frank Napolitano – I've known him since we were both students at Columbia U in the 80's. He's been a volunteer fireman since his teens and remains a wonderful volunteer in our community. He was part of the team our firehouse sent to respond to the aftermath of 9-11. He's been working on this novel for a decade, and I can promise it's as polished and powerful as anything anyone's written this millennia. Also, Frank is "one of us", so readers can expect a powerful read free of sucker punches or leftist moralizing!
The Kindle edition sells for $9.99.
___________

So that's all for this week. As always, book thread tips, suggestions, bribes, insults, threats, ugly pants pics and moron library submissions may be sent to OregonMuse, Proprietor, AoSHQ Book Thread, at the book thread e-mail address: aoshqbookthread, followed by the 'at' sign, and then 'G' mail, and then dot cee oh emm.
What have you all been reading this week? Hopefully something good, because, as you all know, life is too short to be reading lousy books.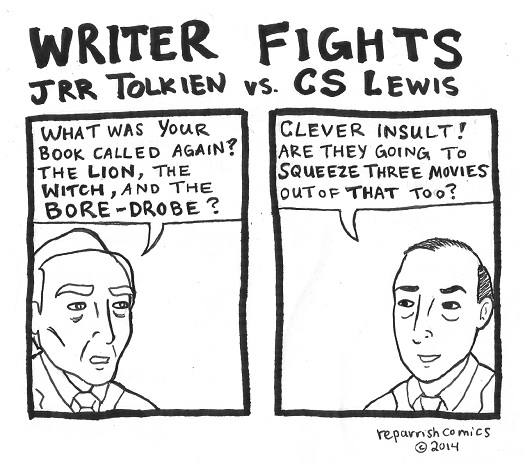 posted by OregonMuse at
09:00 AM
|
Access Comments