« Quick Hits: Medical Tyranny USA
|
Main
|
Daily Tech News 10 September 2021 »
September 09, 2021
In The Country Of The Blind, The ONT Is King
Hidely-ho Morons! Welcome to the Thursday ONT!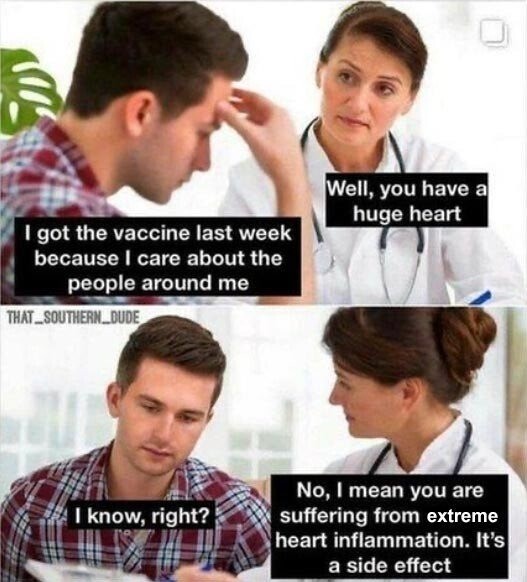 Letter From A Moron

As a doctor, here's my message to anyone who thinks it's OK to deny medical treatment to those unvaccinated against Covid
That's by Moron, children's book author and doctor (listed in order of importance) R.M. Huffman. Boys, I think he's been compromised, it was published in RT! Comrade Huffman assures me that he is as much of a Yankee imperialist warmonger as always, and he says that his handler at RT assures him that it has received great acclaim from the exploited proletariat in Amerika, but I'm not so sure.

Seriously, it's a good article, you should read it.

Wiggly, Squiggly, Gold By The Basterfull!

Anti-Vaxxers are Hoping to Make A Killing Off Their Sperm

Does anyone remember a SNL skit from 1988 presidential campaign? Dana Carvey's George Bush is debating in catchphrases - "Not gonna do it. Thousand points of light" and Jon Lovitz's Dukakis' rebuttal is an amazed "I can't believe I'm losing to this guy". I feel like the Dukakis character more and more these days. The way the progressive left and especially the media (birm) responds to the most blatant and obvious trolling attempts from the fevered autists at places like 4-chan. actually boggles my mind. No, there is not a black market for sperm from an unvaccinated man, and nobody outside of the bucktoothed swamps of southern Louisiana thinks that there is. No, women are not pissing their pants in support of I-forget-what-cause-now (that one may have come from the fevered autists of PornHub (but who am I to criticize? Let those of you with a free hand throw the first stone)). Both of these have been covered as actual "news" by real, live "journalists". I swear to Og that all my life I always figured there would come a point at which common sense would break out, but every day my doubts increase.

Breaking Point
US troops' rage at their leaders will grow unless there's deep reform
Someone once said that the left runs around wearing the hollowed out skins of institutions that it has killed, demanding the respect that those institutions earned before their demise. Many thought the military immune to such a thing, I doubt many think that anymore.
Generally speaking, a nation where the civilian leadership fears its citizens and has lost the nation's confidence, and where the senior military leadership has lost the confidence of those down the chain of command, is a nation in trouble.

Elsewhere, such circumstances would supply the dry tinder for a military coup. Fortunately, the United States is a bit more resistant. With so much of our government, and even our domestic military force, divided up among the states, a coup is much harder to pull off. And with our institutions, weakened as they are, still comparatively strong, we aren't likely to see a "Seven Days in May" scenario in the near future.

But while unlikely, that scenario is now more likely than it used to be. And that's because the people responsible for our great institutions, civilian and military, aren't doing their jobs. In particular, they aren't keeping faith with the people they are supposed to serve.

So, question of the night: Many of you Morons proudly served in the armed forces of the United States. If your 18 year old child came to you and said that he or she was thinking of joining the military, would you encourage them, or discourage them?
The Quigley Shoot
The Matthew Quigley Buffalo Rifle Match, an annual event named after Tom Selleck's character in Quigley Down Under, which is a rather good 1990 western (hey, I said I didn't have much use for Hollywood movies. I never said I didn't enjoy a good one).

Every year on Father's Day weekend, hundreds of people gather in Montana for a weekend of shooting 1870s era rifles and reproductions at targets out to 1200 yards. Has anyone here ever gone? It looks like it would be a hell of a lot of fun. Anyone know where I can get an 1874 Sharps for a good price?

Related:
This is neat.
Now personally, I'd put the extra shells in some kind of a box below the barrel, and design a mechanism to eject the spent shell and load a new one around that, but I guess nobody had thought of that yet.
Celebrity News
Lindsay Lohan bitten by snake on holiday in Thailand
I find it hard to believe that a snake could arrange to take a holiday, much less book airfare and hotel reservations, but I guess stranger things have happened. Thailand though, it brings into question the character of this snake. How do we know he wasn't there to patronize the ladyboi snakes in the local brothels, huh?

Wheee! Clickbait!
Service With A Snarl: The Worst Customers Ever
I know, I know. As I said, clickbait. Still, assuming the site isn't unnavigable due to pop ups and ads, some of the stories are interesting.
My high school writing teacher circled the word "ebbed" and wrote in the margin "not a word!" in bright red ink. They were grading my creative writing assignment and when I showed her it was a word in a thesaurus she got defensive. She asked what brand the thesaurus was and never liked me after that. I still don't understand why.
Imagine being a writing teacher and not knowing the word "ebbed".
Why Try Harder?
NJ native says Avis repoed vehicle without warning
Wild story. He rented a car from Avis, and they sent out a tow truck to retrieve it while he was sleeping and wanted to blame him for not returning it.
Tonight's ONT has been brought to you by rolling a Nat 20 on your dex save throw:
A Note From Yr. Obt. Svt.
I apologize for the shorter ONT. Tomorrow is Little's first home football game, and I volunteered to help line the field after work so I didn't have as much time as usual. A bunch of laughing dads and coaches, working together to get things ready for their son's game. Summer still holds sway in East Texas, but not with the ferocity of August and the harbinger of fall can be seen in the way the shadows lengthen across the field by 6, and in morning temperatures which are decidedly pleasant. By the end of the month they'll be bordering on cool. Small(ish) town America, what a place to make a life!

posted by WeirdDave at
09:48 PM
|
Access Comments