« Moderate, Centrist Dementia Patient Who Will Restore Our Precious Democratic Norms Announces He Will Impose Medical Fascism By Executive Fiat
|
Main
|
In The Country Of The Blind, The ONT Is King »
September 09, 2021
Quick Hits: Medical Tyranny USA
When fascism comes, Instapundit was fond of saying ten or fifteen years ago, it will come in the guise of "Health and Safety."
And here we are.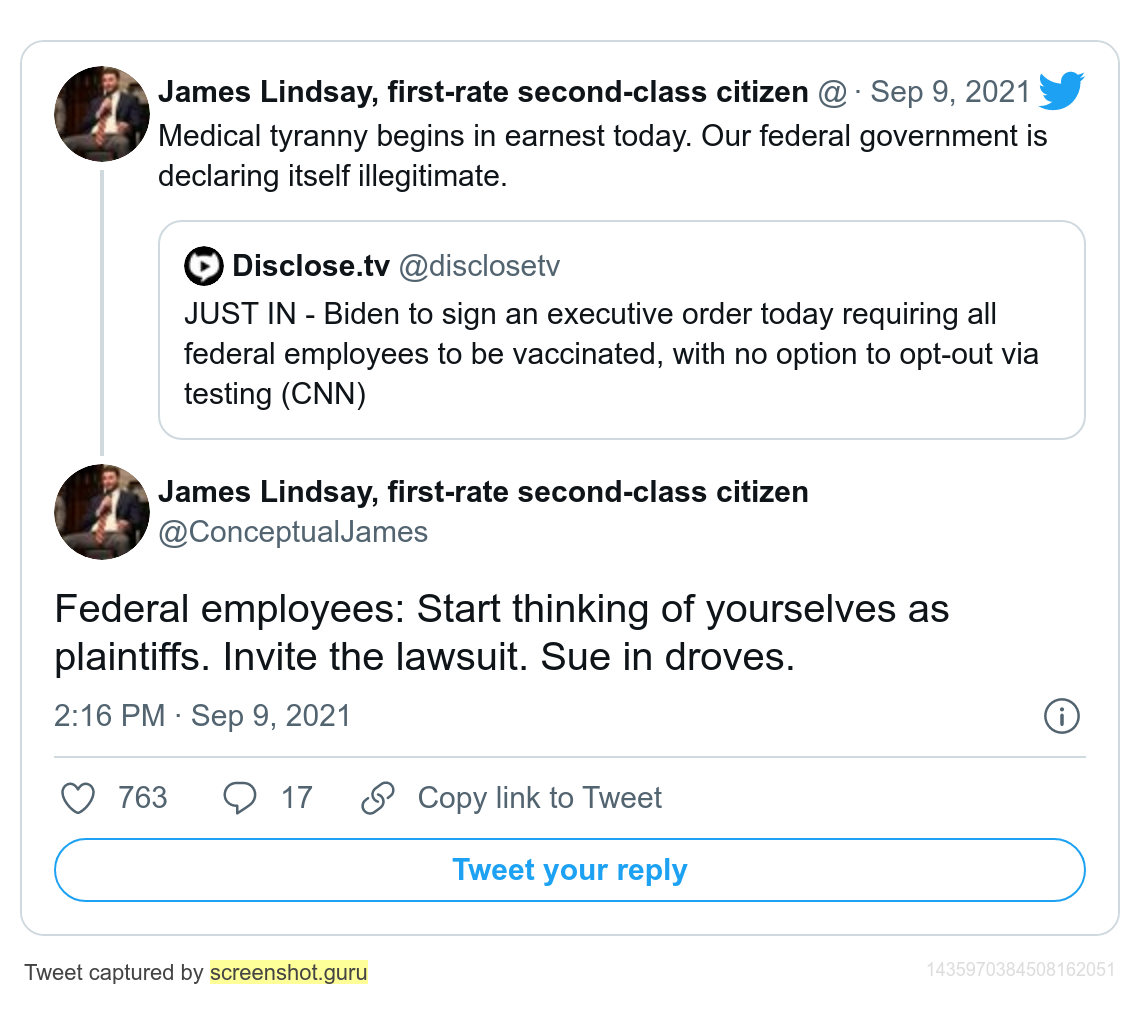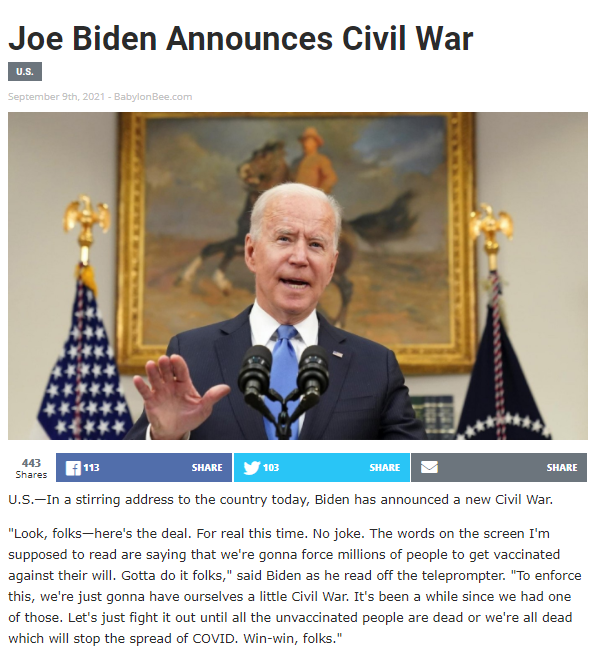 A friend emailed me to say Jesse Waters had made a good point on the Fox five o'clock show: Biden is not just attempting to boost his own popularity by demonizing a minority -- a "distinct" minority, he said twice, with hissing distaste, as if it were a racial slur -- but is setting up an excuse for why the economy is tanking under him.
When the economy continues to tank, and inflation continues to soar, Biden will just blame the unvaccinated.
I'd go further and say This is the entire reason for this unconstitutional power-grab. He knows he faces an increasingly likely wipe-out in 2022: He must do something, then, to change the trajectory.
If he can't fix the economy, he'll fix blame.
And he is looking at a a huge wipe-out if things don't change.
According to FiveThirtyEight, Biden's approval rating sits at 45%, with 49% disapproving. Those numbers closely mirror Bill Clinton's at the same point in his presidency, and are worse than Obama's numbers in 2009.

Why does that matter?

Because Clinton lost 54 House seats and Obama lost 63.

One Democratic strategist explained to Newsweek that the party has no margin for error because of their razor-thin majority in the House -- just eight seats.
The strategist described the party as "competitive" in the midterm elections if Biden is at 51% approval, headed for a good outcome if he stands at 53%, but poised to lose the House and Senate if he's at 49% or below.

"Swing districts are three to four points more Republican than national polling," the source said. "If Biden is down five to six points in swing districts, that's how Democrats lose 30, 40 or 50 seats."
So divide, divide the country. Attempt to demonize a "distinct" minority to become the hate-objects and scapegoats for a transitory majority, keeping them together through shared, stoked hatred just long enough to get through 2022.
This is fascism.
Direct all of the country's anger towards a "distinct" minority. Blame the Jews. Wait, I mean blame the unvaccinated, who are the subversive wreckers undermining society with their clannish, inscrutable ways.
A lot of those unvaccinated are black, of course. But Biden is counting on black loyalty to the Democrat Party to be absolute.
We'll see.
Update: By Jove, I think he's got it!
The state of the economy is due to hoarders, kulaks, wreckers, counter-revolutionary elements and foreign spies!

Posted by: Hadrian the Seventh

Now just keep repeating your official state catechisms, peasants.
***
I mean to mention this yesterday: The teachers unions again pressured the CDC to change its recommendations in order to placate this purely political -- not scientific, of course -- pressure group.
This history of the CDC's mask guidance isn't a brief topic to cover at this point. But if you can rewind your mind back to May, there was a brief moment when the CDC surprised everyone by announcing that masks were no longer required outdoors or even indoors in many cases. This change of course was breaking news at the time.

But within a day of that announcement there was a lot of pushback from epidemiologists and from nervous progressives and elected officials. And it turns out there was some serious pushback happening behind the scenes as well.

Today Fox News reports that the National Education Association was upset with the new guidance because it seemed to make it tougher on teacher's unions to demand mask wearing in schools. They threatened to release a statement critical of the CDC. A draft of the statement was sent to Erika Dinkel-Smith, the White House director of labor engagement...
And the CDC changed "The Science" yet again, to benefit a crucial Democrat voting bloc.
***

Biden will not address the country on the 20th anniversary of 9/11.
Charlie Spiering
@charliespiering
Jen Psaki confirms Joe Biden will not deliver a live speech on 20th anniversary of 9/11.

"You will hear from him in the form of a video in advance -- or if that will be available that day, I should say."
Presumably he'll be continuing his Endless Vacation in Delaware.
***
Glenn Greenwald posts a sarcastic insult about Drama Queen Bitch and Pretend Toughboi Jim Acosta: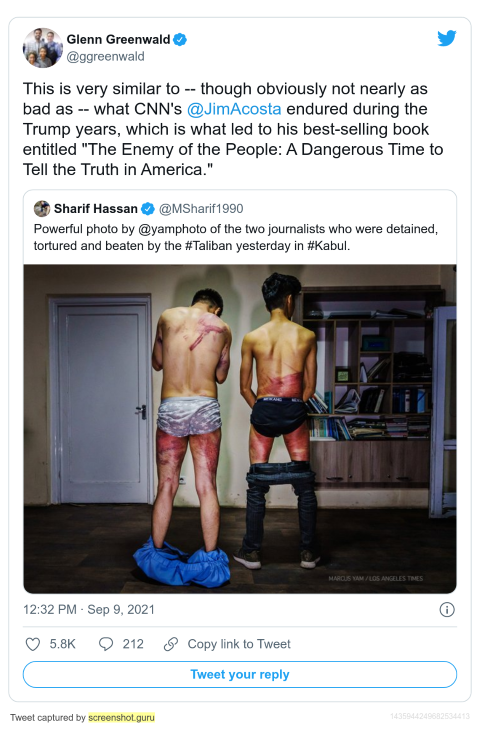 Chris Wallace preens for his fellow liberals on Colbert's show, bragging that he will not have any Republicans on a Fox show who questions the past election.
Fox News anchor Chris Wallace said Wednesday he has "purposely" kept lawmakers off his Sunday news program who have spread unfounded conspiracy theories about electoral fraud and suggested President Biden's win in 2020 was not legitimate.

"Well, there were plenty of people, in the Congress, who were the leaders of challenging it who I have just not had on the show ever since then," Wallace said during an appearance on CBS's "The Late Show."

"And [I] have purposefully not had them on, frankly, because I don't want to hear their crap," he said.


Wallace added that there are some lawmakers "who you have to have some questions" for because "they're people in leadership in the Senate."

"But I won't let them come on without putting them through the wringer," he said.
Fox -- the Fair and Balanced News Alternative.
***
Permanent arrested-devopment-ugly-geek-child-always-seeking-approval-from-the-cool-kids Howard Stern is just a really nasty piece of shit who should really do us all a favor and exit the world.
Radio host Howard Stern blasted opponents of the COVID-19 vaccine on Tuesday, stating that "nutjobs" are trampling on his "freedom to live."

"When are we going to stop putting up with the idiots in this country and just say it's mandatory to get vaccinated?" Stern said to listeners on his eponymous SiriusXM program.

...

"F--- them. F--- their freedom. I want my freedom to live," Stern, 67, said. "I want to get out of the house. I want to go next door and play chess. I want to go take some pictures. This is bullshit."
Noted lowbrow pervert wants to play chess. Okay. Whatever.

***
Gavin Newsom's wife Jennifer tried to bribe Rose McGowan into going silent about her r@pist Harvey Weinstein:
***
Biden pressured Kellyanne Conway and several other Trump appointees to a board overseeing the military academies to resign.
She refused: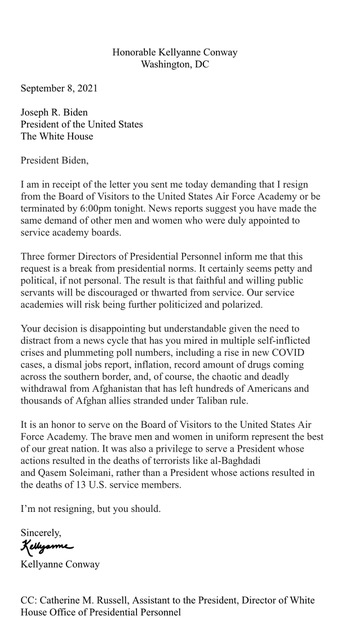 Even though they were appointed to three year terms, the fascist tyrant Biden claimed the power to fire them anyway.
Conway was one of several people appointed by Trump to serve in advisory boards for the military academies whom Biden has asked to resign from their positions, a move that has stoked fears that the current president was politicizing some of the nation's most prestigious schools.

"It is tragic that this great institution is now being subjected to and hijacked by partisan action that serves no purpose and no greater good," said Meaghan Mobbs, a West Point graduate who served as an adviser to Trump on military and family issues.

"Make no mistake, the move to terminate duly appointed presidential appointees sets a dangerous precedent for future administrations and undermines our institutions," she added.

Conway took aim at Biden for breaking "presidential norms," arguing that Biden's move seemed "petty and political, if not personal."

"Your decision is disappointing but understandable given the need to distract from a news cycle that has you mired in multiple self-inflicted crises and plummeting poll numbers, including a rise in new COVID cases, a dismal jobs report, inflation, record amount of drugs coming across the southern border, and, of course, the chaotic and deadly withdrawal from Afghanistan that has left hundreds of Americans and thousands of Afghan allies stranded under Taliban rule," Conway said.

posted by Ace at
06:02 PM
|
Access Comments