« Quick Hits: Steven King Sucks Edition
|
Main
|
Norms Restoration Society Cafe »
September 10, 2021
GAINZZZ: Sweetgreen CEO Cancelled for Pointing Out the Inconvenient Fact That Covid Can Be Beaten By Getting Into Shape
Hey, given that Biden's gone full fascist, why not also mandate exercise and diet regimes?
Fascists usually celebrate (or mandate) physical fitness, right?
Sweetgreen CEO Jonathan Neman caught controversy this week after a viral since-deleted LinkedIn post linked the severity of the coronavirus pandemic with high levels of obesity.

"[Seventy-eight percent] of hospitalizations due to COVID are Obese and Overweight people," Neman wrote Tuesday citing March data from the Centers for Disease Control and Prevention (CDC). "Is there an underlying problem that perhaps we have not given enough attention to? Is there another way to think about how we tackle 'healthcare' by addressing the root cause?"

Neman went on to highlight COVID-19 as an endemic virus "here to stay for the foreseeable future."

"We cannot run away from it and no vaccine nor mask will save us (in full disclosure I am vaccinated and support others to get vaccinated)," Neman added. "Our best bet is to learn how to best live with it and focus on overall health vs preventing infection."

The salad giant's solution? Crack down on the junk food.

"What if we focused on the ROOT CAUSE and used this pandemic as a catalyst for creating a healthier future?" Neman wrote. "What if we made the food that is making us sick illegal? What if we taxed processed food and refined sugar to pay for the impact of the pandemic? What if we incentivized health?"
Whoa, he really is leaning into the fascism there.
Well, I don't agree with any of that.
But why doesn't Biden? He's fully fascist.
The answer, of course, is that imposing requirements on the overweight would be unpopular, because the overweight are not the sort of "distinct minority" that fascist regimes love to demonize and bully, but in fact a strong majority.
His solutions might sound like government overreach, but they're no more intrusive than vaccine mandates and draconian lockdowns that heralded societal self-destruction with the abdication of personal responsibility, all while glossing over the true pandemic that is obesity.

"We clearly have no problem with government overreach on how we live our lives all in the name of 'health,'" he wrote.

Neman however, was derided as "fat-phobic" and critics mocked the pricey salad chain for proposing Americans deal with the underlying issues that exacerbate the severity of COVID-19.

It's all a bit maddening watching obese people like Brian Stelter attempt to craft health policy in real time on Twitter, instead of just going for walks to shed their morbid excess weight.
Okay, so I'm going to turn this into a hybrid GAINZZZ/attacking obese liberals thread. I hope that the attacks on Goldberg, French, Stelter, and Co. help motivate you -- and motivate me -- to get some real GAINZZZ.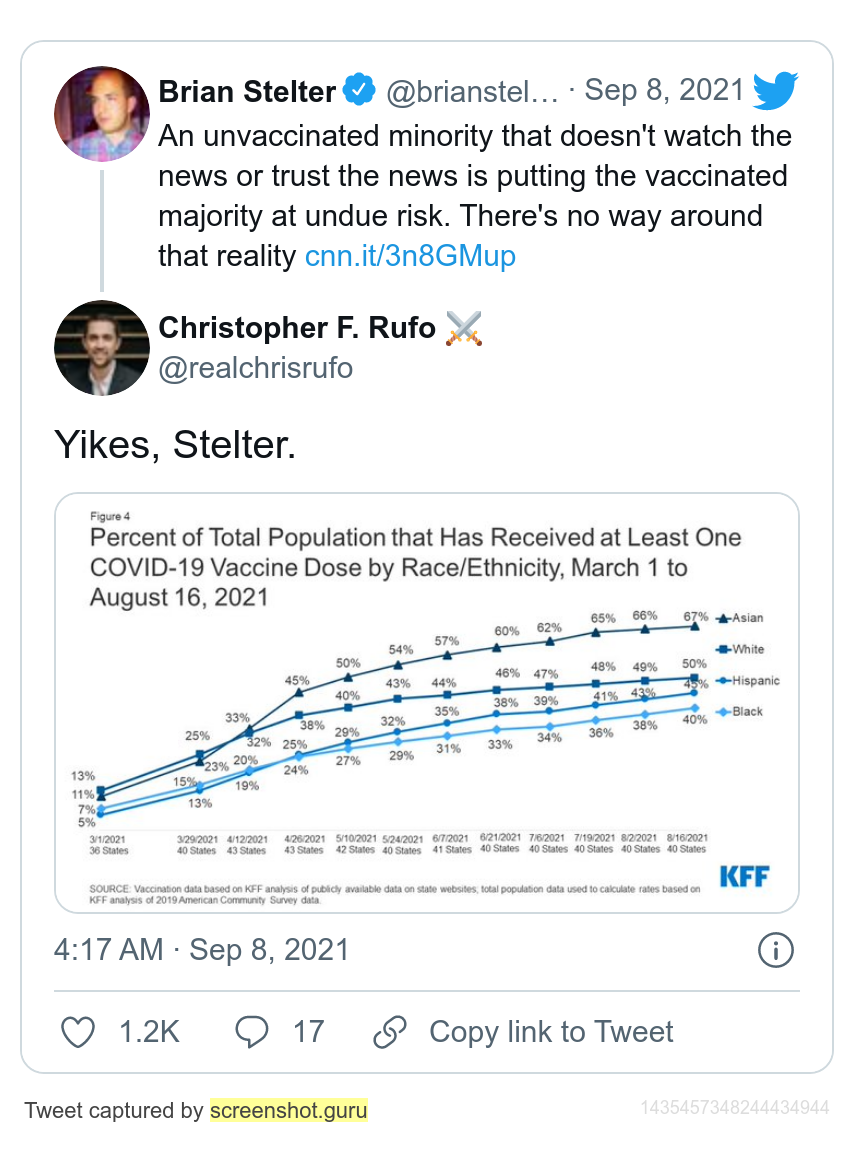 Is Brian Stelter really railing against people who make poor health choices?
Well, there's some Big Ripe Low-Hangin' Balls Energy right there.
Sean Davis has further thoughts on health. And I don't think he's just talking about Brian Stelter.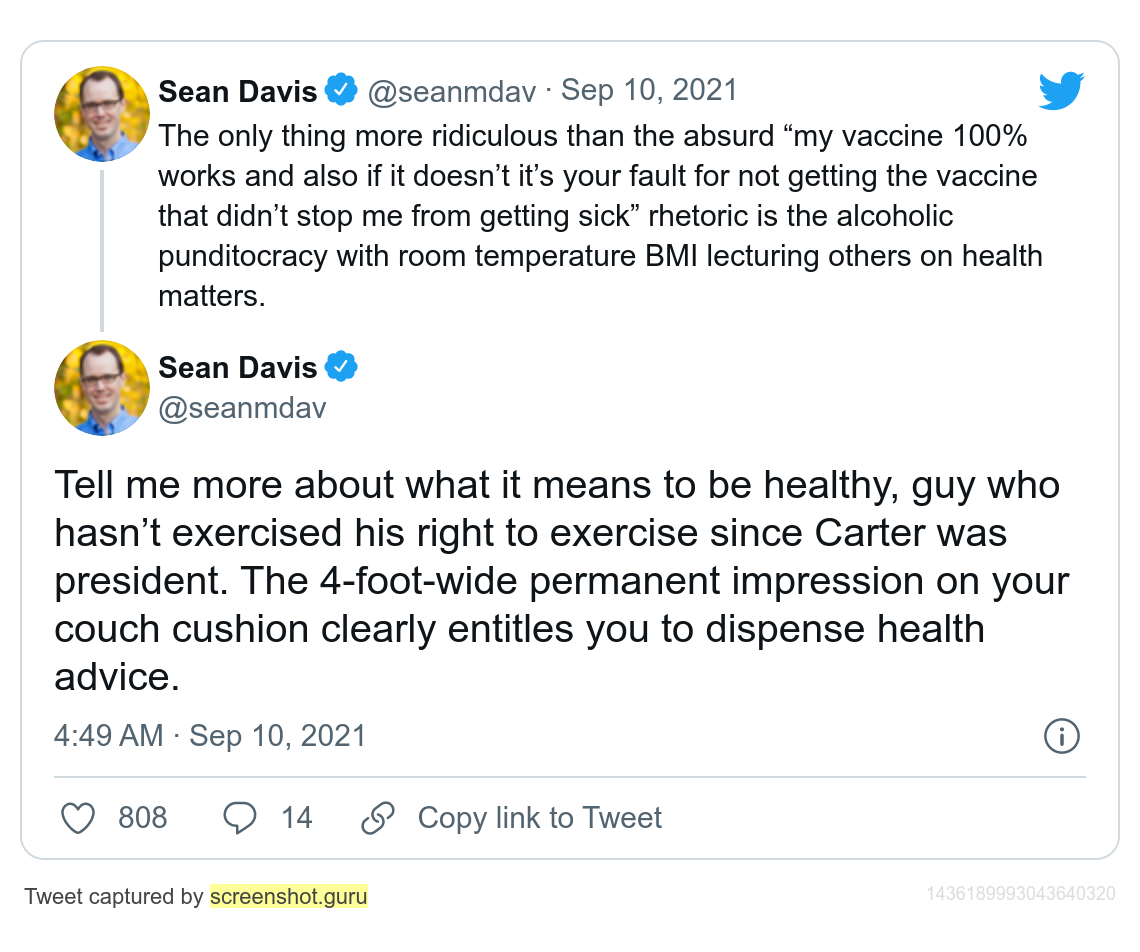 I think he's also talking about Jonah Goldberg, whose Hot Take on Biden's imposition of fascism boils down to, "He wouldn't have to impose fascism if you would just follow his orders without the fascism."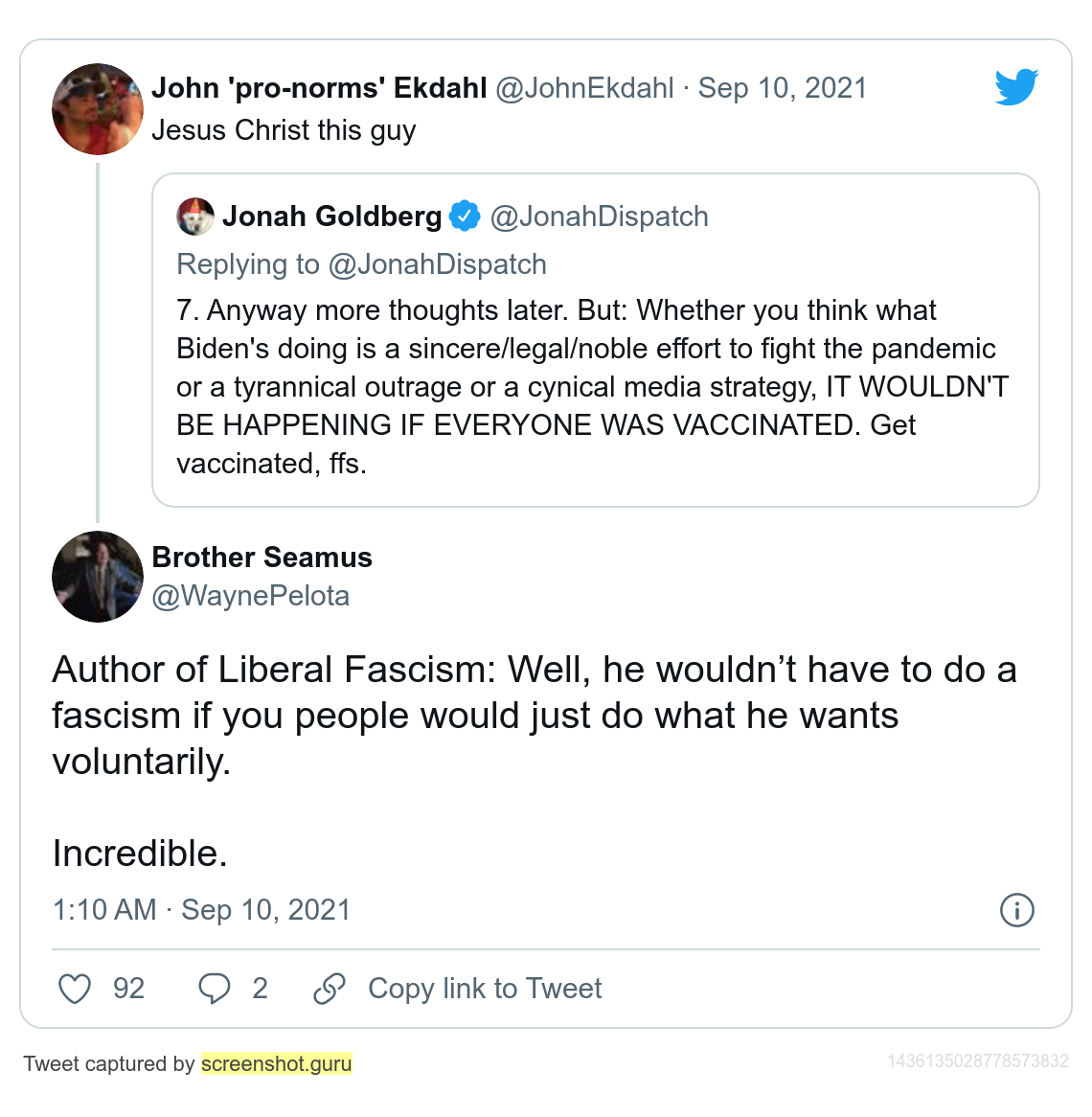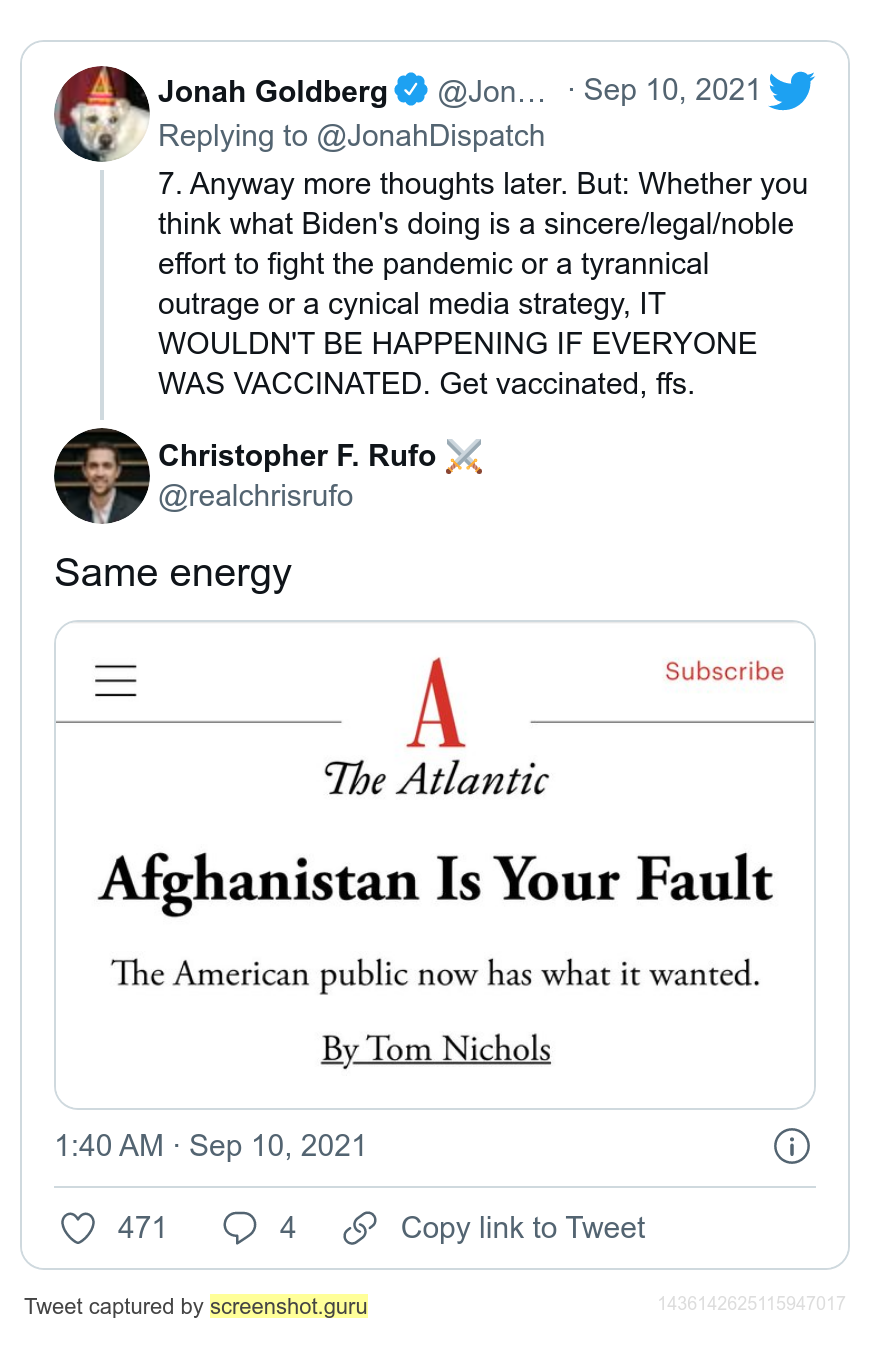 Yet another disgusting fatbody who has zero PLANZZZ to shed weight and mitigate his own covid risks, but he has lots and lots of "expert" advice for others: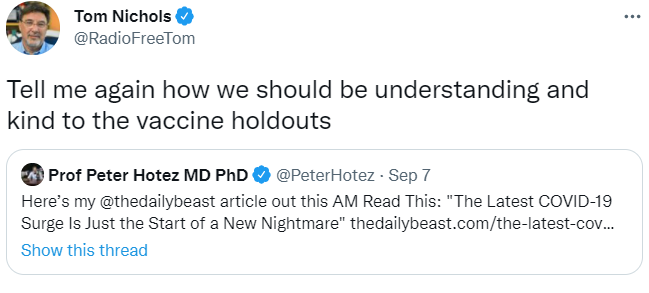 Plus-sized effeminate propagandist Chris Cillizza -- the Tess Holliday of "fact-checking" -- also opines on what you should do to improve your health: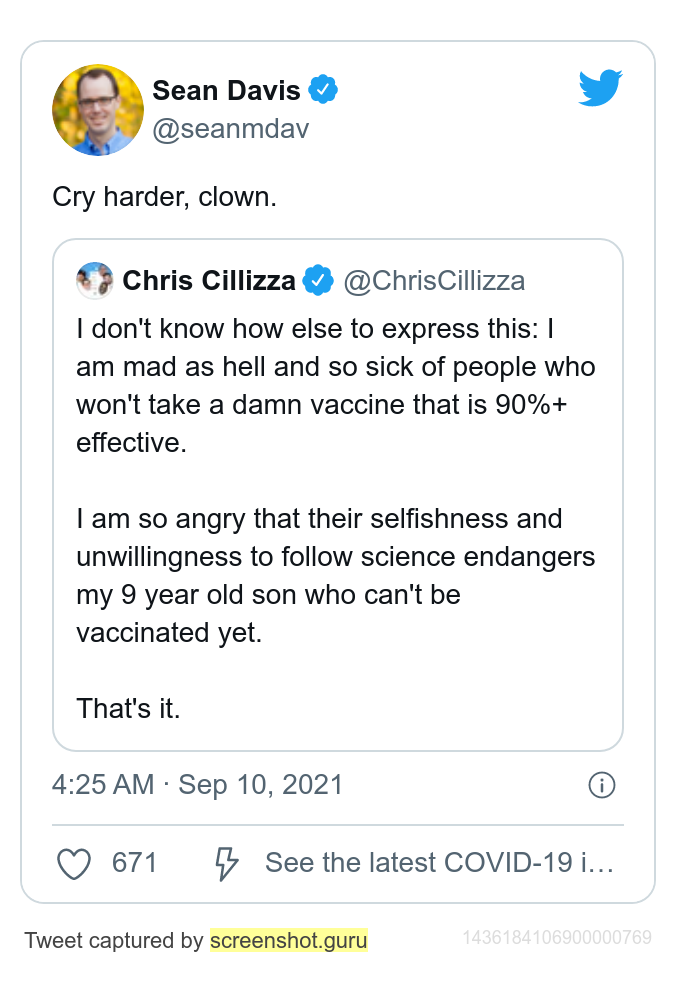 David French rushed to say he couldn't say it better than Jonah Goldberg, which lead Julie Kelly to offer some of her own physical health opinionating: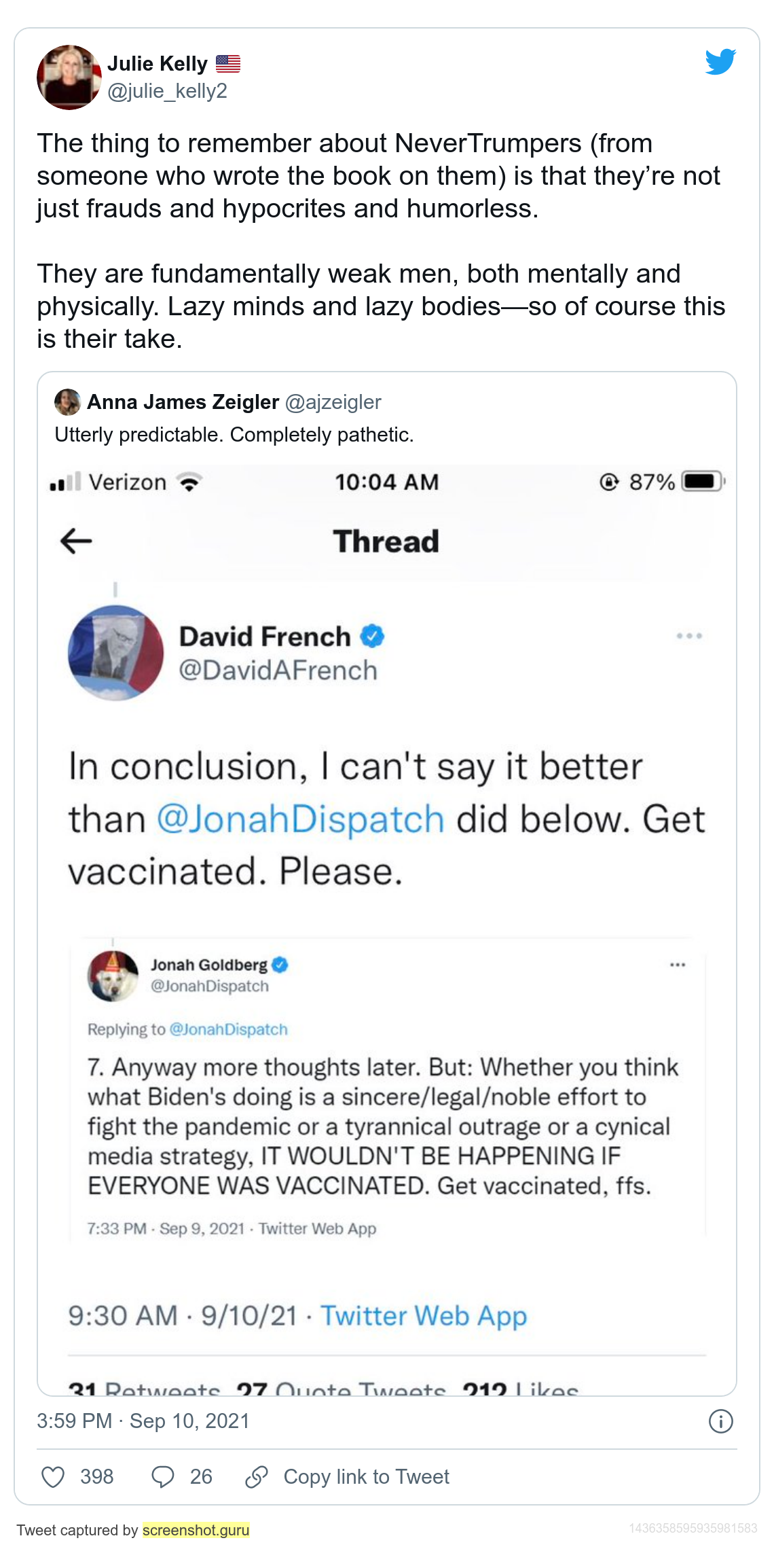 Again: Pretty big balls on these obese clowns for guys who are so obviously low in testosterone.
So, I don't know about you, but I find anger to be a great motivator. I do not want to be like Jonah Goldberg, so I'll think of him as I get my GAINZZZ.
And I do need that motivation, because I have zero GAINZZZ this week. In fact, I have zero EFFORTZZZ. I can offer excuses -- I got poor sleep since last week and that begin to give me cold-like symptoms -- but everyone always has those excuses, don't they?
I will commit Coach Sean Davis' inspiring words about the massive imprint of Jonah Goldberg's fat ass in the couch to the GAINZZZ lobe of my brain.
Coach Davis is tough but fair.
Well, cruel but fair.
Well, cruel.
But cruel works.
How about you guys? I hope you did not follow my poor example and get zero GAINZZZ. Anyone have any inspiring GAINZZZ to report?
And any BOOKZZZ, MOVIEZZZ, or PROJECTZZZ to share?

posted by Ace at
06:34 PM
|
Access Comments