« First-World Problems...
|
Main
|
Gun Thread: 9/12 Edition »
September 12, 2021
Food Thread: Look! Ova There! It's Breakfast!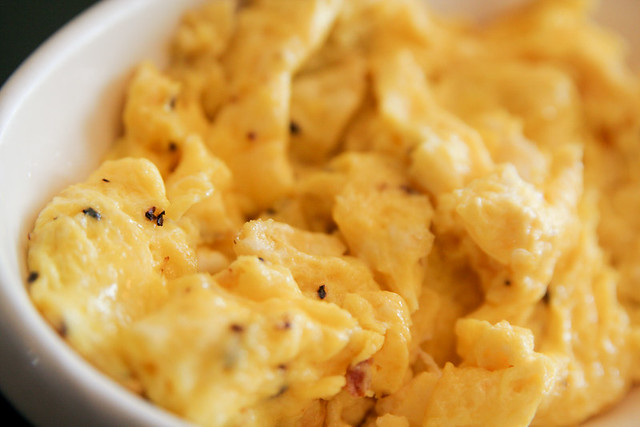 I have been on a scrambled egg kick for the last several weeks, and a better combination of tasty and easy would be hard to come by. Three eggs, whipped hard for about 15 seconds, then into a non-stick pan on low heat with tons of butter that has been allowed to release most of its water (you'll know when it stops bubbling madly). stir in random directions with a spatula for about 15 seconds until it looks like it is thickening, then lots of grated cheese (I prefer a sharp cheddar) and continue to stir until the eggs solidify and the cheese is incorporated into the eggs. Salt, pepper And hot sauce if I am feeling playful, and it's done!
I usually play with the heat a bit if it is taking too long, but the trick I think is to avoid high heat. That gentle cooking keeps the eggs tender and creamy, which is just how I like them. I am not a big fan of large curds (is that the correct word?).
There is something immensely satisfying about a perfectly cooked egg...or three in my case. Yeah, I like to eat, and the wonderful texture and cheesiness and creaminess of gently scrambled eggs is hard to beat for an early-morning pick-me-up while the coffee is filtering. If I am feeling really peckish I will cook some bacon, but that requires planning and patience, something that is in short supply during most mornings.
******
The first International Conference on Food Loss and Waste Closes with 10 Consensus on Food Loss and Waste
No...no quotations, because the translation from the original Chinese is terrible. It is so obviously a bought-and-paid-for PR firm pimping for the communist government of China. But it illustrates the game plan of the commies and shows how ridiculously behind the times we are. They are purchasing access to markets and technology with this sort of trade group or NGO. It makes sense, because they have a billion and a half people to feed, and they aren't great at doing it in spite of abundant land and water.
There is nothing off limits. For the Chinese, everything is part of the battle space...even food.

******
I sent this to myself for some unfathomable reason. Did someone recommend the site? Did I like a recipe?
A Southern Soul
I have no idea. It's a nice website with some fun recipes, but if one of you maniacs recommended it, could you please help me out and refresh my memory...WHY?
******
This is from commenter "Kevin" in response to last week's screed about shrimp. And ya know? It looks pretty damned good. I love chipotle, and the cilantro cream sounds like loads of fun and flavor. So maybe I will reevaluate my shrimp cooking philosophy just once.
Chipotle Dry-Rubbed Shrimp "On the Bar-B"
See? Doesn't it look good!

******
From commenter "Bill," who is clearly proud of his granddaughter's baking prowess!
She came back from France and decided to learn to cook. That is a peach galette made from their O'Henry peaches.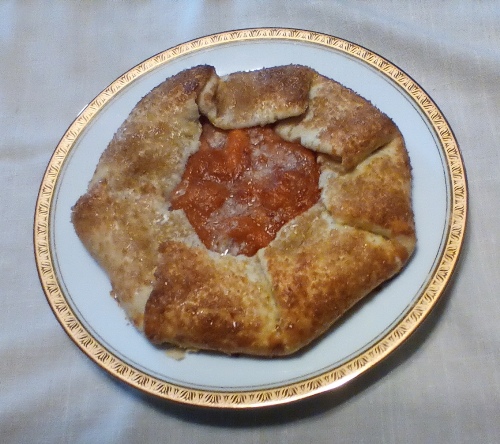 The French do a good job with this kind of dessert, probably because it's hard to screw up when you use a ton of butter in the crust. And that is by no means a criticism. I think that buttery crusts go marvelously with fruit; particularly tart fruit.
What's the American equivalent called?

******
Well this is interesting!
I had a lucky accident preparing tomato sauce from fresh tomatoes. It usually takes all day to reduce to the desired thickness, and the walls are dripping wet. I froze excess tomatoes last year. When I thawed them, a lot of water separated from them. I poured it off, blenderized them and had sauce ready after an hour of cooking. Tasted much more like fresh tomatoes than sauce that simmered all day

Posted by: Lurking Grandma at September 05, 2021 04:38 PM (sujqA)

Does anyone know of an established technique for this?
******
I have been to a few of these sorts of places that have a cooking vessel on the table. The last one was in midtown Manhattan in Koreatown, and while I remember enjoying the meal, I cannot remember what the heat source was.
Carbon monoxide poisoning from food preparation sickens restaurant patrons
Of course this was in Hong Kong, so for all I know it was a hit on one of the diners ordered by the CCP.

******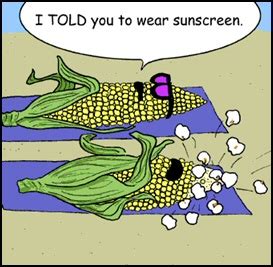 ******
Avocados sans thumbprints, beef short ribs that have meat on them (not the stupid little sliver of bone they sneak into the packages), carrots that don't taste like stalky chalk, spare bottles of Van Winkle Special Reserve 12 Year Old Bourbon, an herb garden that actually produces herbs (but no basil!), well-marbled NY strip steaks and elk backstrap to:
cbd dot aoshq at gmail dot com.
And don't think that you are off the hook with maple syrup and French Toast: I'm watching you...all of you! And I am watching you perverts who shake Manhattans and keeping a list for the Burning Times.

posted by CBD at
04:00 PM
|
Access Comments