« Quick Hits: Our Long National Britney Nightmare Is Over Edition
|
Main
|
Wuhan Chimera Cafe »
September 08, 2021
The Taliban Is Holding Six Planes Filled with Americans and American Allies Hostage While the Biden Administration Blathers About Proportional Gender Representation in the Country's Barbaric Clan Leadership Structure
Six planes on a mission to rescue more than a hundred Americans wanting to leave Afghanistan were grounded by the Taliban as negotiations continued with the State Department Monday.

The evacuation effort was a part of a mission chartered by Mercury One, the charity founded by conservative media personality and TheBlaze founder Glenn Beck.

Newsweek confirmed the details through an NGO working on the evacuation.

According to the report, at least 1,000 people were waiting to board the planes at an airport in the city of Mazar-i-Sharif.
Good news: the holdup may not be due to the Taliban, but to the Biden Administration.
State Department officials acknowledged Tuesday that they have been unable so far to get six chartered aircraft carrying about 1,000 evacuees out of Mazar-i-Sharif, but it was not clear whether the holdup was due to U.S. bureaucracy or Taliban action.

On Tuesday, Secretary of State Antony Blinken denied that the Taliban were forbidding the aircraft to take off or the passengers to disembark.

"We are not aware of anyone being held on an aircraft or any hostage-like situation at Mazar-i-Sharif," Blinken said during a visit to Qatar.
After denying that the aircraft were being forbidden by the Taliban from taking off, Blinken changed his story today, and told the Taliban to stop blocking the flights.
Secretary of State Antony Blinken on Wednesday called on the Taliban to stop blocking charter flights containing Americans from departing Afghanistan.

The State Department has come under fire for not doing more to pressure the Taliban to allow planes to leave Afghanistan amid reports several planes carrying Americans have been stuck at Mazar-i-Sharif International Airport in Kabul.
A Newsweek editor attempted to spin for the Biden Administration by claiming it wasn't people being held hostage by the Taliban, but merely planes being held hostage.
Planes that the people needed to use to escape Afghanistan.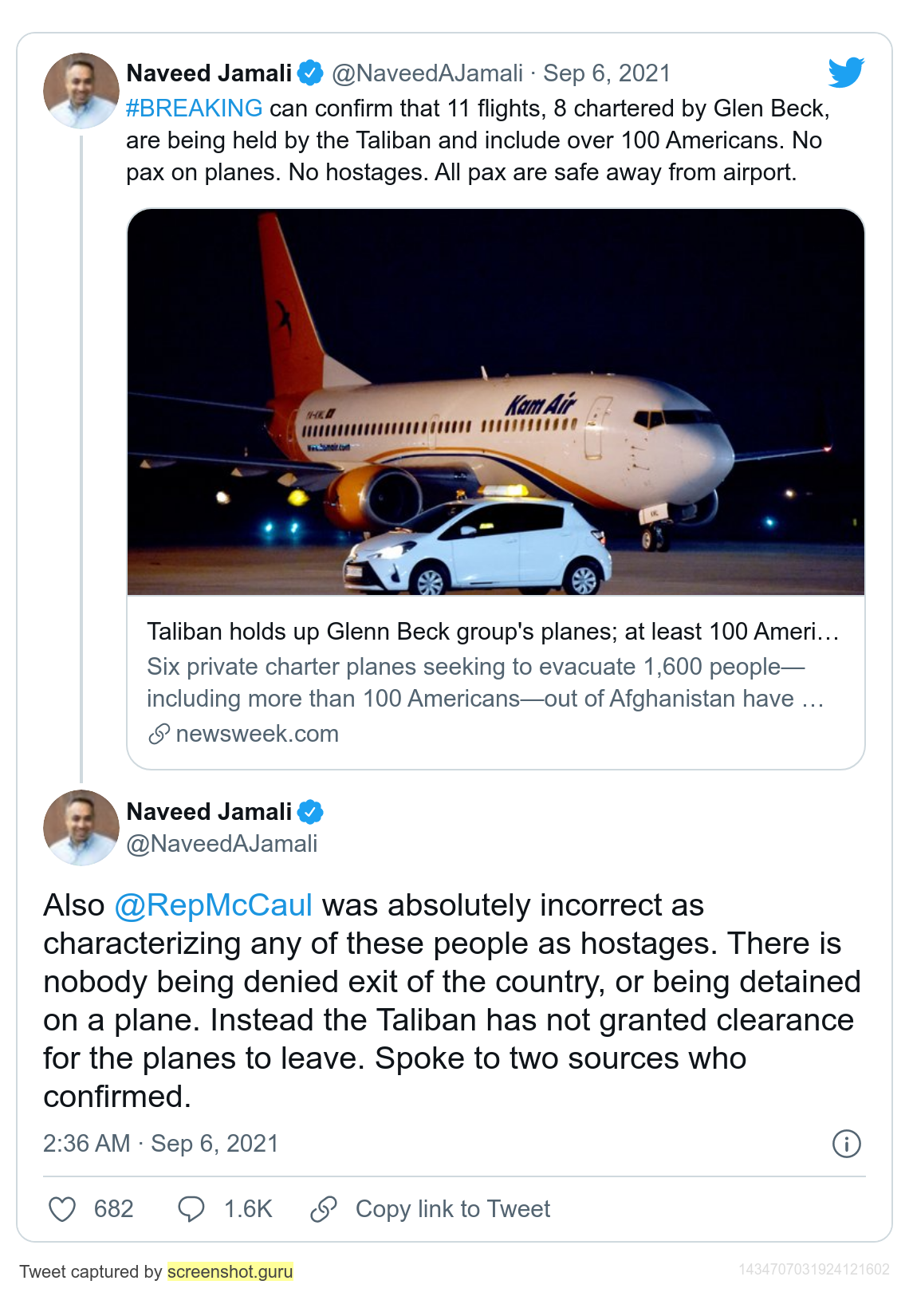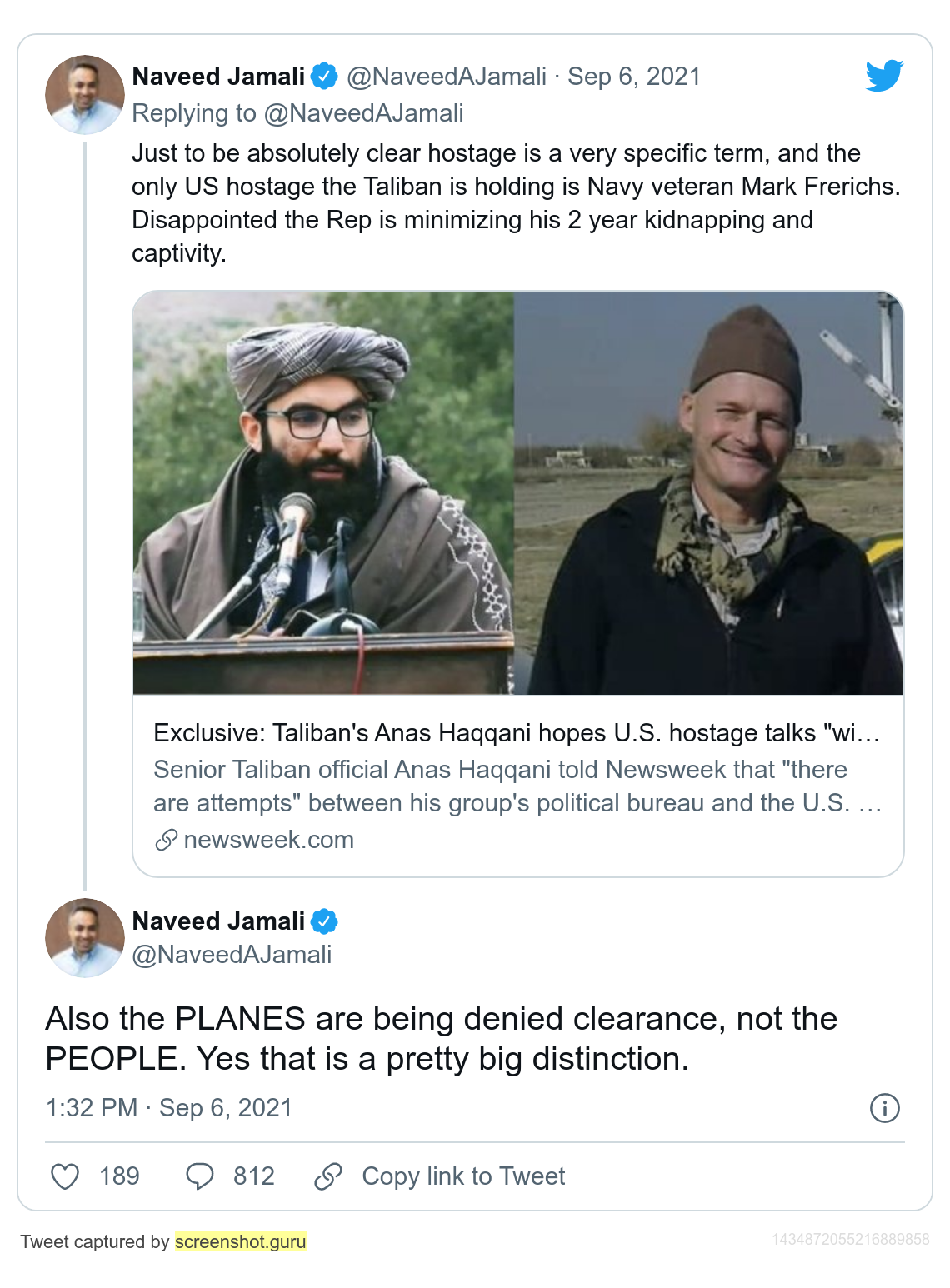 @mikepompeo

Joe Biden called that an "incredible success."

There's nothing successful about leaving Americans behind.
Hush. Just repeat "America is back, baby!" and "The adults are back in charge again!" like a good obedient peasant.
Meanwhile, the Sage of Scranton continues to dazzle the public with his Authentic Frontier Dementia.

Biden promises emissions-free electricity production... by 2020.
Joe Biden denies he was heckled on his Narrative-Changing Tour:
Biden also resorted to using his creepy Child Sex Predator Whisper, and then once again said he had been ordered to leave the room after reading his script and answer no questions:

posted by Ace at
06:44 PM
|
Access Comments