« Saturday Evening Movie Thread 09-11-2021 [TheJamesMadison]
|
Main
|
Daily Tech News 12 September 2021 »
September 11, 2021
Saturday Overnight Open Thread (9/11/21)
Saturday Overnight Open Thread - Part I

Photographs of the carnage on September 11, 2001. Let us never forget.
***
Facing death, he didn't go down without a fight. Todd Beamer, Let's roll.

Who is Todd Beamer? The hero of Flight 93 who almost certainly saved the US Capitol
His exhortation of 'Let's roll!' became a rallying cry
***
***
I remember September 11th, 2001 as if it were yesterday. And I remember who did this and why they did it. The United States of America with its warts and blemishes is still the greatest country that God has ever put on the earth.
A moment of silence and reflection.
***
Saturday Overnight Open Thread - Part II
The Saturday Night Joke
I was sitting at a long stoplight yesterday, minding my own business,patiently waiting for it to turn green even though there was no on-coming traffic.
A carload of scruffy-bearded, young men shouting Anti-American and BLM slogans with a half-burned American Flag duct-taped on the trunk of their car and a "Remember George Floyd" slogan spray painted on the side stopped next to me. Suddenly they yelled, "Defund the police." and took off before the light changed.
Out of nowhere an 18-wheeler came speeding through the intersection and ran directly over their car, crushing it completely and killing everyone in it.
For several minutes I sat in my car thinking to myself, "Man... that coulda been me!" So this morning, bright and early, I went out and got myself a job as a truck driver. (H/T Blake )
***

One of the Fabulous Mrs. Mis. Hum's greatest attributes is that they she is maintenace free. Unlike this broad.

A girlfriend drew up a 17-page 'relationship contract' with her boyfriend just two weeks after they met on Tinder – asking that he pay for date nights, buy flowers twice a month and work out five times a week.

Annie Wright met her boyfriend Michael Head in October last year and after deciding he was 'her person' they agreed to be exclusive.

Determined to make the relationship work after having her 'boundaries crossed' in a previous relationship, 21-year-old Annie joked they should write down their 'terms and conditions' for dating – and law student Michael eagerly agreed.

Shortly after, risk management and insurance student Annie and Michael, 23, sat down and read out their own terms – including asking for 'a romantic gesture once every two weeks' and 'working out at least five times a week alone'.

Youth is wasted on the young...........
***

Idaho isn't the only state that grows potatoes. Charlie shows how it is done in Wisconsin.
***
The ONT Is Always Looking Out For YouTM Don't hold that gas in.

Doctor warns against holding in farts and says it can have grim consequences
Doctor Karan Rajan has shared some key fart facts on TikTok, including the gross reason you should never try to hold back from letting rip – no matter how rude it might seem

Society tells us that breaking wind in public is generally bad manners – but did you know it can actually be worse to hold your farts in?

Dr Karan Rajan, an NHS surgeon, has warned that holding in your flatulence could cause the gas to re-enter your bloodstream with disgusting results.
***
Too close for comfort? You be the judge.
Yeah, yeah, it's a rerun.....But it still cracks me up.
***
***

She might lack confidence but she rocks with a Genius Award.

Utah woman loses hair, dignity, confidence in phone scam convincing her to shave head


SALT LAKE CITY (KUTV) — Megan Randolph is mad. And devastated. And in her own words, her confidence has been "rocked."

Randolph, a model from Layton, Utah, is the victim of a scam. But the scam artist wasn't after her money so much as her dignity — and her hair.

"Oh yeah, I haven't left the house, I don't plan on leaving the house until I can figure something out and I know that sounds silly," the now completely bald Randolph said.
***
The ONT Musical Interlude
AND
***

Normally, the Saturday Overnight Open Thread doesn't have Tonight's Feel Good Story of The Day. We do tonight.


Army football players made an incredible entrance Saturday against Western Kentucky.

On the 20-year anniversary of 9/11, the Black Knights rushed onto the field carrying American flags, and it's a sight every single American should see.
***

Tonight's ONT has been brought to you by American Blood & Treasure.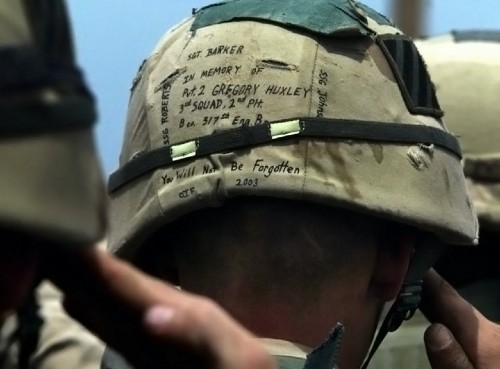 Notice: Posted with permission by the Ace Media Empire, AceCorp, LLC and The Bill of Rights.

posted by Misanthropic Humanitarian at
09:40 PM
|
Access Comments