« The Morning Rant
|
Main
|
Supreme Court Leaves Texas "Heartbeat" Abortion Law in Effect -- For Now »
September 03, 2021
Unexpectedly, Job Creation Slows to a Trickle Amidst Lockdowns and Malaise
John Roberts @johnrobertsFox

August jobs numbers = 235,000. Projections were for 728,000
#swingandamiss

August's total -- the worst since January -- comes with heightened fears of the pandemic and the impact that rising Covid cases could have on what has been a mostly robust recovery. The weak report could cloud policy for the Federal Reserve, which is weighing whether to pull back on some of the massive stimulus it has been adding since the outbreak in early 2020.

"The labor market recovery hit the brakes this month with a dramatic showdown in all industries," said Daniel Zhao, senior economist at jobs site Glassdoor. "Ultimately, the Delta variant wave is a harsh reminder that the pandemic is still in the driver's seat, and it controls our economic future."
Restaurants and bars shed the most jobs.
Leisure and hospitality jobs, which had been the primary driver of overall gains at 350,000 per month for the past six months, stalled in August as the unemployment rate in the industry ticked higher to 9.1%.
Hey let's keep these lockdowns and school closures going forever, right?
And then let's pass that Universal Basic Income which all of these lockdowns are driving towards.
After all, if people can't work -- you have to pay them money to not work, right?
And obviously, we'll have to just mandate that renters can live in other people's homes without actually paying rent.
Again, if no one's working, and the economy is tanking -- we're going to have to make some little adjustments to how society functions.
This may require seizing the property of the kulaks. Or leaving it in their name-only possession, while dictating that they must grant free use of it to Favored Citizens.
But we must always think about The Greater Good.
And by the way, make sure you donate to all the Karenservatives who are leading the way towards the imposition of full communism on the US.
We've never tried Real Communism before, you know. Only the partial communism we have now.
Update:
Jen Rubin sees the silver lining, though.

Jennifer 'pro-voting' Rubin

The job report will help Biden get infrastructure and reconciliation done. Also will support push for more mandates

Posted by: Anonosaurus Wrecks aka Hangdog Barkston
That seemed so insane to me I thought Anonosaurus was making it up, even though all of his tips are reliable.
I looked it up.
Rubin is insane.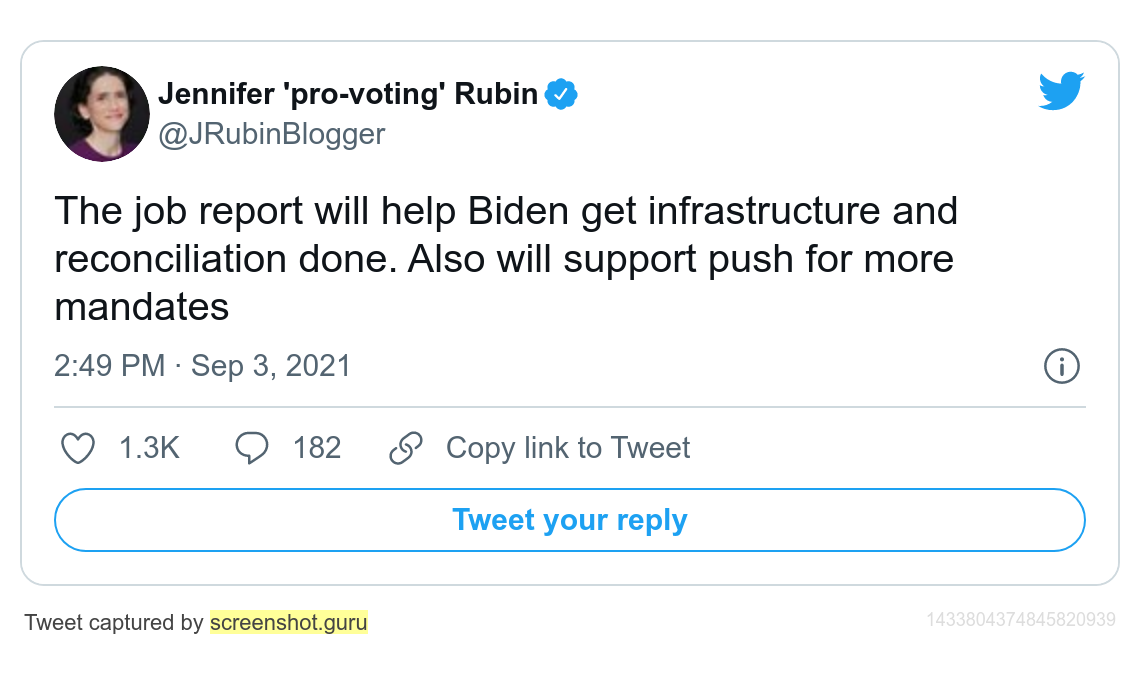 posted by Ace at
12:20 PM
|
Access Comments