« So, now what happens to The Woke in Afghanistan (and China)?
|
Main
|
Saturday Afternoon Chess thread 09-04-2021 »
September 04, 2021
Ace of Spades Pet Thread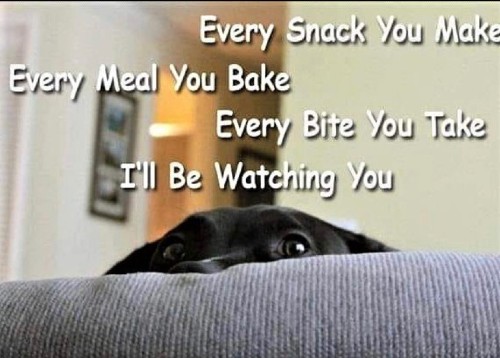 (H/T CBD)
***

Good afternoon and Happy Labor Day Weekend to you. Welcome to the almost world famous Ace of Spades Pet Thread. We are thankful for you stopping by today. Kick back and enjoy the world of animals.
***
A Little of This. A Little of That.

Who knew snakes were party animals reptiles? H/T redc1c4
First there was the "Crazy Cat Lady" meme. Now we have the "Crazy Dog Man".
***
Meet The PetMorons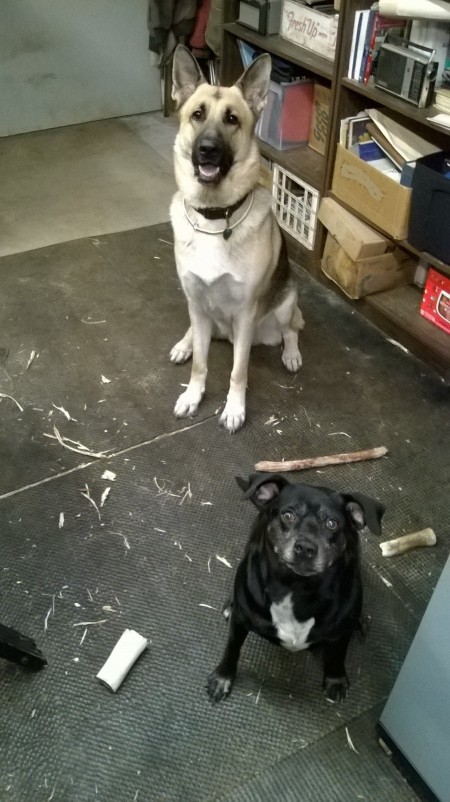 For some reason the dogs like to bring their toys into my shop and chew them up. Then they wonder why I am scolding them. - Alan
We can see the fear in their eyes. Hope you are happy with yourself and your meanness to them. Great photo thanks for your contribution today.
***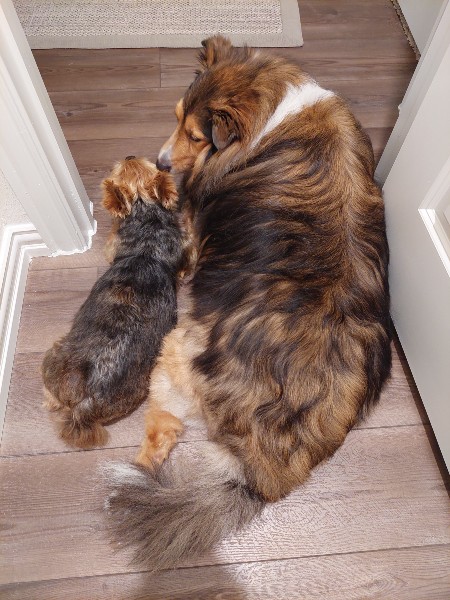 Hi there:

Have sent pics of Lily the Sheltie and Pinky the Silky Terrier before, not long after Pinky got added as a new pack member.

Just found out Miss Pinks has arthritis in her left leg and starting to get cataracts, but nothing slows her down from getting her snacks and car rides.

She and Lily have become doorway buddies and sun buddies as of late, and Lily has finally stopped getting Pinks in a corner and slapping her around with Sheltie derp, so maybe Pinks has been a good derp-reducing influence on Lily.

Always love the pet thread!

lurker name: jerake75
Quite the combo you have there jerake75. They certainly appear to be the best of buds. Thanks for sharing today.
***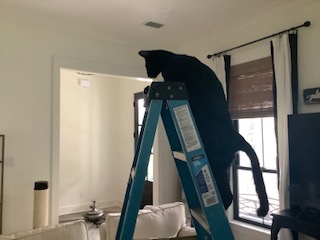 AND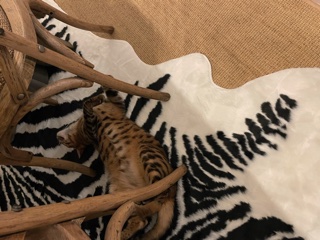 Hello,

They have been featured before, but here are more pictures of everyone's favorite Savannah Cats, Sabi and Kovu. Kovu is helping with a ceiling fan installation and Sabi is doing what he does best, being ridiculous.

Still lurking and posting occasionally as Piper.
Thanks for submitting such neat photos. A ladder climbing kitteh is a useful pet to have. And so is the goof ball. Thanks again.
***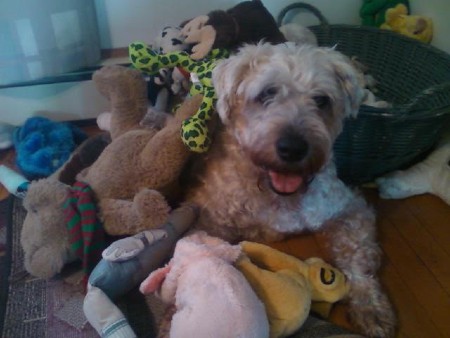 Corbin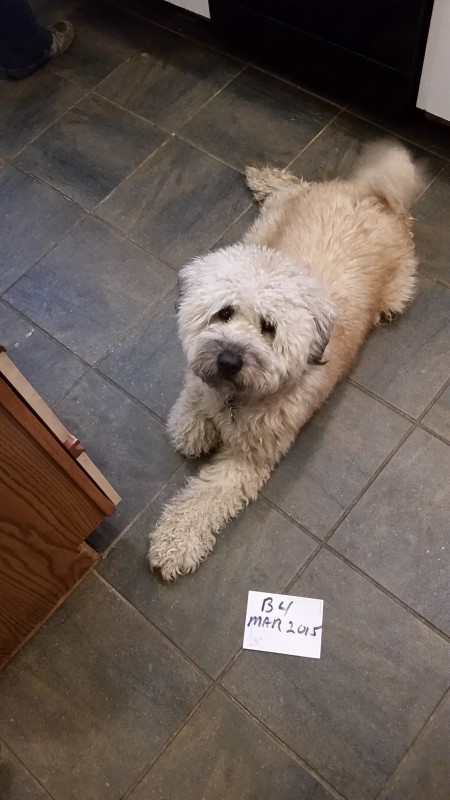 Thanks for the pet thread each week. This is West, and I post occasionally as - West. Been hangin' around the AOS HQ for quite a while.

Corbin Dallas, our first Wheaten Terrier, now playing in the fields angelic, was our companion and friend for 14 years. Corbin loved his toys and had favorites, although he would occasionally, inexplicably, turn on one and rip it to shreds. He would chase a ball all day until his heart burst, although my arms always gave out first. A very sweet and loving dog, I was glad my kids got to grow up with him around. He was also dumb as a post, in an endearing way. He was almost 6 years old when he finally figgered out leash topology, in that you had to come back the same way around the tree as you went. What a maroon, but we loved him dearly. I sent the before & after pictures as amusement. I used to shear the little bugger at home (money was tight back then), so I was inspired to document the practice, since it changed how he looked so dramatically.

Logan, our second Wheaten (since the first one worked out OK), now 7 years old, a bit smarter than Corbin, has no interest in balls or fetch. Null program, he just doesn't get what you want him to do. Main enemies: lawn service guys and FedEx deliverymen. If he got out, he'd certainly lick 'em to death (he has met the lawn guys, they are buds, but still barks his head off when they are here). Logan has some kind of food allergy where he gets progressively sicker when fed any kind of food prepared for dogs until he can't keep anything down. This started when he was about 10 weeks old, and we were frantic for a while because he really was not getting any nutrition at all. Eventually I figgered out that plain baked chicken and rice didn't set him off and he has been eating that for his whole life. He gets treats, though, bully sticks and rawhide, and people food (except for legumes) doesn't set him off. Cooking for a dog is a real PITA, but in for a dime, in for a dollar, I guess.

Both Corbin and Logan have retained their puppylike enthusiasm for life, Corbin right up until the end, and I hope the same for Logan.
Handsome little terriers. From the sounds of it there is no shedding but the occasional groomer in their life. Both dogs sound like wonderful companions. Thanks for sharing today.
***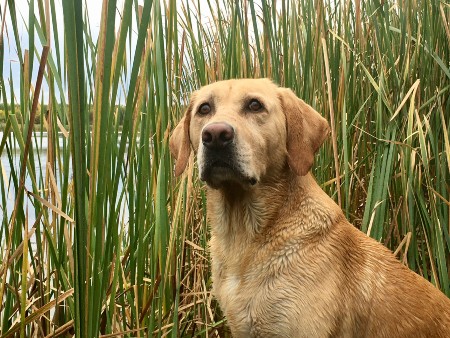 AND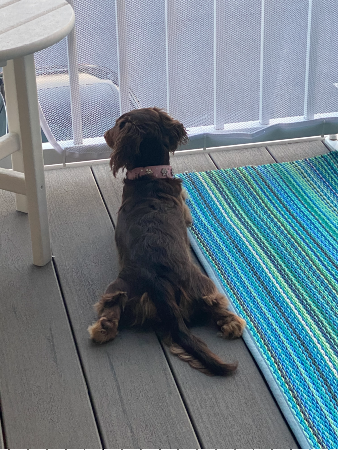 These are my two 1 year old long hair dachshunds Bruno (Enjoying his My Pillow pet bed) and Daisy (a mini). They exemplify the Ace of Spades moron lifestyle. -Mark
Great looking pooches who definitely have the Moron life style. Are you sure that's a My Pillow pet bed and not yours? Thanks for sharing.
***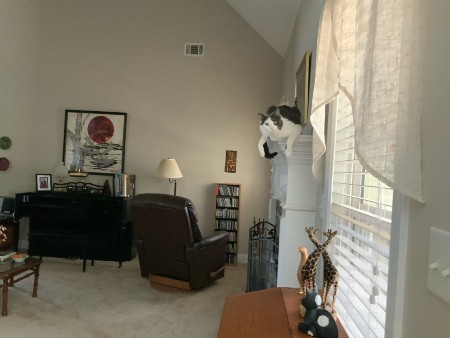 Picked her up at a shelter a few months ago. She has become a loyal and loved member of the family. - Don
Congrats on your new addition! She certainly seems serious. We are happy to hear she has a new forever home. Thanks for the happy story.
***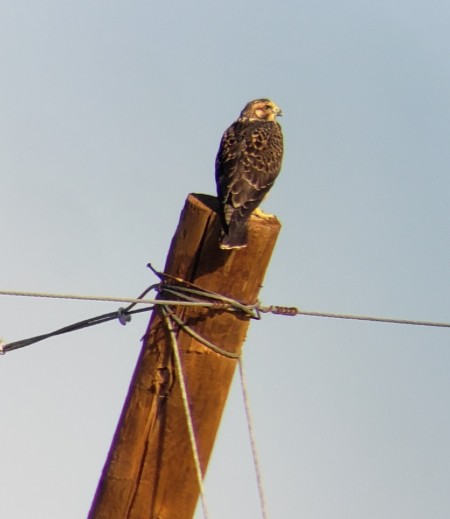 We had our pasture cut this week. This attracted a few red tail hawks for mice hunting. I took this picture of one sitting on a hop pole through a binocular lense. S.Lynn, Idaho
Yes, we encourage photo submissions of God's creatures. Pretty niffty photo you took there. Through a binocular no less. Good job and thanks for sharing.
***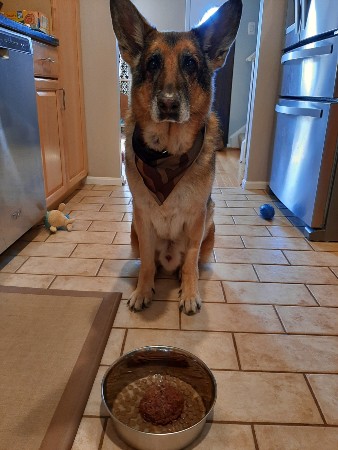 MisHum,

Here is a picture of Panzer patiently waiting while his dad takes a picture before he gets to chow down on his 10th-birthday hamburger. He is still going strong, and he is only slightly cranky when critters like squirrels, bunnies, foxes, and deer invade the back yard.

Thanks for always keeping us entertained with the cutest pets in the community. It's a wonderful antidote to the stuff usually floating around the web!

Best, Ballonmann
My, my. Panzer is one really trained well doggeh. Waiting for you to take a photo while that burger is there. Good job on the training. Thanks for your kind words.
***
Thank you to everyone who filled up the old In-Box this week. If we didn't get to your pet be patient we will.
If you have something you wish to share you can reach us at petmorons at gmail dot com.
Have a wonderful and safe Labor Day weekend. See you next Saturday.

posted by Misanthropic Humanitarian at
03:00 PM
|
Access Comments