« The Morning Rant
|
Main
|
Washington Post: The Taliban Offered to Let the US Secure Kabul, But Biden Told the Taliban To Do It For Us »
August 30, 2021
Biden Blatantly Checks Watch During Transfer of Remains Ceremony
He was at Dover AFB to observe the dignified transfer of remains for the Marines recently killed due to his incompetency.
He started wondering when Nappies were.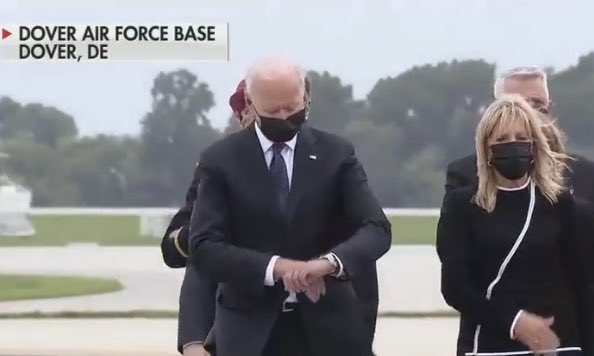 Biden also again muttered that he "wasn't supposed to take questions" -- almost like he's a zombie doing his masters' bidding -- then took the question anyway.
And then refused to answer it.
The question was about Afghanistan and not ice cream, so he wasn't prepared to answer it.
@BrentScher · 6h I know it's not new--but Biden's act that he's not the boss and somebody tells him when he can/can not take questions, is baffling
It's definitely not new. He says this all the time.
But it's not an act. If you feel that you do not have authority to make statements yourself -- say, because your brain is rotten and you realize people have realized that -- you never have the confidence to make pronouncements yourself. You always have to cite the authority of others.
Because you know you have no authority yourself. So you always say, basically, "I know no one trusts me and I can completely understand that, but people who are more trustworthy are saying this, so you can believe it."
That's why Biden had to have Kumala and Tony Blinken standing next to him like some weak-sauce Praetorian Guard during his post-bombing briefing last week.
Now, a more energetic, more confident, more engaged man would think, "Even though I'm not in charge, I have to at least put on a show of being the decision-maker here."
But Biden's too exhausted to bother with that. He knows he's not long for this world, and cares less and less about it.
Sean Parnell @SeanParnellUSA

A humble request:

Can someone in the White House press pool please ask @JoeBiden who behind the scenes keeps telling him not to take any questions & on the rare occasion when he does, who tells him which reporter he's allowed to call on.

Sincerely,

America
Last week, Biden fell asleep while meeting with the Israeli PM.
Deb Heine from American Greatness underlined the caption running with this picture:
U.S. President Joe Biden listens during a meeting with Israeli Prime Minister Naftali Bennett in the Oval Office at the White House on August 27, 2021 in Washington, DC. During their first face-to-face meeting at the White House, US President Joe Biden and Israeli Prime Minister Naftali Bennett focused their talks on Iran. (Pool Photo by Sarahbeth Maney-Pool/Getty Images)
Yeah. "Listening" really hard.

posted by Ace at
12:13 PM
|
Access Comments