« First-World Problems...
|
Main
|
Gun Thread: Three Year Anniversary Edition! »
August 29, 2021
Food Thread: Breakfast Of Champions (Americans)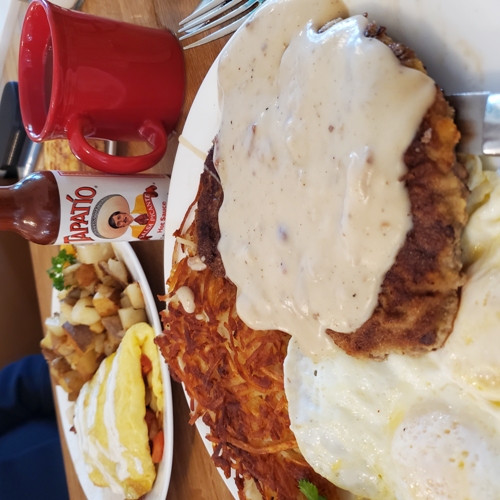 American food is excellent. There are traditional dishes that are just wonderful, and go hand in hand with inventive takes on the reliable classics. My personal opinion is that the South is in the vanguard of excellent cooking, but I could be convinced of other places too.
I recently spent some time on the central coast of California and was impressed by the quality of the food...far from the hipster havens of Los Angeles and San Francisco. One meal in particular stands out, and among many other wonderful dishes there was a Morro Bay oyster that was quite simply spectacular; perfect in every way! And until that moment I had no idea they even harvested oysters there!
But breakfast. Good old American breakfast served in restaurants much closer to formica-rich diners than to white tablecloth elegance. I love it. Whenever I travel I make sure to eat the classic breakfast of wherever I may be, because it is the measure of the people more than anything else culinary...and perhaps otherwise.
Yes, that is chicken-fried steak with gravy, eggs over easy and some nice and crispy hash-browns. The steak was fried perfectly, without any mushy batter, and the gravy was equally good; enough pork (or pork sausage) to notice and just a bit of bite from some black pepper. The eggs were tender and with the obligatory runny yolk, and the potatoes were crisp without being dried out and burned.
That is breakfast! Nothing complicated, nothing effete, nothing that would be served in the halls of power. And that's the way I like it. There wasn't a Mimosa to be seen, and the waitress (I think she would have been offended by being called a waiter or even a server) had bigger arms than I!
There is something good in the world when one can get a breakfast like that in a nice area of America; one that doesn't wear its politics on its collective sleeve and where people still say good morning when you walk past them on the sidewalk.
And for those who read the content; yes, that is the very same Tapatio hot sauce for which I was sauce-shamed by the brats just a few months ago. But I got them back: I bombarded them with Tapatio sightings, and there were lots of them!
So what's the quintessential breakfast in your neck of the woods? America, or even those readers who are abroad or who have spent enough time in one place that they have enjoyed (or suffered) the typical morning meal? I have a soft spot in my heart for "ful medames," which is a middle-eastern breakfast made with mashed fava beans and various flavorings; garlic and parsley and olive oil are my favorites.
How about you?
******
Commenter "Lizzy" seems to be as cranky as I am! She sent along a few links to extremely irritating or just strange things that are nothing more than a careful subversion of traditional food and cooking. Whether the intent is political or simply to make a few bucks from the hipster rubes...it doesn't matter.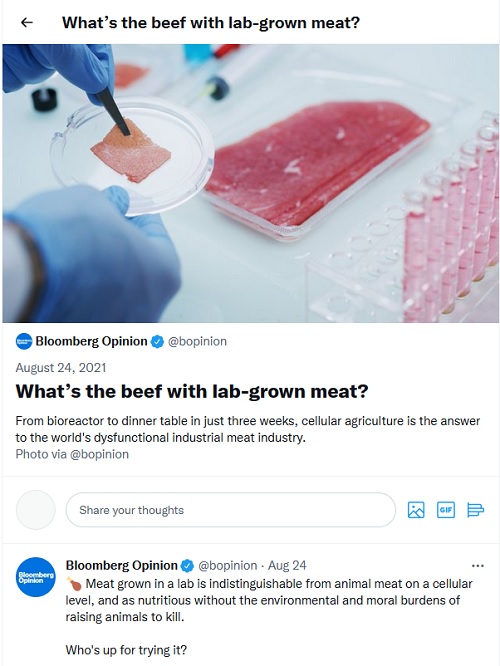 Horrid. Simply horrid. And not necessary. We can produce enough protein to feed the world, and it can be in the form of tasty cattle and sheep and pigs and chickens. It doesn't need to be disgusting protein mush grown in tanks.
And Squareat is just weird. What the hell? Why does it matter that the shape of their compressed baby-food looking stuff is square rather than round or blob-shaped or cylindrical? It's not that more will fit in the pan, because the stuff is small and expensive and nobody will be filling pans with it.
Hipsters ruin everything!

******
The Jewish High Holy Days are coming soon, and for those who enjoy trying traditional foods during them here's one that is new to me (nothing surprising there) that sounds pretty delicious.
Pampushky - Ukrainian Garlic Bread Rolls
sound like something one can find in many cuisines, although the dill sounds a bit odd. Regardless, I think I might give them a shot!
******
Global call to reduce antimicrobial use in healthy animals
Hard to argue with this. Antibiotic resistance is a very big deal, and if pharma hits a dry patch in their never-ending research into new antibiotics, we could be in for a very bad time.
Except...the article is long on hysterical warnings and very short on any data that show it is increasing. And hurting the meat industry is a wet dream of the globalist elites, who want nothing more than for the deplorables to eat bugs and broccoli and brown rice, so that those cattle and pigs an lambs are reserved for them.

******
Did I brag about the cole slaw I made a few weeks ago? Because if I didn't, I should have. I like making it, especially since discovering awhile ago that a big sharp knife makes quick and easy work of the cabbage, and there is no need to use any power tools.
Cole Slaw:

1 head green cabbage, shredded
2 carrots, grated
1 red onion, thinly sliced
2 green onions (white and green parts), chopped
1 fresh red chile, sliced
1 1/2 cups mayonnaise
1/4 cup Dijon mustard
1 tablespoon cider vinegar
1 lemon, juiced
Pinch sugar
1/2 teaspoon celery seed
Kosher salt and freshly ground black pepper
Several dashes hot sauce (optional)

Combine the cabbage, carrots, red onion, green onions, and chile in a large bowl. In another bowl, stir together the mayonnaise, mustard, vinegar, lemon juice, and sugar. Pour the dressing over the cabbage mixture and toss gently to mix. Season the cole slaw with the celery seed, hot sauce, salt, and black pepper. Chill for 2 hours in the refrigerator before serving.
******
It's from "Eater," so one can safely assume that it is pompous and offensive to most real Americans. Or impossibly smug and elitest.
This Feels Like a Threat: Why is PepsiCo. choosing such violence?
Yup. I read it, and I was correct. But who the hell is going to drink this stuff? it just doesn't sound particularly attractive. Although good for PepsiCo for trying something different. Why not? If they can create a market, then good for them. It's called a market economy.
[Hat Tip: redc1c4]

******
Avocados sans thumbprints, beef short ribs that have meat on them (not the stupid little sliver of bone they sneak into the packages), carrots that don't taste like stalky chalk, spare bottles of Van Winkle Special Reserve 12 Year Old Bourbon, an herb garden that actually produces herbs (but no basil!), well-marbled NY strip steaks and elk backstrap to:
cbd dot aoshq at gmail dot com.
And don't think that you are off the hook with maple syrup and French Toast: I'm watching you...all of you! And I am watching you perverts who shake Manhattans and keeping a list for the Burning Times.

posted by CBD at
04:00 PM
|
Access Comments