« Quick Hits: Tornadoes Schmornadoes Edition
|
Main
|
Wuhan Chimera Cafe »
September 07, 2021
Spoiler Alert: The Libs of TikTok Are Still At It
Lunatic Karen fires her doctor because he says that given that they're both vaccinated, it's probably safe to drop the useless, Facial Virtue Signaling Paper masks. She wants back-pats and peepee touches for being So Stunning and So Brave.
This covid hysteric is happy that her friend got a covid test just so they could have dinner together.
If I have to get a covid test to have dinner with you, guess what, I see a 7-Eleven burrito in your near future.

These covid hysterics are wearing head coverings which are nearly space helmets.
Did you ever dream of being The Boy in the Plastic Bubble? No? Well, some people did.

"Being a woman is not a biological state, but a social state." This pyrsyn claims that the only element of womanhood is society saying you're a woman. This explains why they are so determined that we all agree that delusional people are seeing reality. If we say they're women, poof, they're women. It's a magic spell we all cast together, fueling it with the power of our belief.
Speaking of: This man pretending to be a woman is going to force society to acknowledge him as woman by undergoing a "pregnancy simulation."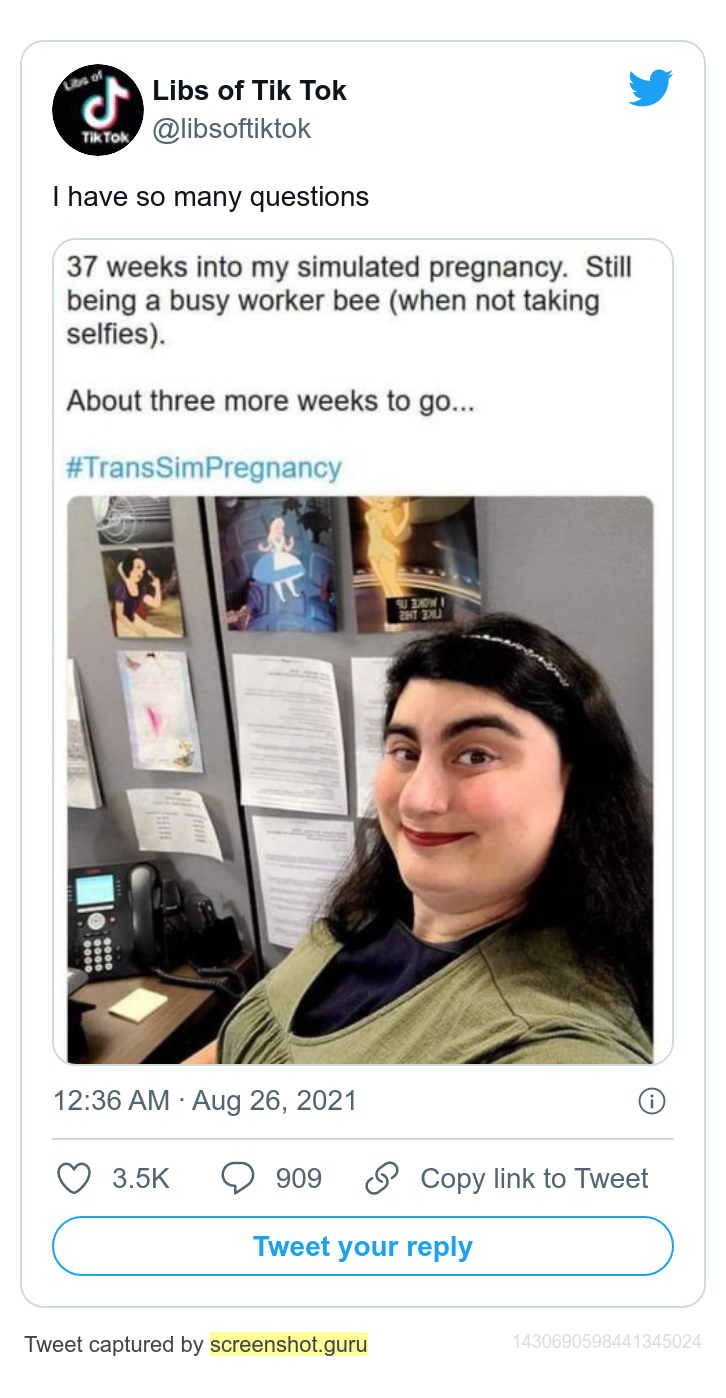 I used to simulate that I was an elf magic-user in D&D. But if I'd demanded that people call me Malchior the Eldritch, they would have told me, "Shut the **** up, idiot."
But now when someone LARPs as something they're clearly not, I can be banned, fired, or even arrested for not indulging their cosplay fantasy.
By the way: After his "labor simulation," he's stoked to be moving on to the "lactation phase."
This Absolute Vision of Womanhood states in his Manly Alec Baldwin Whisper that using the term "protect women and children" has been "used against marginalized people through most of human history." It's "anti-trans," which is more terrible than, say, not protecting children.
Protecting the feelings of trans people is now officially more important than protecting children. Children, he says, should be strong enough to protect themselves.
Children don't need protecting. Marginalized trans adults need all the protecting.
Remember the joke, "I'm a male lesbian?" It's not a joke anymore; this pyrsyn (who is obviously a woman) says she's "gender binary" and understands how some "men" can also be lesbians, and she says there is no Gender Binary. Though, ironically, she has a couple of nice Gender Binaries hanging from her neck.
This is Part 19 of a series on all the various types of asexuals. Today's asexual: A "Libidoist," which is an asexual who... is horny and wants sex. You know -- that kind of asexual. Non-asexuals who identify as asexual.
Covid hysteric makes up a story in which she is the So Stunning and So Brave conquering hero.
More made-up nonsense: Don't confuse "genderfluid" with "genderflux." See, Genderflux is totally different from Genderfluid. Even though "flux" and "fluid" (and "flow") are all the same word, and even though this means the same thing. She says the big difference is that while the genderfluids might sometimes feel like a man and sometimes like a woman, the genderfluxes experience a difference in "intensity" in how they feel like different genders.
So many snowflakes attempting to make up new definitions of "pointy ice crystal" to justify thinking they're so very, very special and unique.

More made-up stupidity from marginal, useless people: This pyrsyn wants to explain what
Alexigender means, which means sometimes male, sometimes female, sometimes androgynous, sometimes "neutral."
It seems like they're just trying to make things as complicated as possible for Normies. Remember, SJWs have no power over you unless you fail their purity tests. So the purity tests are designed to be impossible to pass.
Given that these people want to force you to carry around a notebook and do homework just figuring out what pronouns to use with them -- as their pronouns literally change day by day or hour by hour -- I think people will conclude that the easiest thing to do is just completely ostracize them. Given these people's weirdness and lack of social skills, I'm pretty sure that most people are already taking that tack.
I think the obvious problem here is this: What these people are demanding is huge amounts of work to just refer to them in the third person. That level of work might be worth it if they were intelligent, interesting, and/or hot like fire, but obviously, not a single one of these stupid, boring, ugly people is worth even the lowest level of mental engagement and effort.
What they really should be saying is "Call me anything, or don't call me anything, I'm not picky, I want to make it as easy as possible for you to lower yourself to just bear to be within five yards of me." They're going quite far in the opposite direction, which naturally results in everyone else going quite far in the opposite-opposite direction.
This pyrsyn seems to have realized that: After noting that she devised a color coded scheme to alert people to what gender she was feeling today (purple for they/them, blue for he/him, pink for she/her (how stereotypical!!!)), she now says you can just call her they/them, though I will call her "her," because she's not worth the effort to call her some stupid Narcissist Pronouns.
This girl is kinda cute, but not nearly cute enough to get away with this overbearing, tedious, insufferable lecturing about the 57 flavors of "agender" and "asexual."
"This is exhausting," Libs of TikTok says. Yes.
I don't even know what to say.
This Leftist White Woman Karen has an interesting gambit. Well, narcissism is never interesting, really. Her deal is to tell you that all white people are "colonizers" and should be called "colonizers." Her justification? Well, there are 25 million descendants of the Mayflower pilgrims alive.
And she's one of them!, she reveals, grabbing a little Social Cache (descendants of the Mayflower are usually proud of that lineage) but then claiming, clearly falsely, that she's "not proud" of telling you this thing about her that she is so obviously proud of.
I'm a genius. It disgusts me to say that, but I thought I should finally admit it. If you want to insult me by calling me "Ace the Genius," I guess I have to concede: That's fair. I deserve it.
Teachers are just determined to "educate" children about their bizarre sexualities. This pyrsyn has a special class, which he proudly films, to tell people he's now non-binary and goes by the pronoun "zoa."
This pyrsyn, who is a teacher (or implies ze is), explains how to bring up the transgender discussion with a teacher. I think making your male face up to look like a low-rent street tart is icebreaker enough.
This teacher -- who teaches preschoolers -- is teaching preschoolers about gender, genitals, and consent.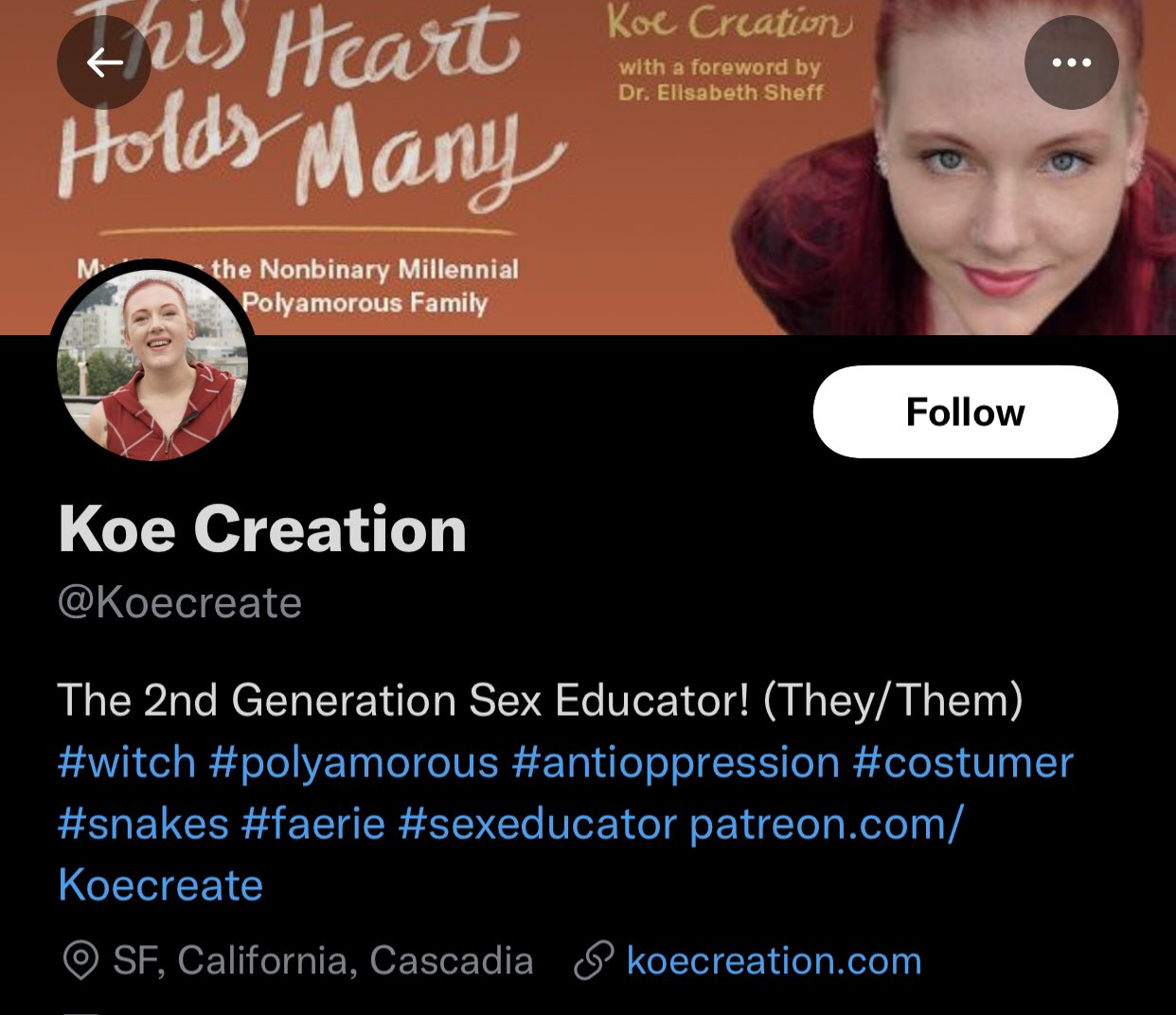 A polyamorous witch who wants to "rap" with your preschoolers about genitals and consent.
In another video, she complains that people are calling her names just because questions of genitals and consent "just came up" when rapping with preschoolers.
Gee, I wonder who it was who brought those up.
Probably the preschoolers, yeah?

Fire them all.
This visibly mentally stable pyrsyn wants to discuss Emoji Pronouns. Like if I said my emoji was 🚢, and I insisted you all call me 🚢 on the blog, or refer to me as "Cruise Ship" when speaking. (I might allow you to call me "Ahoy" if I'm feeling Ahoyish that day. I'll wear a color-coded bracelet to let you know.)
A Fat Rights Zealot has real problems, people -- she can't find towels that will fit her body. Even oversized ones.
By the way, she's trying on towels in normal stores like Target instead of special-ordering online. Because of course she is. She wants to be in "rage," as she says she ultimately became.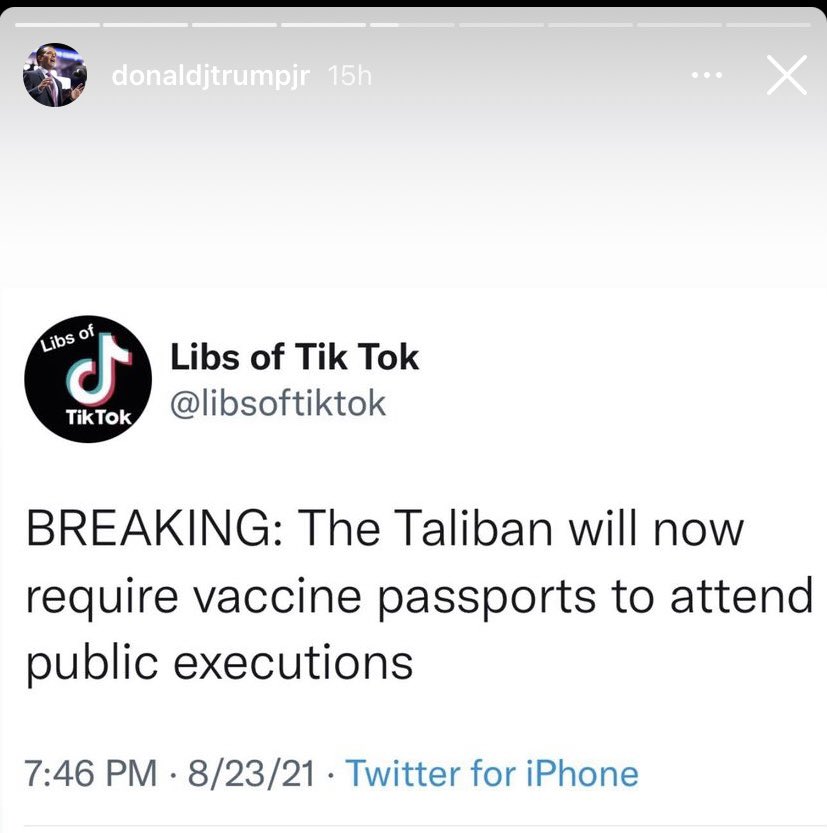 posted by Ace at
05:40 PM
|
Access Comments