« Kabul Collapse Cafe: The Milk Crate Challenge Edition
|
Main
|
Daily Tech News 25 August 2021 »
August 24, 2021
Tuesday Overnight Open Thread (8/24/21)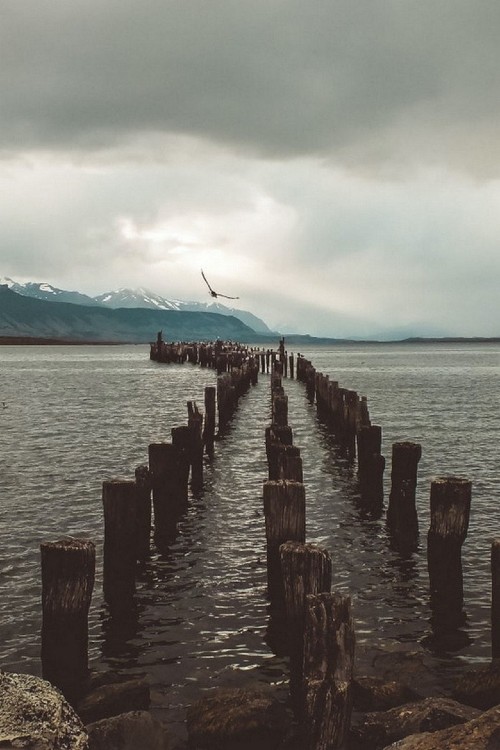 ***
The Quotes of The Day
Quote I

'My partner and I had only purchased the home in December so to say our hearts broke when we saw inside is an understatement.'Chelsea Hingston
Quote II

"Every time that the variant appears in the world, our scientists are getting their hands around it. They are researching to see if this variant can escape the protection of our vaccine. We haven't identified any yet but we believe that it is likely that one day, one of them will emerge."Pfizer CEO Albert Bourla
Quote III

"The change in policy, we had no choice — the short answer is banks,"OnlyFans founder and CEO Tim Stokely
Quote IV

These dopey pundits were not actually influential leaders of men. Or women, for that matter.

Don't you forget it. Emerald Robinson
Quote V

"We absolutely have to have a vaccine mandate. It's for the safety of all involved, particularly members of the public who are interacting with city employees on a daily basis. It's important for colleagues to also feel like they have a workplace that is safe," Chicago Mayor Lori Lightfoot
***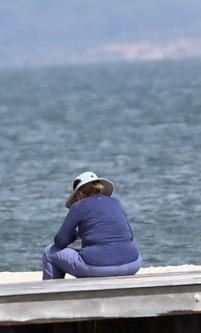 No that isn't a beached whale. It's Hillary Cankles Clinton.

EXCLUSIVE: Glum and glummer! Hillary and Bill are seen on their annual Hamptons getaway but there's no escape from the past for the former first couple as FX's Impeachment: American Crime Story is set to bring the Monica Lewinsky scandal roaring back
Jeez, my Don't-Give-A-Shit Meter is registering 11.
***

If he had cognitive skills, Uncle Paste Eater would think he was having a bad week.

The Supreme Court on Tuesday rebuffed President Biden's request to halt a lower court order that revives the Trump-era "Remain in Mexico" border policy, effectively forcing the new administration to have to push illegal immigrants back across the border.

The justices issued a brief order saying Mr. Biden and his team failed to show they were likely to succeed in their challenge to the district judge's ruling that Homeland Security acted arbitrarily in revoking the policy, officially known as the Migrant Protection Protocols.

Six justices, all GOP appointees, backed the lower court judge. The three Democrat-appointed justices sided with Mr. Biden
***

RIP Rolling Stones' Charlie Watts.

Charlie Watts was never a flashy drummer.

Unlike John Bonham and Keith Moon, he never spilled all over his kit in a drunken, dangerous tightrope act on the verge of tumbling down on his band. Instead, Watts had quietly anchored the Rolling Stones for more than five decades, serving as their terrific rhythm section's key component, a solid and understated drummer whose love of jazz informed nearly every one of his professionally played beats.
***
Gonorrhea Lectim

The Center for Disease Control has issued a warning about a new virulent strain of this old disease! The disease is called Gonorrhea Lectim. It's pronounced "Gonna re-elect'em", and is capable of crippling our current population.


The disease is contracted through dangerous and high-risk behavior involving putting your cranium up your rectum. Many victims contracted it in 2020 when they elected Joe Biden and Liberal Progressives into power and are only now starting to realize how destructive this sickness is.


It is sad because Gonorrhea Lectim is easily cured with a new drug just coming on the market called Votemout. It is pronounced "Vote-em-out". It can be picked up at your local pharmacy without a doctor's prescription. You take the first dose now as a Federal election can be called at any time. The second dose should be taken just before the 2022 elections, otherwise Gonorrhea Lectim could eventually wipe out all life as we presently know it in the USA .

Please pass this important message on to all the bright folks you really care about.
While we are talking about elections. I know you won't be shocked to know that Bill "I Can't Suck Enough D*ck" Kristol is voting for one more democrat.

Never Trumper Bill Kristol proudly announces that he's now enorsing a Democrat for governor, proving that his descent into becoming a Democrat wasn't just related to Trump:
***
As your humble Cob I am happy to announce there is no such thing as voter fraud.

A California man was discovered asleep in his car in the parking lot of a 7-Eleven store in Torrance with drugs, cash, and several drivers' licenses, according to ABC7

Oh… I nearly forgot. There were about 300 unopened recall election ballots in the car.

Taken together, it's an interesting picture, don't you think?

Having 300 ballots in your possession is suspicious. Having the ballots AND several drivers' licenses clearly establishes intent to commit voter fraud.

"Last night, officers responded to a male subject passed out in a vehicle in the 7-11 parking lot," the Torrance Police Department wrote on Facebook.

"Officers learned he was a felon & located Xanax pills on him. Officers continued their investigation and discovered a loaded firearm, methamphetamine, thousands of pieces of mail, a scale & multiple CA drivers licenses and credit cards in other individuals' names."
***

In tonight's Mental Illness section: The man who fantasizes about bees.

HONEY TRAPPERS Man describes 'uncontrollable arousal' and 'urge' to have sex with bees in buzzing fetish – and he's not alone
***

If you are traveling in the middle of nowhere and end up in the ditch. You are stranded. It doesn't matter if you have a cell phone. You are stranded until help arrives. Unfortunately White House Spokes Ditz Jen Psaki doesn't know the definition of "stranded".

The Biden White House often appears to have its own version of reality when it comes to events in the news, which is a risky enough adventure given the growing concerns about the cognitive decline of President Joe Biden, but his spokeswoman really pushed the limits Monday on spinning the truth.

White House press secretary Jen Psaki scoffed at Fox News White House reporter Peter Doocy during Monday's briefing when he referenced American citizens being stranded in Afghanistan.

Not only did Psaki push back hard to insist the reportedly thousands of Americans still in Kabul who are finding it all but impossible to get to the airport to be evacuated are not stranded, she said it was "irresponsible" to suggest that they are.
***
Negligent homicide of thousand of nursing home residents isn't enough to have an Emmy stripped away. But a little grab ass is.

The organization behind the International Emmys rescinded former New York governor Andrew Cuomo's Emmy award on Tuesday.

The International Academy of Television Arts and Sciences announced that "in light of the New York Attorney General's report, and Andrew Cuomo's subsequent resignation as governor, it is rescinding his special 2020 International Emmy® Award."
***
California continues to bleed employers. Once again Texas cashes in.

Forgive us if we sound like a broken record, but the exodus of California businesses out of the state to more affordable and competitive economic climates grew worse last week.

The Los Angeles Times reports that the latest corporate headquarters to announce their departure is AECOM, the global engineering and construction firm.

According to the times, "a company spokesperson said AECOM is moving because 'Dallas has emerged as a U.S. hub for corporate headquarters and a compelling corporate talent magnet, particularly among our peers and public companies in the engineering and consulting sectors.'"

Though 2,500 employees will remain at AECOM's California locations across the state, the CEO and C-Suite will relocate to Texas on October 1. The company has 47,000 employees worldwide.
***
***

Can't sit? Eventually those feet are going to fail.

Kazumi Squirts, not her real name, has spent a lot of money on her look but it's certainly paid off thanks to her Instagram.

The 24-year-old, who lives in Miami, US, shelled out $20,000 (£14,400) for a Brazilian butt lift which has left her unable to sit down.

She's struggled with her body for years, having been told to lose weight by beauty pageant judges as a teenager.

But since growing up, the model has turned her attention to plastic surgery to achieve her desired look.

The beauty said: "I'd always been super insecure about my size and had tried everything to lose weight.

"I was skinny growing up but when I turned 19 I entered a beauty pageant and it was the first time my look had been scrutinised."
***

NSFW-Language, but so damn accurate.
***
Has YouTube jumped the shark? Apparently it has.

Youtube removes video of woman playing harp with a distortion pedal because it "endangers children"
Sometimes I wish Al Gore would have never invented the internet.
***
If you had plans to go to the NRA Convention in Houston: Forget about it.

The number of big gun manufacturers and other major exhibitors that have pulled out of the National Rifle Association's Annual Meeting and Exhibits was too much. Losing big names like Rurger, SIG Sauer, FN, Browning, Springfield and many others meant that most of the biggest draws for the tens of thousands of NRA members would be missing.

So, given the realities of exhibitor cancellations and the challenges of Covid, the NRA has announced that the 150th anniversary NRAAM Scheduled for September 3, 4 and 5 in Houston has been cancelled. It's another big financial hit for the association, the second consecutive convention that's been cancelled due to Covid.
***
The ONT Musical Interlude
Born on this day: 24 Aug 1945
English singer-songwriter, multi-instrumentalist and producer Ken Hensley, from rock band Uriah Heep who had the 1975 UK No.7 album Return To Fantasy. They have sold over 40 million albums worldwide. Hensley died on 4 November 2020, at the age of 75 following a short illness. via thisdayinmusic.com
Born on this day: 24 Aug 1954
English rock music drummer Steve Holley. He was a member of Wings from August 1978 to April 1981. Holley has also worked with Elton John, Kiki Dee, Joe Cocker, Ian Hunter, Julian Lennon,Ben E. King and Chuck Berry. via thisdayinmusic.com
***

I thought "grass" was supposed to mellow you out. Genius Award 1st Runner Up.

When a "very large bag of marijuana" tumbles out of your shirt after the handcuffs have been applied, do not be surprised when the cops ignore your disavowal of ownership of said weed.

Police responding early Saturday to calls about a disturbance at an Iowa apartment building discovered Kyle Clark, 19, and another man "face to face yelling at each other," according to a criminal complaint.

Upon spotting the Iowa City Police Department officers, Clark tried to walk away from cops, who noticed he "had a very large bulge under his shirt near the waist line like he was trying to hide something."
***

'Oh what a tangled web we weave/When first we practice to deceive. Genius Award Winner.

An Alabama man thought he'd been shot by an intruder. It turns out it was his wife's boyfriend, secretly living in their house
***
Peace of mind and closure. Tonight's Feel Good Story of The Day.

EAFORD, Del. (AP) — The body of a Seaford man who was among the lost souls from World War II may finally be coming home this fall.

Delayed by the pandemic in 2020, a long-awaited homecoming for the remains of U.S. Army Air Force 2nd Lt. George M. Johnson is tentatively set for Oct. 2, with reinterment in Odd Fellows Cemetery in Seaford.
***

Tonight's ONT has been brought to you by Failed DIY Projects.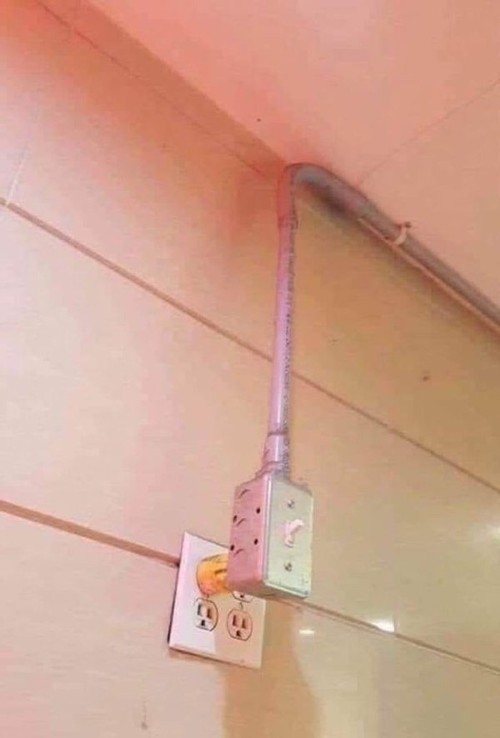 Notice: Posted with permission by the Ace Media Empire and the AceCorp, LLC. Wardrobes provided by St. Vincent de Paul, bright shiny smiles by the Dynamic Dental Ins. Co., home of the no frills deductible.

posted by Misanthropic Humanitarian at
10:00 PM
|
Access Comments