« Even the Democrat-Skewed NBC and CBS Polls Now Shows Biden Below 50% in Job Approval
|
Main
|
Unexpectedly, Even More of the Worst of the Libs of TikTok »
August 23, 2021
FDA Grants Full Approval to Pfizer Vaccine
No longer just approved under the Emergency Use Authorization.
Biden immediately demanded that employers force their workers to take the vaccine.
Addressing the nation hours after the Food and Drug Administration on Monday granted full approval of the Pfizer COVID-19 vaccine, becoming the first coronavirus vaccine to transition from an emergency authorization status to full FDA approval, President Joe Biden urged employers to utilize the approval and mandate vaccinations.

"Today, I'm calling on more countries -- more companies, I should say -- in the private sector to step up with vaccine requirements that will reach millions more people," Biden said. "If you're a business leader, a nonprofit leader, a state or local leader, who has been waiting for full FDA approval to require vaccinations, I call on you now to do that, require it."
Countries, companies. Must be that Phantom Stutter acting up again.
The full approval will likely give legal cover to many organizations who want to require vaccinations for their employees as the delta variant surges nationwide. The U.S. has so far vaccinated 71% of the eligible population, but under-vaccinated areas like the Southeast have proven that the virus will continue to spread wherever there is not ample protection.
David French, Noted True Conservative who Opposed Trump Due to His "Authoritarian" Tendencies is super-excited about the government forcing citizens to get vaccinated: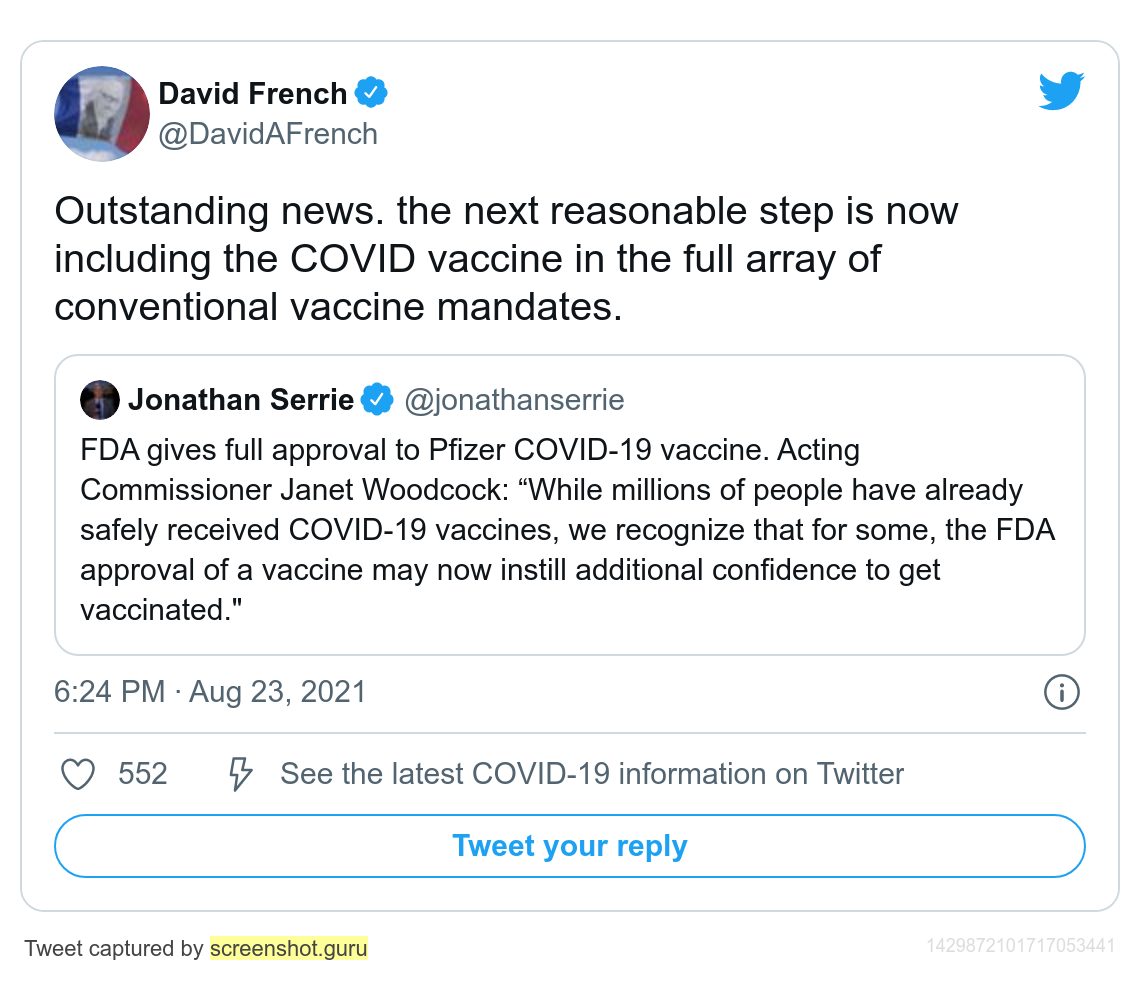 Here's some great news: A new variant called Covid-22 might be deadlier than the Delta variant.
This reads like prognostication to me, not like current fact. I think he's hypothesizing that the Beta or Gamma variants could mutate and become Covid-22.
An expert has warned that a new variant dubbed "Covid-22" could be more lethal than the world-dominating Delta.

Professor Doctor Sai Reddy of the federal technology institute ETH Zurich, an immunologist, believes that combination of existing strains could result in a new and more dangerous phase of the pandemic.

"It is very likely that a new variant will emerge and that we will no longer be able to rely on vaccinations alone," immunologist Sai Reddy said.

Prof Reddy told the German newspaper Blick that Delta, dubbed COVID-21, was the most contagious variant of all.

He cited coronavirus variants from South Africa (Beta) and Brazil (Gamma) that have mutated, allowing them to evade antibodies to some extent. Delta, on the other hand, is far more contagious but has yet to develop such mutations.

"If Beta or Gamma becomes more contagious, or if Delta develops mutations, then we could be talking about a new phase of the pandemic," said Reddy. "This would become the big problem of the coming year. Covid-22 could be even worse than what we are experiencing now."
Below: The Sophisticated Class.

posted by Ace at
04:27 PM
|
Access Comments