« Saturday Morning Coffee Break
|
Main
|
Saturday Gardening and Puttering Thread, August 21 »
August 21, 2021
Critical Social Justice is killing yet more institutions
Good morning, everyone. Lots going on with regard to Afghanistan this weekend. Things seem to change fast. I'm not going to try to keep up here. Maybe you can try in the comments. I did pick up one video from yesterday: When the Democrats lose CNN at the airport in Kabul.
I'm going back in time today. From Gerard Van der Leun at American Digest on August 16 (seems like a long time ago), Afghanistan Bananastan: Mark Steyn explains it all to you because I'm busy cleaning my gun
Mark Steyn writes:

To reprise a line from a decade-old column of mine:

Afghanistan is about Afghanistan - if you're Afghan or Pakistani. But, if you're Russian or Chinese or Iranian or European, Afghanistan is about America.
That's the point to remember: if you're an Afghan schoolgirl, today is the fall of Kabul; elsewhere, in the chancelleries of allies and enemies alike, it's the fall of America. Even by their usual wretched standards, the world's most somnolent media are struggling to stay up to speed on the story. Here's the scoop from USA Today:

Taliban's Afghanistan Advance Tests Biden's 'America Is Back' Foreign Policy Promise

You don't say! Did he misread the prompter, or mishear the guy in his ear? "America is on its back", surely?
Critical Social Justice in Afghanistan
There is a really good chance that Critical Social Justice played a big part in the debacle in Afghanistan. Just lately, there was the spectacle of generals fighting Tucker Carlson instead of the Taliban. But it didn't start there:
2012: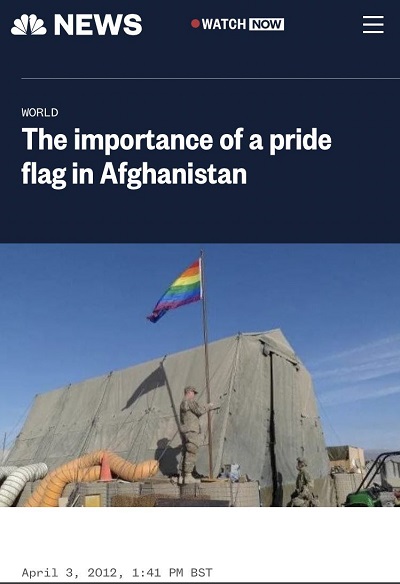 2021: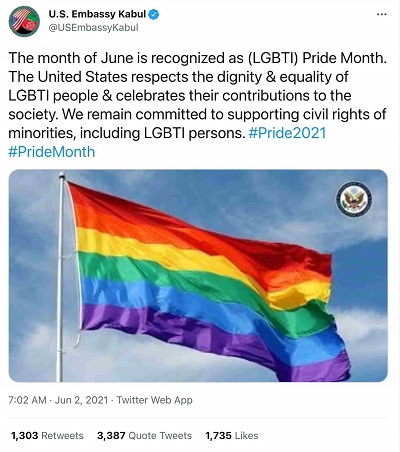 On the 18th of August, commenting on the flag above, James Lileks noted one of the inconsistencies in the application of the tenets of Critical Social Justice:
How is this not colonialism? How is this not the apogee of cultural imperialism?

If we've learned anything from WWI -- you know, Woke War One, which we've been fighting for the last few years -- it's that colonialism is one of the fundamental sins of the West, and it's predicated on racism. The White Man's Burden, and all that. It is wrong, wrong, wrong to impose our standards on another culture.
This particular form of colonialism was stupid, stupid, stupid.
That flag flew just before the Taliban's version of "social justice" took over again and women had to burn any evidence of having attended classes in Gender Studies at the university in Kabul.
But life goes on here in the USA, too. Many ongoing issues include the crusade to transform our culture to one based in Critical Social Justice. Sometimes this harms the crusaders. Are we ready to establish something new when their institutions fall apart?
Critical Social Justice Helping to Kill a Newspaper
Or at least changing it into something other than a newspaper:
Another Babylon Bee prophecy fulfilled:
2018, Babylon Bee Satire: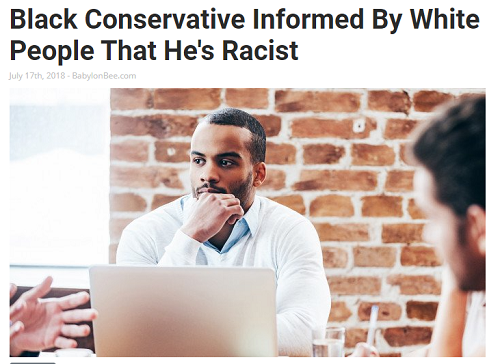 2021, Los Angeles Times Headline: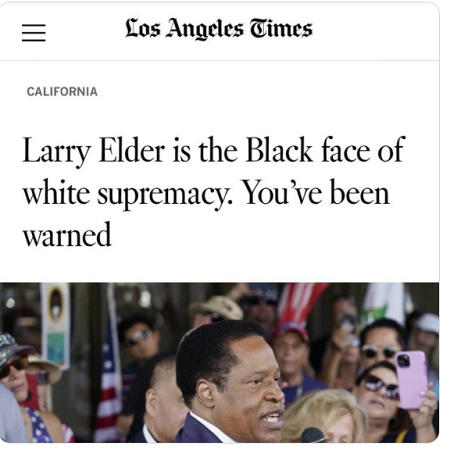 Of course, the Editorial Board, firmly against recalling Newsom, chose a Black columnist to write the piece. OF COURSE. But she's behind a paywall for lots of people, who only see the headline. If you have a subscription (I don't), there's also a piece declaring that Democrats must scare their voters to the polls to fight the recall.
The Los Angeles Times is doing their part to scare voters.
In a recent interview with The Post Millennial editor and KVI Radio Host Ari Hoffman, Elder stated, "I'm not doing this to be liked. People tell me the reason why Arnold Schwarzenegger failed as a Governor and went left is that he was used to being loved. He was used to people having adulation for him; he's the Terminator!" Elder told Hoffman.

"I'm used to people calling me an Uncle Tom and a Sellout, so I'm going to make some changes. I'm not going there [Governor's position] to make friends, so bring it. Hold my beer!" Elder concluded.
The Los Angeles Times seems to be channeling Titania McGrath:
When black people enact whiteness, they intensify its toxicity.

This is why black white supremacy is even whiter than white white supremacy.
R.I.P. Los Angeles Times
I remember when you were a newspaper.
Incidentally, if you are voting by mail in California, remember to fold you ballot in the envelope so your vote does not show.
Critical Social Justice Is Killing the Practice of Medicine
You may recall that the American Medical Association has started pushing to have sex removed from birth certificates. How can anyone trust that this organization puts science ahead of politics?
The AMA supports health care for transgender children, noting that "it is imperative that transgender minors be given the opportunity to explore their gender identity under the safe and supportive care of a physician." For an organization that blindly supports genital mutation on minors, it's no surprise that they want to eliminate sex on a birth certificate.
Legal Insurrection has posted a report on its ongoing investigation of medical education and research crumbling under racial identity politics.
We have covered many times how medical schools are not being spared the meritocracy purge in the name of racial identity politics.

We have focused on SUNY-Upstate Medical University, where we had to go to court to get them to turn over documents about their racial identity programming. That battle will continue because though the court ordered documents produced, the production we received is absurdly heavily redacted. For *some* reason, the administrators at SUNY-Upstate Medical University really don't want the public to see what they are doing and how they got there.

It's not just at SUNY-Upstate Medical. Critical Race activism is deeply embedded now throughout medical schools.
Video at the link.
John Murawski at Real Clear Investigations has a two-part series on how Medicine Is Getting Major Injections of Woke Ideology (Part 1) and As Race 'Equity' Advances in Health Care, Signs of a Chilling Effect on Dissent (Part 2).
From Part 1

The national racial reckoning over reparations and critical race theory is taking over the world of medicine and health care. Prestigious medical journals, top medical schools and elite medical centers are adopting the language of social justice activism and vowing to confront "systemic racism," dismantle "structural violence" and disrupt "white supremacy" in their institutional cultures....

Rare is the doctor who is willing to publicly question claims of white privilege and implicit bias in the healthcare system, and already several doctors who have publicly pushed back have been demoted and have filed legal actions alleging retaliation. This year the medical profession received an unequivocal message when two editors of the prestigious Journal of the American Medical Association resigned under pressure over a podcast that aired opinions expressing skepticism that the United States is plagued by systemic racism....
Part 2 of the investigation focuses on the silencing of dissenting voices:

The national racial reckoning over reparations and critical race theory is taking over the world of medicine and health care. Prestigious medical journals, top medical schools and elite medical centers are adopting the language of social justice activism and vowing to confront "systemic racism," dismantle "structural violence" and disrupt "white supremacy" in their institutional cultures....

The national movement to eradicate what activists call systemic racism and white privilege from medicine and health care has few public critics in the medical profession. A possible reason: Skeptics who have questioned these efforts have been subject to harsh Twitter campaigns, professional demotions and other blowback....

Such incidents are noteworthy because of their eerily scripted language of moral outrage and public denunciation, coming from the nation's highest levels of professional achievement, often on internal issues that would typically be handled with sensitivity and discretion as personnel matters....
Much more at the links. Very disturbing.
Music
Are we in Dire Straits yet? Once Upon a Time in the West
(Not sure these lyrics are exactly right, but here goes:)
Who's protecting the innocents, eh?

Heap big trouble in the land of plenty

Tell me how we're gonna do what's best

You guessed: once upon a time in the West


Oh yes, once upon a time in the West

This is the Thread before the Gardening Thread.
Serving your mid-day open thread needs
Hope you have something nice planned for this weekend.

posted by K.T. at
11:15 AM
|
Access Comments