« The Morning Rant
|
Main
|
Cuomo's Top Aide and "Ruthless Enabler" Melissa DeRosa Resigns »
August 09, 2021
Obama's Swank Celebrity-Studded Super-Spreader Soiree
Photography was banned. Wonder why.
But a DJ took stealth shots and posted them online, before he was ordered to censor them.
They show a thickly-attended party with no masks, lots of close contact, and people dancing inside tents.
A performer at former President Barack Obama's birthday party managed to take stealth pictures of the opulent Martha's Vineyard event and share them with Instagram followers.

Rapper Trap Beckham and manager TJ Chapman discreetly snapped pics of the event's high-end food, drink and swag offerings and talked to their followers as the party unfolded, according to screenshots of the posts, which were later deleted under the event's photography ban.

The recording artist and his handler posted themselves smoking cannabis -- which is legal in Massachusetts.

Snaps of the open bar showed bottles of top-shelf liquor and cigars, and s'mores cocktails garnished with melted marshmallows.

Despite Questlove being enlisted to coordinate a meat-free menu, photos showed that steak, chicken and shrimp were also available, with rice, greens and potatoes on the side.
Of course. The claim that they'd be eating soy and vegetables was all bullshit for Obama's leftwing cultists.
Pics and a short video clip below the fold. Note that the video uses some kind of lightning effect. Who knows what the Very Online are up to these days.
Obama promised the event would be "significantly" scaled back, but a fleet of catering trucks suggests it was still packed with potential super-spreaders.
Three large Big Sky trucks emerged from the long private sandy road leading to the Obamas' $12million property late yesterday afternoon.

The local company run by a husband and wife team boasts of offering 'style and elegance' to any outdoor event and has been featured in the pages of Martha Stewart Weddings.

They provide Sperry Tents - open sided tents made out of sailcloth with nautical touches in keeping with the New England locale including wooden support poles to waving pennant flags.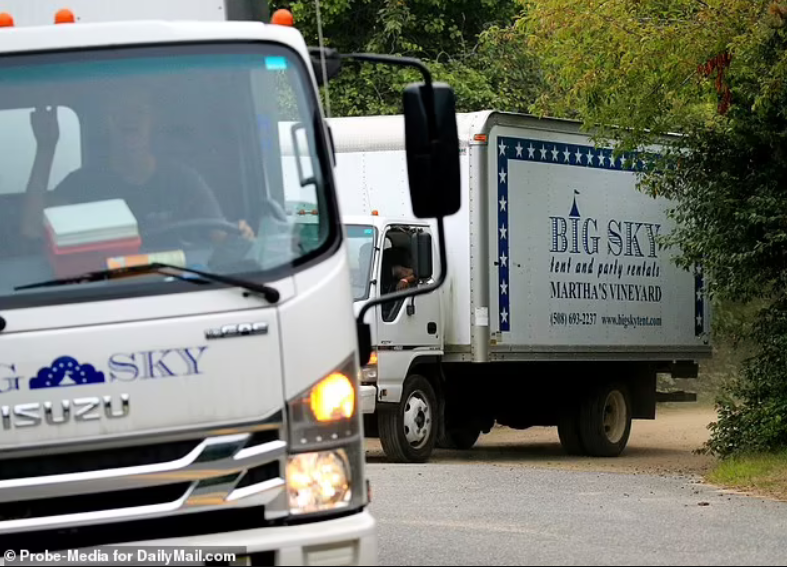 This is the Ruling Class's idea of
"significantly" scaled down, plebes
On Friday, Obama put out the claim he was scaling back the party, and the Paper of Democrat Propaganda the New York Times spun for him and repeated his claims, stressing that some celebrities Obama probably barely even met had been officially uninvited.
I'm guessing most of them still showed up.
And despite claims that the party was now only for "close friends and family," a large number of celebrities were still invited.
Jay-Z and Beyoncé were still in, as of Friday.

David Axelrod and Larry David were out.

Former President Barack Obama's 60th birthday had been anticipated as the biggest social event of the summer for alumni of his administration and friends of the Obama family -- a celebrity-studded garden party at Mr. Obama's $12 million Martha's Vineyard mansion.

But this week, some invitees were treated to a cold dose of reality when they were abruptly cut from the guest list -- while some of the boldest names were not. The party, the uninvited were told, had been scaled back because of growing concerns about the spread of the Delta variant of the coronavirus.

In what seemed like fodder for a future episode of "Curb Your Enthusiasm," Mr. David, the comedian and a Martha's Vineyard homeowner, was uninvited.
Martha's Vinyard homeowner? So he'll just see Obama next month.
Although Obama (supposedly) disinvited many of his former employees, he kept his Famous "Friends" on the invite list.
...

But on Saturday, as the celebrities began descending on the island, every new paparazzi shot sent a wave of hurt feelings through the Obama alumni network who had been cut and were left to track the party via the tabloids. Celebrity couples Chrissy Teigen and John Legend, as well as Dwyane Wade and Gabrielle Union, were photographed arriving on the island ahead of the party, alongside actor Don Cheadle and comedian Stephen Colbert. Even a "Real Housewives of Atlanta" star, Kim Fields, was photographed flying into the island.

...

An unsubstantiated rumor that Pearl Jam was to perform had to be officially knocked down by both a band representative and Mr. Obama's own planners. Part of a meat-free menu was being coordinated by the musician Questlove, a detail reported Friday by Bloomberg News.

Former administration officials said they were somewhat surprised Mr. Obama was carrying on with what appeared to be an over-the-top event, even though they said they were not concerned about catching the coronavirus while mingling outdoors with a mostly vaccinated crowd, all of whom had to submit negative tests to gain entry to the property. Many had rented houses together for the weekend.

Still, Democrats supportive of the former president privately expressed surprise at the casual disregard for optics and wondered why it took until just days before the party for Mr. Obama to change course.
Optics.
Not any concern about the virus among the Ruling Class.
Just about the "optics" that will be seen by the masses.
Valerie Jarrett, one of the Obamas' closest friends and advisers, was in favor of scaling back the party, according to people familiar with the planning. Mr. Obama, those people said, agreed that if his party was becoming a distraction from the White House's messaging that everyone needed to get vaccinated and take extra precautions, he would adjust his plans.
A "distraction from the messaging."
Again, not a concern about health. Not among the Ruling Class.
Your kids will have to be perpetually masked, however.
..

Tom Hanks, one of the earliest celebrities to reveal he had the coronavirus last year and a longtime Obama ally, was also still invited, although it was not clear he would attend and he had recently been spotted in Greece.


Oprah Winfrey and Ava DuVernay had pulled out of the party earlier because of concerns over the Delta variant, according to two sources familiar with the party planning, letting the Obama camp off the hook of having to keep or cut them from the list. The White House had also said Mr. Biden was not going to come.

A summer resident and columnist explains why The Ruling Class are allowed to congregate in large numbers:
"He has 20-plus acres of land, and everyone was going to be outside," he said. "You're dealing with a sophisticated crowd. I think the concerns were a bit overblown."
Ah. A "sophisticated crowd" can somehow use their urbane wit and grace to block the transmission of covid. Good to know.
By the way, most parties in the summertime are held outside, but people wind up spending a lot of time inside, too. They flow back and forth. The idea that this was all outside is bizarre.
Did they use Portapotties? No? They went inside to go pee-pee and poo-poo, right?
Last week, a "very sophisticated crowd" had a party, hosted by an epidemiologist.
All were vaccinated.

I was sitting on an examination table at an urgent care clinic in Timonium, giving my history to a physician's assistant. An hour later, she would call me to confirm that I was positive for COVID-19.

Given the way that I felt, it was what I expected. But it wasn't supposed to happen: I've been fully vaccinated for months.

Five days earlier, I had gone to a house party in Montgomery County. There were 15 adults there, all of us fully vaccinated. The next day, our host started to feel sick. The day after that, she tested positive for COVID-19....


The official Centers for Disease Control and Prevention guideline stated that, since I was fully vaccinated, I didn't need to do anything different unless I started developing symptoms. I'm an epidemiologist at a major medical research university, which has a dedicated COVID exposure hotline for staff. I called it, and workers said I didn't need to do anything.

Then, I started to hear that a few other people who had been at the party were getting sick. Then a few more. At this point, 11 of the 15 have tested positive for COVID.
She says that no one got "seriously" sick, which is the main selling point of the vaccine.
But then, most adults are now vaccinated -- almost 70%. And the Biden Administration has moved the goalpoasts from reducing deaths and reducing hospitalizations to ending all covid transmission.
And yet Obama still had his Celebrity Super-Spreader Soiree.
Yes, most were vaccinated. But so what? Most Americans are vaccinated and we're still be bullied into another round of lock-downs. Furthermore, vaccinated people can catch and spread covid -- which is why we're being demanded to lock down and wear masks.
So why didn't Obama?
Why didn't Jay Z? Or Bruce Springsteen? Or Steven Spielberg?
Oh, right -- because we were dealing with "a very sophisticated crowd."
If there's any justice -- and sometimes, there is -- we'll soon see A Very Sophisticated Super-Spreader Event breaking out in Hollywood, Martha's Vinyard, the Hamptons, and the Upper East Side.
But will that even make the papers? These folks can all afford to pay a doctor for house calls, after all.

posted by Ace at
12:18 PM
|
Access Comments