« Daily Tech News 9 August 2021
|
Main
|
Mid-Morning Art Thread »
August 09, 2021
The Morning Report - 8/9/21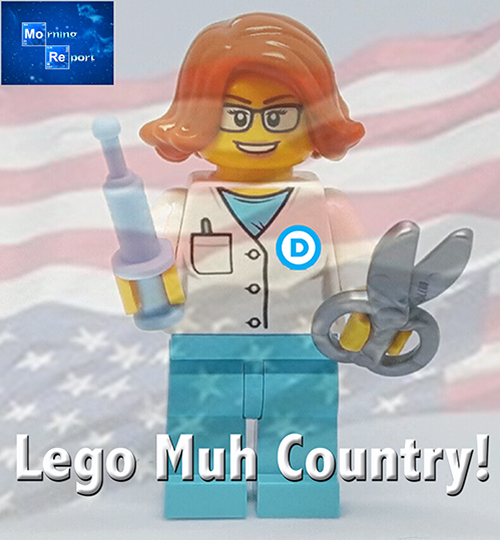 Good morning, kids. Happy Nagasaki Day as we kick off another week of America overthrown and rapidly devolving into some sort of fascist/socialist (but I repeat myself) totalitarian dictatorship. While its forbears of 80-odd years ago actually did build things like the Autobahn and factories for massive rearmament while making the trains run on time, the Adenoid Hynkels in DC are evidently set to pass a so-called infrastructure bill that builds nothing but the biceps of the congressional flunkies who have to schlep its 2,072 pages around from backroom to backroom 50 times a day. $3.5 trillion. Does the word "trillion" even have any meaning anymore or is it Everett Dirksen adjusted for inflation? I take it back; it does build infrastructure; the infrastructure by which the Leftist Junta that stole the 2020 election can consolidate and accrue permanent power by transferring the wealth and much if not all of whatever the hell is left of the liberty of the US citizenry to its control.
While it's not a fait accompli yet in the Senate, if it does pass in that chamber it then has to move on to the House. But that said, aside from the fact that the GOP is in the minority and that the Democrats will micturate all over procedure and protocol and whatever obstacles that the former might throw in their way to try and derail this monstrosity, the fact of the matter is the GOP has no interest in doing that at all - something we know all too well by now. In fact, 18 (count 'em!) 18 Republicans in the Senate played the role of "bi" in bipartisan (yay) to make the world safe for Democrats


Roy Blunt (R-MO)
Richard Burr (R-NC)
Bill Cassidy (R-LA)
Shelley Moore Capito (R-WV)
Susan Collins (R-ME)
Kevin Cramer (R-ND)
John Hoeven (R-ND)
Mitch McConnell (R-KY)
Lisa Murkowski (R-AK)
Rob Portman (R-OH)
Jim Risch (R-ID)
Mitt Romney (R-UT)
Thom Tillis (R-NC)
Deb Fischer (R-NE)
John Cornyn (R-TX)
Roger Wicker (R-MS)
Dan Sullivan (R-AK)
Mike Crapo (R-ID)
Fuck these criminals to hell. But make no mistake; the 31 other Republicans not on this list aren't choir boys and girls either. From time to time, each of them went along to get along on one bill or another or for one reason or another, especially during President Trump's first term. Considering everything else he was up against, it is incredible what he virtually singlehandedly accomplished in his first three years in office. And their silence not only about an obviously stolen election but more crucially over the jailing and persecution of scores of patriotic Americans who did nothing but show up to DC last January to protest that stolen election, as was their right to do, remains deafening.
For the benefit of those who still do not get it, I shall reiterate: the GOP does not represent conservatives, freedom loving Americans, taxpaying Americans or Americans who cherish the concept of limited government, honesty, virtue, thrift and anything under the rubric of "life, liberty and the pursuit of happiness" as codified in 1789. No, the GOP is not an opposition party to the Anti-American revolution that got rolling around 1913 with the passage of the 16th and 17th Amendments and climaxed on January 6th, 2021. The GOP is a player in that enterprise, a cog in the machine of an ever-expanding government bureaucracy whose only "objection" to it, if you can call it that, is the speed at which it expands and devours everyone and everything in its path - NOT in that goal itself. Once you see that, then you can let go of the anger and frustration of not understanding why they never do anything but make excuses why they can never do anything. You can reserve your anger, frustration and fear for the actual destruction that they are aiding and abetting.
* * * * *
Meanwhile, in another part of the forest, the noose around Angel of Death Cuomo's neck just got a little tighter. One victim has now filed a criminal complaint, another, a female state trooper has come forward and described Cuomo laying his Biden-hand on her, chief consigliere Melissa DeRosa, who features prominently in NY state AG Letitia James' investigation, announced she is stepping down immediately and sources close to NY Lt. Gov. Kathy Hochul claim she is already preparing to step up and assume the governorship indicating Cuomo may be in process of stepping down.
Meh, even if that inept mobster does leave the scene, there is no way in hell he sees the inside of a prison cell or takes much of a hit in the wallet with the inevitable civil suits. As horrendous as his sexual assaults were, they pale in comparison for his culpability in euthanizing upwards of 15,000 elderly nursing home residents by unleashing a biological weapon on them in order to both save the states' already depleted Medicare coffers and worse, to try and ding President Trump before the election. He skates on that as well because if he goes down, four other governors, Biden and much of the federal medical bureaucracy goes down with him.
Look at the timing; after 18 months, not only are we not going to get our freedom back, but we are all set to be locked down again over this "delta variant" and we will be forced to be indoctrinated - I mean inoculated - with vaccines that at best offer little to no protection from getting General Tso's Sickness and at worst can kill you. The reasoning? Everything Biden and the Junta controlling him have done has wreaked havoc on the nation economically, politically, national security-wise and culturally. Never have we been laid so low and so fast. It's literally Mirror Universe Trump Years but at 8 times the speed. And with the midterms coming, you better believe they want to implement even more Dao-Min Yen electoral fraud to keep them in power.
Hell, 15 months is both an eternity and the blink of an eye. Plenty of time for gamma, sigma, theta and pi variants to cancel elections altogether and just outlaw any non-Democrats period as "dangerous white supremacists."
There is hope. Look at what's going on in France and even in Australia, where the government there has all but declared a state of siege. Whatever his faults may be, at least Rand Paul is sounding the right tone at the right time on this garbage:
In a video that he posted to his Twitter account on Sunday that closely resembled an op-ed he wrote for Fox News last week, Paul said, "It's time for us to resist."

"They can't arrest all of us. They can't keep all of your kids home from school. They can't keep every government building closed -- although I've got a long list of ones they might keep closed or might ought to keep closed," Paul said. "We don't have to accept the mandates, lockdowns, and harmful policies of the petty tyrants and bureaucrats. We can simply say no, not again."

"Nancy Pelosi-- you will not arrest or stop me or anyone on my staff from doing our jobs. We have either had COVID, had the vaccine, or been offered the vaccine," Paul continued. "We will make our own health choices. We will not show you a passport, we will not wear a mask, we will not be forced into random screenings and testings so you can continue your drunk-with-power rein over the Capitol". . .

. . . "I think the tide is turning as more and more people are willing to stand up. I see stories from across the country of parents standing up to the unions and school boards," Paul continued. "I see brave moms standing up and saying, 'My kids need to go back to school in-person.' I see members of Congress refusing to comply with Petty Tyrant Pelosi. We are at a moment of truth and a crossroads. Will we allow these people to use fear and propaganda to do further harm to our society, economy, and children? Or will we stand together and say, absolutely not? Not this time. I choose freedom."
Well said, Senator Paul. The Human Events editorial staff echoes your sentiments and takes it a step further.
Americans should refuse to surrender their freedom. To be clear I am in fact calling for acts of civil disobedience. It is time for Americans to embrace the ideas developed so thoroughly by Henry David Thoreau in the 19th century and embraced by Gandhi, Dr. King, and others in the 20th century. It is time for us to support the shopkeeper who refuses to check for vaccines or enforce mask mandates. It is time to boycott the companies that require their workers to be vaccinated and to "buycott" with their competitors who do not.

It is time for us to sit down at the modern-day "Woolworth's" lunch counter, take off our mask, roll up our sleeve to show the absence of a needle mark, and demand to be served. . .

. . . We need to create non-violent but situationally uncomfortable unrest. This is not a time for Americans to sit back and watch this play itself out. As we have learned with terror, poverty, drugs, and other famous "wars," sometimes things never really finish playing themselves out.
Bingo. And this does not, should not and really must not limit itself to the Chinese Lung AIDS vaccine ausweiss situation. We should be massively protesting the brainwashing of our children, the erasing of our borders, the wiping our of our savings, the forcible dissolution of our society and culture, and the persecution of our citizenry. The time is now.
Psaki-psircling back to the top, we have a couple of good essays on the 76th anniversary of Hiroshima and Nagasaki. Also, the late Paul Fussell, who IIRC had a very liberal bent to him, saw combat up close and personal in Europe. Until his dying day, he felt nuking the Japanese was both military and morally justified. Amen to that.
PS: Be sure to get your papers in order, nudge-nudge wink-wink.
ABOVE THE FOLD, BREAKING, NOTEWORTHY
CIVIL WAR 2.0: LEFTIST PERSECUTIONS, CAPITOL HILL BLACK WEDNESDAY PROTEST AFTERMATH, DEMOCRAT PUTSCH, AMERICAN DISSOLUTION
NOTE: The opinions expressed in some links may or may not reflect my own. I include them because of their relevance to the discussion of a particular issue.
ALSO: The Morning Report is cross-posted at CutJibNewsletter.com if you want to continue the conversation all day.
Follow us on Twitter: @CutJibNews
Follow us on Instagram: @Cutjibnewsletter

posted by J.J. Sefton at
07:29 AM
|
Access Comments