« Daily Tech News 6 August 2021
|
Main
|
Mid-Morning Art Thread »
August 06, 2021
The Morning Report - 8/6/21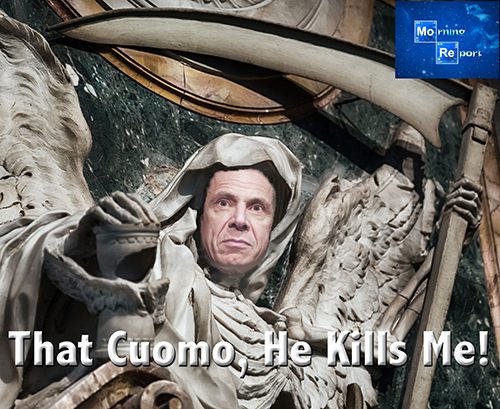 Good morning, kids. The weekend is here and Happy Hiroshima Day! Were it not for that bomb, I might not be here today. The top story remains the impending removal of the cancer on the body politic that is Angel of Death Andrew Cuomo over his serial sexual abuse of women. His replacement will be only a temporary case of projectile colitis in the form of Lt. Gov. Kathy Hochul until an equally cancerous hardcore leftist is installed in next year's midterms. Not surprisingly, Letitia James herself looms quite large. Nothing beats angry, black, female - by chromosome or declaration - and Marxist, and with a little help from friends of the Dao-Min Yen variety, it's a lead pipe cinch.
But let's not kid ourselves. The Democrats couldn't care less about women, nor blacks nor homosexuals nor about any other "victim group" because 99.999% of the time it is their policies that made them the victims in the first place. Why do you think drug pushers give you that first dime bag for free? In any case, the reason for his removal is merely a pretext. Cuomo is a liability. His longtime allies in the Party and the media that almost always embargoes, spins and covers up all Leftist scandal exposed him. With Biden shockingly still in office despite predictions of his brain melting way before the midterms let alone 2024, and Kamala Toe tanking miserably because of the border and just general repulsiveness, arrogance and stupidity that comes through on camera despite the media filtering, do they fear that the Angel of Death might do what Teddy Kennedy did to Jimmy Carter in the 1980 race and primary the drooling tweener-groper?
More likely, the real reason is his responsibility for the death of over 15,000 elderly nursing home residents by forcing Chinese COVID infected seniors to live with them. As I and others observed, when your state's Medicare fund is all but bankrupt and the money isn't coming in to replace it, the obvious solution is a "final" one, so to speak. But informed as I and others think it is, it's still supposition. Yet 15,000 people died because of this horrendous directive, one that is such an obvious no-brainer that even a no-brainer like him with a supposed cadre of medical experts to tell him not to do it, should have seen it. And yet he didn't.
In covering the Cuomo scandals in American Greatness, Lisa Schiffren made an observation that shocked the hell out of me vis a vis the nursing home mass murders. And I didn't see it and it was right in front of me:
The national outrage at Cuomo's handsiness and bullying -- from feminists, Democratic officials, and others who have ignored Joe and Hunter's actual criminal sexual depravity -- and the expiation of sin to follow as he leaves the scene, has made it unlikely that Cuomo will ever face justice for the deliberate murder of roughly 15,000 seniors in New York nursing homes. That is a far more serious charge. Were that case to be unraveled, with evidence, in a court of law or even in a real newspaper, many people besides Cuomo would be in deep trouble. Particularly hard hit would be those for whom he acted in pursuit of unseating Donald Trump in the coming election. So that could not be allowed to happen.

Why do I think those deaths of elderly people in nursing homes were deliberate, and not just incompetence or lack of preparedness, as he has argued? Timing. In March, 2020, as COVID became an issue, the biggest problem associated with it was the lines at New York City-funded hospitals, and the start of a rising death toll. But most states still had zero or only a handful of cases. There were far too few deaths to justify shutting down businesses or schools.

Cuomo was warned about the likely consequences of doing this by, among others, worried nursing home owners, who knew that if they had to house still contagious, recovering patients, COVID would spread like wildfire through their facilities. And, he had good alternatives: President Trump had sent the Naval hospital ship USS Comfort, which remained empty throughout the pandemic, as did the Javits Center, as the elderly and vulnerable were forced to share rooms with known COVID carriers. It is hard to imagine that this was an accident. Even as the death toll began skyrocketing, Cuomo refused to reconsider the policy.

Four other Democratic governors followed suit, using the same tactic, and thousands more in New Jersey, Pennsylvania, Michigan, and California subsequently died, allowing Democrats to ramp up the fear that justified a year-long shutdown of work, schools, the economy, and allowed for election practices that enabled mass cheating.

Did Cuomo come up with this evil himself? That seems doubtful. One presumes that conversations took place, directions were given, and immunity was promised. That's my guess.
Just wow. That Andrew Cuomo, Gretchen Whitmer, Tom Wolf and Gavin Newsom would knowingly commit mass murder just to help oust a sitting president beggars the imagination. And yet that is precisely what happened. The word "evil" is bandied around here quite liberally but I just cannot find an appropriate enough description of this. It's the same soulless, sociopathic mindset that allowed and actually cheered on the Burning, Looting and Murdering of several dozen metropolitan areas across the country last summer in service of the same goal.
And let's be clear; this is not just about Trump. This is about us. That they were willing and in fact eager to murder thousands of our loved ones and then lay waste to our economy and our society should be a warning that they are going to stop at nothing to both hold on to absolute permanent power but to quite literally crush anyone who dares stand in their way.
Lots of other pretty big effin' deal news items in the mix so do have a look. I'm sure they'll jump out at you. Have a good weekend.
PS: Be sure to get your papers in order, nudge-nudge wink-wink.

ANGEL OF DEATH CUOMO NURSING HOME SCANDAL, SEXUAL ASSAULT & OTHER DEM GOV SCANDALS
NOTE: The opinions expressed in some links may or may not reflect my own. I include them because of their relevance to the discussion of a particular issue.
ALSO: The Morning Report is cross-posted at CutJibNewsletter.com if you want to continue the conversation all day.
Follow us on Twitter: @CutJibNews
Follow us on Instagram: @Cutjibnewsletter

posted by J.J. Sefton at
07:33 AM
|
Access Comments