« Saturday Gardening and Puttering Thread, July 31
|
Main
|
Saturday Afternoon Chess thread 07-31-2021 »
July 31, 2021
Ace of Spades Pet Thread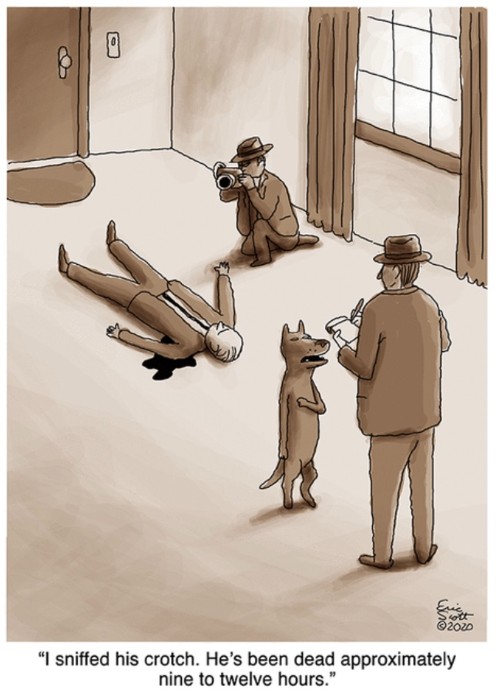 (H/T Legally Sufficient)
***

Good afternoon and welcome to the almost world famous Ace of Spades Pet Thread. Take a break from your world and enjoy the world of animals.
***
A Little of This. A Little of That.

Who needs a polygraph machine..... When a dog will suffice?


A study of 260 dogs found that, in some cases, dogs can tell when people are lying.
The experiments involved giving dogs information about the location of food.
The majority of the dogs did not follow false suggestions when they knew humans were lying.
Is humanity's best friend catching on to our shenanigans? Researchers at the University of Vienna discovered that dogs can in certain cases know when people are lying.
***

Big heart, big grain bill, BF Horse. (H/T CBD)

One of the world's tallest horses has made a new home at a rescue center after the 8-foot-tall giant outgrew his owner's stables.

Phantom the horse officially measures 20.1 hands tall (2.06 meters) to his withers, but in reality, his head sits at around 8 feet. Weighing a staggering 2,000 pounds (approx. 907 kg), he became too big for his owner to handle and had to be moved to a rescue center.
***
Meet The PetMorons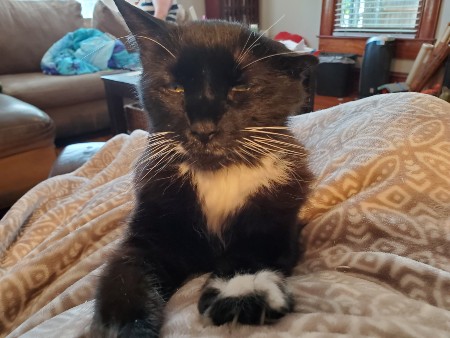 Returned, the conquering hero

Well, Anubis quickly readjusted to life in the (literal) lap of luxury this afternoon.

After arriving home a little worse for wear (unexplained patches of fur missing), he quickly expressed his displeasure that we didn't have his favorite wet cat food waiting for him.

After he ate, he insisted that a lap be provided for his comfort, and after the required number of scritches and pets (he has never divulged this number), he hopped off of said lap and padded his way up to our bedroom and settled in for a nice, long catnap.

Yep, we missed him. - Teresa in Forth Worth
Always a happy occasion when a missing pet returns. Especially no worse for the wear. Hopefully Anubis learned his lesson. Thanks for your contribution today.
***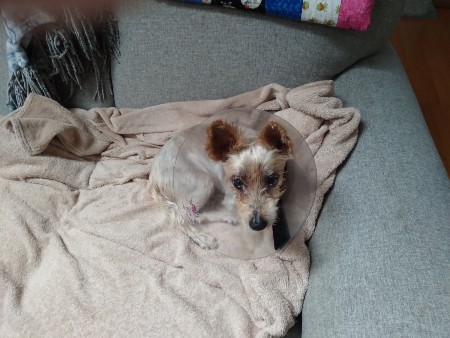 Mis Hum:

This is an update to the previous message I had sent.....

Our Yorkie, Sparky, had his cataract surgery Wednesday. It was mostly
successful, the right eye is repaired and will be near normal but the
left eye was too far gone and all they could do was to remove the bad
lens. He will be quite farsighted in that eye. He is back home and
healing. Sparky is currently an unhappy dog, because he must wear the
cone for the next two weeks. - (The Neon Madman)
Considering Sparky's age the results are pretty remarkable. No pup enjoys the cone of shame. Thanks for the update from last week.
***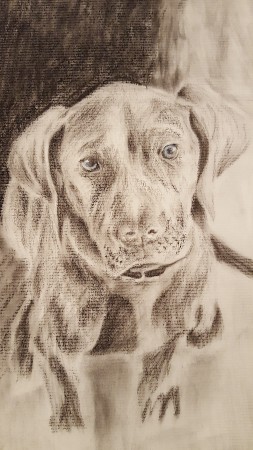 When I was a kid we got a Weimaraner puppy named Brandy. We never got her house trained so she was always an outside dog, but at one point we got another dog who was house trained, and even today, decades later, I feel sad to think how neglected Brandy must have felt compared to the other. My dad very rarely hunted, but he one time he took her out, already an adult, he got a bird, and Brandy ran up to it and formed a perfect point - it was pure instinct. I still remember my dad's pride when he described it. As I grew older I made more of a point to go outside and play with her, but it still wasn't nearly as much attention as I'm sure she deserved. Eventually my dad gave her to my uncle, a very avid hunter, and I hope he got her out for a few hunting trips. Brandy got sick very suddenly and died, and the family suspects she got into someone's batch of illicit chemicals. She is in doggy heaven now, and when I see her, I hope she forgives me.

This puppy is from an internet search, but it's a tribute to a great dog. - Sobek

Beautiful work and a beautiful heart felt submission from you. I'm sure most of us, I know I do, look back at certain pets and wish we would have done more for. Thank you again for your beautiful work.
***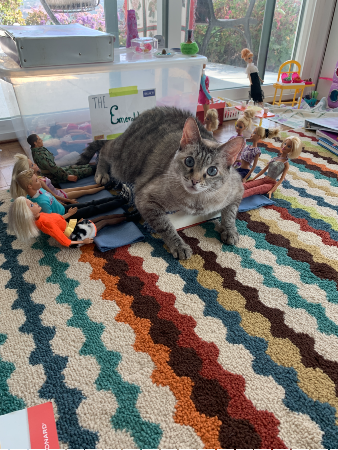 We recently added two older cats to our house from the local shelter. Both had been living with an older woman who could not care for them any longer and ended up caging them. One likes to stay in a confined space and never leaves our bedroom. The other takes every opportunity to run like a madwoman - or more correctly, waddle very, very quickly. This is Dexie, also known as Chonk or Godzirra (as in Run, Godzirra, Run!!!). She is seen here resting after wiping out New York and devouring the Barbie/Ken/GI Joe Sunday dinner. -motionview
I can hear the command now, Dexie, power waddle engage!!!! Great job in saving 2 felines from possibly a horrible fate. They sound like they have made your home theirs. Thanks for sharing.
***
A limited amount of submissions this week in the In-Box. Thank you to those who contributed. If you have something animal/pet related feel free to contact us at petmorons at gmail dot com.
God willing and the creeks don't rise we will be back next Saturday.
Have a great week!

posted by Misanthropic Humanitarian at
03:00 PM
|
Access Comments