« Historical Echoes [Dave in Fla]
|
Main
|
GAINZZZ: Choose Wisely, For as the True GAINZZZ Can Bring You Extended Life, the False GAINZZZ Will Break Your Spirit »
July 30, 2021
Quick Hits: Tater's Creamy Thighs Edition
French president and coffin-robber Emmanuel Macron... sues a man for depicting him as Hitler on a billboard due to his policy criminalizing unvaccinated people who go to cafes or bars.
And not just that-- the authorities in Toulon, where the billboard was posted, are investigating the man for the crime of "public insult."
The lawyers of French President Emmanuel Macron are suing a man who depicted the head of state as Adolf Hitler, amid recent protests opposing France's health pass and Covid vaccine restrictions.

Michel-Ange Flori, a billboard owner from the southern French region of Var, reported that he was shocked by the charges, which he describes as a breach of his right to freedom of expression.

On Wednesday evening, Flori tweeted: "I have just learned that I will be heard at the Toulon police station tomorrow upon a complaint from the president of the republic."

He highlighted the irony of the charges, making reference to France's controversial history of liberalism and freedom of expression: "So in 'Macronia' we can make fun of the prophet's ass -- it's satire -- but to make the president look like a dictator it's blasphemy." Flori's remarks reference the French satirical magazine Charlie Hebdo's controversial depiction of the prophet Mohammed.

One of the billboards in question was placed at the entrance of the southern French town of Toulon and showed Macron in a full Nazi uniform with a toothbrush moustache and swastika armband, which had been adjusted to read 'LREM' (La Republique En Marche) -- the centrist party founded by Macron in 2016.

An investigation was opened by Toulon authorities for "public insult" on Tuesday.
Around the world, the Global Ruling Class has decided to conduct a coup against the democratic process itself.
Here's a picture of the illegal political dissent. The caption reads: "OBEY. GET YOURSELF VACCINATED."
Thanks to andycanuck.
Via Twitchy, not only does Brian Stelter continue to not wear pants during his shows, but he wants us all to know it: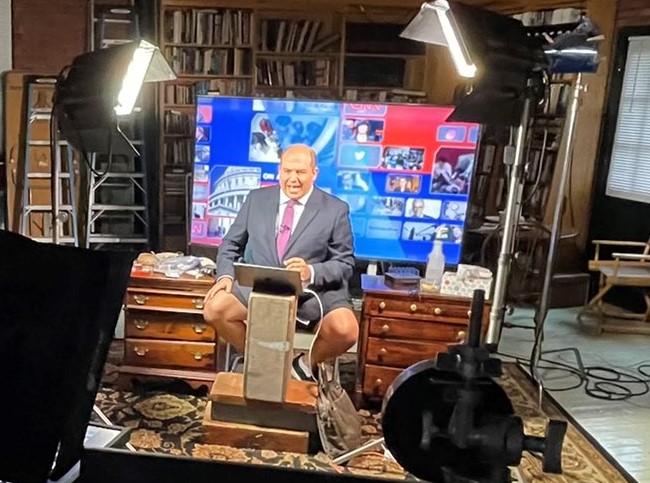 For those of you complaining right now that you were entitled to a Content Warning:
Look out, here comes Brian Stelter's pallid and strangely-voluptuous potato-thighs.
There's your warning, Snowflake. No one gave me a warning. I had to sit there and just take it.
Fox News wouldn't run a political ad by Mike Lindell about the rigged election.
So Mike Lindell is pulling all of his ads off of Fox.
Good for him.
Mike Lindell bought a lot of ads on Fox.
Is Fox just going to run gold ads in their place? Or maybe more ads from their friends at The Lincoln Project?
The Moderate, Centrist Merrick Garland is suing Texas over its efforts to protect itself from covid-carrying illegal aliens secretly scattered throughout the state.
Covid is a terrifying virus that demands we do whatever we can to control it -- if it saves just one life -- unless we're talking about infected illegal aliens.
Then it's no big deal.
Nancy Pelosi's mask mandate is fake.
The Regime's rules do not apply to The Regime.
Australia declares martial law, sends troops into neighborhoods to make sure people remain locked in their houses:
I'm sure National Review will defend their Tech Monopolist sugar-daddies' censorship of a National Review competitor:
In further proof that social media is for the mentally ill, the following posts found at I, Hypocrite.
To help you understand the Authentic Frontier Gibberish below, you need to first understand the term "headmates" is used by people with multiple personality disorder (or pretending to have MPD, for attention) to describe their other personas.
See, it's like roommates, but in your own head?
Below, a mentally ill person asks for advice about his/her/whatever shocking realization that one of his "headmates" is a transphobe!!!, because this headmate, a lesbian, is not attracted to trans "women" with penises.
I don't know what the acronyms mean, except they refer to some kind of made-up gender or sexual preference.


This is where we are. This is American 2021.

posted by Ace at
05:00 PM
|
Access Comments