« Daily Tech News 27 July 2021
|
Main
|
Mid-Morning Art Thread »
July 27, 2021
The Morning Report - 7/27/21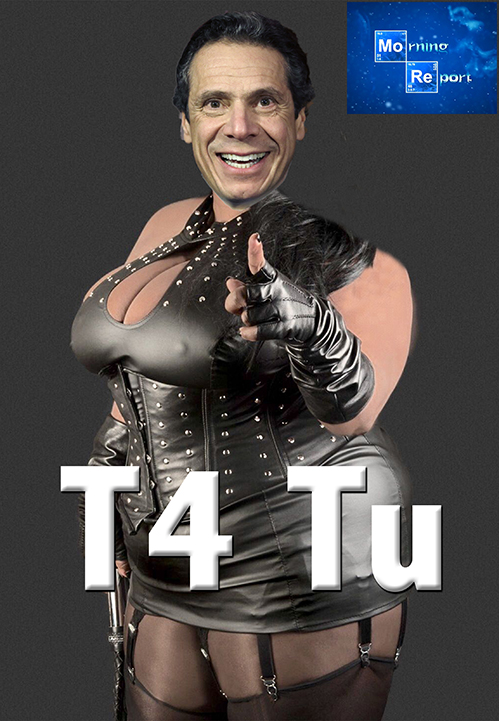 Good morning, kids. Tuesday and with DC being such a target-rich environment -- rhetorically speaking -- it's only natural that the news of the day across virtually all categories is equally pressing and infuriating. Today, though, as we get set for what is on the face of it a kangaroo court fiasco with this January 6th inquiry (but considering the rhetoric, the blood-libeling and smears might have deadly consequences for many thousands of us and more), like a case of extraterrestrial zombie herpes, Andrew "Angel of Death" Cuomo erupts onto the scene with two (count 'em, two!) stories today that are sure to make your head explode. Both of them are centered around the life-sucking and freedom-sucking biological-cum-psychological weapon of General Tso's Sicken. First, this mobbed up worm is lacing up his Hugo Boss jackboots to come after the Empire State's refuseniks, who, with all of the info finally coming out that tends to confirm our suspicions about this disease as well as "the cure," are not eager to take the Nestea plunge into a main vein:


"We have to knock on those doors, and we have to convince people, put them in cars & drive them and get that vaccine in their arm. That is the mission. . . "

. . . Recent surveys suggest unvaccinated Americans remain firm in their decision not to get a coronavirus vaccine, and many of them cite concerns related to vaccine development, as well as worries over adverse side effects.
Well, Nipsy. What happens when your emissaries are greeted with a cordial "fuck off" and a door slam? Will you be taking names or will there be state troopers to hold the miscreant down as a wet nurse trained in Guadalajara, or Dachau, assures him he won't feel a thing? By the way, I understand that a significant percentage of vaccine skeptics are comprised of colored people of color. And that presents rather a ticklish problem for Democrats; can't start blasting them as ignorant, unwashed, anti-science Trumpists, now can they? It's also rather ironic that ever since Trump announced Operation Warp Speed to implement these vaccines, the propaganda machine went into overdrive to impugn him and the efficacy of the vaccines, all but labeling he and them poison. Yet, once they got away with stealing the election, they were left with the now Herculean task of going on the air and stating with a straight face "Vaccines are good for you! Take the shot and no more lockdowns and masks!"
And yet not only have we discovered that the vaccines are at best not that effective and at worst lethal, but that even if you get them there are still mask mandates and the threat of another lockdown because, Delta!!! And Epsilon, and Gamma, and Sigma, and Theta, and Zeta, and so on and so on and scoobie doobie doobie. Until morale improves. I'll say it until I'm blue in the face but this entire fiasco was completely unnecessary and in fact counterproductive. The Chinese Lung AIDS which indeed originated in a Chi-Com bioweapons lab and unleashed either accidentally or accidentally on purpose is known to be only marginally more lethal than common flu, or in other words, 99.93% of people who contract it and get sick will recover and have naturally produced antibodies to protect them. And for those who do get seriously ill, cheap, readily available and proven therapeutics would alleviate symptoms within a couple days. All we had to do, as we have done in the past, is ensure that the most vulnerable are safely quarantined.
But we didn't do that. We essentially performed a double radical mastectomy, and amputated two legs and an arm to treat an infected mosquito bite on the forehead. Worse still, Cuomo's incompetence which is looking more and more like malice aforethought, resulted in the needless deaths of over 15,000 elderly and vulnerable nursing home residents when he insisted on housing Chinese COVID-infected people in their facilities. Same goes for his colleagues in other blue shit-holes like New Jersey, Pennsylvania, Michigan and Connecticut.
All of the above was this morning's boot in the groin. Here comes the stomp to the head.
Gov. Cuomo tried to rewrite history Monday by portraying himself as having never fudged the facts about the COVID-19 pandemic and its devastating, deadly impact on New York.

During a Yankee Stadium news conference at which he outlined plans to boost vaccination rates in various communities, Cuomo insisted that he's never lied to New Yorkers on the subject of the coronavirus.

"I am telling you as I sit here, I have told you the facts on COVID from Day One," he said.

"Whether they were easy, whether they were hard -- I told you the truth."

But Cuomo's version of the truth, the whole truth and nothing but the truth hasn't always aligned with reality:

Cuomo's "truth": "The Department of Justice dismissed it."

On Monday, Cuomo said his administration was off the hook for its handling of nursing homes amid the pandemic due to Friday's revelation that the Department of Justice had decided not to investigate potential violations of the Civil Rights of Institutionalized Persons Act.

"It was an outrageous allegation," Cuomo said.

"And it did a lot of harm and a lot of damage and then went on too long. I mean, this went on for like a year, until finally, the Department of Justice dismissed it."

The reality:

Friday's move only covered about 30 government-run nursing homes out of more than 600 senior care facilities across the state and doesn't appear to have affected a potentially broader investigation into cases of COVID-19 among residents, employees and other staffers at New York's privately run nursing homes.

That inquiry involves the possibility that "grossly substandard care" was provided to beneficiaries of the federal Medicare and Medicaid programs.

Cuomo and his administration are also the focus of a criminal probe by the FBI and the Brooklyn US Attorney's Office into their cover-up of the total nursing home death toll from COVID-19 and the governor's $5.1 million book deal for his pandemic memoir.
And that's just one aspect of this comprehensive Fisking courtesy of the New York Post. Read the whole thing, if nothing else for its emetic qualities. Serial sexual assaulter, fraudster from this transparently crooked book deal as well as an ethics investigation into state corruption that he shut down when the spotlight hit him, and now a callous mass-murderer for the sake of giving Trump a black eye and sabotaging his 2020 campaign, and worse, to cut the state's healthcare costs by killing off its most expensive constituency. Doesn't that just ring a bell, or to be more precise a glockenspiel?"

Yes, I went there. And these power-mad criminals are going there. Show trials, political prisoners and a mass indoctrination program to hate political enemies on the basis of race. Tell me my linking to Aktion T4 is over the top after everything we've seen already.


ABOVE THE FOLD, BREAKING, NOTEWORTHY 


CIVIL WAR 2.0: LEFTIST PERSECUTIONS, CAPITOL HILL BLACK WEDNESDAY PROTEST AFTERMATH, DEMOCRAT PUTSCH, AMERICAN DISSOLUTION
NOTE: The opinions expressed in some links may or may not reflect my own. I include them because of their relevance to the discussion of a particular issue.
ALSO: The Morning Report is cross-posted at CutJibNewsletter.com if you want to continue the conversation all day.
Follow us on Twitter: @CutJibNews
Follow us on Instagram:@Cutjibnewsletter


posted by J.J. Sefton at
07:31 AM
|
Access Comments