« Daily Tech News 26 July 2021
|
Main
|
Mid-Morning Art Thread »
July 26, 2021
The Morning Report - 7/26/21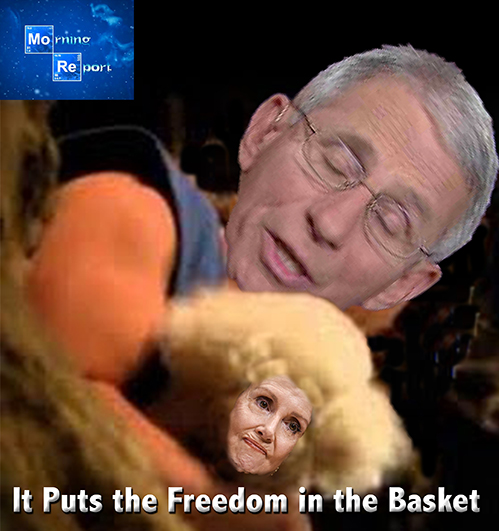 Good morning, kids. It's a link-a-palooza to start off the week, and a number of interesting things are happening. First, while the mass, unprecedented protesting in Cuba has died down, at least insofar as it's off the front page and no doubt the thugs in Havana have put out the fire (for now; the situation and hate for the regime will smolder regardless), the oppressed people of Iran are reaching a breaking point with the medieval throwbacks lording over them.
Iran is in the midst of its worst drought in 50 years, which has led to a shortage of water. Along with the rolling blackouts, 50 percent inflation, and soul-destroying fundamentalism, the Iranian people may have reached their limit and have taken to the streets demanding a change in government. . .

. . . What makes the protests significant is that the Iranian people are making a strong statement about the recently elected government headed by the fanatical jurist Ebrahim Raisi. Raisi is one of the regime's chief enforcers, having greenlighted thousands of executions during the 1980s. The protesters know his record and what his election means to their chances for any meaningful reforms going forward. . .

. . . Whether it's corruption, incompetence, or the chimera of climate change, the Iranian people are thirsty and the government can't help.
You'll be relieved to know the usual suspects in the agitprop mills are not blaming Chinese COVID for the Iranian protests. They're blaming "climate change."
Meanwhile, as leaders in the so-called free world have gotten a taste of absolute power via the psychological-cum-biological weapon known as Chinese coronavirus, their abused citizenry have also had quite enough of nearly two years of life turned upside down. Mass protests in France, the UK, Ireland, Italy, Australia and elsewhere have erupted, demanding in no uncertain terms and end to lockdowns, masking and vaccine passports. Of course, unlike the leaders of totalitarian nations, politicians in the free world as well as here in the former United States of America are responsive and know that they are ultimately answerable to the electorate.
And if you believe that, I've got a high-speed rail line in Death Valley I can let you have real cheap.


Fauci spoke on CNN's "State of the Union" about [Chinese] COVID-19 and was asked about one projection that suggests cases will continue rising if more Americans don't get vaccinated. Fauci confirmed that "it's not going to be good" and declared the country is "going in the wrong direction." He also warned that the CDC is discussing mask mandates for people who have been fully vaccinated -- a subject that the White House has been pressed on in recent weeks.

"This is under active consideration," Fauci told CNN's Jake Tapper regarding whether conversations about revising the mask guidelines for vaccinated Americans is ongoing. "If you're asking am I part of the discussion, yes, I am part of the discussion. But I think what you are seeing, even though as of our conversation at this moment, the CDC still says and recommends that if you are vaccinated fully, that you do not need to wear a mask indoors."
Fauci is a joke. Worse than a joke insofar as his megalomania, hubris and complete incompetence in a crucial position where he has spent nearly half a century and probably destroyed and/or ended the lives of thousands of people. But, he's from the government and he's here to help. And the government - especially in its current iteration - is to be obeyed, no matter if they tell you one day that masks are useless but the next day that you must wear two or three, or that vaccines will set you free, despite the fact that these vaccines are proving to be lethal and you must have them, but even if you get the jab you'll still have to wear a mask, and the new delta variant means lockdowns today, tomorrow and forever. Remember, "15 days to flatten the curve," and "we're all in this together." If you mean an Orwellian nightmare where good is evil, up is down, a peaceful protest is "the greatest threat to our sacred democracy (spit!) since the Civil War, and that white people are genetically pre-disposed to be evil, racist monsters, then yes we are indeed "all in this together."
Part of that Orwellian nightmare is realizing the things you believed in growing up about America and its institutions, especially law enforcement, the military, the courts and national security agencies are lies. All of them eagerly wiped their collective ass on the US Constitution and the Bibles they had their right hands on when they took their oaths yet did everything in their power to overthrow a duly elected president's first term, ultimately succeeding by stealing an election to prevent his second. We now know that the NSA has been spying on this regime's political opponents, including of late Tucker Carlson. Well, here's an interesting item with a bit of a twist to it.
It's already old news that an obnoxious leftist verbally assaulted Tucker Carlson, who was in a fly fishing shop in Montana. Leftists celebrated one of their own throwing mindless insults in Tucker's direction. Conservatives appreciated how Tucker kept his calm and his sense of humor. Now, though, some interesting information is emerging about the leftist yahoo, a guy named Dan Bailey, thanks to his having outed himself on his Instagram account. It turns out that Dan Bailey worked for an organization that was closely associated with the CIA. . .

. . . The Asia Foundation, though, isn't just any foundation. Officially, it's "a nonprofit international development organization committed to improving lives across a dynamic and developing Asia." In fact, it's the second iteration of an organization called "Committee for Free Asia" that the CIA founded in 1951. In 1954, the organization got a facelift as the Asia Foundation, but it remained on the CIA payroll until 1969. It still gets most of its funding from the U.S. government, although it's unclear what, if any role, the CIA plays.

Even if Dan Bailey is untainted by contact with the CIA, the guy has never held a job that's dependent on the free market. Before working for the National Parks Conservation Association, he worked for Pheasants Forever, another 501(c)(3) charitable organization. So what we've got here is a marginally-educated young leftist who's never worked in the public sector but has worked for an organization with long and deep CIA ties.

It's probably just a coincidence that Dan Bailey, of all people, hunted down Tucker Carlson, a man hostile to the Deep State, and berated him in a threatening manner, saying "I don't care" when Tucker asked him to show respect for the fact that Tucker's young daughter was watching Bailey's bullying unfold. But have you noted that, lately, none of the "coincidences" in 2021 America have proven to be that coincidental?
With apologies to Robert Frost, "the rot is ugly, dark and deep. . ." And as the tyrants are, to put it mildly, pissing people off with a host of depredations, crimes and other outrages, instead of pausing to reflect, apologize and ask forgiveness, they ram their fists in our collective face waiting for us to say "thank you sir, may I have another?!" in between spitting up Chicklets and blood.
Pelosi abuses her power in ways that once were unthinkable. Her speakership has been the antithesis of Lincoln's entreaty to "the better angels of our nature." Everyone in Congress -- and by extension the nation -- has been sullied by the spite and vitriol she has injected into the political sphere. There is no grace or Christian charity, just the barren wasteland of the zero-sum game, power for power's sake.

It's made all the worse by her increasingly frantic claims to be a "devout Catholic."

The fact that all this venom is packaged in the shape of a small, elderly, expensively shod woman has bestowed upon her an element of deference her actions do not deserve. But last week there were a couple of signs that she's finally worn out her welcome.

One was her game-playing over the Jan. 6 select committee, when she arbitrarily rejected two Republicans -- Jim Jordan of Ohio and Jim Banks of Indiana -- from an already stacked panel. . .

. . . Pelosi is scared of Jordan and Banks, even though she has the majority. That's the real reason. She is afraid they will bring to the committee, on behalf of the American people it is supposed to represent, the very reasonable question about her own culpability in the events of Jan. 6. Most obviously, what was her reason for leaving the Capitol Police outnumbered and unprotected? Jordan and Banks wanted to ask why Capitol Police Chief Steven Sund's request for the National Guard to buttress his troops was denied? Why were his repeated requests to the Sergeant at Arms -- who answers directly to Pelosi -- rebuffed? We're talking about repeated requests, from two days before the riots to hours after the Capitol was breached. Why did she blame Sund and force him to resign hours after the riot, and then lie the next day when she said he hadn't bothered phoning her? It stinks. . .

. . . Another question for the committee would be whether the shooting of Ashli Babbitt by a Capitol officer was justified. It also could examine the very real and documented inhumane treatment of Jan. 6 suspects who are not charged with violent offenses but who remain in jail without trial just down the hill from Congress, many in solitary confinement now for their seventh month.
Bingo. In the wake of the battle to close the Falaise Gap, General Eisenhower observed "It was literally possible to walk for hundreds of yards at a time, stepping on nothing but dead and decaying flesh." I imagine it's much the same idea when you walk through the halls of Congress, up and down K-Street and of course in the White House, encountering nothing but corrupt, venal, power-mad individuals who have a reserved seat in the Infernal Reaches when they shake this mortal coil. But of all of them, it's arguable that Malig-Nancy Pelosi is its quintessential example. I've seen reports that she is planning on retiring by next year. Be nice to see her purulent legs dangling Mussolini style from a lamppost. Doubt that will happen, but I can dream, can't I?

CIVIL WAR 2.0: LEFTIST PERSECUTIONS, CAPITOL HILL BLACK WEDNESDAY PROTEST AFTERMATH, DEMOCRAT PUTSCH, AMERICAN DISSOLUTION
NOTE: The opinions expressed in some links may or may not reflect my own. I include them because of their relevance to the discussion of a particular issue.
ALSO: The Morning Report is cross-posted at CutJibNewsletter.com if you want to continue the conversation all day.
Follow us on Twitter: @CutJibNews
Follow us on Instagram:@Cutjibnewsletter

posted by J.J. Sefton at
07:34 AM
|
Access Comments