« The Morning Rant
|
Main
|
Even Leftwing Journalists Are Admitting Fauci Lied About Gain-of-Function Research At Wuhan -- But Supposed Super-Reporter and Seeker of Truth Jake Tapper "Doesn't Want to Get Into the Details" About It »
July 23, 2021
TV RATINGS ARE SO BAD THAT TV NETWORKS ARE DEMANDING A "SUSPENSION" OF NIELSEN RATINGS;
ALSO CALL NIELSEN RATINGS RACIST
Their fear is intoxicating.
Die, Media. Die.
They're insisting that Nielsen is "undercounting" all the people who still think that corporate media is spending the bulk of their free time staring at, especially black and Hispanic viewers. They're certain their #WokeProgramming must be pulling them in by the millions, and Nielsen's numbers must therefore be wrong.
Media trade body VAB is calling on the Media Rating Council to suspend accreditation for Nielsen's national TV ratings amid continued problems stemming from the data giant's COVID-19 workarounds.

MRC accreditation is what gives Nielsen TV ratings their legitimacy to be used as currency in billions of dollars worth of network TV deals. But suspending accreditation likely wouldn't throw the marketplace into chaos, says VAB CEO Sean Cunningham, whose group represents TV networks.

Networks and buyers could still transact using the suspended ratings, he says. But suspension, he says, would force Nielsen to come forward with a detailed, public plan for fixing measurement problems that have led to persistent undercounts of TV audiences for more than a year, particularly Black, Hispanic and younger audiences.

...

Data provided by the VAB indicate households measured by Nielsen were still down 18% in June 2021 vs. February 2020. Black and Hispanic homes and those with people ages 18-24 were down even more -- 21%-23% -- according to the VAB, which says heavier-viewing homes with three to four TVs were also disproportionately affected.

"I can't, honestly and objectively, find a reason why [the MRC] would not suspend accreditation," Cunningham says. "I believe the entire 2021 data set is going to need to be looked at, with January through December needing a massive asterisk and a tremendous amount of disclosure."
They've been singing this song for a while.
The low Super Bowl ratings?! No way, that was fake. That was undercounted too.
Super Bowl TV ratings were probably better than they looked in February -- and so were those for lots of shows. Nielsen undercounted total TV watching by anywhere from 2% to 6% in February, according to the Media Rating Council, because of problems with how it's been maintaining its panel during the pandemic.

The undercount in February could have reduced ad revenue for media companies by $39 million to $234 million, said Sean Cunningham, CEO of the industry group VAB, in a Monday media briefing. He believes undercounting has gone on far longer, intensifying in June with major changes Nielsen made in field procedures "unbeknownst to Nielsen clients," he said. Total ad revenue impact could possibly be in the billions of dollars, he added.

The new MRC finding is based on analyses and simulations by Nielsen after complaints last month by the VAB. The MRC said changes to Nielsen's meter maintenance, curtailment of recruitment of new panelists and extending time limits for people to stay on the panel beyond the normal two years, led to the undercount.
So, because of covid, Nielsen families, which usually had their tv habits recorded for two years, have been asked to continue having their habits recorded through the pandemic.
Okay.
Why would that cause a systemic "undercount" of viewers?
Why would anyone think that these Nielsen families' decision to watch less tv was not reflective of the greater world's decision to make the same, rational, intelligent choice?
It couldn't possibly be that people watched more TV during the endless lockdowns and are now sick of staring into the unblinking eye of the idiot box and are instead choosing Real Life over Corporate Programming.
No, it must be that Nielsen is undercounting. And racist.
Because Vague Reasons.
Note that this "undercount" just happens to occur during a period of cord-cutting, which apparently is accelerating.
People cancelling cable tv, cancelling TV networks -- and deciding their lives are better for it.
But no, it must be an "undercount."
Our woke schemes must be working! Our idiot Millennial Marketing Majors promised us they would work!!!
It could not possibly be that the same trends which have driven newspapers to the brink are now coming to collect their due from the television industry.
It can't be that. A lot of us would start losing our jobs!!! And taking pay cuts!!!
So it must be racism.
Speaking of ratings being in the toilet:
CNN.
Their ratings are so bad they're trying to get their Partisan Pornography Addict audience to... pay for "CNN Plus," which isn't even CNN.
And even Vox, yes, Vox!, says that this is stupid.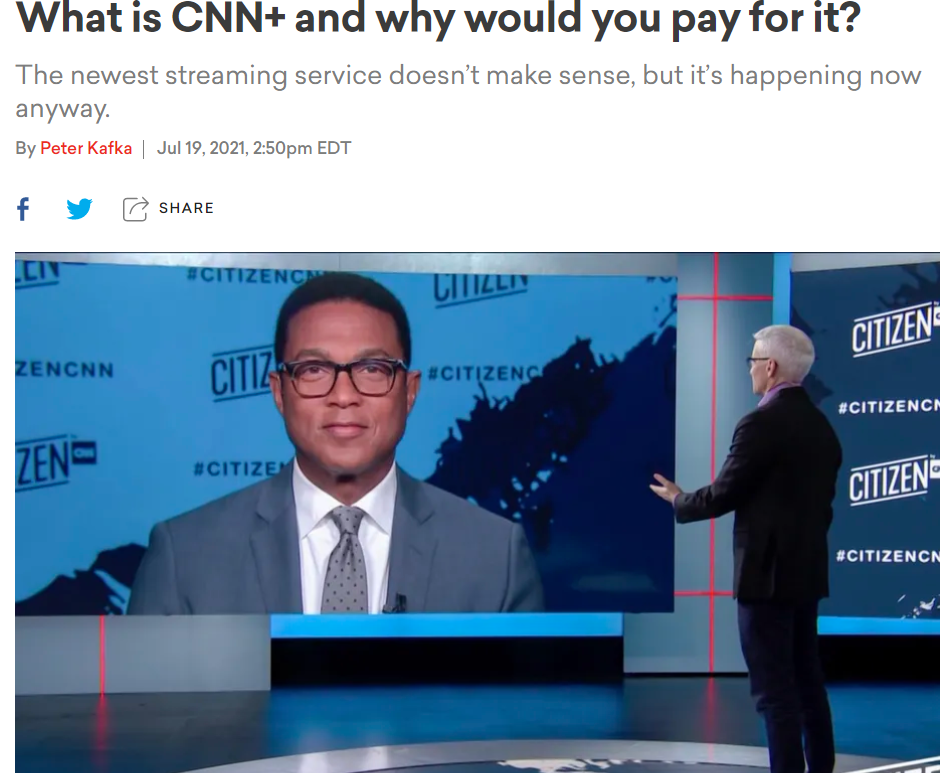 "CNN Plus" is a streaming service you have to pay money for -- above the hidden charge in your cable bill -- and it doesn't even include any CNN.
The reason for that is legal: CNN sells itself to cable companies. Cable companies pay for CNN, then pass the bill on to you. What CNN sells to the cable companies is supposed to be exclusive. They cannot sell CNN through other means.
It's the same reason I can't pay for Fox, even if I wanted to, now that I cut the cord. I'd have to pay for some cable-like service, like Sling, to get Fox.
Fox can't sell itself to me streaming because their contracts promise exclusivity to cable providers (or cable-like providers, like Sling).
So what the hell is "CNN Plus" offering?
Well, a bunch of cheaply-produced not-ready-for-CNN shows.
I imagine we're going to see "behind the scenes" crap of how they produce CNN and come up with their clickbait outrage "stories." I bet you they'll do a feature on whoever it is that writes such hi-larious Snarky Chyrons for Jake Tapper.
You might also see a feature about Brian Stelter's sleep apnea or something.
Maybe we'll get to see a How To segment on how Brian Stelter shaves his legs to get them so girlishly smooth.
But CNN also has another scam going.
CNN is so strapped for cash it's turning the couches over and shaking the pennies and nickels out of them. They're newest Get Rich Quick Go Broke Slow scheme?
Selling NFTs of the videotape where CNN called the states for Biden.
An NFT, if you haven't had this explained six thousand times, is a method of embedding an unbreakable, unreproduceable code into a digital product which makes that single copy the "true original copy." It's a way to try to turn digital crap that can be reproduced eighty billion times into a "one and only" piece of art.
It's stupid.
But CNN really needs money, so they'll be embedding an NFT code into their "art" of calling states for Biden.
Say...? Do you think they'll also be selling NFT's of CNN... calling states for Trump in 2016? The sour puss on Jake Tapper's jowly, shit-lipped face -- now that's some Art I'd love to own!
But no, of course not. CNN would never offer that for sale. That would please the wrong people.
But they're an objective news organization, guys! Not an extension of the DNC at all!
Years ago, maybe 2010, 2011, Breitbart vowed to me that the media would be destroyed. "All this," he said, waving towards some TVs. "All of this will be gone."
He gave his prediction a five year deadline.
Obviously we didn't see that.
But... his prophecy may just be delayed.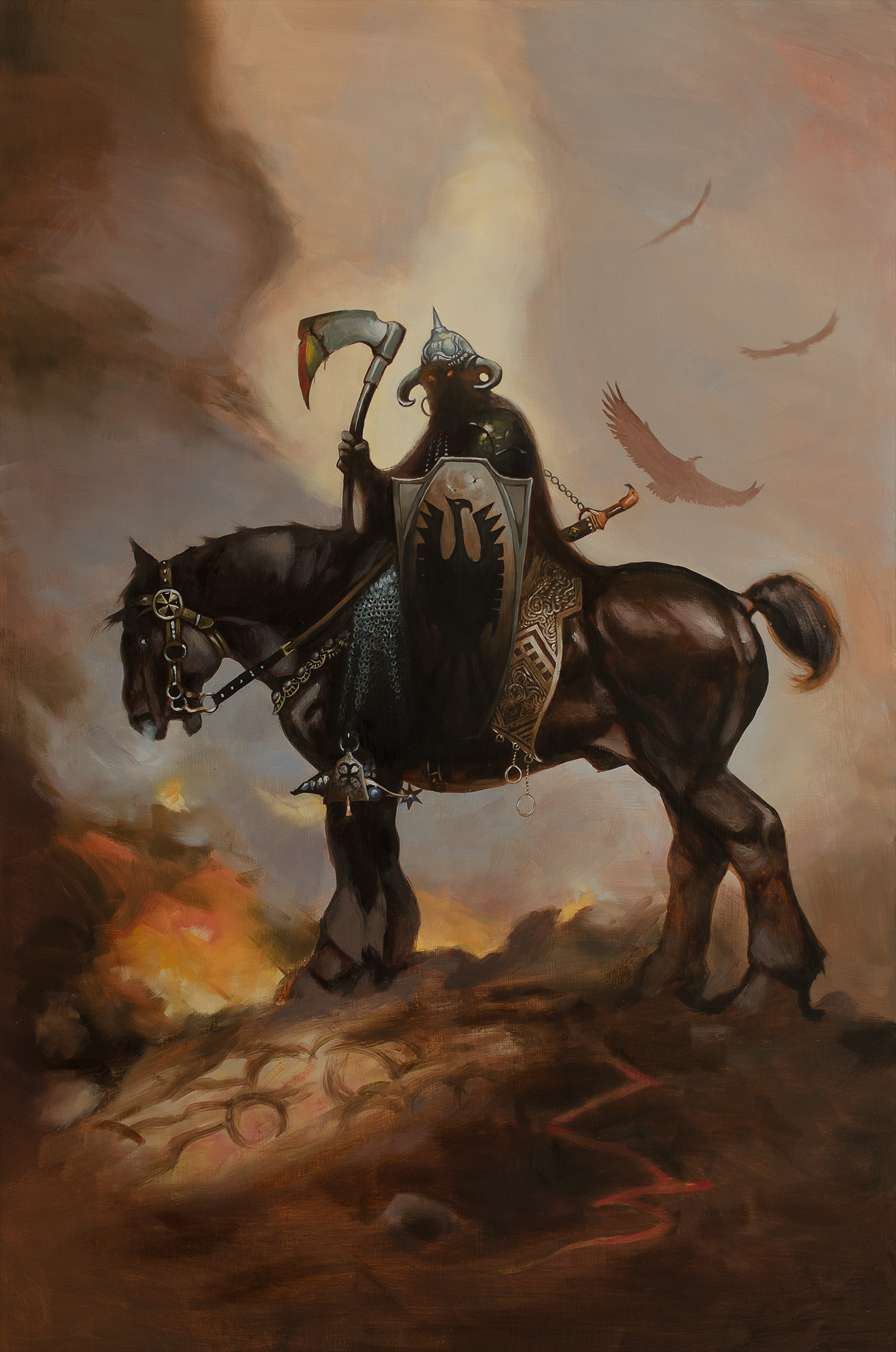 SOON.
Ratings story via Clownfish TV.