« Gallup: Relations Between the Races At Lowest Point in Decades, For Some Unknowable Reason
|
Main
|
Quick Hits: Guardians of the Woke Revolution Edition »
July 23, 2021
Biden Administration Covertly Trafficked "Unaccompanied Children" To Tennessee Then Turned Them Over To Sexual Predators
Did you hear about the Biden administration trafficking minor children across state lines into Tennessee in the middle of the night, in defiance of the governor's refusal to accept "unaccompanied immigrant" children, after which the administration stonewalled questions raised by Tennessee's Senators. That's bad, right? It got worse. Some of the children were sexually molested when they reached their destination.
In the very early hours of Friday May 14, an airplane landed at Chattanooga's airport. Rather than unload at the terminal used by commercial passengers, its passengers were secretly unloaded at a private terminal, where a waiting bus took the children to La Casa de Sydney shelter in Chattanooga. No official at any city, county, or state level was advised of the incoming flight, but word quickly started leaking out. Three more planes made similar landings over the next few days.
Just a few weeks before, Tennessee Gov. Bill Lee had specifically denied the Biden administration's request to send unaccompanied children to the state, because Lee objected to Biden's open border policy. The Biden team sent the children anyway – under cover of darkness, withholding information along the way.

Tennessee's two Republican Senators and the GOP Congressman who represents Chattanooga were not amused to find out this was going on. Shockingly, the Biden administration was not responsive to their requests for information.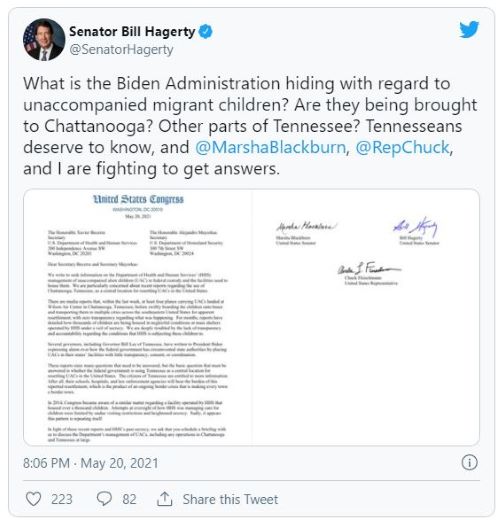 "Tennessee lawmakers alarmed by reports White House secretly flying migrant children into state (May 20, 2021)"
Lawmakers from Tennessee are sounding the alarm after reports that the Biden administration has been flying unaccompanied minors into the state in the middle of the night without their knowledge. The White House is transporting migrants into an airport in Chattanooga from where they are bused to cities within the Southeast, as first reported by local news outlet WRCB-TV Channel 3.

Sen. Marsha Blackburn, R-Tenn., said in a statement to Fox News that the transportation of migrants is taking place in "the dead of night without the knowledge or permission of the communities involved."
Just how secret was the Department of HHS' child smuggling operation? The owner of the shuttle company who transported the kids was kept in the dark about the purpose of the charter until the moment he picked the children up.
"I had no idea": Driver recalls trip with migrant children to Chattanooga
David Alverson owns Nooga Shuttles. He says it's not uncommon to get a call and not know who he'll be driving. The company that booked the shuttle bus last Friday said it was for a government operation. David says he had no idea he was helping to transport kids coming from the border.

"As soon as they stepped out, up on the top where they got out of the airplane, I knew exactly what it was. It's a little emotional," Alverson told Channel 3.

Alverson says other children stayed on the plane, which flight records show left for New Jersey.
"You could see the little faces looking out all the windows," he said. Alverson says his passengers appeared between the ages of eight and 14.

Alverson says the same company called again for help transporting children and he declined.
"Called him back and said we're done. No more," Alverson told Channel 3.
Naturally, when GOP politicians started protesting, all the usual suspects tried to insinuate that those Republicans were racist for not wanting the government smuggling minor children across state lines in the middle of the night.
"Immigrant rights, faith groups criticize Blackburn and Hagerty stance on immigrant children"
But the story soon took an entirely different twist when reports came out about one of the children being sexually molested, while yet another went missing.
Dept of Children's Services, police investigating report of abuse at Chattanooga facility housing migrant children
Lawmakers want HHS meeting after reports of abuse, missing teen from Chattanooga facility
After a child's report of abuse at a Chattanooga facility housing migrant children, and then a teen who went missing from the facility, three U.S. lawmakers from Tennessee are again demanding answers from the federal government.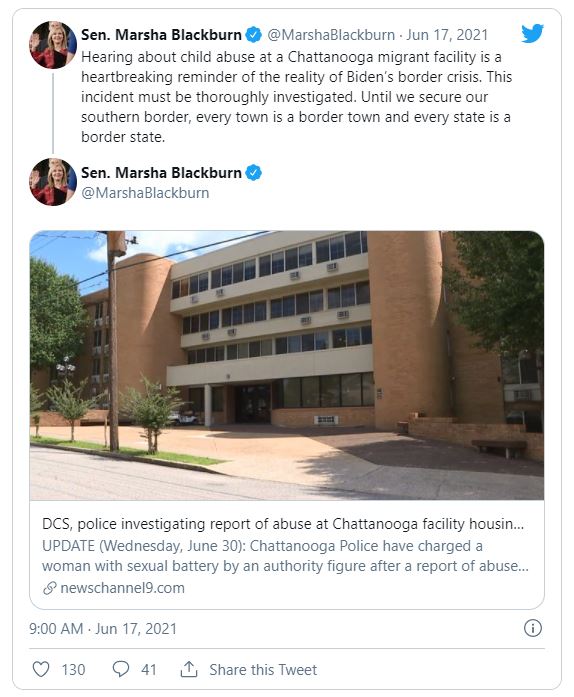 The shelter's license was suspended and the kids were dispersed to…somewhere.
Meanwhile, we are just now finding out that the original story of sexual abuse was not the whole story – there was even more sexual abuse of unaccompanied children.
"Second woman charged with abuse at migrant children facility in Chattanooga"
Police have charged a second woman in alleged sexual abuse at a facility that housed unaccompanied migrant children in Chattanooga, according to our sister station WTVC.

The Chattanooga Police Department announced Tuesday night that 22-year-old Florencia Guadalupe Renderos Morales has been charged with sexual battery by an authority figure. They say the victim was a child at La Casa de Sidney.

The victim, in this case, is not the same teen who was allegedly abused by a former employee, Randi Duarte. Nearly two weeks ago, Duarte was arrested after a child reported seeing her kissing another boy. Police charged Duarte with sexual battery by an authority figure, coercion of a witness, and tampering with evidence.
Donald Trump would have been impeached multiple times for what the Biden Administration did in Chattanooga. The administration disregarded a governor's refusal to allow unaccompanied immigrant children to be delivered to his state; the administration acted covertly to hide its actions; the administration refused to provide documentation of its actions in Tennessee to its Congressional delegation; the administration trafficked minor children and surrendered them to sexual predators.
This story should be front-page news all over the country. But just like "kids in cages" is only a story if a Republican is in the White House, "kids being sexually trafficked across state lines" is just not a story when a Democrat does it.
(buck.throckmorton at protonmail.com)

posted by Buck Throckmorton at
04:25 PM
|
Access Comments