« Daily Tech News 22 July 2021
|
Main
|
Mid-Morning Art Thread »
July 22, 2021
The Morning Report - 7/22/21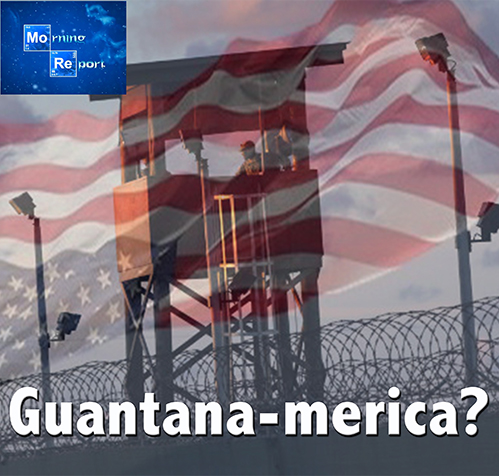 Good morning kids. Thursday and do we really need to cover Joe Rockhead's Potemkin town hall? I mean, the room was three-quarters empty, the drooling rutabaga illegitimately installed in the White House blurted out a rambling diatribe that sounded less coherent than a shitfaced-on-moonshine Pentecostal meeting attendee speaking in tongues, yet interspersed with lucid moments of both baldfaced lies as well as a crystal clear call to wipe out the Second Amendment. Amazing how he's sharp as a razor when it comes to abusing America and embellishing himself. The whole thing was a disgusting spectacle which no one in their right mind, and probably people with the same cognitive function as Gropin' Joe, would not willingly endure. That is, except for our enemies abroad who are licking their chops to dismember us and carve up the world as they see fit. With dictionary-definition traitors like bloated disgrace-to-the-uniform Vanilli Milley running the military, that is, running it into the ground, it's going to be a free for all.
Let me rephrase that; the military may very well be useless in fighting a war overseas against our enemies, but Obama and now Biden (meh, the former is controlling the latter) have defined the enemy as Americans themselves. America as founded no longer exists, having been overthrown between 11/3/20 and 1/6/21. They are right in identifying us as an existential threat, but it is a threat to their own hold on power, which is on course to be absolute, total and perhaps irreversible. Hence, the attempt to institutionalize election-rigging, disarm the citizenry, ramp up the brainwashing of our youth, censor all forms of communications to control the narrative, keep us in fear of a virus as deadly as common flu and continue to keep us locked down, and hammer home the blood-libel of racist insurrectionists hell bent on bringing back slavery.
With that said, you may have junk-tucking perverts and pregnant dames about to pop in the ranks, and be ordered to do a 20 mile field march in stiletto heels, but they are training you to kill the enemy. Their enemy. We The People, the document and the citizenry who still cherish it. Yesterday, (or the day before), in the midst of all this insanity, there was a link that got lost in the sauce about Biden releasing the first prisoner from Gitmo; a Moroccan terrorist who had been there for 19 years and was being repatriated. I sort of half-joked, as we all have been doing since Black Wednesday, that they are going to free all the Islamic terrorists in order to make space for us "bitter clingers." Well the estimable Robert Spencer today has the same thought, only he's not joking about it.
The signs aren't hard to find. CNN reported Wednesday that "the Justice Department repeatedly has documented the emergence of what could be called small, right-wing extremist groups." One of the examples offered in the report is that of Robert Morss, a Pennsylvania resident who was arrested in connection with the January 6 Reichstag Fire. According to CNN, when Morss was arrested, police "found in his car a notebook with a page titled, 'Step by Step to Create Hometown Militia.' Beneath it Morss allegedly scribbled bullet point reminders, fleshing out the idea of forming a violent cell -- 'bring assault rifle' and 'set up your kit' -- and notes on 'formation.'"

Then there were Ian Rogers and Jarrod Copeland, who were "so devoted to former President Donald Trump and so angry about the 2020 election result, that they allegedly plotted to blow up the Democratic headquarters building in Sacramento. One commented over an encrypted messaging thread, where the two discussed planning, that he realized they would be perceived as domestic terrorists, and the second man had previously joined an anti-government militia group."

Whether these three men actually did anything criminal, or planned to do so, is a matter for the courts to decide. But ominously, a prosecutor wrote about the Rogers/Copeland case that "all of the political and social conditions that motivated them to plan what they themselves described as a terrorist attack remain. . ."

. . . Robert Grenier, who served as the CIA station chief for Pakistan and Afghanistan and later as director of the CIA Counterterrorism Center, made it clear when he declared in February: "You know, even at the seeming height of the crisis immediately after 9/11, there really weren't that many members of al-Qaida in Afghanistan. And the thrust of our campaign there was, yes, to hunt down al-Qaida, but primarily to remove the supportive environment in which they were able to live and to flourish."

That "supportive environment" is ordinary, unwoke Americans who don't want to be overwhelmed by an authoritarian socialist nanny state. They provide the "political and social conditions" that the Left sees as motivating "Trumpist terrorism."

What is to be done with these terrorist enablers? Well, there is a fully appointed prison camp in Guantanamo that will soon be empty. It would be perfect for those whom the regime in Washington decides are "Trumpist terrorists." Was Abdul Latif Nasser freed to start making room for conservative Americans? It's a crazy, ridiculous, absurd, obscene question, inconceivable just seven months ago. Surely Biden's handlers wouldn't go that far. Would they?
Having followed Robert Spencer for years, and knowing that he is a highly intelligent, scholarly and direct individual who does not pull any punches, I think he knows very well what the answer is to his own question. We already have had the first political prisoner from Black Wednesday plead guilty, beg for mercy and "renounce Satan and all his pomps" (sarc-ish) while scores more languish in solitary confinement and other appalling conditions of abuse, finding comfort at night by singing the national anthem of a now seemingly conquered nation. The same anthem for which far too many kneel, turn their backs and act in sheer disrespect whenever it is played while cheering when the flag of that nation is defecated upon and incinerated.
You want to bet that, not just the freaks and terrorists in the streets and in the faculty lounges, but that this government - this illegitimate and criminal government installed by deceit, fraud and treachery - its leadership, subordinates via the force of arms of the military and law enforcement would indeed "go that far?" More and more of their lies, from Chinese COVID to the election fraud to crackpot disgrace theory to economic disaster to out of control crime to the targeting of our children for death in utero or sexualization ex utero and on and on is being exposed and people are getting alarmed and angry about it all.
If you don't think, especially now when they feel that they are losing control of the narrative or their grip on power - one they have worked hard to attain for over 100 years - that they would indeed start rounding people up, labeling them as "terrorists" and throwing them away in Gitmo forever, then you are not paying attention.


ABOVE THE FOLD, BREAKING, NOTEWORTHY

CIVIL WAR 2.0: LEFTIST PERSECUTIONS, CAPITOL HILL BLACK WEDNESDAY PROTEST AFTERMATH, DEMOCRAT PUTSCH, AMERICAN DISSOLUTION
NOTE: The opinions expressed in some links may or may not reflect my own. I include them because of their relevance to the discussion of a particular issue.
ALSO: The Morning Report is cross-posted at CutJibNewsletter.com if you want to continue the conversation all day.
Follow us on Twitter: @CutJibNews
Follow us on Instagram:@Cutjibnewsletter

posted by J.J. Sefton at
07:31 AM
|
Access Comments