« Gavin Newsom Sent His Kid to a Mask-Free Basketball Camp
|
Main
|
As Biden Orders Americans to Mask Up, He Secretly Unleashes a Gang of Covid-Infected Illegal Aliens on a Town in Texas »
July 28, 2021
Even More of the Worst of the Libs of TikTok
Just a general blob of mental illness as a pyrsyn of unknown gender identification says that some medical professionals told zim that ze had an unhealthy weight and that made zim feel bad. Ze "dreads medical appointments because of blatant fatphobia." Like, you know, doctors telling xher that she is massively overweight and that this bodes poorly for her health.
More shrieking about masks by another person with obvious mental problems.
Demanding that white parents race-shame their white children, and teach them to be deferential to black and brown people.
More racist attacks on white women, with no threat of censorship or deplatforming.
And even more attacks on white women.
"When I see an American flag, I immediately think, 'That person is probably a bigot. That person is probably a homophobe.'"
Leftwingers are the greatest patriots of all, though!
More obsessive, culty leftwingers writing songs to let their dads know they're gay.
Leftwinger thinks that Trump supporters live in a land of fantasy. Say, what are your pronouns, princess?
More lecturing about pronouns by people who plainly have subnormal intelligence.
And more lectures about pronouns -- now pronouns are not associated with gender. Now lesbians are identifying as "they/them" or "he/him" even if they consider themselves female.
So it's just about annoying the normies, huh?
This Mensa Chapter President ditzplains "they/them" pronouns.
More threats from transgenders. An actual death threat this time. (Well, it is a death threat, though it's not seriously meant (I assume). But the left routinely claims "Kill yourself" as a "death threat" and "f*** you" as a "r@pe threat.")
It's not just a cult, it's an extraordinarily trivial cult where they do "media studies" on Bechdel test examples in Jurassic Park.
Are you keeping up on your college loan repayments, sweetie, or are you expecting the rest of us to take care of those for ya?
"Body positivity" TikTok is the grossest TikTok.
The below specimen posts TikToks claiming she's a vampire.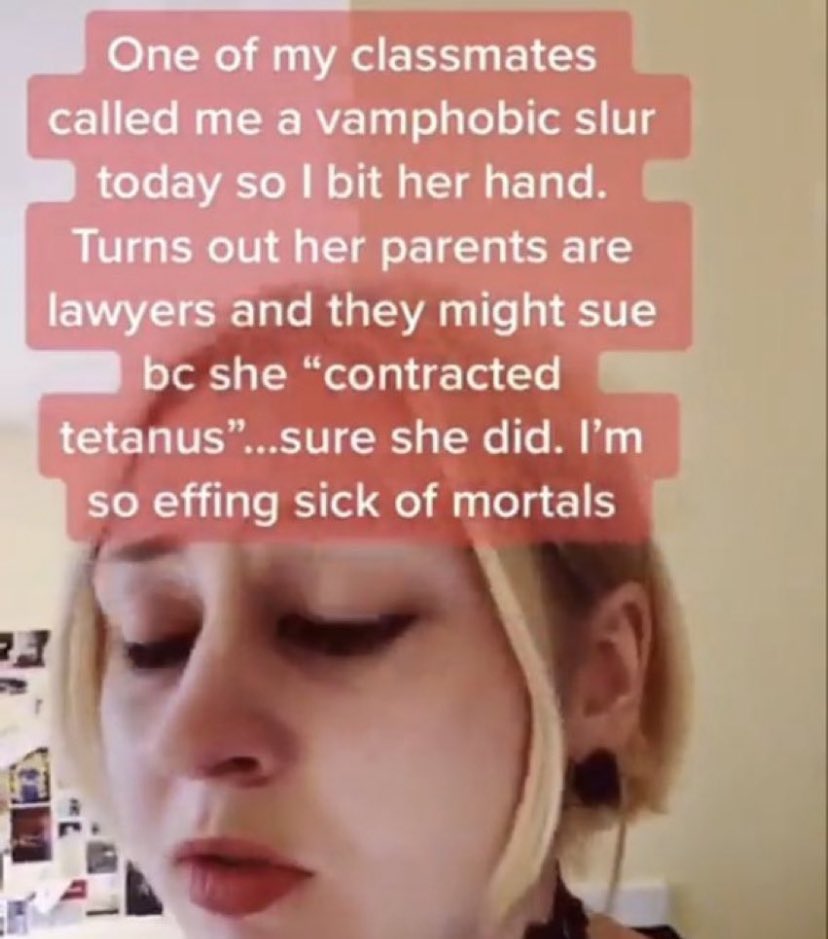 posted by Ace at
03:59 PM
|
Access Comments