« Saturday Gardening and Puttering Thread, Travel Edition
|
Main
|
Saturday Afternoon Chess thread 07-17-2021 »
July 17, 2021
Ace of Spades Pet Thread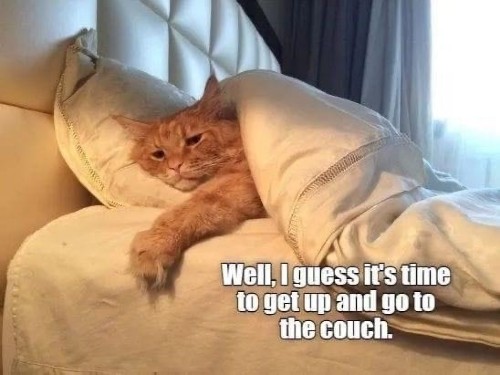 (H/T ALH)
***

Good afternoon and welcome to the almost world famous Ace of Spades Pet Thread. Thank you for stopping by today. Kick back and enjoy the world of animals.
***
A Little of This. A Little of That.
Who knew that redc1c4 had a soft spot? Touching reunion.
***
Dog poop is an issue in Tel Aviv.
***

I'm sorry it is a little dusty in here at the moment.(H/T CBD)
***
Meet The PetMorons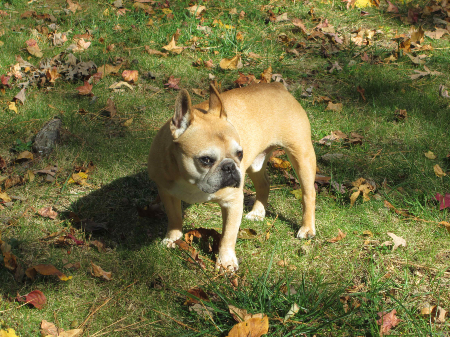 This is Hrothgar's pup Toby the predecessor of Conor the French Bull Dog. H didn't give me a story on this handsome lad. Thanks Hrothgar.
***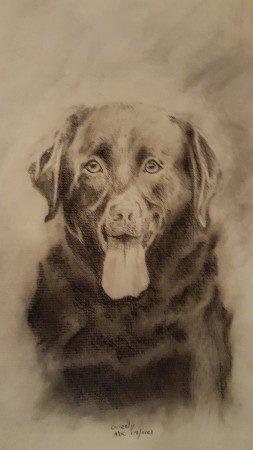 This is Grizzly. It took me forever because I don't know how to use charcoal yet, and I'm still trying to figure out the medium. Grizzly looks like a loveable oaf. I have a great picture of him looking miserable because mom and dad dressed him up for Cinco de Mayo, but the photo didn't have enough contrast to work with. - Sobek Pundit
Forever? I think that is an overstatement. You have mastered this medium as well and as a paint brush dabbler I'm envious. Beautiful dog captured just as beautifully. Thanks.
***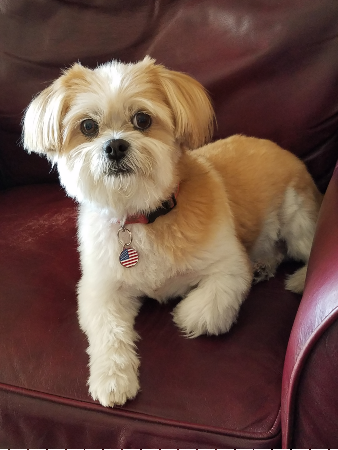 Edison again, our 10 year old Shih-Pom rescue, with a new Patriotic Tag from the Fourth of July and succeeding holidays. We know he is one pup grateful to live in a great country that has shelters for abandoned dogs and people to rescue those dogs to give them a home. And awesome blogs to tell pet srories like his. - Debra T

Well thank you that you think the AoS Pet Thread is awesome. It's awesome people like you and handsome pets like Edison make this a special place just as he is a special dog.
***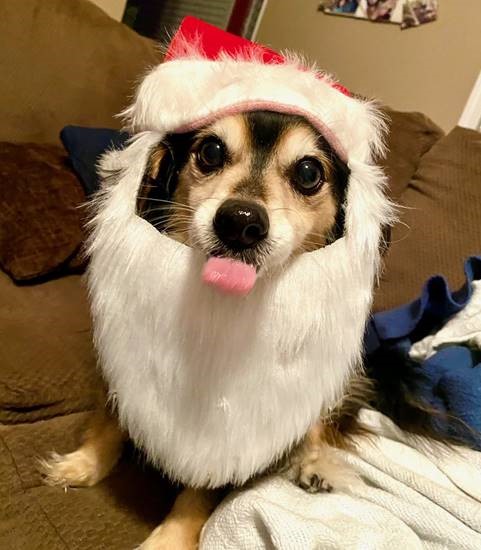 AND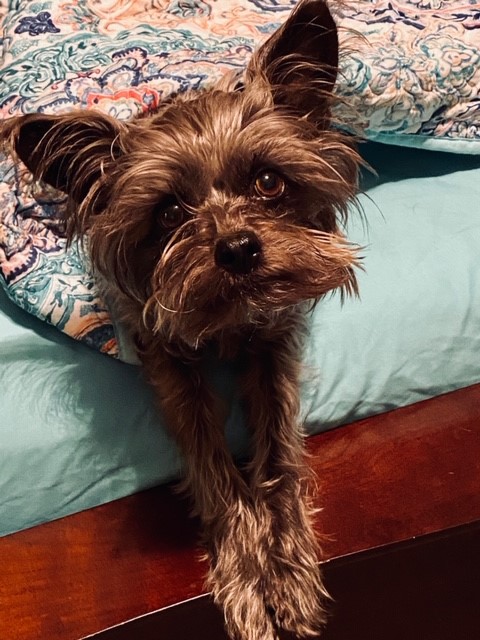 AND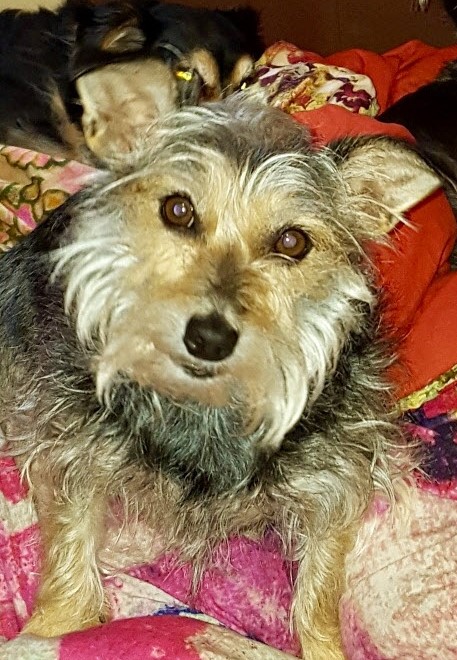 Last But Not Least per Scott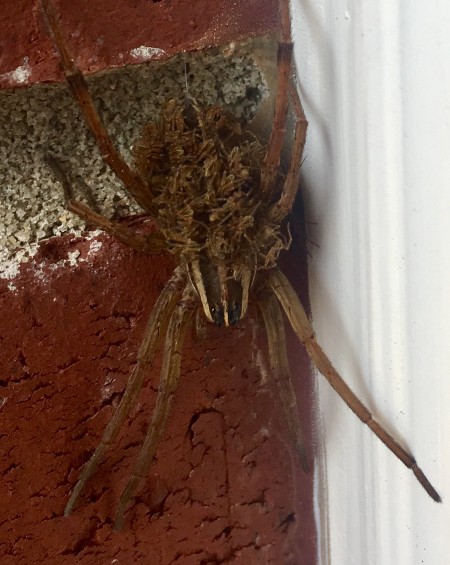 Greetings,
Just some more random shots of our wonderful rescues (Penny, Leonard and Jawa).

Leonard thinks it's Xmas every day and it is… at least for him.

Jawa tries her best rendition of "Baby please don't go".

Penny looks somewhat impressed.

I came home one day and found an entire family of spiders waiting for me at the door. Good thing I like spiders.

Thanks for doing what you do & Enjoy your day! - Scott
Well I really like 3 of the 4 you submitted today. Not sure if all of the Morons will dig the spiders. But we do appreciate you submitting all of these photos. Thank you.
***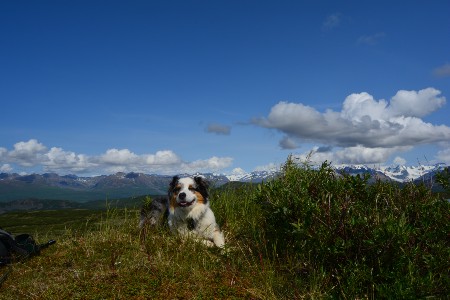 This is Gunner, our 5yr old Australian Shepard. We got him in Alabama when I was there for extended training and now he's enjoying sunny and snowy Alaska! He's a well loved Blue Merle with 1 blue eye and 1 brown eye. He's a great mountain biking and hiking companion, but can also lay around the house on rainy days without getting too sad :) - Matt
A beautiful dog and scenery for sure. It sounds like he travels well from AL to AK. So does Gunner do any herding or is he just a diva?
***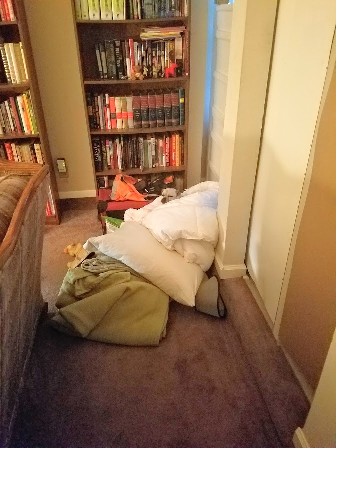 We lost our previous pupper, Nemo, to canine lymphoma on Jan 15. Took us a little while, but we found another rescue, Sugar about 2 weeks ago.

Sugar is a 5-7 year old female "Pug mix" and no one is sure what's in the brew. She's a much calmer dog than Nemo was, but she's loosening up and getting more playful. The current project is teaching that the garbage can is not known as "Sugar's smorgasbord".

This picture was taken the first hour she was home. Spot the Sugar in the comforter. She is very comfy. - Stephen
Condolences on the loss of your Nemo. That's a tough disease. Congrats on the new addition. I'll be honest I'm having a hard time picking her out. Thanks for sharing with us today.
***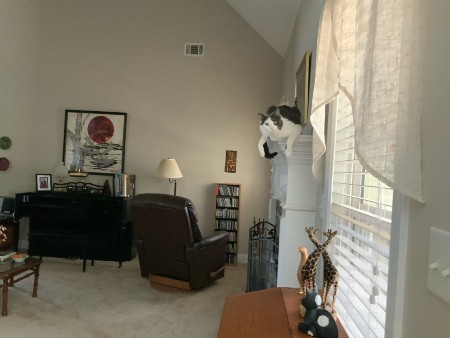 This is my current foster, [Don't call me Charles] Bronson. Part Pit Bull Terrier, Part Mastiff, (and apparently part spider monkey) Bronson likes nothing more than to climb trees in pursuit of squirrels and to steal all the pillows on my bed. He's been in the rescue over 8 months (7 of them with me) and not a single adoption application. Unfortunately, I've already foster failed once, and my HOA only allows 2 dogs per residence, so if I adopt the adorable shithead I can't foster anymore.

The world is a fucked up place.

Rabid Squirrel
long time lurker, never caller
Wow Bronson is quite the climber. If I were a betting man I bet he becomes a permanent part of your household. I could never foster, I would want to keep everyone. And that is why people like you are tops in my book.
***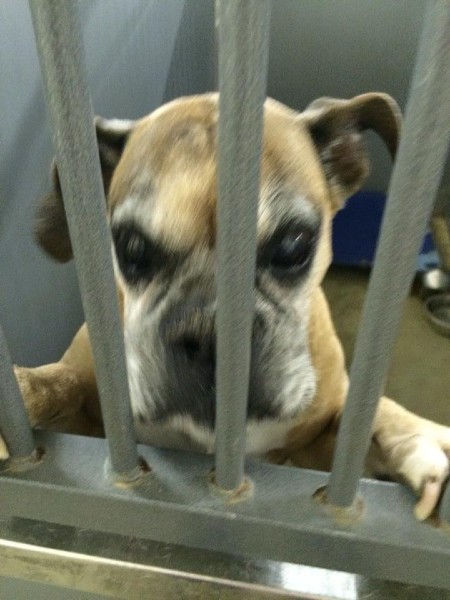 This is Zibby.

We met her one Halloween, when one of us accompanied her new owner, Christopher, to adopt her from the humane society.
She was barely more than a puppy.

Zibby was a delightful animal- smart, friendly, and protective of her family.
She was full of energy. She would leap through the air to spring off of the unsuspecting, like a deer, and she would drop into a crouch at the sight of one of her nemeses, a border collie.

People would always ask what she was, perhaps in hopes of getting a dog just like her for themselves.
When Christopher moved away to Norway with her, we missed her very much.

Zibby passed away a few weeks ago.

RIP. Zibby.

- From long time lurker Barbara and her daughter, Molly.
What a beautiful creature. So sorry to hear about your loss Ladies. She sounds like the dog of a lifetime.
***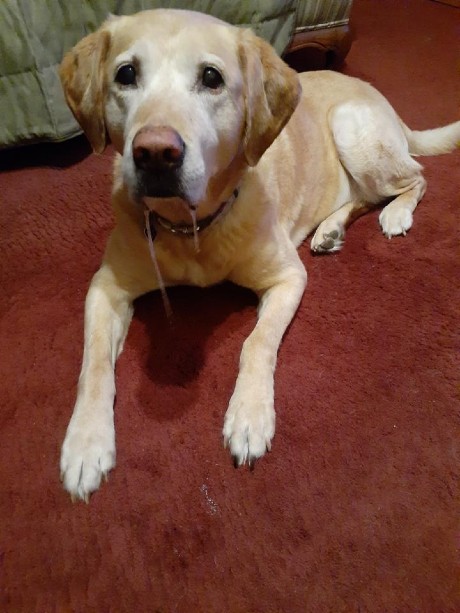 Hi Mis Hum,
Here's a pic for the pet thread if you are so inclined. I think Bailey was on an early pet thread when you first started it.

Our old lab Bailey, still drooling at 11. She's just waiting for after dinner crumbs, but the stories we could tell about her youth. Once she ate 12 dozen Christmas cookies. Yeah that was fun clean up, but she survived. To drool again, kinda like SloJoe.

I'll bet Bailey could stare down Putin better than anyone if there was food involved.

Hope you and yours are doing well.

Regards,
Farmer
Why yes I would be happy to post another photo and story about Bailey. She has the look doesn't she? Great to hear from you Farmer. Thanks.
***

I must say there was a huge influx of pet photos this week. Thank you for your contributions. We didn't get to them all this week. But don't fret we will soon.
If you have something pet/animal related you would like to submit you can reach us here at petmorons at gmail dot com.
Have a great week!

posted by Misanthropic Humanitarian at
03:27 PM
|
Access Comments