« Daily Tech News 14 July 2021
|
Main
|
Mid-Morning Art Thread »
July 14, 2021
The Morning Report - 7/14/21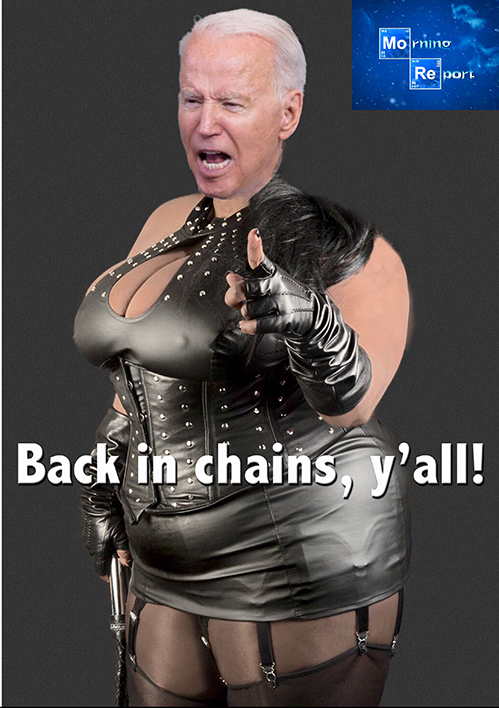 Good morning kids. Midweek and before going on about grinding my teeth over the pre-digested blood-libeling of the citizenry the illegitimately installed so-called "president" Joey the Kiddie Diddler was instructed to say yesterday, I have to temper that with the belief that the words and deeds we are seeing from him and his regime flunkies in and out of DC and in the propaganda mills are an indication that they are losing the narrative. Yet, like a rabid cornered animal, that is when they are most dangerous.
Look at what they are doing:
- The FBI is urging people to report their friends, neighbors and even loved ones if they suspect they might be engaging in "extremist" behavior or talk. No, extremism does not mean joining an Islamic terrorist organization and certainly not the ranks of Antifa or BLM. Extremism is any activity that questions the authority and legitimacy of the regime in power, and how it attained power.
- Dozens of innocent American citizens are being held in jails awaiting charges that could land them in prison for years for essentially showing up to DC on January 6th to attend a rally and at worst, committing misdemeanors slightly more serious than jaywalking.
- Democrats and others are calling for communications companies to actively censor any text messaging that questions the nature of the Chinese Plague and the usefulness/uselessness now confirmed hazards of the vaccines as well as the proven efficacy of cheap and what used to be readily available therapeutics like ivermectin, HCQ, et al.
- The aforementioned are now openly calling for the subjugation of anyone who refuses to take the vaccine.
- Opponents and critics of this Critical Race "Crackpot Disg-Race" Theory are being harassed, threatened and now barred from engaging and participating in school boards, including teachers who are being suspended and fired for refusing to poison their charges' minds with it.
- Democrats in Texas, rather than lick their wounds and face defeat over an election integrity bill that does nothing more than prevent cheating (it's effectiveness being another issue), denied a quorum by fleeing the state and abrogating their duties, all the while proclaiming themselves to be brave, civil rights heroes. Funny how they all went maskless on that airplane with impunity.
And on and on and on. Just take a gander at the links and you'll see them.
But Joe Biden, gibbering meat puppet that he is somehow finds a scintilla of lucidity at just the right time to slime and smear the people of this once great nation that he has fleeced perhaps more than any other crooked politician in history by orders of magnitude. Look at that shot of him on some of the sites; He's angrier than Schickelgruber doing the Nuremberg boogaloo. And with all this talk about forcing people to do this and that and combatting extremism and spying on not only journalists but ordinary citizens on their own telephones, well, that does not add up to a wholesome situation.
[So-called quote-unquote "president"] Biden escalated his already inflammatory rhetoric over election integrity safeguards yesterday in a speech delivered in Philadelphia. Having previously denounced basic measures such as requiring voter ID (an almost universal requirement in other advanced democracies) as "Jim Crow on steroids," he claimed, "We're are facing the most significant test of our democracy since the Civil War," a shockingly irresponsible comparison.

Facing the grim (for them) reality that the public overwhelmingly (78%!) supports voter ID requirements, Biden is figuratively shouting louder and louder, as if extreme rhetoric were persuasive.

It's almost as if Democrats realize that if they are unable to cheat, they won't win national elections.

But the most interesting moment came when Biden echoed a comment widely attributed to Stalin (though left wing "fact checker" PolitiFact disputes it):

"It's no longer just about who gets to vote or making it easier for eligible voters to vote. It's about who gets to count the vote."
That last bit of insanity, whoever put it in there for him, was the lead in for the Federal government to nationalize elections. Again, this a rabid rodent cornered; the election audits are going to show that at the very least the 2020 elections in at least two states if not many more (pace Dave in FL) were not "free, fair and honest" as the Left claims but seriously compromised. To me, it was stolen. So to get on top of the narrative to beat this down, the Dems will insist that the shenanigans was the fault of the GOP and so we must Federalize the elections "to preserve our sacred democracy" (SPIT!). Of course, Federal oversight of elections means a bureaucracy. And if its like every other one in DC it will be 100% leftist top to bottom.
But beyond the Machiavellian machinations, the rhetoric is deadly and will have deadly consequences as they already do. I'll say this, old Joey is right when he says that "We're are facing the most significant test of our democracy since the Civil War," only not quite the way he imagines it. He and his masters have rigged an election, destroyed an economy to destroy a political opponent as well as use it as Reichstag Weenie Roast to seize as much power as they can (without ever letting it go) and are now facing the prospect of using actual force and repression to ensure their hold on power. FOREVER.
And 90 miles off the coast of Margaritaville, Cubans are waving AMERICAN FLAGS - the one that that scrub, brainwashed, Angela Davis-looking stooge Kaepernick micturated all over as a means to grab the spotlight as well as millions of dollars from Nike - a company that now openly declares its main interests and allegiance is with the Peoples Republic of China.
Add this to the list I created above: as millions of people in Cuba, Iran and in China - not just Hong Kong but all over the rogue provinces that rightfully belong to Taiwan - are crying out for freedom and an end to the absolute Hell on Earth that is Socialism, those who sing its praises here in this country are silent to their suffering. Well, to be fair, they have to be. Because they are pedal to the metal to bring it here and as we all know are succeeding beyond their wildest imaginings.
And then there's Maud-lin . . . The fatuous fraudulent fabulist with the Rustoleum afro Nikole Hannah Jones with this hot take back in 2019:
"After admitting she's "definitely not an expert on race relations internationally," she posits that "if you want to see the most equal, multiracial democ. . . it's not a democracy -- the most equal, multi-racial country in our hemisphere it would be Cuba."

Cuba has the least inequality between black and white people of any place really in the hemisphere. I mean the Caribbean -- most of the Caribbean it's hard to count because the white population in a lot of those countries is very, very small, they're countries run by black folks, but in places that are truly at least biracial countries, Cuba actually has the least inequality, and that's largely due to socialism, which I'm sure no one wants to hear."
Yes, Cuba has the least inequality, mostly because everyone is equally destitute. That is everyone except for those in the Cuban politburo who lord over the peons. I wonder if this asshole, like so many assholes across the globe, wears a Che Guevara t-shirt and glorify him as a deity? You bet your ass they do. Yet how many know that Che said this:
"The nig**r is indolent and lazy, and spends his money on frivolities, whereas the European is forward-looking, organized and intelligent."

Put that in your Krylon and spritz it, Nikole.

NOTE: The opinions expressed in some links may or may not reflect my own. I include them because of their relevance to the discussion of a particular issue.
ALSO: The Morning Report is cross-posted at CutJibNewsletter.com if you want to continue the conversation all day.
Follow us on Twitter: @CutJibNews
Follow us on Instagram:@Cutjibnewsletter

posted by J.J. Sefton at
07:50 AM
|
Access Comments