« Daily Tech News 13 July 2021
|
Main
|
Mid-Morning Art Thread »
July 13, 2021
The Morning Report - 7/13/21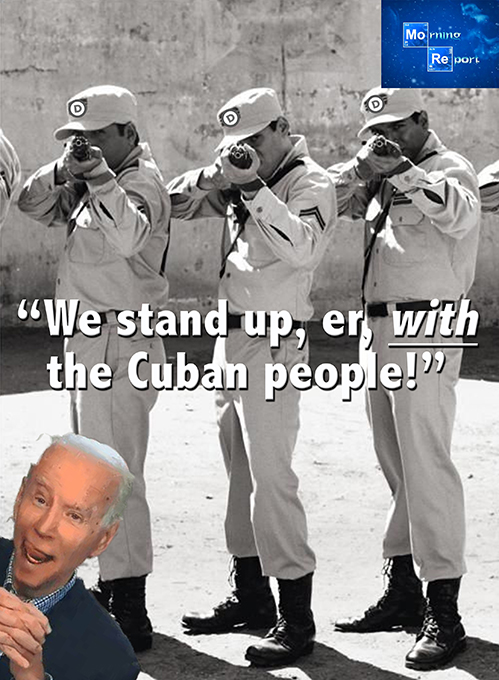 Good morning kids. Tuesday and as the protests in Cuba continue, while the commie goon squads crackdown on the people suffering because of the pandemic, the 62-year-long blockade, white supremacy, capitalism, Jooz and climate change - that is, everything under the sun except the abject misery, suffering and death caused by socialism - the child-molesting, drooling kohlrabi known as Joe Biden was finally given a cue card to read after his puppet masters dithered the day away trying to decide which side to support.
"We stand with the Cuban people and their clarion call for freedom and relief from the tragic grip of the pandemic and from the decades of repression and economic suffering to which they have been subjected by Cuba's authoritarian regime," Biden said in a statement Monday morning.

"The Cuban people are bravely asserting fundamental and universal rights. Those rights, including the right of peaceful protest and the right to freely determine their own future, must be respected. The United States calls on the Cuban regime to hear their people and serve their needs at this vital moment rather than enriching themselves," the president added.

Americans should celebrate the moral clarity in Biden's statement, although many may take it with a grain of salt, considering the increasing impact of "democratic socialism" within the president's party. In fact, the administration's first response to the Cuban protests did not inspire confidence.

"Peaceful protests are growing in [Cuba] as the Cuban people exercise their right to peaceful assembly to express concern about rising COVID cases/deaths & medicine shortages," Julie Chung, acting assistant secretary for the State Department's Bureau of Western Hemisphere Affairs, posted on Twitter Sunday. "We commend the numerous efforts of the Cuban people mobilizing donations to help neighbors in need."
While Biden was choking on his Maypo just getting the words out, those who had to write the words "Cuba's authoritarian regime" were choking back their own vomit in being forced to write them. I'd wager since the average age of a pinheaded State Department technocrat is probably no more than 40, their must be some sort of cognitive dissonance. After all, everything they've learned about Cuba they got from Sean Penn, Danny Glover and Michael Moore. Which means everything they learned about the USA they got from Howard Zinn and Bill Ayers. What must our brainwashed youth be thinking when they see the Cuban people waving American flags to protest the 62-year-old paradise on earth; one that has ground several generations of them into the red tropical soil? What must they think when they see - GASP - American flags that are not being burned but waved proudly and high, at tremendous risk to the lives of the standard-bearers? Ironically enough, the same risk to life and limb for those who dare wave it in Portland, OR or even DC last January.
Sen. Ted Cruz (R-Texas) pointed out the tragic irony.

"Across the globe, there is no more ubiquitous symbol for freedom than [the American flag]. [It] inspires billions; drives American Leftists crazy," the senator remarked. Indeed, Cuban protesters marched with an American flag on Sunday.

The brave men and women who took to the streets in Hong Kong in 2019 also proudly flew American flags.

Protesters in socialist Venezuela also carried American flags to protest their government's oppression.

Yet activists living in the Land of the Free have increasingly demonized the very flag that stands for liberty against government oppression worldwide. Former NFL player Colin Kaepernick condemned the Betsy Ross American flag as racist, leading Nike to remove the flag from its footwear. While even Barack Obama flew Betsy Ross American flags at his second inauguration, Snopes proclaimed that "for some people the symbol has taken on new meanings in the era of. . . Donald Trump, during which far-right extremism has grown.

Last month, New York Times editorial board member and MSNBC contributor Mara Gay said she was "disturbed" after seeing "dozens of American flags" flown by Trump supporters. She claimed that Trump supporters "see Americanness as the same as one with whiteness."

The Utah chapter of Black Lives Matter condemned the American flag as racist.

"When we Black Americans see this flag we know the person flying it is not safe to be around," the group declared on a Facebook post. "When we see this flag we know that the person flying it lives in a different America than we do."
Yes, my brainwashed schmuck. They live in the real, blessed, sacred, never-before-since-or-perhaps-ever-again United States of America. You live in a petri dish of hatred and are too damned blind and ignorant to even recognize it. But still, you'll persist all the way until you too, like Patrisse Cullors can buy real estate in Bel Air, the Hamptons and Pacific Beach while proclaiming that this country is structurally racist and that you will always be a third class citizen in "Amerikkka!"
Meanwhile, as the Biden junta tries its hardest to fake sincerity towards the Cuban people, the tyrants here are hell bent on making life miserable for those under the jackboot of its illegitimate "authoritarian regime." One where citizens who dared protest the overthrow of a duly elected president to his landslide second term are rotting in jails and set to either go to prison for what amounts to a petty misdemeanor (if that) or else have their lives ruined if they do not confess to a kangaroo court and beg forgiveness.
Hale, an Army reservist for 11 years, was honorably discharged after he was arrested for participating in the Capitol protest on January 6. At the time, Hale was a security contractor at the Naval Weapons Station in New Jersey but quickly became ensnared in the Justice Department's "shock and awe" campaign that rounded up at least 100 Americans before January 20 to stop people from going to Washington, D.C. to protest the inauguration of Joe Biden.

The very government Hale served honorably, however, has turned on him in a dishonorable, destructive way. . .

. . . Hale, 31, has no criminal record. There's nothing to support the government's claim that his "White Supremacist and Nazi Sympathizer ideology appears to be the driving force in his life." He has served in the U.S. military for more than a decade among people of all races and religions without incident.

None of that matters, of course. Instead, the government delves into batshit conspiracy-theory territory to show Hale is a danger to society. . .

. . .The entire case against Hale has nothing to do with protecting the community or seeking justice. In one sentence, the Justice Department revealed its real purpose in prosecuting Hale. "If nothing else, the events of January 6, 2021, exposed the size and determination of right-wing fringe groups in the United States, and their willingness to place themselves and others in danger to further their political ideology."
Julie Kelly at American Greatness with that report, and she is doing outstanding work on this beat, perhaps one of the most important stories in the wake of the overthrow of the government by the Globalist Left. So, if rounding up of political dissidents and chucking them into prison doesn't grab you, how about going door to door to insist you inject the Jim Jones/J&J Kool Aid into your veins? Don't want to? Then we'll make you an internal exile. And if you dare warn your friends via a text message or e-mail, someone else may be on the line:
The Democrat National Committee reportedly wants Short Message Service (SMS) carriers to step in and police private text messages as part of a new push against COVID-19 vaccine misinformation.

Allies of [so-called quote-unquote "president"] Joe Biden, including the DNC, plan to "engage fact-checkers more aggressively" and work alongside phone companies to combat misinformation about vaccines shared via social media and private SMS messages, according to a Monday report from Politico.

White House officials are particularly frustrated with the characterization by some Republicans of their door-to-door pro-vaccination campaign, according to the report.
As someone here quipped yesterday, while millions of third world peasants are rushing to cross the Rio Grande, how long before millions of us get into rickety boats after last call at Margaritaville and head for the freedom of Cuba? Or even Free China, G-d willing?


ABOVE THE FOLD, BREAKING, NOTEWORTHY
NOTE: The opinions expressed in some links may or may not reflect my own. I include them because of their relevance to the discussion of a particular issue.
ALSO: The Morning Report is cross-posted at CutJibNewsletter.com if you want to continue the conversation all day.
Follow us on Twitter: @CutJibNews
Follow us on Instagram:@Cutjibnewsletter

posted by J.J. Sefton at
07:47 AM
|
Access Comments