« Daily Tech News 12 July 2021
|
Main
|
Mid-Morning Art Thread »
July 12, 2021
The Morning Report - 7/12/21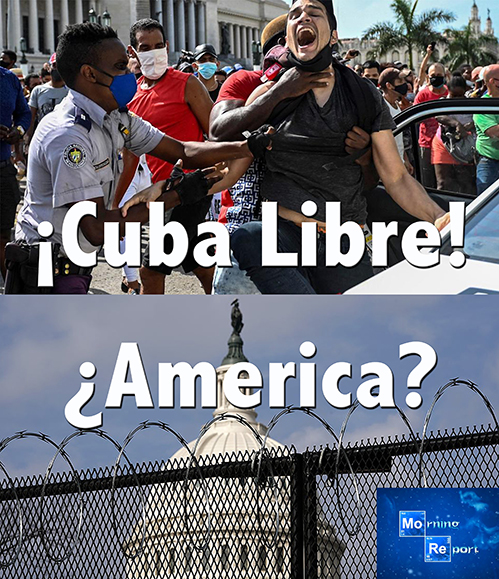 Good morning kids. Start of a new week and as I've been saying lo these past 18 months and more, when one or more things happened that made our prospects seem dark and hopeless, "we can never know the future." Well, 90 miles off the coast of Florida, one of the few sanctuaries of relative freedom in the imprisoned nation formerly known as the United States of America, the long-suffering people of the imprisoned island nation of Cuba have taken to the streets and are shouting no mas!
The communist Cuban dictatorial regime began cracking down on pro-freedom protesters on Sunday that stormed the island nation's streets. Numerous arrests were reported as widespread internet outages spread across the nation.

Cubans took to the street in rarely seen demonstrations to protest the impoverished conditions of the island, their lack of freedom under the far-left Marxist regime, and did so while chanting "Liberty" and "Freedom" and waving an American flag.

The Washington Post reported:

Jose Miguel Vivanco, director of Human Rights Watch's Americas division, said his group had received reports that at least 20 people had been arrested. He added that the organization had received reports of violence being used by Cuban forces, a claim echoed by social media users sharing videos of wounded protesters.

"This is pretty massive," Vivanco said. "My sense is that this is a combination of social unrest based on a lack of freedoms, and covid, and economic conditions. The lack of access to electricity. The blackouts . . . People are screaming for freedom."
And here we are, 62 years after Cuba was hijacked by an illegitimate, evil junta and subsumed into the cancerous mass of global socialism, our own illegitimate junta hell bent on imposing the same cancerous rot here, naturally takes the side of their fellow travelers in Havana:
[So-called quote-unquote "president"] Joe Biden's [junta] responded to protests in Cuba against the Communist regime on Sunday by issuing a statement through a minor official commending protests "about rising [Chinese] COVID cases/deaths & medicine shortages."

Julie Chung, Acting Assistant Secretary for the U.S. Department of State's Bureau of Western Hemisphere Affairs, said via Twitter that Cubans were exercising "their right to peaceful assembly" to protest [Chinese] COVID and "medicine shortages." The [junta's] statement ignored democracy and freedom altogether. Cubans do not have the "right to peaceful assembly"; like many rights in the Cuban Constitution, it exists only in theory.

On Sunday, protests broke out in Havana and several other Cuban cities, during which people chanted "Freedom!" and "Down with the dictatorship!" while marching against Communist Party institutions. The New York Times noted that while the demonstrations were triggered by "food and medicine shortages," they also "openly protested against the Communist government" for the first time in nearly 30 years. Some activists called it the largest spontaneous popular protest since Fidel Castro took power in 1959, with protesters openly denouncing the regime of Miguel Diaz-Canel . . .

. . . The Biden [junta's] attempt to spin the protests as a demonstration about [Chinese] COVID-19 mirrors the rhetoric of the 2020 presidential election, during which Democrats charged that the Trump administration had failed on the pandemic.

It could also be an effort to defend the Obama administration's "normalization" policy toward Cuba, in which then-Vice President Biden participated, which restored full diplomatic relations with the regime but failed to demand democratic reforms or progress on human rights.
You can bet your ass it's that last paragraph that hits the nail on the head. As an aside, it's one of the reasons Trump took Florida in a walk in 2020, and why the Dems are shitting a brick about '22 and '24 (Dao-Min Yen, the DOJ and IRS notwithstanding, of course). This is the same insane reasoning with the vaccine madness and the condemnation if not outright prohibition on allowing access to cheap, effective therapeutics like ivermectin and HCQ. Protect the junta and protect the meme even in the face of overwhelming evidence that both are abject failures to the point of criminal recklessness. Just like with China and Iran, President-in-Exile Trump had Cuba on the ropes by reversing Obama's Castro-coddling. Hell, Biden's handlers didn't even write out a crib sheet for him and have him make any statement but relegated it to a mid-level flunky at the State Dept. In any case, this story should be on page one of every newspaper in bold and all caps because it is a very big effin' deal. You ain't gonna find it there. And if you do find anything in the media, it's to prop up the Communists, and prop up the Biden Junta. But I repeat myself:
Some leftists were quick to denounce the scale of the protests, as if the act of protesting a communist government (and carrying the American flag) doesn't often put one's life and family in jeopardy. Cuba holds an undetermined number of political prisoners despite its communist dictator's claims that it doesn't.

The New York Times' social media clearly did not enjoy the sight of Cubans demanding their freedom. It framed a protest for freedom as "anti-government."

If your government is against freedom, and Cuba's communist government is and always has been, then sure, shouting "Freedom!" amounts to being "anti-government."
The New York Times. The "paper of record" that praised Stalin while covering up his genocide of 3-4 million Ukrainians. The paper that essentially censored reporting on arguably the biggest story of the 20th century - the Holocaust. That they also played a major role, along with the State Dept. and CIA (surprise, surprise - the Deep State!) in ousting Fulgencio Batista and installing Fidel Castro should come as no surprise.
Castro's group used the articles as proof of their growing strength, and in time both fundraising and recruitment benefited substantially from them. Ernesto "Che" Guevara, who was already with Castro in the Sierra when the interview took place, said that Matthews's work was more important to the rebels than a victory on the battlefield... His heroic portrayal of Castro as a scruffy mountain rebel leading an insurrection of Cuban youths against Batista was the image on which American perceptions of the revolution would be widely based for several years. By highlighting Castro's promises to restore Cuba's constitution and hold free elections, his articles and their prominent display in The [NY] Times (two of them on the front page, a third inside, and all three heavily promoted within the paper) increased pressure on Washington to stop shipping arms to Batista.
To think that just about 18 months ago, Trump had Iran on the ropes, China for the first time in decades was smacked down and read the riot act, and Cuba had more than just a glimmer of hope of finally being free again. On top of it all, the commies in our own country also seemed destined, if not for the ash heap of history, then the political wilderness for at least a generation. Heartbreaking doesn't even begin to describe it.
And yet what is heartening is the sight of Cubans, taking to the streets and waving American flags crying out for freedom. Just like they did in Hong Kong. And in Tehran, IIRC, during some of the anti-regime protests, people were booing the staged burning of Israel flags. That's the equivalent of a Rabbi Schneerson running up the aisle at the Nuremberg Rally and hurling a rotten tomato into Schickelgruber's face. Sadly, we saw what happened in Hong Kong and Iran. Will the junta be overthrown and freedom restored in Cuba? The odds are not good, especially since the junta in Havana has an ally in the junta in D.C. I don't think it's lost on anyone that people protesting for freedom from an illegitimate government, and that government cracking down hard on the protests is happening right here in our own country. Take a look at that lead photo and remember that right now dozens of Americans are being held in jails merely for the act of showing up to the Capitol on January 6th to peacefully protest a stolen election. That guy being dragged off to jail in front of the Capitolio Nacional could easily be Richard Barnett. Or Ashli Babbitt.
It perfectly illustrates how none of what is going on are stand alone incidents. All of this is interconnected. Trump as well as Brexit among other things were the opening salvos in the rejection of the globalist/socialist agenda. The unleashing of Chinese COVID became the smokescreen with which the tyrants struck back. Evil never rests, but neither do those who seek freedom. The unrest, frustration and anger at an imposed tyranny is also happening in China, except that it is much more effectively censored and for sure more brutally repressed. But they can't stop it forever.
The irony of ironies will of course be Cuba, Iran and maybe even China throwing off the yoke of the oppressors and being free while America becomes an enslaved Marxist shit-hole.
For now, "Viva la revolucion! Cuba libre!"


ABOVE THE FOLD, BREAKING, NOTEWORTHY
CIVIL WAR 2.0: LEFTIST PERSECUTIONS, CAPITOL HILL BLACK WEDNESDAY PROTEST AFTERMATH, DEMOCRAT PUTSCH, AMERICAN DISSOLUTION
NOTE: The opinions expressed in some links may or may not reflect my own. I include them because of their relevance to the discussion of a particular issue.
ALSO: The Morning Report is cross-posted at CutJibNewsletter.com if you want to continue the conversation all day.
Follow us on Twitter: @CutJibNews
Follow us on Instagram:@Cutjibnewsletter


posted by J.J. Sefton at
06:46 AM
|
Access Comments