« EMT 7/11/21
|
Main
|
Influential Or Just Plain Nuts? »
July 11, 2021
Sunday Morning Book Thread 07-11-2021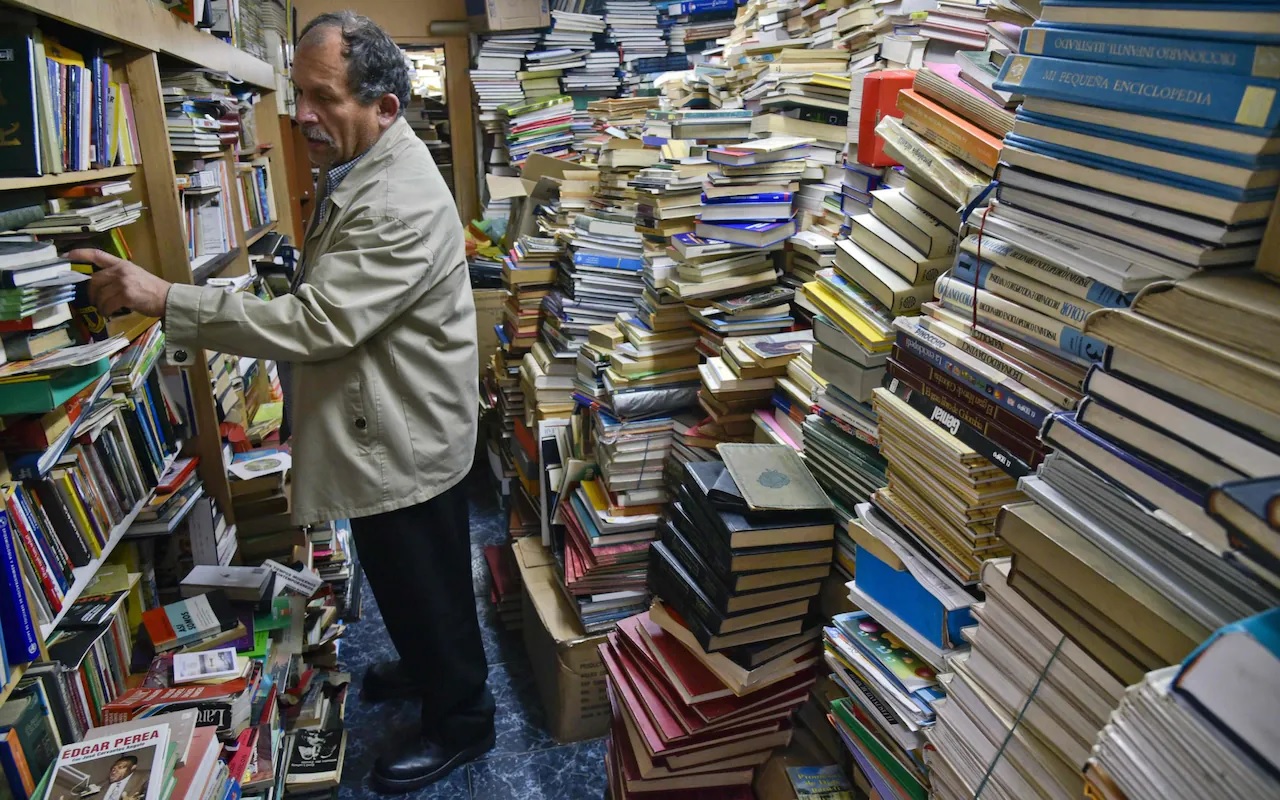 La Fuerza de las Palabras Library, Bogota, Colombia
Good morning to all you 'rons, 'ettes, lurkers, and lurkettes, wine moms, frat bros, crétins sans pantalon (who are technically breaking the rules). Welcome once again to the stately, prestigious, internationally acclaimed and high-class Sunday Morning Book Thread, a weekly compendium of reviews, observations, snark, witty repartee, hilarious bon mots, and a continuing conversation on books, reading, spending way too much money on books, writing books, and publishing books by escaped oafs and oafettes who follow words with their fingers and whose lips move as they read. Unlike other AoSHQ comment threads, the Sunday Morning Book Thread is so hoity-toity, pants are required. Even if it's these pants, since listen, fat, goats are like mushrooms, because if you shoot a duck, I'm scared of toasters. C'mon, man. Kamala, who has my trunalimunumaprzure? I think I need a recharge.


Pic Note:
Wow. This is quite a backstory:
Jose Alberto Gutierrez doesn't just turn trash into treasure—he transforms it into a free education for neighbors. As The Telegraph reports, the middle-aged garbage collector in Colombia has spent the past two decades collecting discarded books he finds while on the job in Bogota, the country's capital city. Thousands of titles later, Gutierrez has an enormous library, which he and his family lend out to the community for free.

Gutierrez's library is called La Fuerza de las Palabras, which is Spanish for "The Strength of Words." The collection fills several rooms in his home—and thanks to donations, it continues to grow. (So much, in fact, that the Gutierrez family can no longer squeeze reading groups for children inside their house.) Today, the family is expanding their public literacy mission—and getting rid of extra books—by delivering titles to Colombia's poor and rural areas.


It Pays To Increase Your Word Power®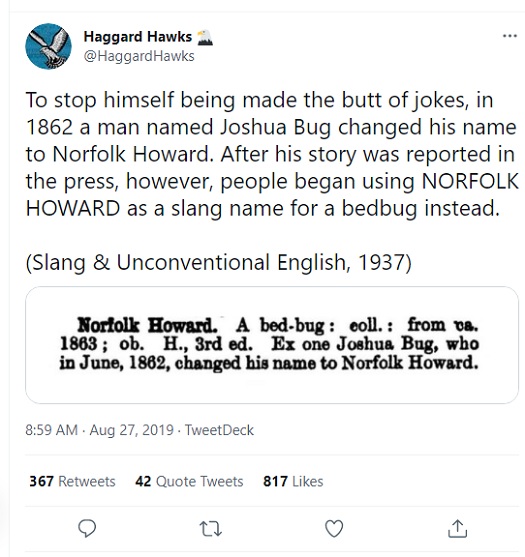 Cue
sad trombone
.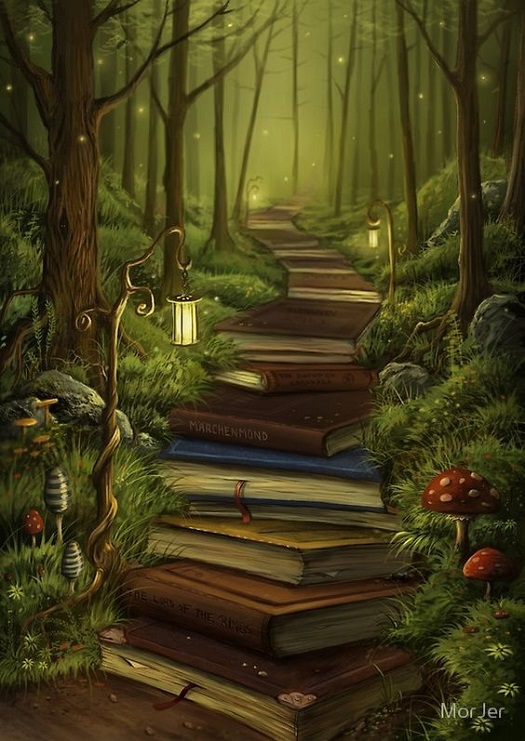 Second Thoughts
A week or so ago, in a segment about how the FBI might have infiltrated the Jan. 6th protests in Washington DC and instigated the violence and vandalism themselves, Tucker Carlson mentioned this book in passing, The Terror Factory: Inside the FBI's Manufactured War on Terrorism by Trevor Aaronson, who I believe made his bones as a lefty investigative reporter. His book
...shows how the FBI has, under the guise of engaging in counterterrorism since 9/11, built a network of more than fifteen thousand informants whose primary purpose is to infiltrate Muslim communities to create and facilitate phony terrorist plots so that the bureau can then claim victory in the War on Terror.
A few years ago, I would not have even considered reading a book like this. I thought that the very idea that a federal agency would use dirty tricks and skullduggery on American citizens just to pad their arrest records was absurd. Also, I did not listen to critics of the PATRIOT Act, even those on our side of the aisle, who pointed out that the legislation was so far reaching it could be repurpose to use against domestic targets. "Ha ha", I said. "Pull the other one." And also: "we'd never do anything like that."
Well, I'm not laughing now. Not after the full-out war campaign against the January 6th trespassers.
The book offers unprecedented detail into how the FBI has transformed from a reactive law enforcement agency to a proactive counterterrorism organization—including the story of an accused murderer who became one of the FBI's most prolific terrorism informants—and how so-called terrorism consultants and experts have made fortunes by exaggerating the threat of Islamic terrorism in the United States...how the FBI has, under the guise of engaging in counterterrorism, built a network of more than 15,000 informants whose primary purpose is to infiltrate Muslim communities to create and facilitate phony terrorist plots so that the Bureau can then claim it is winning the war on terror.
And now it looks like all of this COINTEL apparatus turned back around and pointed inward, repurposed to go after what Biden's goons call "domestic violent extremists" and "white supremacists", labels, which, more and more as time goes on, are going to be applied to the Biden administration's political opponents.


Who Dis: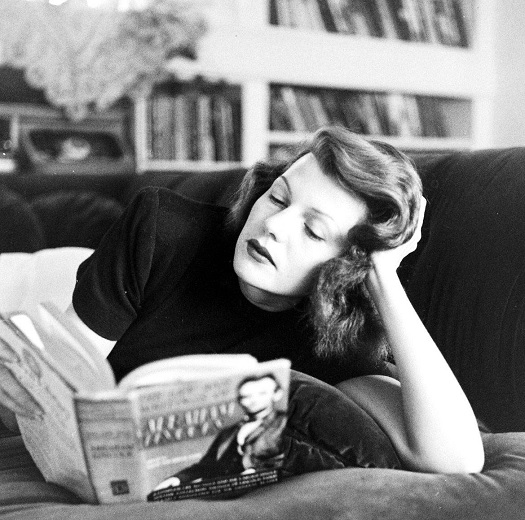 (
Last week's 'who dis'
was one of the charter members of Club '27', Jim Morrison.



Moron Recommendations
16 This week's reading selection is Tanith Lee's "The Secret Book of Paradys." It's a gothic version of Paris, with demons stalking the streets and the inhabitants suffering from madness and delusions. It's also strangely appropriate for Canadian PRIDE season because several of the characters are quite gender-fluid. In some cases they literally transition from male to female and vice-versa. In other instances, it's a cosmetic transition with strategic use of makeup and padding. But there is little to admire in her characters (other than they are excellently written). Their circumstances are often tragic and the characters engage in very morally questionable activities. Great stuff.

Posted by: Lord Squirrel at July 04, 2021 08:09 AM (K5n5d)
This is a 4-book series, the first of which is The Book of the Damned, is actually three novellas of, as the blurb says, "dark magic, eroticism, and gothic fantasy." You can read more complete descriptions of each story on the Amazon page. The Kindle edition is only $7.99.
___________
192 I mentioned in a thread yesterday I came across a library book called The Leopard by Guiseppe Lampedusa, which is historical fiction based on the author's grandfather's life (?)

Apparently considered one of the most important / best selling Italian books of the last century. Never heard of it before so I will try to remedy ignorance by reading it.

Posted by: vmom stabby stabbyt stabby stabamillion at July 04, 2021 09:15 AM (oEn12)
I thought this was going to be one of those obscure, hard-to-find, but I was wrong:
The Sicilian prince, Don Fabrizio, hero of Lampedusa's great and only novel, is described as enormous in size, in intellect, and in sensuality. The book he inhabits shares his dimensions in its evocation of an aristocracy confronting democratic upheaval and the new force of nationalism. In the decades since its publication shortly after the author's death in 1957, The Leopard has come to be regarded as the twentieth century's greatest historical fiction.
it has been translated into English (of course) and is available on Kindle and in hardcover.

___________
179 I've been reading The Eagle and the Dragon by Lewis F McIntyre, a novel about an ancient Roman diplomatic mission to China during the reign of the Emperor Trajan. They set out from Alexandria and visit many of the famous sites including the Library and the Lighthouse at Pharos.

Posted by: Anonosaurus Wrecks aka Hangdog Barkston at July 04, 2021 09:11 AM (d9FiS)
They certainly do get around, according to the Amazon description:
...But Fate has other plans for these unlikely companions, sending them together on a journey that will take them thousands of miles by sea and land across the tapestry of the mysterious worlds at the close of the first century. From the storm-tossed Indian Ocean to the opulent Hanaean court, from the wild grassy steppes north of China to the forbidding peaks of the Pamir Mountains of Bactria, they fight for their lives, hoping to find the road that will lead them back to Rome.
The Kindle edition is only $3.99. For 500+ pages, that's a lot of bang for your buck.
___________


The World's Worst Bible Translation, Probably: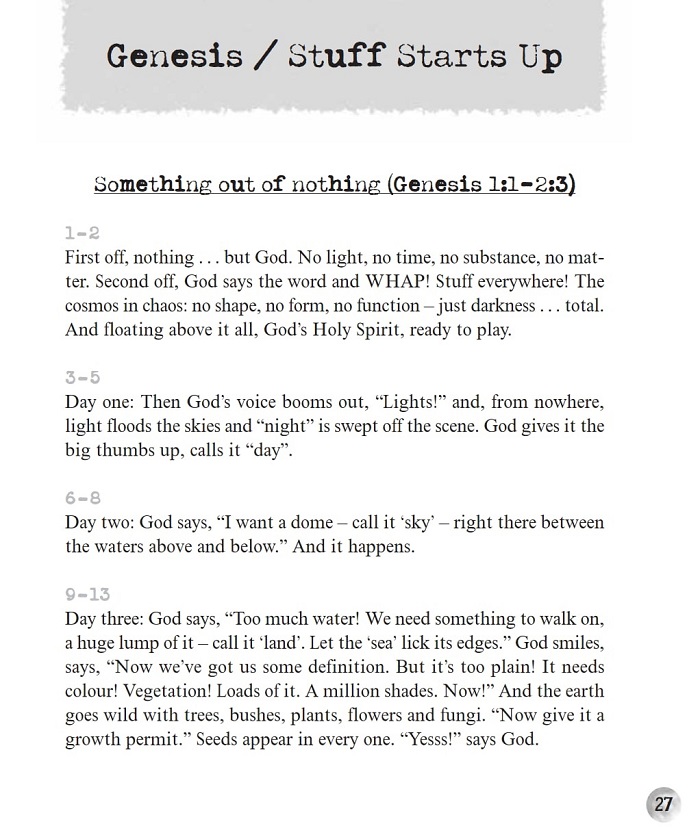 (click to enlarge -- if you dare)
This is from The Street Bible by Rob Lacey. Published by Zondervan, so you know who to blame.
(h/t Cursed Modernist Images)


Books By Morons
Lurkette author Sarah Hoyt has published Other Rhodes, which appears to be the first installment in a new science fiction mystery series, the Rhodes Mysteries:
Lily Gilden has a half-crazed cyborg in her airlock who thinks he's Nick Rhodes, a fictional 20th Century detective. If she doesn't report him for destruction, she's guilty of a capital crime.

But with her husband missing, she'll use every clue the cyborg holds, and his detective abilities, to solve the crime her husband was investigating when he disappeared.

With the help of a journalist who is more than he seems, Lily will risk everything to plunge into the interstellar underworld and bring the love of her life home!
It's just $3.99 on Kindle.
(h/t Sabrina Chase for telling me about this for Ms. Hoyt, who is currently at an undisclosed location with no internet).

___________
Conservative author John Taloni has just published what looks like a Norse/Greek mythology crossover novel, Thunder God of Mars: A Superhero Prose Novel
Thor vs. Ares with the fate of Mars in the balance! An urgent challenge calls Thor to Mars, where hostile forces threaten a new colony's fragile future. To aid the colonists he must contend against opportunistic deities from Earth and Mars, as well as the harsh environment of Mars itself. This Novella-length book is inspired by Thor comics and Ray Bradbury's "Martian Chronicles," with a dash of Richard Riordan.

Contains six short stories making one complete arc. Also includes a bonus story where being normal is enough to be a superhero.
John describes his stories as "agenda-free." So he's not trying to hit you over the head with anything, he just wants to tell exciting, thrilling, interesting stories that entertain you.
But in order to know if John succeeds with this, you'll have to buy his book and read it for yourself. The Kindle edition of Thunder God of Mars is available on Kindle for $2.99.
___________
So that's all for this week. As always, book thread tips, suggestions, bribes, insults, threats, ugly pants pics and moron library submissions may be sent to OregonMuse, Proprietor, AoSHQ Book Thread, at the book thread e-mail address: aoshqbookthread, followed by the 'at' sign, and then 'G' mail, and then dot cee oh emm.
What have you all been reading this week? Hopefully something good, because, as you all know, life is too short to be reading lousy books.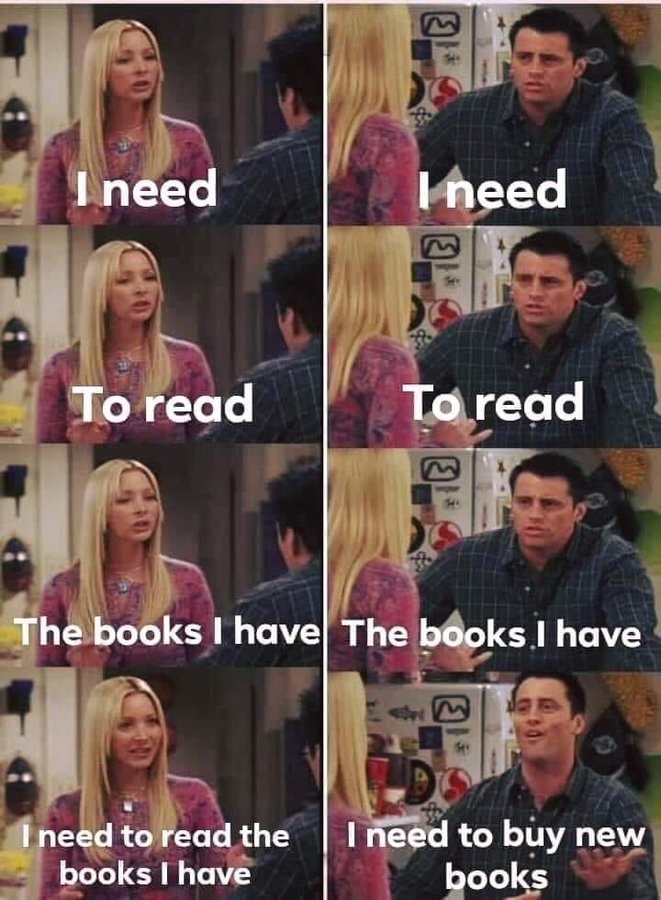 posted by OregonMuse at
09:00 AM
|
Access Comments