« Saturday Morning Coffee Break
|
Main
|
Saturday Gardening and Puttering Thread, Travel Edition »
July 17, 2021
The Liberal Case for Banning Critical Race Theory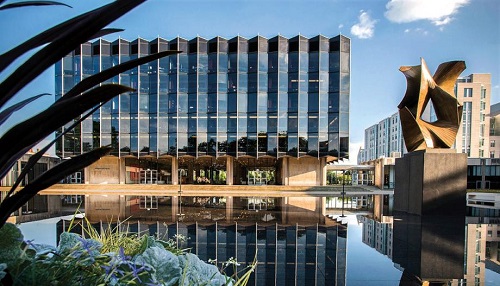 University of Chicago Law School
Yesterday, Ace posted a quick hit about David French endorsing the Conservative Case for Authoritarian Socialism.
It concerned a piece in TIME magazine, The Conservative Case Against Banning Critical Race Theory.
Despite his earlier position that the best line of defense against current CRT indoctrination was that it involved "compelled speech" (during the French/Rufo debate), French gave the TIME piece an "excellent" review. It made no mention of any downsides of CRT indoctrination.
Among responses to French about this "excellent" piece:
David French has transcended - - he is now *literally* a meme
The very first line is totally false; sets up a completely false premise. This article is garbage.
Aziz Huq's contention is that "The case against CRT, in short, is . . . about wanting to avoid certain feelings of discomfort or even shame."

Ironically then, if there is a lesson to be learned from the war on CRT, it has nothing to do with how to talk about race - - and everything with how the Trumpian revolution continues to devour the principles of American conservatism.

Trump . . . drink!
David French aside, how about a liberal/leftist case against CRT?
Maybe it's time to trade David French for a lefty who will oppose CRT.
The piece French recommended here was written by a well-known conservative law professor at the University of Chicago Law School, Aziz Huq. Christopher Rufo points out that he is a former staffer for Ruth Bader Ginsburg, columnist for the The Nation, and donor to Hillary Clinton.
From the comments, "AND ACLU counsel." He has other "conservative" credentials consistent with his position at The Nation, too. Heh.
This gave Rufo an idea:
I'm working on a new piece now, thinking about calling it: "The Liberal Case For Banning Critical Race Theory," by Christopher F. Rufo.
I THINK THAT'S A GOOD IDEA. They are getting ridiculous. Actually, I think that should be an (ironic) leftist case for banning Critical Race Theory. There are already plenty of (classical) liberals who are worried about Critical Race Theory.
Got any tips for Chris? We could start with the Federal Government, where the Department of Education is pushing the 1619 Project and Ibram X. Kendi as models for good pedagogy.
Unbelievable.
What does the TIME piece tell us about the current state of education?
This is a professor at a prestigious law school. Can parents be expected to financially support schools where professors put out this kind of information? From his very short critique of the conservative assessment of CRT:
Consider first how varied and inconsistent the portrayals of CRT on offer are. . .
Same as on the Left, among the adherents of CRT. So?
Actually, he employs a variation on the "blind men and the elephant" fable here. He quotes small snippets of information from people who have presented much more comprehensive pictures of Critical Race Theory and says they are "inconsistent" presentations of the elephant.
Again, so what?
Then he really gets going:
Turn to the newly-minted laws, and one finds yet other, quite different depictions. Florida's, for example, defines it as any "theory that racism is not merely the product of prejudice."
Wrong. It does not say ANY "theory that racism is not merely the product of prejudice." It says:
Examples of theories that distort historical events and are inconsistent with State Board approved standards include the denial or minimization of the Holocaust, and the teaching of Critical Race Theory, meaning the theory that racism is not merely the product of prejudice, but that racism is embedded in American society and its legal systems in order to uphold the supremacy of white persons.
WHAT? Our law professor lied about the definition of CRT in the Florida rule? This shoots down some of his later arguments.
Idaho's characterizes CRT as teaching that treats people as "inherently responsible for actions committed in the past by other members of the same . . . race."
Does this mean he FAVORS teaching that treats people as "inherently responsible for actions committed in the past by other members of the same . . . race."? This is part of the text he, himself, linked:
Idaho lawmakers have advanced a bill that would prohibit public schools, including public universities, from teaching that "any sex, race, ethnicity, religion, color, or national origin is inherently superior or inferior," which, according to the bill, is often found in "critical race theory."

It also prohibits teachings arguing that "individuals, by virtue of sex, race, ethnicity, religion, color, or national origin, are inherently responsible for actions committed in the past by other members of the same sex, race, ethnicity, religion, color, or national origin."

Critical race theory and teachings like it "exacerbate and inflame divisions on the basis of sex, race, ethnicity, religion, color, national origin, or other criteria in ways contrary to the unity of the nation and the well-being of the state of Idaho and its citizens," the bill reads. Proponents have argued that students are being indoctrinated.
Incensed, he states that:
These definitions of CRT can't be reconciled. None offer clear guiderails to what precisely it means to ban CRT.
Why do the definitions of CRT need to be reconciled? Most of the bills do not actually ban CRT. They ban coercive, discriminatory and/or racist implementation of CRT and related ideologies by persons in positions of power.
Why doesn't he address the discriminatory aspects of the indoctrination now underway?
This is what really makes them angry. People are onto them now:
This is the big climax of the argument presented by our University of Chicago Law School Professor:
Conservatives disparage arguments made by "snowflake" college students. But the case against CRT is made of the same stuff. As such, it is subject to the same response. Hence, in a recent opinion concerning off-campus student speech, Justice Alito explained why a student's crude rant about being excluded from a cheerleading squad could not be punished in simple terms: "Speech cannot be suppressed just because it expresses thoughts or sentiments that others find upsetting." This is indeed the law: The Supreme Court has not allowed the state to prohibit or punish speech because it riles up an audience since 1951.
He compares a student being punished for crude language with regard to exclusion from a cheerleading squad to government agents in positions of power having the right to compel speech and action from teachers and students and engage in other forms of coercion. It is a false comparison. Engaging in racist demagoguery on a systematic, discriminatory basis is just "riling up an audience".
He is a law professor.
I think his point is that conservatives MUST play the part. They MUST support unqualified free speech on the part of their ideological opponents while giving up their own rights to free speech. This is the doctrine of Repressive Tolerance
Update: Let's revisit the beginning of the TIME piece. This is what our Law Professor starts out with concerning legislation against CRT indoctrination in various states:
Whether or not such laws would stifle anything taught in public schools today is uncertain because existing legislative control over curricula is already extensive.
These legislative actions are examples of "legislative control over curricula". Does he think that teachers are flouting current controls already in place?
Guess he has never heard of the Federal Department of Education, University Departments of Education or Teacher's Unions.
Our University of Chicago Law School Professor then misrepresented, right at the beginning of his piece, Florida House Bill 233 as "Florida's anti-CRT law", though it was introduced after the rule limiting racialist indoctrination in schools (the one that actually mentions CRT), which he also misrepresented. This is what he says about Florida House Bill 233, which concerns only post-secondary education and does not seem to be aimed directly at CRT, at least on paper:
But the war against CRT is spilling into new arenas: Florida's anti-CRT law forces colleges to survey how "competing ideas and perspectives" are presented, threatening funding cuts if a university is "indoctrinating."
This is what the State of Florida says about the bill:
House Bill 233 requires state colleges and universities to conduct annual assessments of the viewpoint diversity and intellectual freedom at their institutions to ensure that Florida's postsecondary students will be shown diverse ideas and opinions, including those that they may disagree with or find uncomfortable.
Perhaps, to our law professor, the post-secondary Florida statute really is an "anti-CRT" bill, because it promotes viewpoint diversity and intellectual freedom. Critical Race Theory, as currently used to "filter" other academic content in schools and universities, often does not allow for viewpoint diversity or intellectual freedom.
Why does this university professor object to viewpoint diversity and intellectual freedom in universities? Does he really favor indoctrination in a single point of view in public universities? Does he believe that programs featuring single viewpoints and coercive activism must be permanently funded by government at universities, without regard to the wishes of taxpayers (or without their knowledge)? Is this the general position of other professors he works with?
This is his line when mocking anti-CRT statutes: "The Supreme Court has not allowed the state to prohibit or punish speech because it riles up an audience since 1951." But universities certainly have prohibited and punished many kinds of speech at the behest of the left. Generally with financing by the state.
Does our law professor fear that the left's current power to prohibit and punish speech may be curtailed if the left objects to suppression of CRT indoctrination?
I don't see where the Supreme Court has mandated that the state must finance abusive, coercive or discriminatory speech, such as much of the current speech in schools which is influenced by Critical Race Theory.

A precedent for laws limiting indoctrination in schools
Indoctrination in communism is already illegal in California.
Surprise!
Music
What about this? Mixed races. OK with Kendi?
Hope you have a great weekend.
This is the Thread before the Gardening Thread. Architecture comments allowed.

posted by K.T. at
11:11 AM
|
Access Comments