« Daily Tech News 9 July 2021
|
Main
|
Mid-Morning Art Thread »
July 09, 2021
The Morning Report - 7/9/21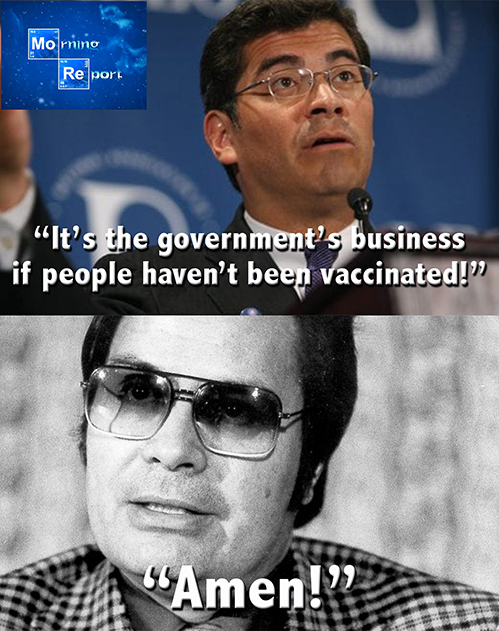 Good morning kids. Friday and the weekend is here. There were a couple of things that I was going to write about this morning, and I may yet get to them since virtually everything in the links is either directly related to or affected by the overthrow of the republic from 11/3/20-1/6/21. But something jumped out at me that both underscores the existential threat to our freedom, and perhaps our lives, as well as hit me on a personal level in the gut. First, the existential threat part:
Republicans have criticized President Joe Biden's plan to go "door-to-door" in areas with low vaccination rates to encourage more Americans to get vaccinated. The White House later clarified that the program involved grassroots volunteers -- not federal officials -- and that the government is not using personal medical records to verify vaccinations. CNN Host Brianna Keilar asked Becerra about criticism that Biden's program is too invasive.

"I wonder if you can answer that criticism: 'It's none of the government's business knowing who has or hasn't been vaccinated.' What do you say?" Keilar asked.

"The federal government has had to spend trillions of dollars to try to keep Americans alive during this pandemic, so it is absolutely the government's business," Becerra responded. "It is the taxpayer's business if we have to continue to spend money to try to keep people from contracting COVID and helping reopen the economy. And so, it is our business to try to make sure Americans can prosper to make sure Americans can freely associate, and knocking on a door has never been against the law."
Emphasis mine. Just fucking wow. The absolute unmitigated chutz-pocritical temerity of this inept, incompetent, megalomaniacal, baby-dismembering, G-dless communist by invoking the American taxpayer - whom he and his co-conspirators have enslaved via the centralization of power and the growth of the Leviathan - after strangling the Trump economic miracle that started to loosen the shackles of wealth- and freedom-crushing taxation and regulation, is just off the freaking charts. The cherry on the parfait is the fact that the two-week lockdown - now going on 68 weeks and counting - was completely unnecessary. Given that the severity and lethality of this virus is now beyond any doubt and provably marginally more than seasonal flu just underscores the uselessness of the lockdowns (and the masks). If there ever is an honest accounting, and considering the entire bureaucracy is corrupted and in service to the Left that is in doubt, there will have been far more deaths from all causes because of the lockdowns than this virus and any other virus.
And with readily available therapeutics like ivermectin, (no longer available since the government has effectively bought up the supply so you can't get it) hydroxychloroquine, zinc, colchicine and perhaps a dozen other readily available and cheap medications that are proven safe and effective against viruses including the Chinese COVID-19, none of this was necessary. Check that; it was necessary, so that the Democrats could invent a crisis by which to sow panic, fear and use it as cover to wipe out whatever waffer-theeen election safeguards there were in order to rig the outcome for Biden.
Psaki-psircling back, I don't even want to think about the long-term health effects of these vaccines that may only be evident years from now. But this evil bastard insists that it's the government's business that everyone gets this injection. The last time I heard that was a recording of Jim Jones over a loudspeaker in the Guyanese jungle imploring parents to force kids to drink the Kool-Aid: the real one, not the metaphorical one. And of course, when they refused, Jones' gun-toting goons gave them the Cass Sunstein "gentle nudge."
This is pure evil. Pure totalitarianism straight up. And that leads me to the item that hit me in the gut this morning:
CNN medical analyst Dr. Jonathan Reiner said Thursday on "OutFront" that he thought it was "time to start mandating" people to get the coronavirus vaccine.

Burnett said, "You know, Dr. Reiner, when you look at this in the broader context, there's still a third of the eligible population in the United States that hasn't got a single dose. The Biden Administration says it's not their role to mandate get people vaccinated. Instead, they said this."

In a clip, President Joe Biden said, "Please get vaccinated now."

Burnett asked, "Given where things are going, is it time to move on from saying please to mandating?"

Reiner replied, "I do think it's time to start mandating vaccines. And I think that the private industry and private organizations will do that. At GW university, where I work, starting in fall, you can't be on campus unless you're fully vaccinated."

He added, "We're at the part of the pandemic now where the problem in this country is that 150 million Americans are not vaccinated. Half of that number is less than 18 years of age. But let's look at the adults. Seventy-five-million adults have chosen not to get vaccinated. That choice has consequences. Now, we can't force you to take a jab in the arm. But there are many jobs, perhaps, that can prevent you from working if you decide not to get vaccinated. So I think we need to be more proactive, and we will see industry take the lead in this."
Emphasis mine. Jonathan Reiner is, for those who may not recall, Dick Cheney's doctor. Bad enough considering that family's lineage. But the good doctor and I grew up and went to school together. It's one thing to have to listen to a piece of shit stranger like Xavier Becerra all but threaten to break down doors and forcibly inject you against your will. It is beyond heartbreaking to see someone you knew and cared about speaking quite cooly and calmly in technocratic jargon that nevertheless belies the Vito Corleone "offer he can't refuse."
From the schools to the boardrooms to the halls of power to Main Street, the rot is ugly, dark and deep.
Johnny, I hardly knew ye.
Have a good weekend.
ABOVE THE FOLD, BREAKING, NOTEWORTHY
CIVIL WAR 2.0: LEFTIST PERSECUTIONS, CAPITOL HILL BLACK WEDNESDAY PROTEST AFTERMATH, DEMOCRAT PUTSCH, AMERICAN DISSOLUTION
NOTE: The opinions expressed in some links may or may not reflect my own. I include them because of their relevance to the discussion of a particular issue.
ALSO: The Morning Report is cross-posted at CutJibNewsletter.com if you want to continue the conversation all day.
Follow us on Twitter: @CutJibNews
Follow us on Instagram:@Cutjibnewsletter

posted by J.J. Sefton at
07:39 AM
|
Access Comments