« Daily Tech News 8 July 2021
|
Main
|
Mid-Morning Art Thread »
July 08, 2021
The Morning Report - 7/8/21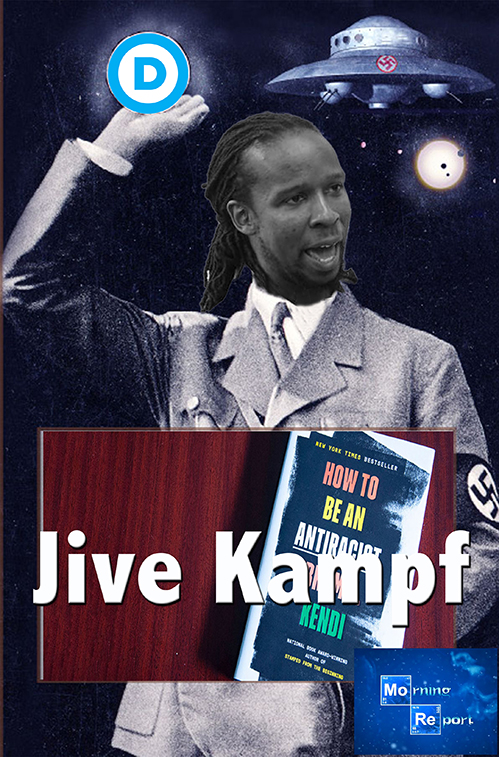 Good morning kids. Thursday and you'll notice that a category that, for virtually all of the past five years since I've been doing these posts, has been down at the bottom of the heap has now vaulted to near the top. I'm talking about Education and What Passes For It, both the category and the literal phrase. You don't have to be Dr. Bloody Bronowski to understand that the situation in which we find ourselves did not happen overnight but took at least half a century or more to come about. We allowed the educational system of this nation to be taken over lock, stock and barrel by anti-American radicals hell bent on destroying it. In fact, one of, if not the most crucial tenet of Communist revolution is the seizure of academia. Take it from good ol' Vladdy Lenin himself:
"Give me four years to teach the children and the seed I have sown will never be uprooted."
They've had at least 60. Everywhere you turn, from politics to the media to the military, to business to your neighborhood and maybe even G-d forbid your own dinner table, we're surrounded. What is it about our nature or the American character that just refuses to recognize existential threats when it's just way too late? It's great that ordinary people, and at least a few individuals on our side of the aisle have woken up, gone to the kitchen, turned on the light and finding a swarm of cockroaches feasting on the crumbs dropping from the maw of a giant radioactive rat with its head turning away from the refrigerator and now staring us in the face, pissed off at the interruption. But look at the clock.
Ridgeway, the CRT teacher, then says that CRT is not being taught in public education -- and that, if it is, that's a good thing.

She tells the camera that "Critical Race Theory is not being taught in schools. It is a theory. It is a lens by which to view history and the way that law and race kind of overlaps [sic] and connects in society.

Ridgeway then backs down. "Can it influence the way that some teachers teach? Uh, yeah, but that's a good thing, right? Because race and racism is [sic] literally the building blocks of this country."

Ridgeway shows CNN the books she uses in her class, including "Critical Race Theory: The Key Writings that Formed the Movement" -- and the late socialist Howard Zinn's error-rich "A People's History of the United States."

"I'm creating little free thinkers and future politicians, and lawyers, and teachers, and changemakers," says Ridgeway. "I'm teaching children to question America. And that's what makes a good patriot."

The public school teacher then explicitly ties her pedagogy to shaping her students' political beliefs and future voting patterns. "Not only do they become critical thinkers, they also become voters, and that is what's scaring a lot of these people because they know that as this generation gets older, a lot of these people that are making these laws will be voted out of office."
"Voted" out of office. You mean like Donald Trump was "voted" out of office. But I digress. Anyway, interesting how this teacher does the Captain Willard non-denial denial of "I know of no such operation, and if I did I would not be at liberty to discuss it." Yeah, Crackpot Disg-race Theory is a myth, or it's "just a lens" with which to examine our history -- the history of an illegitimate stolen land that is structurally racist so as to keep colored people of color permanently enslaved. And Raymond Shaw is the kindest, bravest, warmest, most wonderful human being I've ever known in my life."
If you listen to the way this "teacher" speaks she sounds as mind-numbed, robotic and empty as the kids she abuses and brainwashes on a daily basis. There's a reason for that; she herself was brainwashed from kindergarten all the way through post graduate by others who were brainwashed before her, going back to our old friends Billy Ayers
and Mike Klonsky with the root of this cancer going back to Antonio Gramsci and Theodore Adorno and the Frankfurt School. Look it up on Wikipedia, but read between the lines considering the latter is a house organ of Big Marxism.
And then there's today's poster child for all this garbage, Ibram X. "Crement" Kendi. Seriously, if you read his words, they're so puerile, inchoate, contradictory, irrational and gobbledygook that an unbrainwashed child can rhetorically rip him limb from limb in a debate.
Kendi's problem is laziness, but it's a particularly white kind of laziness. How to Be an Antiracist, like most critical race theory texts, leans heavily on the personal narrative of his particularly uninteresting life. Kendi manufactures victimhood out of thin air, when his father waves to him on the basketball court, he suggests that might have gotten him lynched or killed by the police.

His grandmother dies after a struggle with Alzheimer's. "A disease more prevalent among African Americans," Kendi notes. "There may be no more consequential white privilege than life itself." Black people have a 3.5 percent higher prevalence of Alzheimer's than white people for a disease that is the fifth most common cause of death among American senior citizens.

When your claim to oppression is your grandmother's Alzheimer's, you're low on material.

But Kendi's story is a familiar one to generations of white and then minority immigrants where the first generation labors hard to succeed, and then sends its kids to college only to have them come back as radicals who complain that their parents sold out by abandoning their dreams.

The old boomer paradigm that fed sixties white radicalism has kicked in among minority millennials of the upper middle class with a vengeance. The new black nationalist surge on college campuses largely owes its growth to privileged black men and women like Kendi, whose parents took the corporate route, while the kids rebelled and went into Black Studies . . .

. . . How to Be an Antiracist is meant to be part memoir, but Kendi doesn't have much of a story to tell. That's surprisingly commonplace among critical race theory memorists whose lack of interesting personal content, beginning with Ta-Nehisi Coates' Between the World and Me, has only made their works more successful. If Obama's memoirs offered elements of the exotic, the black middle class activist against whiteness succeeds because his story is familiarly white.

We have come a long way from Eldridge Cleaver's Soul on Ice or Alex Haley's dubious Malcolm X biography. Today's black nationalist is a suburban college kid nurtured by a middle class two-parent family who denounces the suburbs, the middle class, and families like his as racist.

But the familiar problem, which Kendi only loosely describes in his chapter on dueling consciousness, and which is better embodied by the title of Black-ish, is that the generation of middle class black parents who kept their children safe from crime (Kendi's father put up a basketball court in their backyard because he was worried about his son getting shot) succeeded all too well. Like too many generations of Irish, Italian, Jewish, Latino, and Asian parents, they raised radical woke snowflakes who are good for little except complaining . . .

. . . How to Be an Antiracist doesn't convey a racial crisis, but the crisis of an American upper middle class which has lost touch with its own roots and whose children have become an enemy of its aspirational values. That, more than anything else, is leading the country into the kind of shopworn Marxism that Kendi and other radicals peddle as narcissistic identity politics.

Defining everyone, including his parents, as racists, interpreting and reinterpreting the world through academic lenses, is the hobby of privileged people who don't have real problems.

Ibram X. Kendi may not have real problems, but the rest of the country isn't so privileged.

And Kendi has become another of the problems undermining the black community, destroying the middle class life his parents worked so hard to achieve, and tearing apart America.
As usual, Daniel Greenfield does an outstanding job in exposing this dangerous, vapid fraud. And now that parents are finally waking up to the wolf at our throats, naturally the defilers of our children are screaming bloody murder and "racism!" while hiding behind the First Amendment.
Let me say here and now, and this might shock you, but to hell with the Constitution. They have destroyed that document now that they have in effect overthrown the country on which it was based. We are in essence political prisoners, internal exiles in a territory that was the USA. Trying to fight by rules that our new overlords use alternatively as a shield and a cudgel to attain power is useless. We have got to wrest the next generation away from these bastards if we have any chance of overcoming them, as well as the radical homosexuals intent on their being reduced to catamite status. Thank you Gay Mens Chorus for "coming out of the closet" and confirming that nightmare.
If we survive this "premeditated invasion" paraphrasing FDR, we must make sure that this cancer never metastasizes again. If having a first amendment means giving rise to what we are suffering with right now, then to hell with the First Amendment.
And abolish the goddamn teachers unions.


ABOVE THE FOLD, BREAKING, NOTEWORTHY
"The Biden [junta], the bureaucracy, military, media, academia, Silicon Valley, and corporate boardrooms across America don't know how to explain, much less solve, our mounting crises."
Scapegoats, Boogeymen, and Hobgoblins

Daniel Greenfield: "Critical race theory makes children into the enemies of their parents."
Ibram X. Krement's Parents Worked to Give Him a Good Life. He Called Them Racists.

"Too bad the terrorists aren't calling it quits."
Biden Ends War On Radical Islamist Terrorists "Over Here" and "Over There"
CIVIL WAR 2.0: LEFTIST PERSECUTIONS, CAPITOL HILL BLACK WEDNESDAY PROTEST AFTERMATH, DEMOCRAT PUTSCH, AMERICAN DISSOLUTION
NOTE: The opinions expressed in some links may or may not reflect my own. I include them because of their relevance to the discussion of a particular issue.
ALSO: The Morning Report is cross-posted at CutJibNewsletter.com if you want to continue the conversation all day.
Follow us on Twitter: @CutJibNews
Follow us on Instagram:@Cutjibnewsletter

posted by J.J. Sefton at
07:49 AM
|
Access Comments