« Daily Tech News 7 July 2021
|
Main
|
Mid-Morning Art Thread »
July 07, 2021
The Morning Report - 7/7/21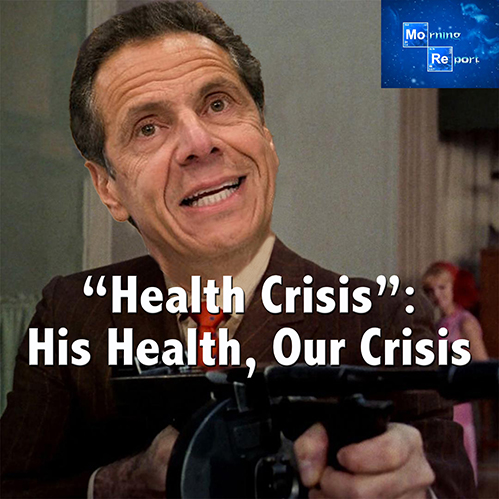 Good morning kids. Wednesday and I've got to hand it to friend and co-blogger CBD. He called it. Not only is Angel of Death Cuomo, a man (on paper) whose resume includes helping to destroy the housing market, unleashing a biological weapon that killed upwards of 15,000 (that we know of) elderly nursing home patients, quashed a corruption inquiry that he initiated when the evidence started pointing in his direction, as well as groped, fondled, abused and intimidated at least a half dozen (that we know of) female staff, and fully on board the anti-American leftist agenda just as a political expedient for the acquisition of power, it is evident that despite all the huffing and puffing a few months back that his days were numbered, he is more than likely going to get away with it.
Possible vice presidential pick when Biden gets carted off to a slab at the Cold Stone Creamery? Doubtful for a number of reasons. But even though the heat is off because of all of the aforementioned that would have destroyed anyone else (mostly with an "R" after their names) ages ago, the absolute disaster of violent crime in the streets of New York's cities and other Democrat-controlled hells-on-earth - the blame for which lies directly at the feet of Cuomo and every Democrat politician who condoned defunding the police, decriminalizing crime and giving braindead "victims" of "white supremacy" the "space to destroy", the Democrat-Propaganda Complex's insane attempt to gaslight the public that it was the GOP that wanted to defund the police has exploded in their faces. So, with the heat turned back on Cuomo and his comrades, the time has come to once again blame the real culprit. No, not themselves. GUNS. But it's not about guns. And it's not about butter either.
On Tuesday, Gov. Andrew Cuomo (D-N.Y.) pioneered a new strategy to grasp for near-dictatorial power: declaring gun violence in the state of New York a "public health crisis" and a "disaster emergency." Cuomo touted his "first-in-the-nation" initiative as a positive step for New York, rather than an excuse to circumvent the legislature. Cuomo even cited his own tyrannical abuses during the [Chinese] COVID-19 pandemic as precedent for the overreach . . .

. . . Democrats have dropped hints that they might use various "public health" emergency declarations as an excuse to grasp power and circumvent the normal legislative process. Democrats have filed a bill to declare a national emergency on climate, for example. President Joe Biden himself has called guns a "public health crisis," and perhaps Cuomo intends to inspire Biden to run roughshod over Congress.

"We're building New York back better than ever before, but part of rebuilding is addressing the systemic injustices that were exposed by [Chinese] COVID. If you look at the recent numbers, more people are now dying from gun violence and crime than [Chinese] COVID -- this is a national problem but someone has to step up and address this problem because our future depends on it," Cuomo said in a statement on the executive order . . .

. . . Cuomo's executive order will declare a gun violence disaster emergency; require the New York Division of Criminal Justice Services to gather and share incident-level data from police departments on gun violence; create the Office of Gun Violence Prevention; direct resources to "emerging gun violence hot spots;" invest $138.7 million in intervention, prevention, and jobs programs for at-risk youth; and create a new State Police Gun Trafficking Interdiction Unit "to stop the flood of illegal guns that come into New York from states with weak gun safety laws."

In other words, New York will have a police unit trained to prevent Americans who live in states that honor the Second Amendment from bringing their firearms into the Empire State. Not only has Cuomo made the Orwellian claim that gun violence is a matter of "public health" rather than of individual evil and vice, but he has also suggested that states that protect gun rights have "weak gun safety laws . . ."

. . . [Mass death, incompetence and political intimidation of citizens] This is the record Cuomo is touting when it comes to fighting COVID, and it should terrify New Yorkers that the governor intends to fight the "gun violence public health crisis" "just like we did with COVID."

If Cuomo keeps his word on that, New York will get more violent even amid a government crackdown on gun ownership that targets Jews, forces unarmed victims to live near known violent criminals, and fines gun shops whose owners decide to mock the governor. In other words, "gun lockdowns" will exacerbate the problems while making Cuomo even more powerful.
This is textbook Cuomo and by extension textbook Democrat Leftist. Create a problem, blame your political opponents, demand legislation or other means to supposedly "fix" the problem," watch as the the fixes make the problem orders of magnitude worse, lather-rinse-repeat while law-abiding decent Americans lose more of the rights and their livelihoods as you gain more and more power, control and lucre.
. . . his initiatives were all plainly chosen with an eye on not offending lefty sensibilities (after all, the hard-left Assembly still has an impeachment probe going). They won't do much to turn the tide that over the holiday weekend saw 14 shot in Buffalo, five in Syracuse and 26 in New York City in the latest statewide surge in gun crime.

To do that, he'd need to start working to un-do all the foolish laws passed on his watch. But there's not a word in his long release about fixing the disastrous bail reforms that he so proudly signed onto -- not even the one that guaranteed that nobody would see jail time "just" because he got caught with an illegal gun . . .

. . . Heck, his new state Office of Gun Violence Prevention will report to the state Department of Health -- the very agency that so bungled the pandemic's onset, to deadly effect for thousands of elderly nursing-home residents.
Emphasis in that paragraph mine. When Cuomo, citing a public health crisis, declares private ownership of firearms illegal "for the duration of the crisis" you can bet owning a firearm at that point is going to be illegal, unless of course you resemble ex-President Obama's what-if son Trayvon Purple Rain Purple Drank Punkass People-Eater.
This is risible in the extreme, and yet he and any other Democrat governor or mayor who jumps on this bund-wagon is playing with fire. And you can also bet your ass that all of this is related to the otherization/demonization of the 80-plus million Trump voters who REELECTED him as "white supremacists," "insurrectionists" and "domestic terrorists."
House Democrats passed a resolution last week creating a select committee to investigate the circumstances surrounding the Jan. 6 riot. The pro-Trump rioters stormed the Capitol in an attempt to halt the certification of Biden's victory in the 2020 election, which former President Donald Trump falsely claimed to be fraudulent or "rigged." At least two rioters died as a direct result of the violence, Ashli Babbitt and Rosanne Boyland. At least two Capitol Hill Police officers committed suicide within weeks of the attack.

"Not even during the Civil War did insurrectionists breach our Capitol, the citadel of our democracy. But six months ago today, insurrectionists did. They launched a violent and deadly assault on the people's house, on the people's representatives, and on the Capitol police sworn to protect them, as our duly elected Congress carried out the sacred ritual of our republic and certified the Electoral College vote," Biden said in a statement.

"This was not dissent. It was disorder. It posed an existential crisis and a test of whether our democracy could survive -- a sad reminder that there is nothing guaranteed about our democracy," he added.
The gibbering, venal, child-molesting stooge masquerading as "president" is right. Except it is his handlers and the entire corrupted instrumentalities of our government that caused the crisis and are using it as a pretext to wipe out "by any means necessary" any voices of opposition. And aside from the fact that this never was a "democracy" and sure as hell is not one now, our freedoms and our rights are not guaranteed. They must be fought for.
And we are fast approaching a time when fighting won't be just a figure of speech.


ABOVE THE FOLD, BREAKING, NOTEWORTHY
CIVIL WAR 2.0: LEFTIST PERSECUTIONS, CAPITOL HILL BLACK WEDNESDAY PROTEST AFTERMATH, DEMOCRAT PUTSCH, AMERICAN DISSOLUTION
NOTE: The opinions expressed in some links may or may not reflect my own. I include them because of their relevance to the discussion of a particular issue.
ALSO: The Morning Report is cross-posted at CutJibNewsletter.com if you want to continue the conversation all day.
Follow us on Twitter: @CutJibNews
Follow us on Instagram:@Cutjibnewsletter

posted by J.J. Sefton at
07:38 AM
|
Access Comments