« Mid-Morning Art Thread
|
Main
|
Tucker Carlson: A Journalist Contacted Me to Tell Me the NSA Leaked My Emails to Him and Other Journalists »
July 07, 2021
The Morning Rant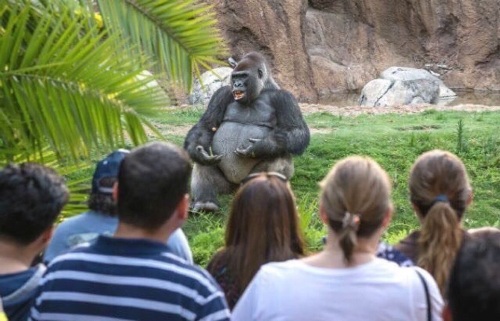 Ace showed this one yesterday, but I have thoughts: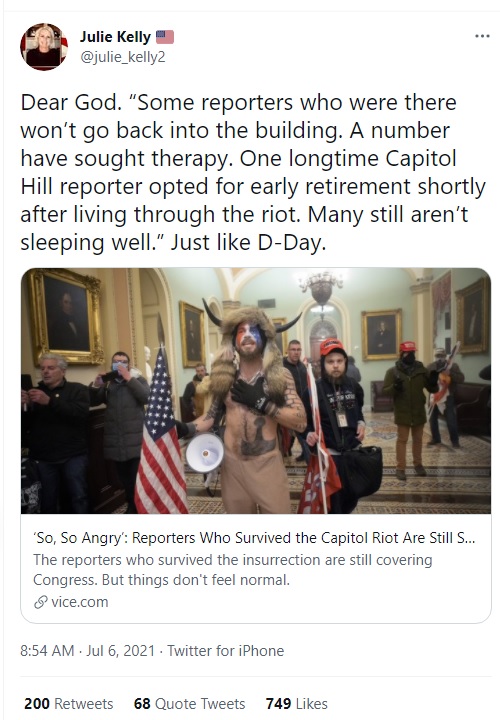 I don't think this is fake
This relates to Here's something I grabbed from another source on this subject. I lost the attribution, so I don't know for sure who it's from, but it may have been Vox Day:
A large percentage of SJWs are prone to various forms of mental illness; being competitive with regards to their victimhood, it is not at all uncommon for them to openly brag about being on various antidepressants and other psychiatric medications. I have been told by observers that the majority of commenters on several SJW sites have publicly made reference to their being prescribed such medications.
So we're dealing with some extremely fragile, unbalanced people here. You'd think that, being reporters, they would have some professionalism, but no, these are the snowflakes who spend their entire lives in the progressive bubble, which, according to the science, is pretty much impermeable. 50 years ago, they would all be friends with Pauline Kael, who (allegedly) wrote that she could not believe that Nixon won election by a huge landslide in 1972, because nobody she knew voted for him. They do not understand how anyone can have different opinions then theirs. Other opinions confuse and frighten them. They're OK with the BLM/antifa riots and the anti-Kavanaugh protestors occupying the Senate building because they're on the same team. Their tactics may be a bit different, but hey, ultimately they all want the same (commie) things.
Oh, and then there's the violent protests at Trump's inaugural. Remember those? Yeah, they're cool with that, too.
So they're more threatened by an unarmed, non-violent grandmother wearing a MAGA hat being let into the Capitol building by the police than antifa thugs throwing Molotov cocktails at a federal courthouse.
And this is one of those times when I wish that Democrats actually knew some history older than 24 hours. Because they keep saying that Jan. 6th was the worst day in American history since (a) Pearl Harbor, or (b) the Civil War, or perhaps even (c) the War of 1812 when the British army came down from Canada and burned Washington DC. They forget this incident, where real terrorists stormed the capitol with real guns and actually shot people:


In Contrast, This Soldier Went Through Actual Hell: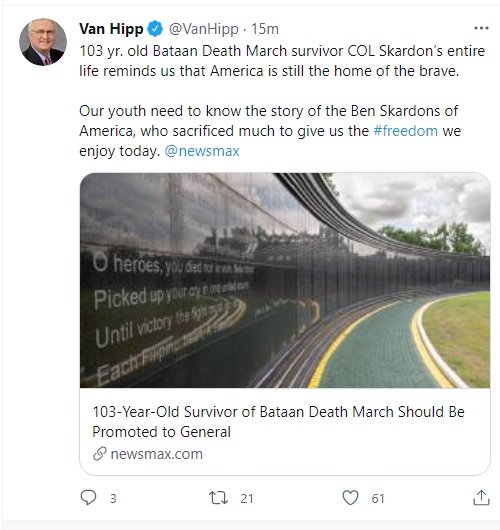 Irrefutable Evidence Right Here: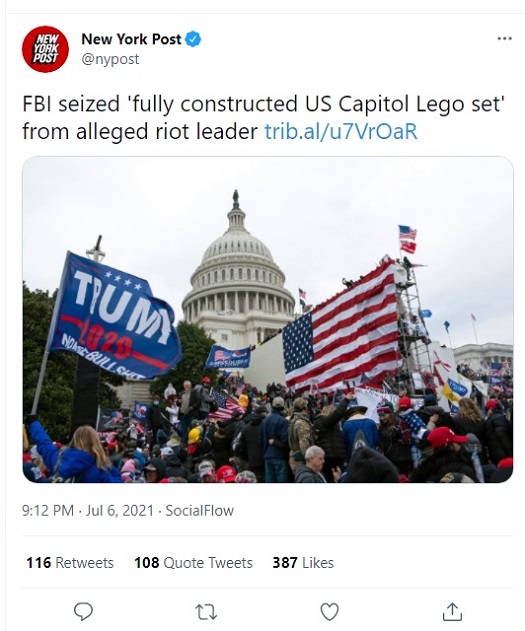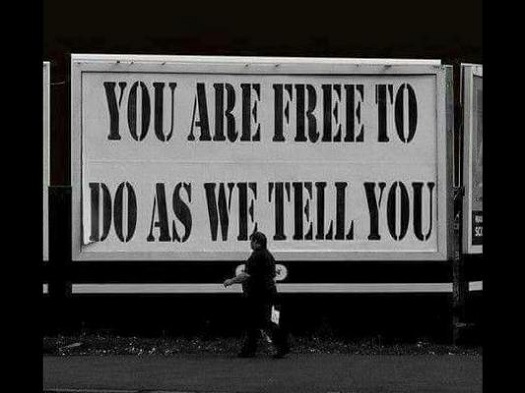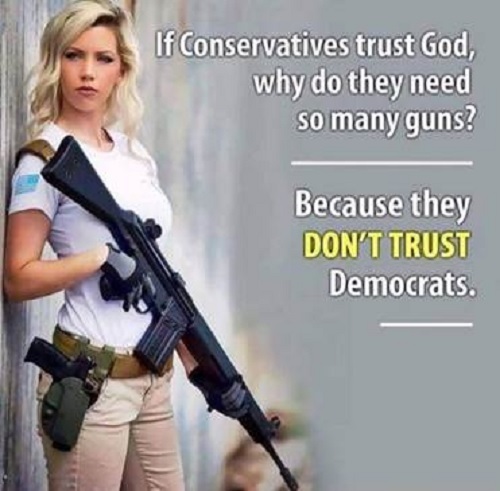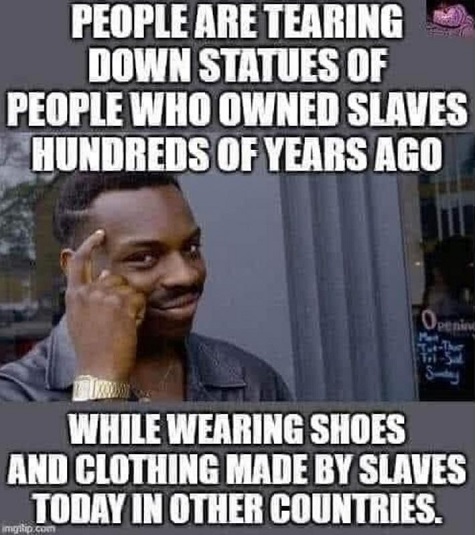 Prophet: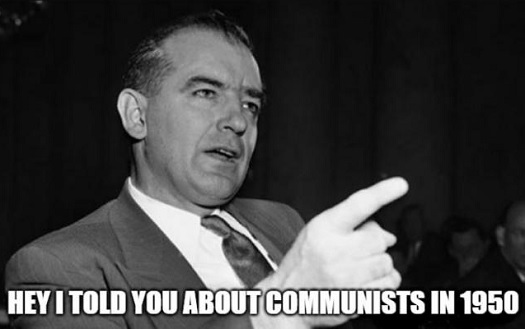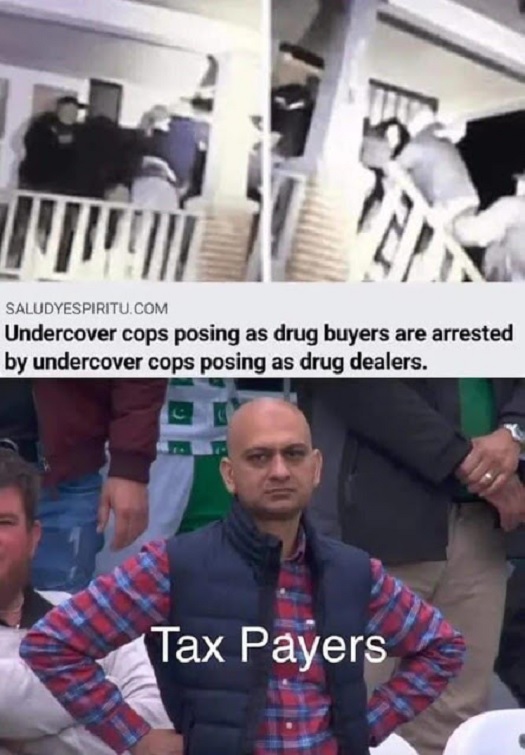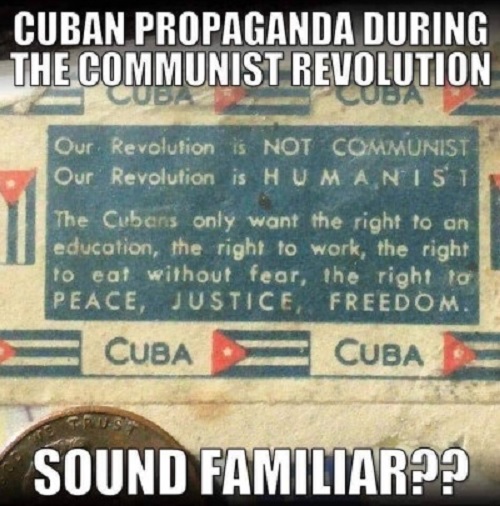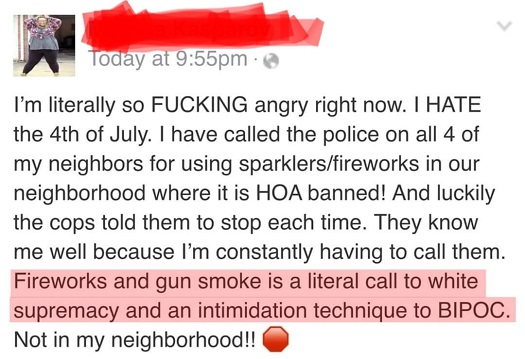 Is This Your Dog?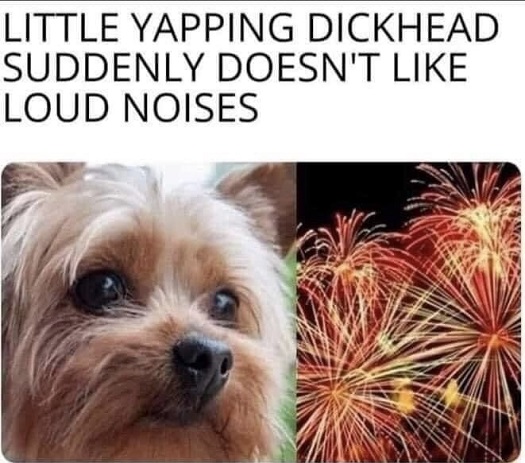 AoSHQ Weekly Prayer List
Please submit any prayer requests to "Annie's Stew" at apaslo atsign hotmail dot com.
Prayer Requests:

5/21 – SB's mother was just diagnosed with cancer; they will get the full results on Wednesday. He requests prayers for her and for his father.
6/16 Update – The diagnosis is that the cancer can be held back and even reduced with simple medication. That will work for a year or two with no reduced quality of life; after that we (and the doctors) don't know.

5/24 – Katya, the designated driver sends an update on her cancer treatments. She has finished her 33 rounds of radiation with minimal side effects and is starting to feel great. This week she stats a chemo pill for the next 4 months. She also will continue to receive Keytruda infusion treatments every 3 weeks. As far as she knows the cancer is gone but will not know for sure until she receives the final scan. She sends her thanks for the love and prayers.
6/21 Update – Katya says she is doing well but dealing with a myriad of minor but annoying side effects: fatigue, sleeplessness, erratic heartbeat, hot flashes, increased appetite, water retention, etc. They are also treating minor lymphedema. She is taking her second round of the chemo pill and tapering off the massive dose of prednisone. She will finish Keytruda infusions at the end of September. She says "thank you all for your continued love and prayers".

6/1 – Tonypete asks for prayers for his lifelong friend who is approaching the end stages of ALS. For a myriad of reasons, the friend could use monumental amounts of prayer and petitions for his immortal soul.

6/2 – Pookysgirl requests prayers for Pooky. His surgery in mid-March to fix his nose was successful, but it seems to have "woken up" his PTSD. He has a great therapist, but needs to be approved for SSDI, and Pookysgirl needs to get approved for the VA Caregiver program so she can spend more time taking care of him.

6/2 – grammie winger requests prayers for a close family member who is in a dire situation, and in need of God's great mercy and lovingkindness. The situation is urgent and awful, and their family cannot fix it on their own. They need God's wisdom, strength, and most of all, mercy.

6/9 – Inogame sends this prayer of thanks and a request: On Feb 4th this year my wife and I got news that she miscarried who would have been our 3rd child. We had just discovered her pregnancy; it was very early. We had just started to get excited about it when she woke up bleeding. We were both devastated, and I was on the blog that day and needed to talk about it and there was some great support that I really needed at the time. I'm not sure this is the right forum or not but if I may I'd like to thank, squid_hunt, Bozo Conservative....outlaw in America, The Central Scrutinizer, Insomniac - Zhou Bai-Den Is Not My Chairman, redridinghood, FenelonSpoke, Nora, vmom Fiat justitia ruat caelum, bonhomme, Roland THTG, Synova, AnnaS, Mary Poppins' Practically Perfect Piercing, RondinellaMamma who would like to have her country back, please., Pug Mahon, Confuzzled, CN loves Biden, Biden is the greatest, josephistan, BackwardsBoy, who did not vote for this shit, Ladyl, RedMindBlueState, banana Dream, It's me donna and NaCly Dog. Their kind words and prayer really helped and means so much to me. If I missed anyone who posted I apologize, it was not intentional. I'd also like to add shortly after my wife became pregnant again, and so far, everyone is healthy. We are on schedule to have another daughter in November. If you could please pray for continued health, I would appreciate it.

6/16 – Agamemnon asks for prayers for God's comfort and peace for the family of a young man named Levi, who played baseball with Agamemnon's sons, who passed away from leukemia. He was 20 years old, a bright and cheerful guy who, despite the challenges of battling cancer, over the last 10 months, inspired and encouraged others.

6/16 – Joe Mama needs prayers for healing and avoidance of bankruptcy. He went to the ER on 5/27, where they discovered 4 DVTs (blood clots) in his right leg plus another in his left leg, and a pulmonary embolism. He's had 3 more trips to ER for complications since then. They also incidentally discovered degenerative disk disease in two vertebrae on of the CT scans of his lungs.

6/18 – Ladyl requests prayers for Danielle and Kristin, who lost their home during Covid, but are now both working. Kristin has vasculitis, which is causing nerve and neurological issues.

6/16 – Lee Also requests prayers for her friend, a lung transplant recipient we prayed for at the end of last year. He was doing well with the transplant but recently got an infection. He's back in the hospital and getting tested and prodded. He's not doing well at all.
6/24 Update – Lee Also's friend passed away on 6/24.

6/26 – NaughtyPine needs prayers. Both of her parents have been diagnosed with cancer this week, and she will be helping with transportation to appointments and treatment. She lives about 4 hours away from her parents, so will be living with them at least part of the time. She asks for prayers for healing for her parents and "Coping Gainzz" for herself.


For Healing:

6/15 – Hands requests prayers for his father, who has cancer and will be going through radiation and chemotherapy this summer. Please pray for a successfully treatment and beating the cancer.

6/15 – CH needs prayers for his heart surgery on Thursday (6/17), replacing a valve and a bypass. Any prayers are appreciated!

7/03 – Slapweasel requests prayers for Psych_bear's dad, who just found out he has stage 4 kidney disease.

7/03 – OregonMuse requests prayer for Mrs. Muse, who suffered a broken hand yesterday as the result of a fall. This is nothing compared to what some of you on this list have to deal with, but your prayers would be appreciated nonetheless. Thank you.

For submission guidelines and other relevant info, please contact Annie's Stew, who is managing the prayer list. You can contact her at apaslo at-sign hotmail dot com.
Romans 8:26-27:
[26] In the same way, the Spirit helps us in our weakness. We do not know what we ought to pray for, but the Spirit himself intercedes for us through wordless groans. [27] And he who searches our hearts knows the mind of the Spirit, because the Spirit intercedes for God's people in accordance with the will of God.
If you see a prayer request posted in a thread comment, feel free to copy and paste it and e-mail it to Annie's Stew. She tries to keep up with the requests in the threads, but she's not here all of the time, so she may not see it unless you e-mail it to her.


Who Dis: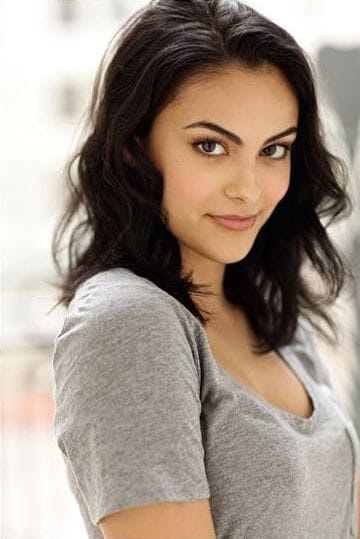 Photo 2
Photo 3
Photo 4
Photo 5
Photo 6
Photo 7


For the 'Ettes: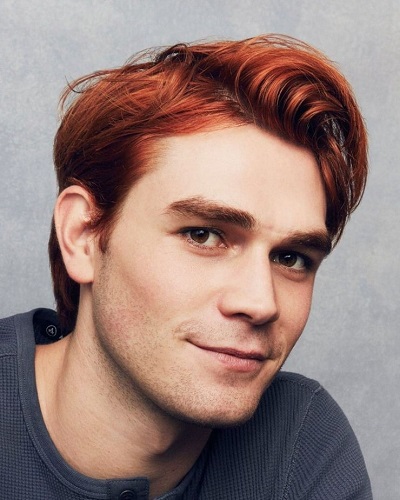 Photo 2
Photo 3
Photo 4
Photo 5


Monday Who Dis: Mrs. Muse and I started to watch the 2018 adaptation of the Agatha Christie whodunit Ordeal by Innocence and as the first episode progressed, I remember thinking 'gee, this seems to a bit hard-edged for a Christie mystery', but we kept at it. But then the preview of the 2nd episode showed a scene with two men kissing, so that was the end of that. I have no idea whodunit. But it did feature today's 'who dis', which are two Brit actors, Alice Eve, and Matthew Goode.


Today's Edition Of The Morning Rant Is Brought To You By Blackberry Cobbler: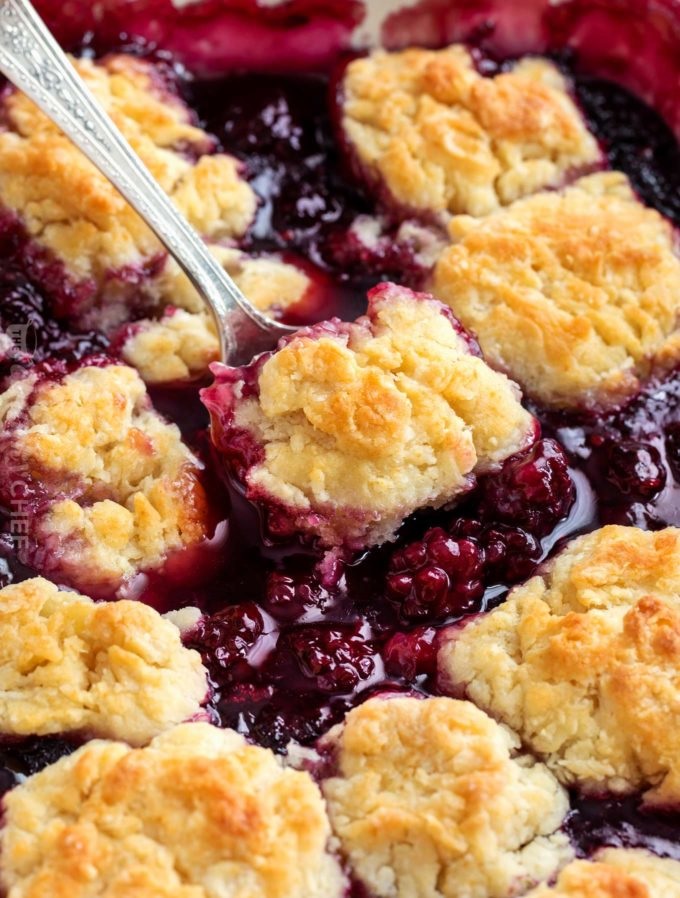 (click for bigger cobbler)
Cobbler recipe available here.


posted by OregonMuse at
11:18 AM
|
Access Comments