« Daily Tech news 5 July 2021
|
Main
|
Mid-Morning Art Thread »
July 05, 2021
The Morning Report - 7/5/21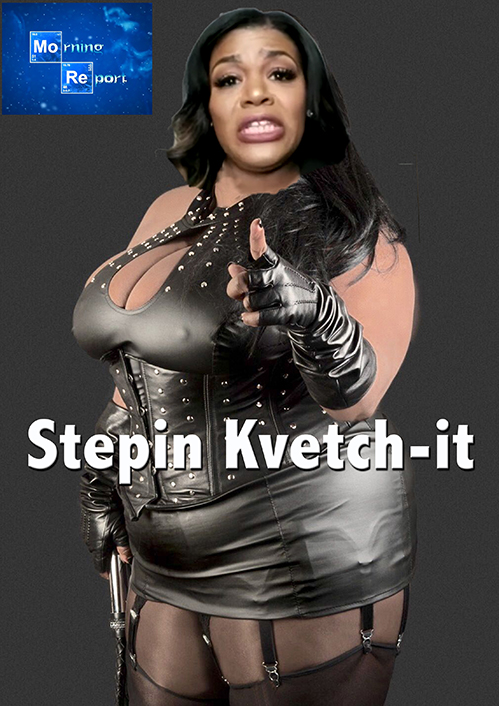 Good morning kids. Hope your Independence Day was a good one in spite of the fact that the nation that gained its independence 245 years ago no longer exists, certainly not in the way those who risked their lives, their fortunes and their sacred honor in establishing it, nor those who gave their lives to preserve it would ever have imagined it. It's difficult to get all wee-wee'd up about the non-stop torrent of anti-American agitprop spewed out from all quarters these days 25/8/366 at maximum volume and intensity.
Difficult, yet not impossible as was demonstrated from out of the gaping, open sewer of degenerate shit-whore Cori Bush.


. . . in reference to people, Bush tweeted, "When they say that the 4th of July is about American freedom, remember this: the freedom they're referring to is for white people. This land is stolen land and Black people still aren't free."

Bush's congressional campaign in 2020 aligned itself with the [Marxist terrorist] Black Lives Matter apparatus. She became the first black congresswoman from Missouri. She has regularly framed politics in racial terms, using phrases such as "white supremacy," "systemic racism," "black liberation," and "racial justice," and "structural inequity."

She called for unspecified "reparations" in pursuit of "equity." According to Bush, opposition to the neo-Marxist paradigm of "critical race theory" is a "racist dog whistle."
Not to be outdone, Bush role model and bipedal crime against humanity Maxine "Mikvah" Waters emitted this noxious cloud of flatus:
In one tweet, Waters attacked the Declaration of Independence and questioned its words and meaning.

"July 4th... & so, the Declaration of Independence says all men are created equal," Waters tweeted. "Equal to what? What men? Only white men? Isn't it something that they wrote this in 1776 when African Americans were enslaved? They weren't thinking about us then, but we're thinking about us now!"
The only thing that is more horrendous than these half-truths, distortions and outright lies about the founding of the nation formerly known as the United States of America is the fact that they were met with either genuflecting equivocation, weak-as-piss explanations or, worst of all, silence from those allegedly on our side of the aisle. Whether elected officials or the political punditry or regular folks who are just clueless, they do not understand with whom they are dealing nor the fact that we are this close to a hot civil war. Trying to engage in a rational discourse as if this was 1951 instead of 2021 is to be deaf, dumb and blind to that fact.
Critical Race "Crackpot Disg-Race" Theory - which is more and more being viewed as "settled science" than theory - is a blood-libel myth that can be exploded within a few seconds. If America, capitalism, Judeo-Christianity, western civilization and all that goes with them are inherently racist systems built and maintained for the sole purpose of perpetuating white supremacy and rigged to keep blacks down, how does one explain the presence of Cori Bush and Maxine Waters? How is it that they are even given a platform to speak let alone be allowed to hold elective office?
Oprah Winfrey has amassed a fortune estimated to be in the neighborhood of around $3.5 billion dollars. Irrespective of what one thinks about her talent, personality or politics, the fact remains she is the wealthiest woman in America and one of the wealthiest on the planet.
Same deal with Barack Obama; twice elected president in a nation that, despite the artificially induced demographic shifts via open borders and decreased fecundity of caucasians, is still majority white.
Let's play along with Derrick Bell and Ibram X. Crement and assume they are correct that America is an inherently racist nation, built on white supremacy and that racism is actually part of caucasian DNA. If that is true, then there can only be two possibilities that account for Oprah Winfrey, Barack Obama, Waters, Bush and all the rest:
1 - They're willingly playing the part of Uncle Tom and Aunt Jemima in a bizarre minstrel show, doing a shuck-and-jive act in blaming whitey as they rake in millions. But that makes no sense. It is dictionary definition cognitive dissonance to believe what they spout out while ignoring from whence it emanated because it means. . .
2 - America cannot be as they claim because they never would have been allowed to achieve the status and wealth they so obviously had.
It really is as simple as that. Some people do understand this. In fact a lot of minorities are just not buying into this garbage, but you'd never know that if all you read was the agitprop media. Another central tenet of CRT as well as the original Communist-inspired myth, sadly reinforced by hip-hop "culture" is the ridiculing and shaming of blacks who want to go to school to actually learn. The victimization lie reinforces that vicious cycle of hopelessness and uselessness in trying to make it in the white man's world, so-called. And yet, year after year, inner city parents who actually give a shit about their kids are desperate to get them the hell out of public schools and into a charter school. That's why the latter is such a lightning rod and nemesis of Brainwash Inc., aka the NEA and UFT.
Yes, CRT is being rejected and fought against by white parents in affluent areas but it is also being rejected by non-white parents across the country as well. Again, you'd never know it if you read the usual house organs. It's why what Bush and Waters spewed out got a resounding rejection, from blacks and whites alike:
Darrell B. Harrison, podcast host: "Cori Bush is an angry black woman -- a very angry black woman. Her anger is eating her alive from the inside out. I pity her because the 'freedom' she seeks is not the freedom she needs. As such, freedom will continue to evade her as long as she carries that anger within her heart."

Leo Terrell, political commentator: "Do not respond to this idiot: She just wants attention: She hates herself!!!"

Kimberly Klacik, former GOP congressional candidate: "I could say something rude, but I think it's best to make sure we have someone running against her & ensure that individual has our full support along with access to every resource necessary to take her seat in 2022" . . .

. . . Allie Beth Stuckey, podcast host: "If you believe this, the moral thing to do would be to leave for a more virtuous country where black people are free and the land wasn't stolen. Maybe there you'll be able to run for political office."
BINGO. Meanwhile, millions upon millions of non-whites from every third world shit hole on the planet, especially from south of the Rio Grande, risk life and limb and spend whatever meager finances they have to come here, legally or illegally; a land that human cancer like Cori Bush, Maxine Waters, Oprah and Obama denigrate and demean as irredeemably racist and intolerant, run for the sole purpose of perpetuating white supremacy to keep colored people of color down.
You know, the next time I encounter a leftist (who does not know my secret identity) I'm going to argue "I see all these people coming over the border and it's just not fair! We are stealing from Mexico and Guatemala and El Salvador the flower of their youth! Their countries need them more than ever and we are taking their best and brightest! Amnesty is nothing more than the cruelest form of white supremacy there is by luring them under false pretenses to a land where they'll never have a chance! It's stealth imperialism!" Watch their heads explode.
Meanwhile . . . Achmed Stabarabbi is, get this, a violent, Jew-hating jihadist. As Robert Spencer notes, "Boston police are still searching for a motive."


ABOVE THE FOLD, BREAKING, NOTEWORTHY
Victor Davis Hanson: "Our adversaries can't quite believe their good fortune. Had they thought up ways to divide and impoverish America, they could not have improved on our own collective meltdown."
The Genesis of Our American Collective Meltdown

"Children must be alienated from their parents -- and what better way to accomplish that than by enticing them into decadent and even deviant behaviors?"
Mainstreaming Pedophilia

"The global world's long logistical tail is being raided and there aren't enough sentry programmers available to guard a line strung out from hell to breakfast. When the risks of a long global supply chain begin to outweigh the costs of a shorter but more assured supply, the virtues of borders and nationality will reassert themselves -- with political consequences. Until then, globalism remains the creed of the Western elite."
Joe Biden and the Spanish Armada
CIVIL WAR 2.0: LEFTIST PERSECUTIONS, CAPITOL HILL BLACK WEDNESDAY PROTEST AFTERMATH, DEMOCRAT PUTSCH, AMERICAN DISSOLUTION
NOTE: The opinions expressed in some links may or may not reflect my own. I include them because of their relevance to the discussion of a particular issue.
ALSO: The Morning Report is cross-posted at CutJibNewsletter.com if you want to continue the conversation all day.
Follow us on Twitter: @CutJibNews
Follow us on Instagram:@Cutjibnewsletter


posted by J.J. Sefton at
06:50 AM
|
Access Comments