« Daily Tech News 1 July 2021
|
Main
|
Mid-Morning Art Thread »
July 01, 2021
The Morning Report - 7/1/21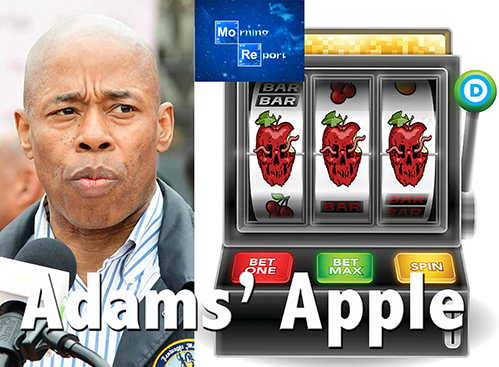 Good morning kids. Thursday and as July begins, things are heating up, especially in the absolute debacle of the Democrat primary for the NYC mayor's race. For many of you, I know the sentiments about this city are colorful, manifold and direct. Hell, I still live here and I feel the same way. But what's going on here has ramifications politically, not just in deep blue urban shit holes which, sadly, tragically, New York has been rapidly transformed into, but into suburbia and exurbia as well. Plus, the parallels between what happened on the night of November 3rd-4th 2020 are in your face. Funny how declarations of "stolen elections" aren't the realm of tinfoil hat conspiracy nutters. Not when it's Democrats hurling the accusation.
From Election Day to whenever the result arrives, via a puff of smoke or whatever means they choose to announce it, chicanery and shenanigans are more than merely possible. There's a lot at stake in this election; not least is the possible discrediting of Bill de Blasio and the entire "defund the police" project. Eric Adams, a former cop, ran on a law and order platform. By the end of Election Day, he looked to be cruising to a win. In deep blue New York City.

That's no small thing.

Then all Hades broke loose when the city released a vote total that included 100,000 more votes than were cast on Election Day despite the fact that the absentee vote hadn't been counted yet.

Adams raised his hand and questioned what was going on, as anyone might expect in the circumstances. Liberals pounced on him. Glenn Greenwald caught 'em pouncing and also called them out for trying to slip away once the city announced that it somehow, accidentally, included 135,000 test votes in its ongoing actual vote count.

Among the questions all this raises is, just how incompetent is Bill de Blasio's New York City?

Another question this raises is, are the Democrats who run that city gaming the ranked-choice count to keep Adams out of Gracie Mansion?

His win could humiliate de Blasio... Adams ran on undoing what de Blasio has done to the NYPD. All that has to be taken into account.

Plus, Adams is black . . .

. . . The left is living in dread fear of losing minority votes. That's powering their divisive and nakedly racist policies now. They actually believe that undermining the entire American project and teaching us all to hate each other is their path to retaining power. And they may be right! . . .

. . . There's motivation for Democrats to cheat, and where they can, they do. They control everything in New York. Eric Adams poses a grave threat to them.
There's a lot at stake here, and as important an issue that it is, it's not just about the abolition of policing. Don't forget that just as this is erupting in New York, the election audits in Georgia and Arizona are coming to a head - - election audits that the Democrat Propaganda Complex were and still are shrieking their heads off about. Well, if Joe Biden really did win legitimately in a landslide and all this talk about the 2020 election being stolen is nonsense, then QED an audit would prove that fact, would it not? Now, Adams, a black man who is obviously getting fucked over by his own party puts that party in a bit of a pickle.
As New York and dozens of other cities burned over the course of last summer, the official response from everywhere was to defund the police. Now that position, despite the best efforts of Propaganda Inc. to brainwash you otherwise is political poison. And defunding the police is also a central pillar of BLM, Antifa, Crackpot Disg-Race Theory and all the other cancerous poison being force-fed on us. They are inextricably linked. If one goes down, then the danger is the entire house of race cards collapses in on itself with it. Sure, the pretzel logic explanations and denunciations will flow. Already, pinheaded talking fistulas like Piss-Hockey Psaki are not only distancing themselves from the entire defund the police madness, they actually have the unmitigated gall to declare it was the Republicans who are defunding the police! A brontosaurus with the esophageal capacity of Kamala Harris ain't gonna swallow that one.
Again, Eric Adams is black and a Democrat. Trivial as it might seem, it is a big deal. If a toilet floods in Atlanta again, or a blackout suddenly happens in the Baking Apple and Adams' lead evaporates in the dead of night, he is not going to go quietly.
A few observations:
Ranked choice voting is nothing more than yet another attempt for the powers that be to control the outcome of elections. No doubt it was in that dead (for the moment) HR-1/S-1 "For the People" Act. It's a friggin' insult to the notion of fairness. One legal registered voter with valid proof of identity, one vote, one day only. The one with the most votes at the end of the day wins. Yet somehow, this is racist and disenfranchises everyone but male white supremacist insurrectionists. And to ask how it does that is male white supremacist insurrection, so don't bother.
People are fleeing New York, as well as California and all the other areas of mostly peaceful scorched earth rioting. The question is, after all of this, are they going to continue to behave as Mark Levin labels them, locusts that vote for the people and policies that caused them to flee in the first place? For sure, some will. But unlike migrations in the past when the country was relatively stable and people were leaving for tax purposes while still espousing their liberal bullshit, what's going on now is literally life and death. And yet somehow, Eric Adams won the primary of a far left party in the nation's quintessential far left bastion running on a platform that is in direct opposition to what that party stands for. Cognitive dissonance of both Adams and his supporters or a sign of major changes?
Something's gotta give.


ABOVE THE FOLD, BREAKING, NOTEWORTHY
CIVIL WAR 2.0: LEFTIST PERSECUTIONS, CAPITOL HILL BLACK WEDNESDAY PROTEST AFTERMATH, DEMOCRAT PUTSCH, AMERICAN DISSOLUTION
NOTE: The opinions expressed in some links may or may not reflect my own. I include them because of their relevance to the discussion of a particular issue.
ALSO: The Morning Report is cross-posted at CutJibNewsletter.com if you want to continue the conversation all day.
Follow us on Twitter: @CutJibNews
Follow us on Instagram:@Cutjibnewsletter

posted by J.J. Sefton at
07:03 AM
|
Access Comments