« NFL Releases Ad: "Football Is Gay"
|
Main
|
Quick Hits: WE'RE FACING A MISGENDERING CRISIS! Edition »
June 29, 2021
Jake Tapper Loses 75% of His Audience
More like Jake Crapper amirite?
At this point the only people left watching Fake Jake will be AllahPundit, Ed Morrissey, and Jazz Shaw.
CNN's show "The Lead with Jake Tapper" is in a major funk, having lost three-fourths of its audience since a viewership surge in January.

Whereas Tapper's show had 2.8 million viewers in the month of January, it raked in an abysmally low 706,000 from May 23 to June 23. In terms of the second quarter, the host has experienced about a 50 percent decrease in viewership compared to quarter one.

...


In terms of the key news demographic of those aged 25 to 54, Tapper's June show lost 79 percent of his January audience. Nonetheless, as-is well-documented, those in liberal media fail upwards. CNN gave Tapper an additional segment hour in April. "The Lead" has been pounced by Fox News' "The Five" by 229 percent.
A couple hundred percent here and there and suddenly you're talking about real ratings.
Does anyone know where I can find the sales figures for Jake Tapper's horrible, horrible book Devil May Dance?
The industry doesn't talk much about failures and bombs, but I really want this information. No one will talk about how many copies of Jake Tapper's terrible, awful book people bought.
I know on Amazon the price for a hardback is marked down from $28 to $16.80. Which is still very high, given that it's an amateurish, Mary-Sue-level fanfic that will make you want to kill the asshole who invented human language.
I mean Jazz Shaw liked it, but...
Update: Christopher R. Miller tells me that this cringeworthy, low-testosterone book, with all the promotion that one could dream of from a thousand of Jake Tapper's Very Good TV friends and Tapper plugging it all the time, is at #4,853 in Kindle Store.

Now I don't know his actual sales figures but we do know that Brian Stelter's book sold less than 2000 copies in its first week out, and that book is ranked #5,325.
And that's the new edition of a book released last year.
Tapper's book was just released a few months ago.
So "Devil May Dance" seems more like "Tapper May Tank."
By the way, Jake Tapper included nine pages of sources in the back of his horrible, boring, convoluted, narcissistic self-insert book.
I take that as a personal victory, because I noted his first book's "research" read very much like a lazy asshole cribbing superficial background details off the internet. I called his last shitty, embarrassing book "Wikipedia: The Novel."
So now he's pretending he didn't get his superficial trivia from Wikipedia but from all these books and articles he says he read.
Which, I'm guessing, were listed as sources at the ends of Wikipedia articles.
By the way, Newsmax beat Fox again on Saturday, for the Trump rally, which Chris Wallace's and Paul Ryan's liberal network did not cover but which Newsmax did.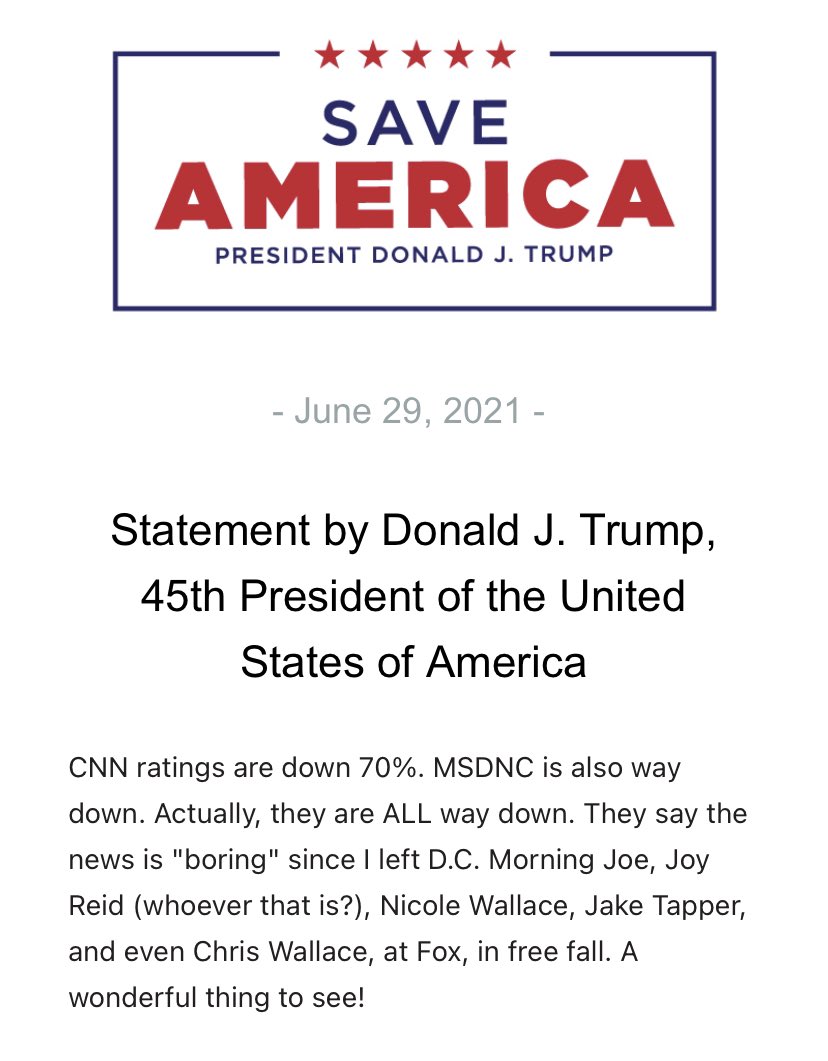 That last thanks to Tami.

posted by Ace at
02:16 PM
|
Access Comments