« Daily Tech News 22 June 2021
|
Main
|
Mid-Morning Art Thread »
June 22, 2021
The Morning Report - 6/22/21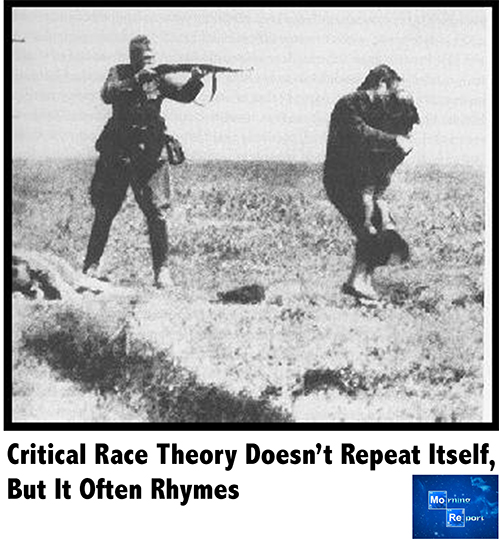 Good morning kids. Tuesday and 80 years ago today, Nazi Germany invaded the Soviet Union, initiating the bloodiest, most brutal war in history; "a war of annihilation" as a certain Viennese paper-hanger defined it, and the start of the Final Solution. And here we are, 80 years later with the collective memory of what happened fading away faster with each passing day as the youngest of those who witnessed it firsthand, now into their 90s, pass into history. More crucially, the intentional distortion and erasing of history now being unleashed by the philosophical progeny of both Hitler and Stalin are preventing future generations from understanding what happened, if they are even permitted to learn about it in the first place.
Given all of that, it seems a bit strange if not even frivolous to bring up the pickle that Rhode Island Senator Sheldon "Whorehouse" Whitehouse finds himself in. But it is related, and the underlying issue is as serious and deadly as cancer:
GoLocal Providence had first raised the issue with Whitehouse back in 2017, to which the senator expressed his concerns about the lack of diversity in the club, and the reporter asked Whitehouse if there are any minority members today.

"I think the people who are running the place are still working on that and I'm sorry it hasn't happened yet," Whitehouse responded.

"Do you have concerns in 2021. . . You had remarks on the floor following the deaths of Breonna Taylor and George Floyd, saying that you hope to root out systemic racism in the country. Your thoughts on an elite, all-white, wealthy club again in this day [and] age. Should these clubs continue to exist?" the reporter followed up.

"It's a long tradition in Rhode Island and there are many of them. I think we just need to work our way through the issues," Whitehouse replied.
Emphasis mine. Look, I'm no special pleader for the Confederacy and certainly not a defender of slavery; who is? But it seems to me Southerners honoring their heritage is also a long tradition. So is honoring Christopher Columbus, Abraham Lincoln, July 4th and Flag Day. Circling back to the Confederacy for one second, I seem to recall an incident in Charlottesville, VA about four years ago where a peaceful protest by locals wishing to preserve monuments to their history was hijacked by Democrat Antifa/BLM goon squads and the resulting death blamed on President Trump - and by extension all of us - whose words defending "good people on both sides" meaning both sides of the issue, was twisted into a smear of him supposedly defending the KKK, which he most certainly did not. But I digress. Meanwhile . . .
Both the National Association for the Advancement of Colored People (NAACP) and the Congressional Black Caucus were radio silent on Monday after news broke that Democrat Senator Sheldon Whitehouse (D-RI) defended his membership to an elite, all-white beach club.

Breitbart News reached out to both the NAACP and the Congressional Black Caucus for comment regarding Whitehouse's extra-curricular activities. Neither organization responded.
Wait, I thought the term "Colored People" was racist, and yet N-double-A- "CP." And isn't the Congressional Black Caucus preventing a black Congressman from joining their little club? Oh, right. He's a Republican. Honestly, I don't really know what's worse, Whorehouse's typical Leftist hypocrisy or the House Negroids' silence after decades of blood-libeling America for Whorehouse's hypocrisy. I'm going to go with the latter.
The modus operandi of the Left is simple:
- stop at nothing to gain absolute power,
- create societal unrest and division at every level to achieve it,
- blame your political opponents for the unrest, misery and problems you yourself caused in the first place,
- cause even more unrest, misery and suffering in the name of solving society's ills, yet accrue even more power while making things worse
- lather-rinse-repeat.
If nothing else underscores the abject lie of "white supremacy" and "structural racism" it's the words and deeds of both Sheldon Whorehouse and the CBC/NAACP. If the latter are intellectually honest - and they are not, being both morally bankrupt and having the collective IQ of a mollusk with Down's Syndrome - they would call for the immediate resignation of Whorehouse if Whorehouse himself did not voluntarily step down and completely out of public life while donating 95% of his net worth to BLM.
Of course, that is a non-starter. Unfortunately, whites, Jews, Asians and now evidently Puerto Ricans (whom the braindead idiots murdered because they thought the Puerto Rican flag was a Confederate flag) are being beaten up and killed in broad daylight courtesy of a constant drumbeat of racist propaganda that is right up there with Mein Kampf. From the Discover the Networks rap sheet on Derrick Bell, the founder of "Critical Race Theory."
In 1994 Bell was quoted as having predicted that eventually America would witness the rise of charismatic new black leaders who, in the interests of retributive racial justice, would "urge that instead of [African Americans] killing each other, they should go out in gangs and kill a whole lot of white people."

In a New York Observer interview published on October 10, 1994, Bell denounced "all the Jewish neoconservative racists who are undermining blacks in every way they can." The very same interview began with Bell stating: "We should really appreciate the Louis Farrakhans and the Khalid Muhammads while we've got them." (Khalid Muhammad was a Farrakhan ally who referred to Jews as "bloodsuckers" whose "father was the devil.")

Bell endorsed a journal called Race Traitor, whose stated aim is "to abolish the white race, which means no more and no less than abolishing the privileges of the white skin." Moreover, the publication's guiding principle is: "Treason to whiteness is loyalty to humanity." In 1999 Bell signed on to a Race Traitor article that stated: "If the task of the nineteenth century was to overthrow slavery, and the task of the twentieth century was to end legal segregation, the key to solving this country's problems in the twenty-first century is to abolish the white race as a social category -- in other words, eradicate white supremacy entirely." Among Bell's fellow signatories were Pete Seeger, Cornel West, and Howard Zinn.
Emphasis mine. It should also be noted that Howard Zinn is not merely the godfather of Matt Damon(!!), but the author of A People's History of the United States, a crackpot screed of distortions and outright lies that is nevertheless a standard issue in almost every classroom in the United States.
While Derrick Bell died of cancer 10 years ago (you have to wonder how those poor, innocent cancer cells were able to slog their way through a mass of evil even more toxic than themselves) the cancer that he has unleashed on us might very well be past the point where nothing short of radical treatment will cure it. I'm sure you can catch my meaning. As they say, "history doesn't' repeat itself but it often rhymes." Look at what Bell said about whites and what Hitler said about the Jews.
80 years ago today, the world for sure knew he meant what he wrote. You better believe those who are steeped in the words of Derrick Bell mean what they say with just as much fervor. If you don't, you may wake up dead in a ditch like 1.5 million Jews on the Eastern Front.


ABOVE THE FOLD, BREAKING, NOTEWORTHY
CIVIL WAR 2.0: LEFTIST PERSECUTIONS, CAPITOL HILL BLACK WEDNESDAY PROTEST AFTERMATH, DEMOCRAT PUTSCH, AMERICAN DISSOLUTION
(Sorry about the glitch. Blame Daily Motion)
NOTE: The opinions expressed in some links may or may not reflect my own. I include them because of their relevance to the discussion of a particular issue.
ALSO: The Morning Report is cross-posted at CutJibNewsletter.com if you want to continue the conversation all day.
Follow us on Twitter: @CutJibNews
Follow us on Instagram:@Cutjibnewsletter

posted by J.J. Sefton at
07:42 AM
|
Access Comments