« Saturday Morning Coffee Break
|
Main
|
Saturday Gardening and Puttering Thread, June 26 »
June 26, 2021
What kind of rage?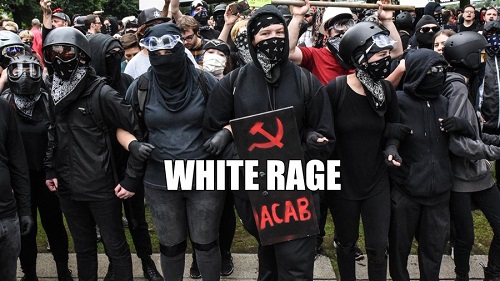 There is great consternation that Tucker Carlson insulted the head of the Joint Chiefs of Staff for suggesting that studying Critical Race Theory was a key to understanding white rage and the January 6 Capitol "Insurrection".
Why would it not be a key to understanding the shallowness of popular CRT figures like Kendi and DiAngelo (whose 'White Fragility' has just been amped up to 'White Rage')?
Glenn Greenwald has a suggestion: "White rage" has been chosen as the new military foe:
It is, of course, possible that the top brass of the U.S. military has suddenly become supremely enlightened on questions of racial strife and racial identity in the U.S., and thus genuinely embraced theories that, until very recently, were the exclusive province of left-wing scholars at elite academic institutions. Given that all U.S. wars in the post-World War II era have been directed at predominantly non-white countries, which -- like all wars -- required a sustained demonization campaign of those enemy populations, having top Pentagon officials become leading anti-racism warriors would be quite a remarkable transformation indeed. But stranger things have happened, I suppose.

But perhaps there is another explanation other than righteous, earnest transformation as to why the top U.S. General has suddenly expressed such keen interest in studying and exploring "white rage". Note that Gen. Milley's justification for the military's sudden immersion in the study of modern race theories is the January 6 Capitol riot -- which, in the lexicon of the U.S. security state and American liberalism, is called The Insurrection.
Coming soon to The Pentagon?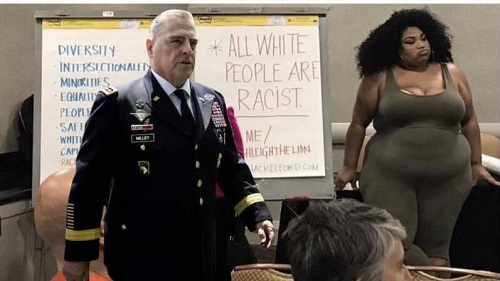 Concerning the rage-filled, white Antifa mobsters at the top of the post, Daniel Greenfield on the whiteness of woke:
White wokes use critical race theory the way that elites always used Marxist theories to compete with more successful people of their own upper class. Class warfare was never about the rise of the oppressed: Lenin was a member of the nobility, Mao's father was a landlord and a money lender, and Castro was a wealthy law student whose father owned a plantation.

Critical race theory is designed to thin out the overproduction of elites. It's a weapon against meritocracy by the same mediocre cliques looking for a shortcut in the competition. Executives force critical race theory into workplaces to shut down ambitious younger rivals. Suburban soccer moms of dumber kids go woke and push it into schools to even the playing field.

What's whiteness? As the Smithsonian Museum of African-American Culture's chart of "white culture" put it, whiteness covers everything from a serious work ethic to self-reliance, rational thinking, delayed gratification, achieving goals, being on time, and, finally, "competition".

Get rid of academic standards, intellectual seriousness, punish success, and the mediocre woke white elites who first created quota systems a century ago have much more of a shot at the top.
So what does this have to do with our military? Will Antifa become targets, too? Where will they fall in the struggle between the elite classes?
From this March, Frank Bennet, a former Infantry Platoon Leader in Afghanistan, on another dust-up between military brass and Tucker Carlson, in this case, concerning gender neutrality. When the armed forces serve a global corporate agenda, it's no surprise that HR mandates are mission critical.
When official Department of Defense spokesmen attacked Tucker Carlson--who criticized the military's integration of diversity-centered staffing mandates--they exposed a crucial gap between what Americans believe their military to be and the true purpose of our trillion-dollar war machine. What is being interpreted as an escalation in the culture wars is actually about how our regime perceives power itself.

The primary purpose of the U.S. military is to protect the global economic status quo, sometimes known as the "neoliberal order" or "the Washington Consensus." General Officers and Senior Enlisted men responding to Carlson's remarks about women in combat did so in their official capacity as representatives of the United States Department of Defense, in uniform, using official Twitter accounts without standard disclaimers. While they insisted they were simply "defending their soldiers" from unjust criticism, this superficial claim fails to capture the truth about the unfolding dynamic.

The debate that is playing out right now about sex, gender, and the military is happening only because we never, as a country, actually had it. . . This wasn't part of any platform or campaign promise that a politician ran on, it wasn't caused by any organic change in opinion by the general public on women in combat, and it was never talked about outside of semi-closed groups already intimately familiar with the data on the subject.
Scarcely anyone who isn't already connected to the military--as a veteran, on active duty, or involved in defense policy circles--knew that it had gone all-in on complete and total sex and gender integration in all branches and roles. For others, Carlson exposed them to something that's been in progress for years. Millions of his viewers--patriotic Americans who care about the security of the nation and have immense respect for the military--probably felt like they had been lied to and betrayed. They've all grown up with a general idea that the "point" of the U.S. military is to deter war, and failing that, to win the war that follows.

But this isn't the purpose anymore.
Also from March, Aaron Reitz, a Major in the USMC Reserve, an Afghanistan War veteran and the Texas Deputy Attorney General for Legal Strategy, in Newsweek:
In the Marine Corps, we don't have quotas, but we do have goals. And Marines accomplish goals," my officer-in-charge told me and a few other brand-new second lieutenants, each of us assigned to temporary recruiting duty while awaiting orders to Quantico. The captain then told us we had to sign up a certain number of college-enrolled racial minorities and females. No need to be too strict on physical fitness or academics, he said. Just bring them in.

That was in 2009. Discrimination of this sort has been an ingrained yet lamentable part of the military's recruitment, retention and promotion practices for many years. But my fellow officers and I couldn't have imagined that, 12 years later, our disagreement with these policies would get us labeled "racist," "sexist," "bigoted" or "extremists" worthy of "eradication" and "elimination" from the USMC. Yet the Sergeant Major of the Marine Corps said as much in his February 22 "core values" memo.

I'm now a major in the Marine Corps Reserve and a member of a formerly all-male infantry battalion.* This past weekend we had our monthly drill period. A few days before drill, the command told us that all scheduled training on Sunday morning was canceled and replaced with a "stand-down to address extremism in the ranks."

It was left-wing political programming, as direct as it sounds.
We were instructed that there is a Taliban-like threat in the United States called "domestic terrorism." These terrorists are characterized in part by "anti-government," "anti-authority" or "abortion-related" extremism and various "supremacist" ideas. None of these terms are defined. The Marine Corps entrusts the government's HR department to figure that out.

Reporting requirements are key. Do you suspect someone supports an "extremist ideology?" Alert the chain of command. Have you heard a Marine express "contempt toward officials?" Notify the Naval Criminal Investigative Service. Don't handle anything on your own. Just rat them out. . .
Terms are not defined? Just alert the chain of command?
Finally, on March 5, the Marine Corps released an official directive: no later than April 2, all "commanders and supervisors at all levels will conduct and document a leadership stand-down in order to address issues of extremism in the ranks." The commandant included a video with the directive, saying, "We must continuously strive to eliminate any division in our ranks."

We all know what that means: any dissension on any issue that Biden-appointed top brass says is racist, sexist or homophobic will not be tolerated.

There is no doubt as to where all this is headed. The Pentagon's swift and coordinated "smiting" of Tucker Carlson, who had the gall to "diss" the idea of sending pregnant women to war--an obviously absurd idea to all but the most politically correct officers grasping for a promotion--makes it very clear.

How did we get here? The truth is that today's military is running on the fumes of our vastly superior forefathers and the ever-shrinking proportion of each branch that still does truly heroic work and accomplishes truly extraordinary feats. The rest is a bloated military-industrial complex given over to Fortune 500-style corporate progressivism.

And if it's bad in the Marine Corps, imagine how much worse it is in the other services.

America's enemies are laughing at us. Frankly, we deserve it. But it doesn't need to be this way. . .
In retrospect, encouraging advanced degrees as a step toward promotion was a mistake. Letting the enemies of your civilization educate your children and your soldiers turns out to be a bad move.
Earlier this month, Obama was deployed to make fun of Republicans concerned about Critical Race Theory. Christopher Rufo found a photo of Obama hugging Derrick Bell, the originator of CRT, back when Obama was in college. Of course, Obama countered many of the principles of CRT in the speech to the Democratic Convention which really got his political career going. Might be useful to bring out some Obama quotes from time to time when dealing with some CRT "wisdom".
Interestingly, in the press, particularly at MSNBC, they have been working hard to distance people like Kendi and DiAngelo from the founders of CRT.

Music
Europa, composed by Santana
Hope you have a good weekend.
This is the Thread before the Gardening Thread.
Serving your mid-day open thread needs

posted by K.T. at
11:13 AM
|
Access Comments