« Daily Tech News 18 June 2021
|
Main
|
Mid-Morning Art Thread »
June 18, 2021
The Morning Report - 6/18/21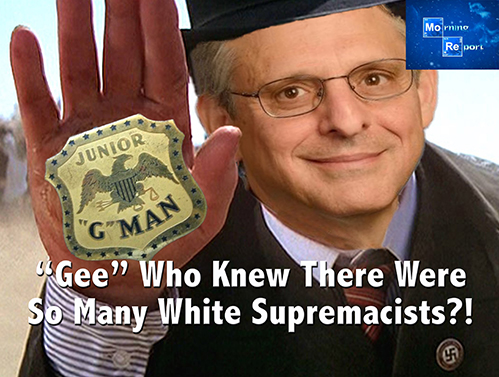 Good morning kids. Friday and the weekend is here. There are a number of stories breaking including two huge rulings from SCOTUS that underscore that corrupted institution's schizophrenia. On the one hand, they delivered a 9-0 annihilation against Big Homo forcing Philly's Catholic Social Services to countenance homosexual marriage. That is a huge and important victory for religious freedom, especially given today's insane political and cultural environment. Yet, at the same time, the court handed down a 2-7 loss that seemingly leaves us with Obamacare forever. Feh. Well, after all, it is a tax/penalty/tax/penalty or whatever the penumbric emanation of the goat entrails told Cheap Justice Julia Roberts to call it.
A good friend of mine is a lapsed Catholic and atheist who has always blamed the Church and all religious dogma for his as well as the world's ills. G-d bless him, when I pointed out that its not the Church nor religion that's the problem; it's the failing of people who ignore religious doctrines of ethics and morality that's the problem. I think a lightbulb went off with him and considering he's a testa dura Pugliese, I consider that a small victory. But Psaki-psircling back to SCOTUS, we have their abject failure in the wake of at the very least a completely compromised 2020 election to do their duty in hearing the cases that was the absolute bitter end for me and confirmed for me that besides being irreconcilably divided, America's house was rotten from the inside out.
But, with revelations that confirm the obvious premeditated fraud as well as outright larceny on election night in Georgia, Arizona and now in Pennsylvania, the Court may once again be the focus of attention.
The Supreme Court avoided involvement in the election because they wanted to stay out of the controversy -- they didn't want to be bullied by the Democrats or the media. There are other possible motives, but they're even more disturbing. Cowing to bullies will not avoid conflict. Bullies prey on weakness. One has to either stand up to them eventually or accept servitude. Every kid on the playground has learned that lesson by the 8th grade. Apparently, John Roberts hasn't. Each time Chief Justice Roberts has acceded to the bullies, he's made the court's future challenge greater.

Ruling that last minute ad-hoc election changes were unconstitutional would have been relatively straightforward -- but the court didn't. Hearing the election fraud evidence and adjudicating the result would have created a political crap-storm -- but it would have been the right thing to do. What will become of the court's reputation if it becomes obvious that the election was stolen and rather than stand up, it sat down

An April poll by Rasmussen Reports found that 51% of the population believes that fraud affected the election outcome. Does Roberts grasp the significance of that number? It's the percentage of the population who believe the Supreme Court was derelict in defending the Constitution. If John Roberts wanted to defend the court, perhaps he should have considered pursuit of the truth rather than avoidance of controversy.

A recent Ipsos poll found that 63% of the public thinks it's time to impose term limits on Supreme Court Justices. The public isn't stupid. It recognizes that the Supreme Court needs to be taken to the woodshed. The next few months will say a lot about the Supreme Court. Will it correct course, or will it embrace servitude to the mob?
Paraphrasing Mark Levin, every June, the entire nation bites its nails in anticipation of be-all-end-all rulings from 9 very flawed human beings that will affect the lives of 320 million of us forever, with no recourse. The court was never meant to have this kind of power but then again, the Federal government was never supposed to be an ever more powerful and invasive Leviathan of unelected bureaucrats issuing edicts that carry with them the force of law. And yet, here we are, with every institution that is supposed to safeguard our G-d-given inalienable rights as well as ensure our physical safety totally corrupted beyond all recognition and anathema to the very reasons the nation was founded in the first place nearly 245 years ago.
Levin himself proposed term limits for all justices up to and including SCOTUS in his Liberty Amendments from a few years ago. Ironically, with Ruth Bader-Meinhoff's departure for the Choir Invisible and the installation of alleged originalist Amy Coney Barrett right before the election, the Left were not only hell bent on packing the court but failing that, they glommed onto Levin's term limits brainwave. Seems appealing insofar as getting rid of the hacks-in-black but the cold reality is, as someone much wiser than I once postulated, "any organization not explicitly conservative will turn liberal over time." In any case, our nation from top to bottom and inside-out has been so thoroughly corrupted that it's pissing in the wind trying to fix it piecemeal, even something as important as SCOTUS. For argument's sake, let's say the audits actually confirm what we already know, that select cities across 6 states essentially rigged and stole their 2020 elections. First, there's the gauntlet of not only the media/Democrat propaganda shit-storm claiming the audits are frauds but now we have this tinpot Torquemada in Merrick Garland threatening the auditors.
But even if the audits successfully run that gauntlet, what is the end-game? Surely, there's no way in hell that we'll get a do-over, let alone see Trump re-installed back into 1600! But it is crucially important that the audits go forward and the truth put out there. The nation as we knew it, or at least as we had perceived it to be up until about 2009 and for sure on January 6th, 2021 is gone. We are in uncharted and very dangerous territory. Trying to deal with things and anticipate outcomes based on institutions like elections and run of the mill party politics is a complete waste of time. Even worse is institutions that are supposed to be independent of political considerations, especially business, have now for the most part also been subsumed by the Leviathan.
As more and more people are waking up to the nightmare of a dementia patient being used as someone's puppet (and it looks like the way is being made for Biden's exit), the abject evil that is Crackpot Disg-Race Theory, the fraud of Anthony Fausti and the 18-month imprisonment over Wu-Flu and the acknowledgment that Red China caused it and is out to conquer the world, those who have inflicted these evils on us are quadrupling down on the censorship and persecution.
Something's building out there, and it's big.
See you tomorrow for the hobby thread and have a great weekend.

CIVIL WAR 2.0: LEFTIST PERSECUTIONS, CAPITOL HILL BLACK WEDNESDAY PROTEST AFTERMATH, DEMOCRAT PUTSCH, AMERICAN DISSOLUTION
NOTE: The opinions expressed in some links may or may not reflect my own. I include them because of their relevance to the discussion of a particular issue.
ALSO: The Morning Report is cross-posted at CutJibNewsletter.com if you want to continue the conversation all day.
Follow us on Twitter: @CutJibNews
Follow us on Instagram:@Cutjibnewsletter

posted by J.J. Sefton at
07:38 AM
|
Access Comments