« Daily Tech News 15 June 2021
|
Main
|
Mid-Morning Art Thread »
June 15, 2021
The Morning Report - 6/15/21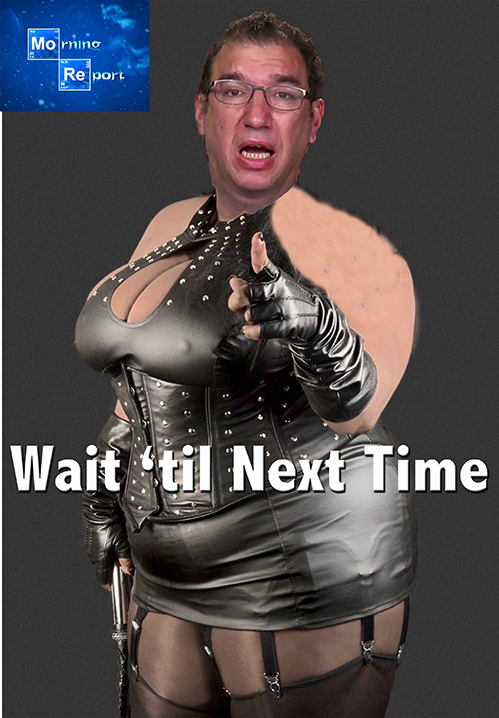 Good morning kids. Tuesday, and as usual, the assault on our sanity from all sides makes it difficult to zero in on one particular item. But then, you read something which crystallizes everything into a singularity that just makes your head explode.


"We denied the virus for too long under the Trump White House. There was too much squashing of dissent and playing on divisions." Andy Slavitt, a former White House [Chinese] COVID-19 response advisor, said on "CBS This Morning."

He added, "But I also think we need to look at one another and ask ourselves, 'What do we need to do better next time?' And in many respects, being able to sacrifice a little bit for one another to get through this and to save more lives is going to be essential. That's something that I think we could all have done better on."
"We?!" What's this "we" bullshit?! Slavitt and every other self-styled elitist and blood-sucking, power-mad apparatchik that's in with the in crowd in DC and leftist state houses got fatter, richer and even more drunk on a power spawned from the New Deal and metastasized during the Great Society that was already illegitimate and unconstitutional. But thanks to the pretext of a public health crisis that as we all know now was marginally more serious than seasonal flu and no more serious that SARS, MERS, ebola, hantavirus and chikungunya, was weaponized as the key to rigging the 2020 election and seizing absolute power, or as close as the Democrat/Globalist Left can get to it as never before.
Lest we forget, the illusion of this extinction-level public health crisis meant putting everything on hold for two weeks. . . which is now going on week 65. Not coincidentally, strangling the greatest economic boom in American history (now concluded) courtesy of President in Exile Donald Trump was intended to derail what would have been as close to a landslide victory as was possible given the modern electoral landscape. The "crisis" further eroded whatever flimsy election security already existed, and even then the saboteurs had to resort to last minute mass ballot dumps in six states to My Pillow the election. But I digress.
When this Chinese biological/psychological weapon was unleashed on us, Slavitt like every other mouthpiece for the globalists ripped into President Trump for supposedly not taking the spread of the virus seriously. This after Trump banned travel to and from China while schmucks like Malig-Nancy Pelosi, Bill DeBolshevik and others were exhorting people to go have dim sum in Chinatown and hug Chinese people as a response to Trump's alleged alarmism and xenophobia.
Meanwhile, recall that Slavitt was a key figure at CMS during the disastrous Obamacare website rollout while constantly being in the media spreading lies and falsehoods about the effort to repeal that fucking train wreck. So now, Slavitt is opening his pie-hole that us miserable, lumpenprole ingrates need to suffer more "next time." One almost gets the impression that he and the filthy Mongoloids in Beijing are already cooking up a next time just in time for 2022 and/or 2024. Or whenever they see there's a run on rope and lampposts at big box stores.
By some estimates, as much as 60% of small businesses in America were wiped out because of the lockdowns and are never going to reopen. And small business comprises, or at least used to comprise, the lion's share of the American economy. But of course Bezos, Buffett and Biden - representing Uncle Sugar - are there to turn what was the land of the free and the home of the brave into the land of the freebie and the home of the enslaved, as the State and its krony kapitalists become the world's largest company store where they will own you, cradle to early grave.
We haven't sacrificed enough. This motherfucking mutt. I'd like to rip Fauci's arms off and beat Slavitt to death with them. Rhetorically speaking.


ABOVE THE FOLD, BREAKING, NOTEWORTHY
CHINESE CORONAVIRUS FICTIONS, FACTS AND AMERICA IMPRISONED
NOTE: The opinions expressed in some links may or may not reflect my own. I include them because of their relevance to the discussion of a particular issue.
ALSO: The Morning Report is cross-posted at CutJibNewsletter.com if you want to continue the conversation all day.
Follow us on Twitter: @CutJibNews
Follow us on Instagram:@Cutjibnewsletter


posted by J.J. Sefton at
07:38 AM
|
Access Comments