« Daily Tech News 9 June 2021
|
Main
|
Mid-Morning Art Thread »
June 09, 2021
The Morning Report - 6/9/21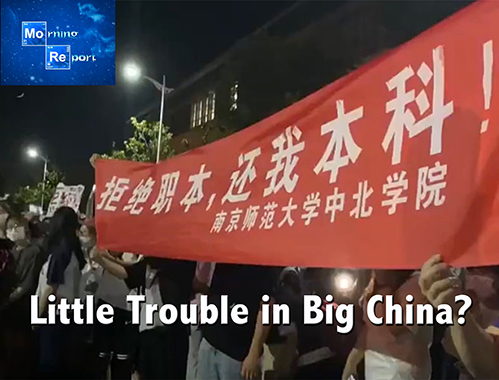 Good morning kids. Wednesday and it seems we're in a race; a race to cover-up Fauci and the fraud-cum-pandemic he and the Chi-Coms unleashed on the world, the abject criminality, criminal incompetence and unreconstructed real racism of Joe Biden, his son, Veep Throat Kackler Harris and all the other Maoists in the cabinet, the growing physical/forensic evidence confirming and proving that the 2020 election was indeed stolen in at last two of the six states (and another one showing the one that installed Soros stooge L.A. DA Gascon was rigged [and who knows how many others]) and much other malfeasance, hypocrisy and destruction so as to preserve, protect and defend the anti-American counter-revolution.
I am reticent in the extreme to even talk of electoral politics or polling or anything else involving normal political discourse because that stuff is right out the window considering everything we had witnessed going back to Obama and climaxing on January 6th-20th of this year. And there was no happy ending. But there are signs out there that we here in the former United States of America and elsewhere around the world at the very least understand we are hurtling headlong into a new dark age and perhaps are not going to go quietly. Speaking of "happy endings," this happened the other day in the Peoples Republic of China:
Chinese police stormed a campus protest Tuesday inside Nanjing Normal University, where students were rising up against a plan to merge the school with a vocational college in fear that it would devalue their degrees.

Police said students held the dean hostage for over 30 hours, beginning Sunday. Some students "shouted verbal abuse and blocked law enforcement," Danyang city police said in a statement.The Jiangsu education authorities suspended the merger plans, which affected five local universities, late Monday evening. But, that didn't stop the students from raging forward.
Before you Pooh-Pooh platter this, remember that this is in China; a nation allegedly on the march to dominating the world and that for sure dominates its own citizenry. And no, this was not in Hong Kong with its subjugated western-oriented populace, nor ever in Xinjiang, a province that is essentially a massive concentration/death camp for the Muslim Uighurs. This is in a major mainland city. Considering the Chi-Com penchant for physically and mercilessly crushing all dissent, the balls of these students to risk getting Rachel Corrie'd with a tank for something seemingly as petty as protesting a school policy indicates to me something deeper going on in that country. Yet, if unarmed youth who are censored and surveilled out the wazoo by an all-powerful totalitarian regime that would step on them like a bug for looking sideways are doing this, it could be a sign of deeper disaffection throughout the entire nation.
Speaking of an imprisoned nation and a disaffected citizenry, we return to our own land of internal exiles, specifically to one of America's "shining cities on a hill"... a slag heap with broken glass, rivers of raw sewage and crackpot racist bile -- Baltimore:
When I lived in Baltimore I used to joke that Charm City, as the city called itself, should be honest and drop that first "c." Harm in the form of violent crime was terrible and it was everywhere. There were open-air drug markets and the mid-sized city with so much history and such great potential was often the murder capital of the United States. This was the day of the infamous "Stop Snitchin'" DVD warning against going to police to inform against criminals or for any other reason.

The "Baltimore sage" H. L. Mencken said "For every complex problem there is an answer that is clear, simple, and wrong." And so it was with defunding the police and its ideological companion, critical race theory. Defunding police was a simple-minded attempt to grapple with complex problems, not all of which are real and not all of which have government solutions. Critical race theory is just as simple-minded, and as toxic as Baltimore's Inner Harbor occasionally becomes.

The last thing Baltimore needed was to have its police defunded. But the mayor and city council followed the far-left activist agitators off that cliff in 2020, and homicide in Harm City shot up.

Businesses in historic and trendy Fell's Point are feeling the effects directly, and after the city has failed to listen and do its job, they're fighting back with a tax revolt according to WBAL.

Call it the Baltimore Tea Party.

"What is happening in our front yard -- the chaos and lawlessness that escalated this weekend into another night of tragic, unspeakable gun violence -- has been going on for far too long," a portion of the letter says.

The letter demands that city leaders restore "basic and essential municipal services" including trach pickup, enforcement of traffic and parking laws through tickets and towing, stopping illegal open-air alcohol and drug sales and empowerment of police to responsibly do their jobs.

The business owners threaten to withhold tax and permit payments, placing those funds into an escrow account, if the city doesn't respond to their request.

City officials are hired by voters to do their jobs. Businesses pay taxes to fund the city's provision of services. But if the city is failing in its most fundamental duties, it doesn't deserve the taxes. The business leaders can better spend that money on security and other services they can depend on, or something else.
The city's failure can't and won't go without some reaction.

Pissing in the wind? Tilting at windmills? Maybe. Yeah, I get it. It's easy to throw up your hands and be cynical especially when you look at all at the forces arrayed against us. But from Baltimore to Nanking to Tehran (see below) and even in Europe, people are at a breaking point. Change won't happen overnight. But then again, I distinctly remember being in college when Reagan took office and the Soviet Union seemed as imposing and permanent as ever. Look what happened not even a decade later.
What cannot go on will not go on. The only questions are, how long can the intolerable be tolerated, what will it cost to overthrow the shackles of repression and ultimately, if we are successful (please G-d), what will come after? Lots to ponder.

CHINESE CORONAVIRUS FICTIONS, FACTS AND AMERICA IMPRISONED
NOTE: The opinions expressed in some links may or may not reflect my own. I include them because of their relevance to the discussion of a particular issue.
ALSO: The Morning Report is cross-posted at CutJibNewsletter.com if you want to continue the conversation all day.
Follow us on Twitter: @CutJibNews
Follow us on Instagram:@Cutjibnewsletter

posted by J.J. Sefton at
07:23 AM
|
Access Comments